utunnel.io offers a different kind of VPN access, allowing you to create your own server in-house or in the Cloud. It offers a clean static IP address and customizable options for both personal users and businesses.
The service is pretty simple to setup and the app is loaded with quality security features but it doesn't deliver as a personal VPN the way it does for businesses. Let's check out where it succeeds and fails for the everyday user.
I ran a series of tests on its servers to check its streaming abilities, speeds, and the overall quality of the network. I also paid close attention to its security and privacy features to see if it can compete with the best VPNs.
Short On Time? Here Are My Key Findings
utunnel.io VPN Feature Summary Updated in 2021
💸

Price
5USD/month

📆

Money Back Guarantee
14
Does VPN keep logs?
No

💻

Number of devices per license
5

🛡

Kill switch
No

🗺

Based in country
United States

📥

Supports torrenting
Yes
Streaming — Good Performance
utunnel.io was able to unblock Amazon Prime Video, Disney+, Hulu, and YouTube but didn't allow me to access US Netflix. However, it's important to mention that uTunnel is a business service, so streaming is not one of its strong points.
Unblocked: Amazon Prime Video, Disney+, Hulu, YouTube
I could access Hulu, Amazon Prime Video, Disney+, and YouTube with uTunnel. I didn't encounter any problems during the login and I had no problems streaming in HD without buffering or interruptions.
Streaming services work hard to update their VPN detection tools and block VPN IP addresses, so I was impressed that uTunnel managed to access so many big names.
Blocked by: Netflix
I was incredibly disappointed to not even be able to log in to Netflix. After several attempts I continued to receive the same error. In the end, I was only able to connect to my Netflix account again after disconnecting the VPN.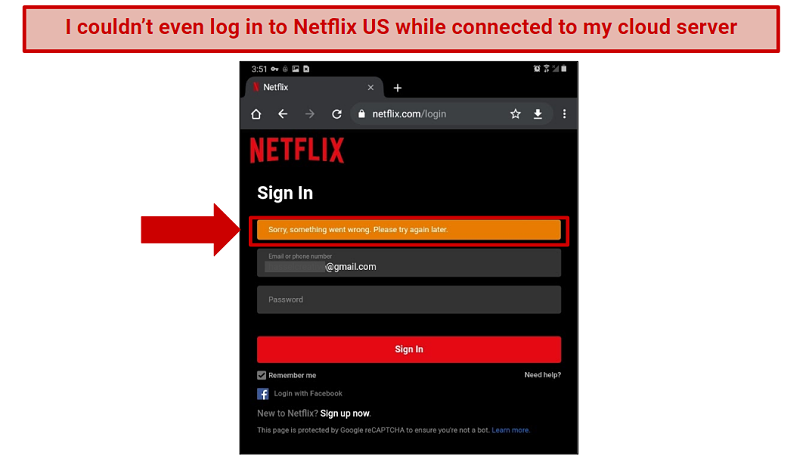 I was entering my information in right but had to disconnect from the VPN to gain access to Netflix
Depending on your plan, you can get 1TB, 2TB, or 4TB of data, which is enough for most streaming needs. Prices for data increase the larger the plan you choose is, which means you could spend $30/mo and get two server locations, with 1TB of data each, on one VPN account.
For a lot less you could get access to servers across the globe, unlimited data, and the ability to bypass multiple streaming services.
Speeds — Fast Enough for UltraHD
utunnel.io reduced my speed but kept it high enough for HD streaming. My base speed before connecting to utunnel.io VPN was 82.02 Mbps download, 77.2 Mbps upload, and a ping of 5ms. 5 Mbps is the minimum download speed needed for HD streaming so this is more than enough.
While connected to the cloud server I created, my speeds decreased by 56% and my ping stayed in acceptable ranges for gaming. Download speed was 35.39 Mbps, upload speeds were under 25 Mbps, and ping was 66ms.
This is a significant decrease, and if my base speed was any lower, streaming in HD wouldn't have been possible. If you need fast connections, I suggest you take a look at these superfast VPNs.
Are the Speeds Good Enough for Gaming? Yes
The speeds were fast enough for gaming using the US cloud server. Ping is the main issue when it comes to online gaming. Using the VPN will cause ping to increase, but it will also stabilize it. This will stop ping from spiking to levels that would cause game stuttering and lag.
The issue was with data. I chose the 1TB/mo option, and this was enough to cover a lot of playtime. utunnel.io VPN also offers a 2TB or 4TB plan, but the best VPNs for gaming give you unlimited data, speed, and bandwidth.
Server Network — Limited and Expensive
uTunnel has servers in 9 countries, and it's renting them from Digital Ocean, Hetzner, Linode, and UpCloud. You can find locations in the US, UK, Canada, Germany, Finland, India, Singapore, Japan, and more.
Because you need to pay to use extra servers, they will be costly or limited. When you sign up as a basic, single-user you will need to choose a region and type of server.
One server and the VPN account costs $10/mo, and each additional server costs $5. This may suit a business that wants to ensure workers secure access to local resources from anywhere, but it will get massively expensive for the personal user. If you want a VPN for personal use, you might want to check out a more affordable option.
Security — Good Features for Businesses
utunnel.io VPN comes with military-grade 256-bit encryption. This stops hackers from reading your information even if they somehow access it. You also have a choice of security protocols: OpenVPN, IPSec, and IKEv2. OpenVPN is the main trusted protocol on the market right now, while the others are useful for mobile devices, and communications respectively.
I ran an IP/DNS leak test on the service as well and it didn't leak any information. If your VPN is leaking your IP address or DNS requests, the websites you visit and your ISP would be able to see who you are and read your browsing history.
Its 2FA authentication feature means your account will be far harder to gain access to. By activating this, a code that is sent to your chosen device is required before you can use your account.
Team-Based Access Control is designed with businesses in mind and gives the option of user tracking, so you can keep an eye on what your employees are doing at work. While tracking is an option it is never on by default.
uTunnel has a kill switch for its Windows app, which stops the internet in case the VPN fails. I would have loved to see this feature across all its apps, as it's essential for online security.
Privacy
In the Data Collection section of its site, utunnel.io states that it does log certain information. It is quite standard information, and you will have to provide an email address at the very minimum to use the service.
utunnel.io is based in the US, which is one of the members of the 5 Eyes Alliance. This is always going to be a worry when it comes to privacy as it means any of the Alliance member countries can potentially request your data.
Torrenting? Allowed
utunnel.io is a great choice for torrenting. It didn't leak DNS requests or my IP address, it offers split-tunneling and a kill switch, and even has torrenting support available.
To be honest, I wasn't surprised it works well for torrenting. Businesses need to be able to mass-share files, so P2P capability and support is a must.
Does uTunnel Work in China? Yes
uTunnel works in China. I got in contact with its support team to find out more, and the agent I spoke to said that it does work as long as the required ports are open. However, China's firewall is very strict and there is a possibility that it will also affect uTunnel.
Simultaneous Device Connections — Up to 5
You can connect up to 5 devices under one uTunnel account. This means that you can protect most of your devices without needing to get another subscription.
Device Compatibility — Works With Most Platforms
utunnel.io VPN works with macOS, iOS, Android, Windows, Linux, and some routers. There are manual setup guides, which are particularly useful for routers. It doesn't support gaming consoles but if you use the VPN with your router, those devices can be covered as well.