VeePN Reviews 2020 - Why 4.0 Stars?
VeePN operates 2,500 high-speed servers across 50 countries. There are apps for all major platforms.
It protects your data with 256-bit encryption, a kill switch, and DNS leak protection. VeePN also keeps a strict no-logs policy.
I was disappointed to learn that VeePN can't unblock Netflix. It struggles with most top streaming services, and can't access BBC iPlayer or Hulu, either. If streaming is important to you, I recommend trying NordVPN instead. It's super-fast, and it can unblock 140+ geo-restricted streaming services.
Streaming - Does VeePN Work with Netflix?
Unfortunately, VeePN was not able to unblock Netflix, Hulu, or BBC iPlayer during my tests. It was able to stream HBO GO in high-definition, though.
Netflix: No
Hulu: No
BBC iPlayer: No
HBO GO: Yes
If you're looking for a VPN for streaming, take a look at the best services for Netflix.
VeePN Speeds
Speed is one of the most important things to test when you're trying a new VPN service. Slow connections are frustrating, and worse, they can stop you torrenting or streaming in HD.
It's normal to lose a little speed when you're using a VPN because your data has to travel farther to reach the server. It also takes time to encrypt and decrypt your traffic.
For browsing, you'll get the best speeds by connecting to a server close to your physical location because your data won't have to travel as far.
When you're bypassing a geoblock or censorship, you'll need to connect to a server in a country where the content is readily available. So, if you want to watch Netflix US, you'll need to connect to a server in the US. This will decrease your connection speed, but with a premium VPN, the difference should be barely noticeable.
My base speed before connecting to VeePN was 12.89 Mbps download, 2.66 Mbps upload, with a ping of 31 ms. This is faster than 75% of connections in Australia.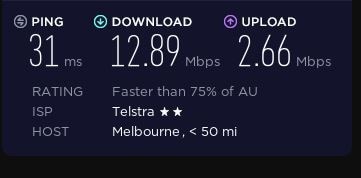 When I connected to VeePN's Australian server, I didn't notice much of a difference at all. My download speed was 10.67 Mbps, my upload was 1.54 Mbps, and my ping was 46 ms. This was still faster than 69% of the country.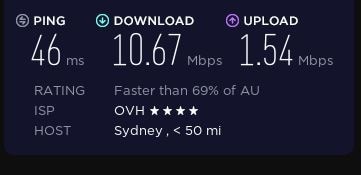 Next, I connected to a server in the US. I was really impressed with my speed results here, too. It's rare to see a connection this fast when my data has to travel across the world. Although my ping rose to 258 ms, my download speed only dropped to 8.57 Mbps. My upload speed stayed steady at 2.22 Mbps.
Is VeePN Good for Torrenting?
Yes, VeePN allows torrenting on its network and it is secure enough to protect you while you torrent.
Security - Is VeePN Safe?
Whether you need a VPN for browsing, torrenting, or breaking through firewalls, VeePN is a secure option.
Does VeePN Keep Logs?
No, VeePN abides by a strict no-logs policy.
It's based in Panama, out of reach of the 5/9/14-Eyes Alliance.
Does VeePN Have an Ad Blocker?
No, but you can use it in conjunction with third-party ad blockers.
Does VeePN Work in China?
Yes, VeePN works in China and can bypass the Great Firewall.
Price and Value for Money
VeePN is packed with features that make it great value for money - particularly if you opt for its 5-year plan.
Does VeePN Have a Free Version?
There is a 7-day free trial available.
VeePN's Refund Policy
VeePN offers a 30-day money-back guarantee.
Is VeePN Compatible with My Device?
With VeePN, you can connect up to 10 devices at once.
It has apps for:
iOS
Windows
MacOS
Android
Linux
Routers
Apple TV
Chrome
Firefox
Opera
Encryption
VeePN uses military-level 256-bit encryption.
Your Choice of Security Protocols
You can choose to use OpenVPN, IKEv2, or its proprietary SmartVeePN protocol.
SmartVeePN combines the best of both OpenVPN and IKEv2, but it may not work on all networks.
VeePN Customer Service
After about 30 minutes of use, the app started to glitch. I got multiple pop-ups asking me to renew my plan even though I'd already paid.
I decided to get in touch with customer service via live chat. Unfortunately, it was offline when I sent my message, so the system automatically created a support ticket for me.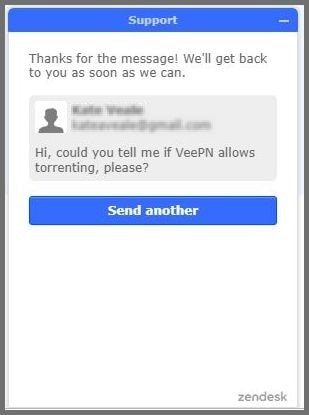 I received a response via email within 60 seconds. The customer service agent emailed back and forth with me until my issue was resolved. Thankfully, all I needed to do was reinstall the VeePN app and everything went back to normal.

The customer service was friendly, knowledgeable, and quick. I'd definitely recommend them.
User Experience
Aside from my brief technical issue, the VeePN app was a pleasure to use.
Its layout makes it easy to navigate and customize. Beginners will have no problem changing the settings because the app guides you through and explains what each one does.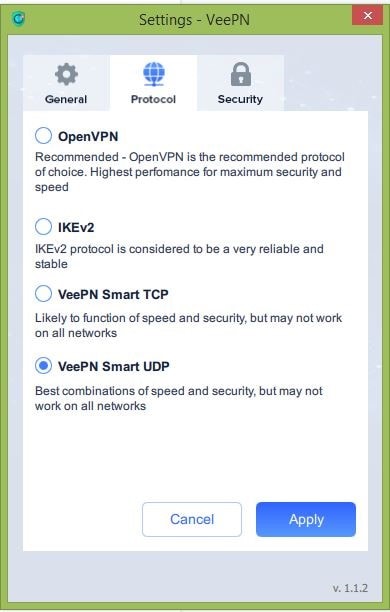 Finding a server couldn't be easier. You can search for the country you want to connect to, select one from your list of favorites, or find it in the list. Clicking on the arrow next to the country's name will bring up all the servers in that region you can choose from.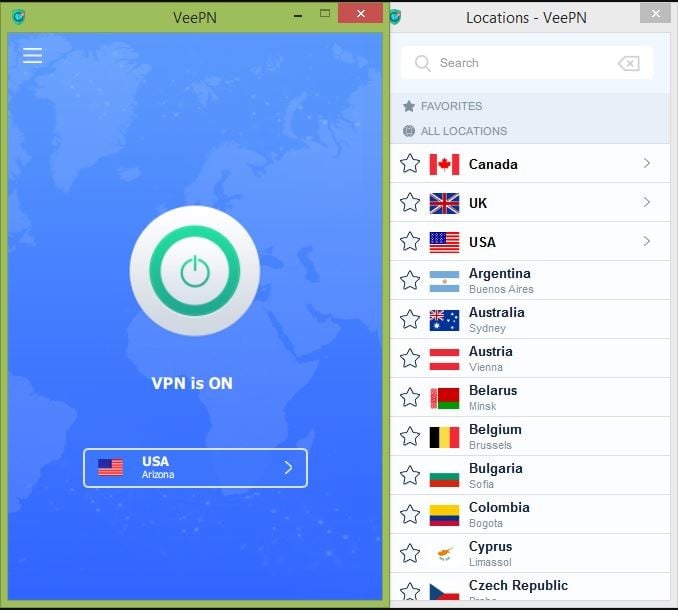 It's really a shame that VeePN wasn't able to unblock Netflix. If it could, it would be the perfect VPN.
Conclusion
VeePN is an easy-to-use VPN with high-speed servers.
Unfortunately, it was not able to unblock Netflix, Hulu, or BBC iPlayer. It can access HBO GO, though. If you need a VPN for streaming, take a look at the best VPNs for Netflix instead.
It offers a high level of security that you can customize from within the intuitive app. This makes VeePN a great choice if you're after a VPN for torrenting or browsing.
However, if you're looking for a service that can unblock Netflix and other streaming services, I'd recommend CyberGhost instead. It's a high-performing VPN with specialized servers for streaming.
| Features | Details |
| --- | --- |
| Number of countries with servers | 50 |
| Number of servers | 2500 |
| Number of IP addresses | 2500 |
| Does VPN keep logs? | No |
| Does VPN include a kill switch? | Yes |
| Number of devices per license | 10 |
VeePN is all about convenience. Sign up is easy, and the app is a breeze to use.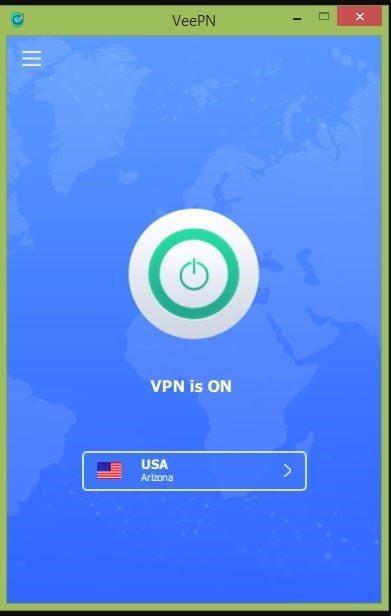 Its simple layout guides you through choosing a server, connecting, and changing your settings intuitively. Each option is explained within the interface, so you don't need to consult an external help file.
You also don't need to change any settings before you connect to the VPN network. Everything is ready to go as soon as you log in.
VeePN offers a free 7-day trial when you first sign up.
Once the week is up, you can subscribe for one month, one year, or five years. The longer plans attract a heavier discount, which makes them better value for money.
You can connect up to 10 devices with the premium subscription. Additional licenses are available for a small fee per device, which is great for small businesses and home offices.
You can pay via credit card, PayPal, Paymentwall, and with cryptocurrencies.
Reliability & Support
3.8 / 5.0
VeePN's customer service is available 24/7 via live chat and email. There are also extensive help guides on its website.
If live chat is offline when you ask a question, it will create a ticket for you automatically. A customer service agent will respond to this ticket via the email address you supplied. When this happened, I received a response within 60 seconds.
The agent I spoke to was friendly and knowledgeable.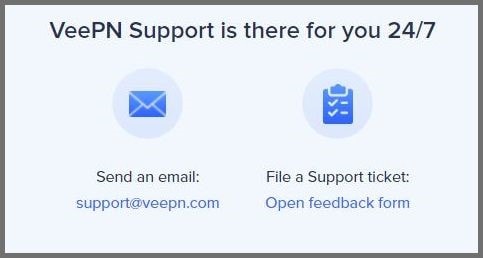 VeePN is an easy-to-use, budget-friendly provider.
The app is intuitive, and it doesn't take long to get started. Customer support is on hand 24/7 if you have any problems at all.
Money Back Guarantee (Days) :
30
Mobile app :
Number of devices per license :
10
Farid
Mar 6, 2020
I purchased it because they told me it would work in Iran without an issue, but that was not the case and i had trouble connecting 95% of the time! Contacted support many times and they convinced me that the issue was caused by other VPNs installed, after uninstalling all the others and it failing again, support gave me a refund! If you are in Iran avoid this VPN!
---
See Plans
Reply to this review
Did you know? We approve all user reviews. Companies can't pay to include or exclude any.
Vasile
Jan 16, 2020
Thanks for custom protocols
I was traveling abroad in China and this application helped me a lot in accessing the internet from there. Their custom protocols, SmartUDP/TCP really working and also do not freeze my internet connection. Thank you VeePN !
---
See Plans
Reply to this review
Peter Ozolin
Great VPN service for their price
I have used VeePN for around a year now. A huge benefit of this app is cross-platform, consequently, I can easily use it for my iPhone and MacBook at the same time. This app does not freeze or slow down my internet connection and I am able to watch Netflix without troubles. VeePN also provides fair pricing and good value. Highly recommends this service!
---
See Plans
Reply to this review
Compare VeePN with the top alternative VPNs