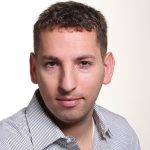 Ariel Hochstadt
Ex-Google, International tech speaker
There's a lot of common ground between CyberGhost and VyprVPN — but each of them brings something unique to the table.
CyberGhost is a novice user's dream VPN — it's fast, it's low-maintenance, and it makes life much easier. Its 2,200+ server network has all the locations you need, and performance is solid across the board. The profile-based interface is truly something new, and incredibly useful.
VyprVPN isn't hard to get into, either. Like CyberGhost, it has native clients for all popular platforms, with a stylish and intuitive GUI to match. The biggest highlights here are the Chameleon protocol and the built-in NAT firewall. The former works wonders when you need more refined encryption (especially helpful for China or Netflix), while the latter protects you from a bunch of external threats — including DDoS attacks.
Both VPNs have the capacity and reliability to satisfy any user, along with responsive and knowledgeable customer support. That said, VyprVPN works under a "no refunds" policy, whereas CyberGhost gives you that option with a 30-day money-back guarantee.
In the end, you'll have to look at the specifics to find out which VPN is the better one for you.