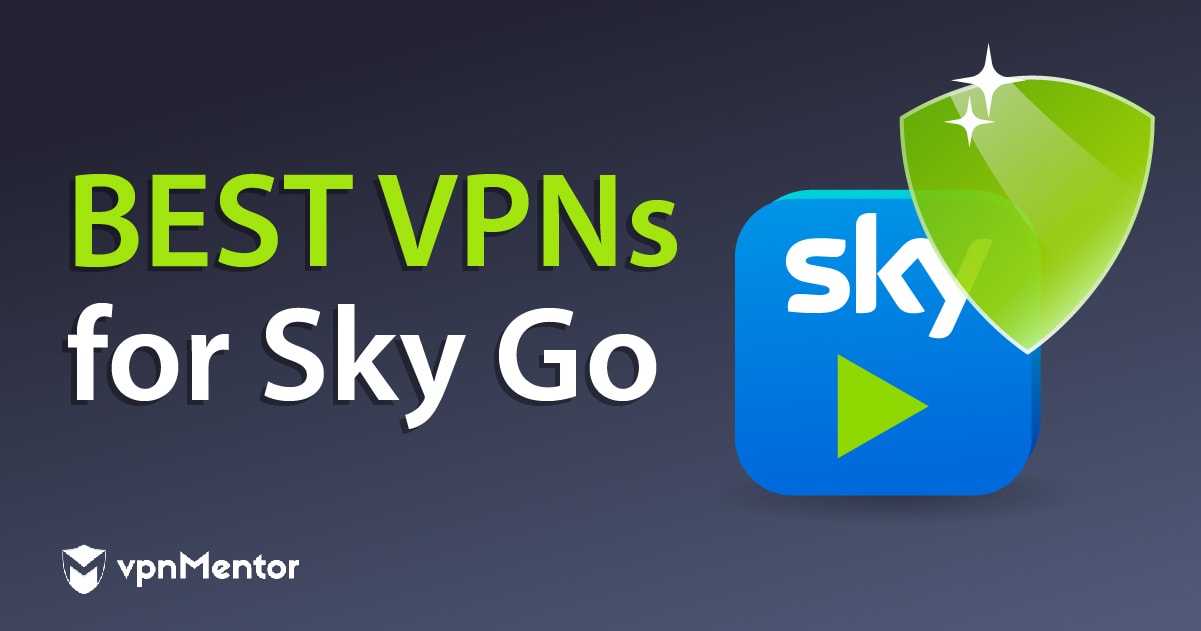 5 Best VPNs for Sky Go That Still Work: Watch Abroad in 2023
Updated on 20th January 2023
Sky Go has some of the toughest geoblocks in the world and it actively bans IP addresses used by VPNs. Many VPNs have stopped trying to access it altogether, so finding one powerful enough to bypass Sky Go's regional restrictions can be extremely frustrating.
My team and I tested 50+ VPNs to find the best ones for Sky Go. Very few actually worked to unblock the streaming app. Of these, we selected the ones with the best speeds, so you can watch shows on Sky Go without worrying about slow load times or buffering.
I found ExpressVPN to be the best out of all the VPNs I tested. Its high-speed global server network includes multiple servers in the UK for unblocking Sky Go easily. Plus, you can try ExpressVPN completely risk-free because it's backed by a solid money-back guarantee. If you're not satisfied, you can get a full refund within 30 days.
Watch Sky Go with ExpressVPN Now
Short on Time? Here Are the Best VPNs for Sky Go in February 2023
Best VPNs For Sky Go — Full Analysis (Updated February 2023)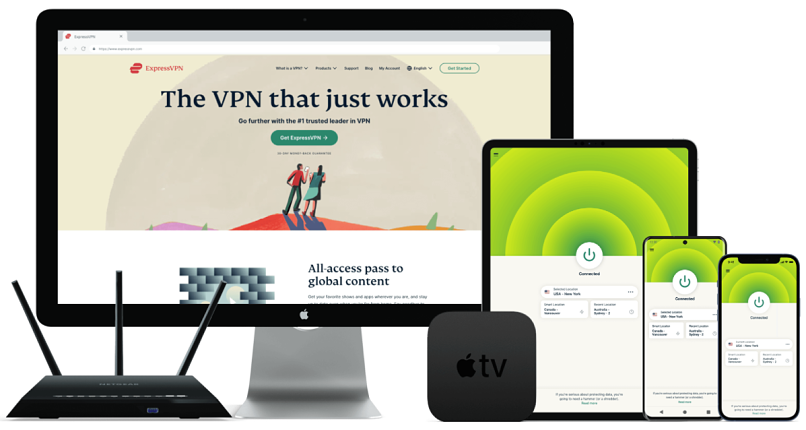 Editor's Choice
Editor's Choice

Tested February 2023
Try Risk-Free for 30 Days
www.ExpressVPN.com
3,000 servers in 94 countries, with dozens of servers across 5 UK locations
Ultra-fast streaming speeds
5 simultaneous connections
Can unblock: Sky Go, Sky Sports, BBC iPlayer, ITV Hub, Netflix, Disney+, Hulu, HBO Max, and more
Compatible with: Windows, Mac, iOS, Android, Linux, Fire devices, Apple TV, routers, and more
With plenty of UK server locations, you have many reliable options for unblocking Sky Go if you're traveling outside the UK. During my testing, I could easily unblock Sky Go and stream content on my Windows laptop and Android mobile using its London and Docklands servers. I watched all 3 seasons of Derry Girls and it only took 4 seconds for each episode to load after connecting. It also works seamlessly with Netflix UK and Amazon Prime Video.
Not only did shows load in seconds, but streams in Ultra HD were clear and buffer-free. I averaged about 50.2 Mbps on its London and Dockland servers from my location in Pakistan (more than 3,700 miles away from the UK). This was only a 4% drop in speed from my base connection, which is really impressive (and it's double what you need for Ultra HD).
ExpressVPN is simple to use and has native apps for a ton of devices. All you need to do is download the app, connect to a UK location, load Sky Go, and press play. With a lot of VPNs, you need to test multiple servers before one will work. But ExpressVPN worked to unblock it in every case.
The only minor con I found with ExpressVPN is that it is a bit more expensive than other VPNs, with the cheapest plan starting from $6.67/month. However, you can save money using its regular discounts. I was able to get 49% off and 3 months of free service when I signed up for the 12-month subscription. Since all the plans have the same features, I found the annual package offers the best value.
ExpressVPN also offers a solid 30-day money-back guarantee if you decide the VPN is not for you. To test out this claim, I contacted support through the 24/7 live chat feature after using ExpressVPN for 3 weeks. The representative processed my request immediately without asking any questions and I had all my money back after 3 days.
Speciality UK servers optimized for Sky Go ensure consistent access and smooth streaming
Easy-to-use app for a quick connection to watch your favorite shows in no time
7 simultaneous device connections to watch Sky Go on all your devices
Works with: Sky Go, Sky Sports, BBC iPlayer, ITV Hub, Netflix, Disney+, Hulu, HBO Max, and more
Compatible with: Windows, macOS, iOS, Android, Linux, routers, smart TVs, and more
CyberGhost has optimized UK servers specifically for Sky Go, so you have reliable access to it. When I tested this server, I was able to access Sky Go on the first try. The app's streaming was really smooth, and I watched 3 episodes of House of the Dragon. I had to wait around 6 seconds for each episode to load, but I experienced no lag or buffering once the show started.
Its app is also really easy to use, so you can get straight to watching Sky Go. I used the Smart Rules to set up quick access to Sky Go. This way, the Sky Go app launches when the VPN connection is established. So, when I connect to the Sky Go optimized server, the app starts up and is ready to go with just one click.
CyberGhost's superfast speeds let you watch Sky Go in Ultra HD, too. When I was connected to its optimized Sky Go server, I got speeds of 41.71 Mbps — a 12% drop from my base speed. While this isn't as fast as ExpressVPN, it's still fast enough to stream live sports in UltraHD. You only need around 25 Mbps for this.
The only downside to CyberGhost is that its short-term plans are quite expensive. However, its long-term plans are very affordable, starting at just $2.19/month. You can also keep an eye out for deals — I got an extra 3 months for free when I signed up. Short-term plans have the same features, but they cost more overall and come with a shorter money-back guarantee (14 days).
You can also use the extended money-back guarantee and try CyberGhost with Sky Go risk-free for 45 days. It's easy to get your money back if you don't like it. To test its refund policy, I made a request through its 24/7 live chat. After answering a few questions, the agent processed the return, and I had all my money back in 4 days.
Stealth mode to access Sky Go abroad without effort
200 servers in 63 countries, with 2 servers in the UK
10 simultaneous device connections
Can Unblock: Sky Go, ITV Hub, BBC iPlayer, Netflix, Amazon Prime, HBO Max, Disney+, and more
Compatible with: Windows, Mac, iOS, Android, Linux, routers, and more
PrivateVPN's Stealth Mode makes your VPN traffic appear like regular traffic, hiding the fact that you are using a VPN. This makes it difficult for Sky Go to block you so it's easier to access. While I was testing it out, I was able to watch 4 episodes of Downton Abbey using the London server with this feature activated. To activate Stealth, simply toggle it on under settings.
You get good streaming speeds with PrivateVPN, but it isn't quite as fast as ExpressVPN. Since it works best for Sky Go with Stealth activated, speeds are slower because of the extra time it takes to scramble your VPN traffic. However, my speeds averaged 20.4 Mbps on both the London and Manchester servers. These speeds are more than fast enough to stream in HD without any lag.
The only minor con I could find with PrivateVPN is that it only has 2 UK servers — one each in London and Manchester. Fewer servers means that you might have slower speeds due to overcrowding. However, it was not an issue for me as both servers could easily unblock Sky Go and many other streaming platforms.
Although it has multiple subscription plans, I found the long-term plans to be the more affordable — you can get PrivateVPN for just $2/month.
Each plan allows you to test PrivateVPN for free because they all come with a 30-day money-back guarantee. You can simply ask for a refund if you decide it's not for you. I was asked to provide a reason when I canceled my subscription after 26 days of use, but it was approved without hassle over 24/7 live chat. I got my money back in just 4 days.
5,384 servers in 60 countries, including Ireland and 4 locations in the UK
Stream Sky Go without buffering using NordLynx protocol
Connect up to 6 devices simultaneously, including your smart TV.
Can Unblock: Sky Go, BBC iPlayer, ITV Hub, Netflix, Disney+, Amazon Prime Video, and more
Compatible with: Windows, Mac, iOS, Android, Linux, routers, and more
Enjoy Riviera and Chernobyl on your big-screen TV with NordVPN's SmartPlay. This Smart DNS feature allows you to use the service on devices that don't natively support VPNs, including gaming consoles and smart TVs. When I tested it, I accessed Sky Go on my older Android TV in 10 seconds. I also had no problem unblocking BBC iPlayer and BT Sport — the VPN has servers in Edinburgh, Glasgow, London, and Manchester.
I got the best streaming speeds using its proprietary NordLynx protocol — averaging 29.4 Mbps against a base speed of 35 Mbps. With only a 16% slowdown, you can watch Sherlock in 4K quality since only 25 Mbps is required for UHD streaming. Considering I'm visiting relatives nearly 4,000 miles from the UK, you'll get good speeds for uninterrupted binge-watching no matter how far you are from the UK.
The only minor con is that sometimes I couldn't use YouTube. When I contacted support via 24/7 live chat, I got an immediate response. They recommended I switch to Threat Protection Lite instead. It also keeps you safe from accessing malicious sites and stops annoying ads.
Various short- and long-term plans are available, but its 2-year option saves you the most and offers the same features. You can get NordVPN for just $3.49/month.
Additionally, it has a 30-day money-back guarantee. I claimed a refund after using the VPN for a few weeks to test its credibility. You can cancel via the VPN's website by choosing 'Cancel auto-renewal' when navigating to 'Subscriptions' under the 'Billing' section. It only took 5 days to get my money back on my credit card.
Easy-to-use interface to quickly unblock your Sky Go account while traveling
Unlimited simultaneous connections so the whole family can enjoy their favorite shows
3,200 servers in 100 countries, including Ireland and the UK
Can Unblock: Sky Go, BBC iPlayer, ITV Hub, Netflix, Disney+, Amazon Prime Video, and more
Compatible with: Windows, Mac, iOS, Android, Linux, routers, and more
Surfshark's responsive apps are clean and simple to use. Even if you're new to VPNs, navigating all its functionalities is straightforward. During my tests, I connected to a UK server and unblocked Sky Go in just three clicks. I also like the well-organized Help Centre on its website. Complete with troubleshooting guides and step-by-step tutorials, like setting up smart DNS to stream Sky Go on your smart TV.
It also offers Camouflage mode, ensuring your VPN traffic is masked as regular internet traffic (similar to PrivateVPN's Stealth Mode feature). During my tests, I could easily access Sky Go and watched 2 episodes of Gangs of London.
You get fast streaming speeds with Surfshark, too. You don't have to worry about server overcrowding slowing you down since it has plenty of servers in Dublin, Edinburgh, Glasgow, London, and Manchester. I didn't experience any buffering.
I was worried that the VPN's no-logs policy has never been independently audited. However, security audits on its Firefox and Chrome extensions found no privacy or security concerns. Plus, your personal information gets wiped from its servers after each reboot, thanks to a 100% RAM-only infrastructure.
I chose a long-term subscription, which is affordable, at $2.30/month. The yearly plan is also inexpensive, but the monthly option is too pricey for me.
Using its money-back guarantee, you can access Sky Go with Sufshark free for 30 days. I canceled my subscription by contacting its 24/7 live chat to test this claim. To my surprise, the representative approved my request immediately after asking for some optional feedback. I got the money back in my bank account within 6 days.
Quick Comparison Table: Sky Go VPN Features
The table below compares the features of all the Sky Go VPNs in this list. The table includes the lowest price, length of the money-back guarantees, average speeds, and how many UK servers are available.
Tips on How to Choose the Best VPN for Sky Go
The most important thing to look for in a VPN for Sky Go is that it is able to bypass its tough geoblocks with servers in the UK. After that, it should deliver fast enough speeds for streaming without any lag.
Can unblock Sky Go. A good VPN should be able to unblock Sky Go and I regularly test all the VPNs on this list to ensure that they can do so. Some of the VPNs come with special features, like Stealth Mode, which is designed to make bypassing VPN blocks easier.
Extensive server network with UK Servers. All the listed VPNs have multiple UK servers so that you can unblock Sky Go UK without any issues. If you want access to other regions' Sky Go platforms, then make sure they have servers in those locations.
Fast speeds. A good Sky Go VPN should provide speeds fast enough for lag-free HD streaming at the very least (minimum 5 Mbps). Unlimited data and bandwidth are also necessary, so you can stream in high quality for as long as you want. I tested all of the VPNs on this list to ensure they fulfill this requirement — all of them have unlimited bandwidth and data, while most of them offer speeds fast enough for Ultra HD streaming.
Easy to use. You should be able to navigate through their apps and choose your required servers and settings with a couple of clicks.
Device compatibility. The VPN you choose should have apps for the devices you use to stream Sky Go. I've only listed VPNs that allow multiple device connections and are compatible with all the major operating systems, including Windows, Mac, Android, and iOS.
Reliable customer support. I made sure that all the VPNs on this list provide 24/7 live chat support. For a streaming service like Sky Go, that aggressively blocks VPNs, having customer support available 24/7 is super helpful in case the VPN stops working for any reason and you need help troubleshooting.
Trustworthy money-back guarantee. Always look for a VPN that provides a trustworthy money-back guarantee so that you can make sure it works with Sky Go before committing to a subscription. These VPNs offer at least 30 days to try them. And getting a refund was easy when I tested the policies.
Quick Guide:
How to Watch Sky Go with a VPN in 3 Easy Steps
Get a Sky Go VPN. My top recommendation is ExpressVPN, as it can unblock Sky Go very easily and provides exceptionally fast streaming speeds.
Connect to a server. Choose a UK location from the server list and click "connect".
Start watching Sky Go! Log into your Sky Go account and stream your favorite shows and movies!
FAQs on Best VPNs for Sky Go
What should I do if my VPN is not working with Sky Go?
If your VPN stops working with Sky Go, there are a few simple solutions you can try. First, make sure you're using a VPN that actually works with Sky Go because a lot of VPNs simply don't. If you're sure your VPN supports the service, but it still isn't working, then you can try:
Re-connecting: Sometimes your IP address can be blacklisted by Sky Go. Disconnecting and connecting again will give you another IP address, and sometimes solves this issue.
Configure IPv6 settings: IPv6 leaks can reveal your true location preventing you from unblocking Sky Go. Always enable IPv6 leak protection settings in your VPN, or disable IPv6 altogether in your device's network settings.
Update your VPN: Make sure you're running the most up-to-date VPN software. Using an outdated VPN app could cause security issues that might stop it from working with Sky Go.
Contact your VPN's support team: VPN support can also troubleshoot the issue so you can try asking support for help in case the problem still persists. 24/7 live chat is essential here, since a lot of the time, the support team can tell you which server will work with Sky Go.
Set system settings and time zone: Make sure your system is set to English (UK) and the timezone is also set to UK time.
Will a VPN unblock Sky Go on all my devices?
Yes. The best Sky Go VPNs are compatible with all popular operating systems, including Windows, Mac, Android, and iOS. Each VPN also allows multiple device connections under a single subscription, so you don't have to pay for each device.
However, Sky Go only allows you to use it on 2 devices at a time. So, if you want to watch Sky Go on a new device, you will have to remove an existing device and register the new one through the settings on your account dashboard. You can upgrade to a Sky Extra subscription which allows you to watch on 4 devices at once.
Is it legal to watch Sky Go with a VPN?
Yes, but it can be complicated. Using a VPN to watch Sky Go is legal in most countries. It only becomes an issue if you're using a VPN in a country that has laws against VPN-use, like China or the UAE. Please read up on the most recent laws about VPN use if you want to use one somewhere they're banned. Sky Go is also known to blacklist IP addresses associated with VPNs, but there has been no reports of banning a subscriber account for using a VPN.
Will a VPN also unblock Sky Go New Zealand or other countries?
It's possible. This article lists VPNs that work with Sky Go UK, but these VPNs also have servers in New Zealand and other countries with Sky channels, like Italy, Austria, and Germany. Keep in mind that Sky Go isn't available as a stand-alone online service — you must have a Sky TV cable or satellite subscription to access Sky Go and its content.
As long as you have that, you can connect to one of those server locations with your VPN and it should technically work as long as that Sky Go service hasn't blocked the IP you're using. But, I recommend contacting the VPN's support team to ask if it works with the specific Sky channel or platform you want access to.
Can I use a free VPN to watch Sky Go?
Probably Not. Many top paid VPNs can't even bypass Sky Go's geoblocks (and have also given up trying). The likelihood of a free VPN managing to unblock it is very slim. Free VPNs simply don't have the means to update their networks fast enough to keep up with Sky Go's blocks.
Not to mention, most free VPNs that are safe to use often don't have any servers in the UK. If by some miracle a free VPN got past the blocks, the limited data cap (free VPNs usually only allow 1-10 GB of data per month) would only let you stream for a few hours anyway.
Not that I need to say more, but free VPNs can also compromise your privacy by recording and selling your online activity to third parties for a profit. So if you want to unblock Sky Go then it's better to use a low-cost premium VPN that offers a solid money-back guarantee.
Get The Best VPN for Sky Go Today
It is becoming increasingly difficult to find a VPN that can bypass Sky Go's geo-restrictions. However, I have tested dozens of VPNs and shortlisted the ones that can still reliably unblock Sky Go.
From these, my top recommendation is ExpressVPN. It's tried and tested to reliably unblock Sky Go and provides lightning-fast speeds for lag-free streaming. You can also test ExpressVPN risk-free because it offers a 30-money-back guarantee. If you decide that it is not for you, it's easy to claim a full refund.
To summarize, the best VPNs for Sky Go in February 2023 are…
Privacy Alert!
Your data is exposed to the websites you visit!
The information above can be used to track you, target you for ads, and monitor what you do online.
VPNs can help you hide this information from websites so that you are protected at all times. We recommend ExpressVPN — the #1 VPN out of over 350 providers we've tested. It has military-grade encryption and privacy features that will ensure your digital security, plus — it's currently offering 49% off.