10 Best Free Ad Blockers (2023): Stop Pop-Ups & Browse Safely
Updated on 12th December 2022
Using ad blockers is a great way to avoid nasty spyware and malware hidden in ads. They also help you block intrusive pop-ups, and secure your online privacy. However, finding the best free adware blockers for your device can be challenging.
My team and I took up the task and tested 50+ free ad blockers to find the best ones. The shortlisted apps are compatible with many devices, including Android, iPhone, and iPad. Overall, an ad-blocking VPN offered me the best private browsing experience and protection against websites infected with malware or spyware.
My top recommendation for stopping ads is CyberGhost's Block Content feature. It lets you browse ad-free on your Windows and Mac and prevents pop-ups on YouTube. Plus, the VPN safeguards your data with robust encryption and a no-logs policy. You can try CyberGhost for free, as it's backed by a 45-day money-back guarantee. Getting a refund is hassle-free if you're not fully satisfied.
Short on Time? Here Are the Best Free Ad Blockers in 2023
CyberGhost (Block Content) — Best overall service for blocking ads and safeguarding your private information with AES 256-bit encryption. You can try it for free since it's backed by a 45-day money-back guarantee.
Adblocker Ultimate — Excellent protection against malware/spyware-infected ads and phishing attacks.
Private Internet Access (MACE) — Prevents IP tracking and blocks DNS-level ads, but not completely free.
AdBlock — Stops many kinds of ads, including video ads on YouTube, but it's not available for Windows and macOS.
AdGuard — Keeps your data safe by deleting third-party cookies after a set amount of time, but you can only use it free for 3 months.
Best Free Ad Blockers — Full Analysis (Updated in 2023)
My recommended ad blockers are free and compatible with many devices like Android, iPhone, and Mac. They're either stand-alone apps, ad-blocking VPNs, or browser extensions (for Chrome, Safari, or Firefox). Besides, these services are easy to install and use.
These apps safeguard your online presence and keep your information safe. They also include all-round protection from ads infected with malware or spyware. Most of them are open-source, offering better security and a safer user experience.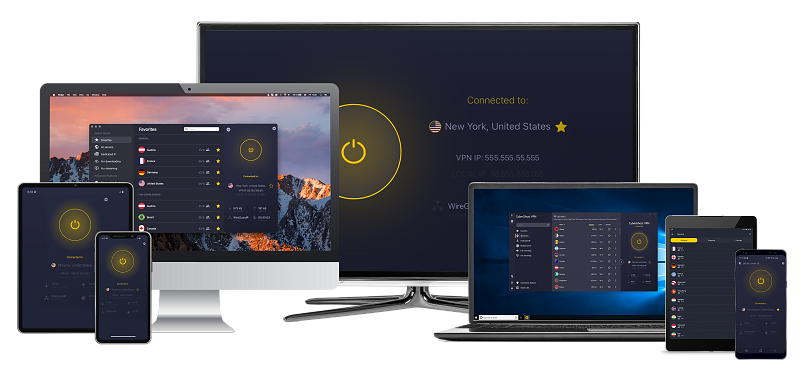 Editor's Choice
Editor's Choice

Tested February 2023
Try Risk-Free for 30 Days
Available on:
Chrome
Router
Smart TV
More
www.cyberghostvpn.com
A built-in ad blocker that helps you stay safe from harmful ads
Strong encryption and a kill switch for protecting your online data
24/7 live chat support to quickly resolve any queries
7 simultaneous connections to block ads on many devices
Compatible with: Android, Windows, Mac, iOS, Linux, Chrome, Firefox, and more
CyberGhost is a VPN that comes with a built-in ad blocker to remove unwanted ads and malware. It also offers robust AES 256-bit encryption to safeguard your network from hackers and snoops. I ran several IP/DNS leak tests on CyberGhost's US servers, and they didn't expose my sensitive data. Plus, you get a kill switch that automatically disconnects you from the internet if the VPN tunnel suddenly drops (which didn't happen during my tests).
Automatic WiFi protection immediately activates the VPN tunnel whenever you connect to a new network. CyberGhost is headquartered in privacy-friendly Romania outside the 5/9/14 Eyes Alliances (data-sharing pacts). Your sensitive information isn't stored or shared with third parties, as the VPN follows a strict no-logs policy.
The app offers super-fast speeds for streaming and browsing. I watched Dancing with the Stars in 4K buffer-free. You get unlimited bandwidth too, which allows you to download as much as you want without hitting any data limits.
An extensive server network spread across 91 countries lets you access your favorite content from anywhere. I watched videos and live streams on platforms like YouTube, Twitch, and ESPN+ without any ads interrupting my experience.
Installing the VPN and activating the ad blocker on my devices took me less than 5 minutes. CyberGhost has a great ad blocker for Windows, Mac, and Linux PCs. The apps are easy to use and come with 24/7 live chat and multilingual support to quickly answer all your queries.
One drawback is that CyberGhost isn't technically free. However, I still recommend it as the best ad blocker because it also protects your connection from hackers and snoops. Long-term plans start at only $2.19/month. I subscribed to the 2-year subscription as it's the most budget-friendly deal with an extended refund period.
A 45-day money-back guarantee backs up the ad-blocking VPN, meaning you can test CyberGhost for free. Getting your money back is hassle-free if you're not fully impressed with the service. Disabling the auto-renewal feature and canceling the subscription took me seconds. I asked for a refund using the online web form, and the money was transferred back to my bank account in just 2 days.
2. Adblocker Ultimate — Secures Your Traffic From Phishing Attacks and Malware
Protects your device from phishing attacks and ads infected with malware or spyware
Removes most forms of ads, including expanding ads
Improved page loading time by preventing trackers and pop-ups
Compatible with: Android, Windows, Mac, iOS, Chrome, Firefox, Microsoft Edge, and Opera
Adblocker Ultimate is a program that protects you from ads prone to phishing, malware, and spyware. The Ghost Mode secures you from trackers to keep your information private. Plus, the app is open-source — this means anyone can verify the source code resulting in better-added security.
During my tests, the app blocked banners, wallpaper, and pop-up ads. I tested it on multiple news sites, such as The New York Times and CNN. The ad blocker helped me dispel video ads on YouTube too. This means you don't have to watch all the annoying ads and can jump straight into the content you want to see.
Trackers are blocked as well, meaning your online activity stays private. The app improved my webpage load-up times — I read articles on Forbes seamlessly. Streaming videos is faster too, as you don't have to worry about some random ad taking up your screen time.
You can get the ad blocker for your device from a respective app store. It works on all major operating systems and using the extension to block display ads and sponsored content on Windows, Android, and iOS is very straightforward. The extension is available for Firefox, Microsoft Edge, and Opera too. Besides, there's a unique Android browser that automatically filters out ads. However, Mac users can be disappointed that there's no Safari extension.
Best of all, it's possible to use Adblocker Ultimate for free on browser extensions, Android, and iOS apps. Even though the program for Windows requires a fee, it offers a 14-day free trial. Plus, it prevents ads from appearing even in apps. The service has hundreds of thousands of user downloads on Google Play. It's also highly rated — 4.8 out of 5 by Google Chrome users.
A built-in MACE blocker that allows you to browse the internet without malicious ads
Blocks pre-roll, mid-roll, and post-roll ads on sites like YouTube
29,650 servers in 84 countries to easily unblock content worldwide
AES 256-bit encryption and a no-logs policy to safeguard your network
Compatible with: Android, Windows, Mac, iOS, Linux, Chrome, Firefox, Opera, and more
PIA offers a built-in malware blocker (MACE) which safeguards you from websites plagued with malicious ads, trackers, and pop-ups. It constantly updates its list of websites suspected of containing malware. Just like CyberGhost, PIA has a kill switch that brings added security. The no-logs policy and IP/DNS leak protection mean my sensitive data can't be stored or accidentally exposed.
Streaming is interruption-free. PIA blocks pre-roll, mid-roll, and post-roll ads without noticeable speed loss. It also makes browsers load pages faster. While testing PIA's US, UK, and Japan servers, my connections were super-fast. I watched UHD live streams on YouTube using my Samsung tablet with no buffering.
A worldwide network of servers in 84 countries allows you to unblock your streaming accounts without being geoblocked. This means you can travel abroad and still be able to watch content from your home country. I used PIA to access my Netflix US, BBC iPlayer, and Disney+ accounts trouble-free.
User-friendly design is seen across all of PIA's apps. A single subscription lets you use 10 devices simultaneously. I downloaded the VPN and enabled the MACE feature on my smartphone and laptop in just a few minutes. Plus, 24/7 live chat support can help you out if you ever get stuck.
Like CyberGhost, I was disappointed to see that the service isn't entirely free. However, you can get PIA for only $2.19/month. All the subscription packages include the same features, so getting the 3-year option gives you the best value for your money.
That said, with the 30-day money-back guarantee, it's still possible to use PIA for free. Getting a refund is easy — I just had to contact support through email to request it. I received a response in less than 24 hours, and the money was credited to my PayPal wallet 3 days later.
4. AdBlock — Reliably Blocks YouTube Video Ads
Removes annoying wallpaper, banner, pop-up, and video ads
Blocks trackers to improve your online privacy
Open-source app for improved security
Compatible with: Android, iOS, Chrome, Firefox, Microsoft Edge, Opera, and Safari
AdBlock safeguards your online experience by stopping ads infected with malware and spyware. The app improves page loading time by removing banners, wallpaper, and pop-up ads from hundreds of websites. I tested the service on news platforms such as BBC, Daily Mail, and Orlando Sentinel, and AdBlock removed all ads. You can save time and watch videos on YouTube, Twitch, and Crunchyroll without any video advertising too.
I didn't notice any ads on my favorite platforms. Some sites detect ad blockers; that's why AdBlock lets you whitelist specific websites to avoid switching it off and on again. The app also allows you to customize the interface with usage data and information about the number of ads blocked. Plus, you can support your favorite content creator and watch monetized ads on their videos.
There are additional security features to protect you from malicious software. I used the app to block trackers and stop third parties from monitoring my online activity. This lets you keep your information safe from advertising companies. The app is open-source, meaning anyone can check its security by auditing the code. AdBlock has an "acceptable ads" program that allows some non-intrusive ads to be displayed.
This service is compatible with several devices and browsers, including iPhone, iPad, Google Chrome, and Apple Safari. It's one of the most downloaded Chrome and Safari extensions. Dedicated apps for iOS and Android keeps ads away from your mobile devices. You can use AdBlock for free, as it has no hidden charges and is available in more than 30 languages. Payment is optional — if you really like the ad blocker, there's a possibility to donate.
5. AdGuard — Deletes Cookies Used by Websites to Store Information About Your Traffic
Self-destructs cookies after a set period of time
Blocks ads, trackers, and malicious websites
User-friendly interface for beginners
Compatible with: Android, Windows, Mac, iOS, Chrome, Firefox, Microsoft Edge, Opera, Safari, and Yandex
AdGuard is an excellent way to keep your browsing data safe as the service deletes all cookies after a set amount of time. This means your information isn't saved on any websites or browsers. The app also blocks ads and keeps you safe from malware and phishing attacks. It's an attempt to steal your money or identity by getting you to reveal your personal information). So, it's great to see that AdGuard has protection against it.
I tested the app on multiple websites, and it worked flawlessly. So I read my favorite blogs and watched YouTube videos interruption-free as the ad blocker service removed all banner ads and pop-ups. It also blocks advertising on apps and games. The app has a privacy module that uses a proxy to hide your IP address — similar to a VPN but without other proper security measures, like encryption and a kill switch.
You can use AdGuard for free on 3 devices for up to 3 months. It has a parental control module that allows you to configure and censor what your children are watching. This program has dedicated iOS, Mac, Android, and Windows apps and runs on multiple browsers, including Yandex. The company also sells VPNs and DNS services.
6. uBlock Origin — Predefined Filters That Block Unwanted Ads
Blocks trackers based on predefined filters
Stops all forms of banner, pop-up, and video ads
Compatible with: Chrome, Firefox, Microsoft Edge, Opera, Chromium, and all Safari releases prior to 13
uBlock Origin is a wide-spectrum ad blocker that removes trackers and ads based on predefined filters. The app was released in 2014. It contains lists of multiple public filters, including EasyList and EasyPrivacy. These filters specify all malicious websites, so uBlock protects you from them. You can create a custom list of websites you want to block.
Webpages loaded up around 2-3 seconds faster during my tests with uBlock enabled. This is thanks to the lightweight nature of this program. Besides, as it's a browser extension, it doesn't require any software to be downloaded, which saves users time and storage. Just like AdBlock, uBlock is open-source. This means anyone can independently look up the source code and verify the extension for added security.
The service can be quickly set up on your browser. It also blocked ads on YouTube when I used my MacBook Pro. You can download uBlock from GitHub or your browser's web store. The default settings are easy to use, but it can be tricky using the more complex ones, especially since there's no customer support available.
7. AdBlock Plus — Easy-To-Use Ad Blocker That Works With Multiple Browsers
Intuitive interface for an easy ad-blocking experience
Follows the Acceptable Ads policy to allow ads from fair publishers
Compatible with: Android, iOS, Chrome, Firefox, Microsoft Edge, Opera, Safari, Yandex, and Internet Explorer
AdBlock Plus (ABP) is easy to use, letting you block ads in just one click. The extension protects you against all intrusive and malware ads across multiple websites. You can quickly block ads, malware, and social media buttons by loading preset filter lists. It's a different program than AdBlock, even though the names are similar.
The Acceptable Ads initiative allows clearly labeled, respectful, no third-party tracking ads placement. But it's possible to turn off these ads too. You get an overview of all the ads the extension has blocked. The service also shows you the blocked ads data on the website you've visited.
ABP can be used on iOS, Android, and several browsers. On Android, there's a Firefox-based browser for blocking ads, while on iOS, the ad blocker stops advertising on Safari with minimal setup. It's a free and open-source ad blocker with millions of downloads. Many other free ad blockers use it as the primary source code.
8. AdLock — Protects Your Mobile and Desktop Devices Against Ads
Safeguards your device by blocking harmful websites, ads, and trackers
Improves page load-up times and offers a faster online gaming experience
Compatible with: Android, Windows, Mac, iOS, Chrome, and Safari
AdLock works on all major operating systems and browsers to protect your devices from annoying ads. The app blocks many kinds of ads, from banners to YouTube video ads and in-program advertising (like on Skype). I tested AdLock on the Lifehacker website, and it blocked all ads offering a clean reading page.
You get an easy-to-navigate interface and an option to whitelist the sites you want. The app also improves the page load-up time for online games. Besides, there are certain add-on features like a warning against spam and scam links.
The app is available to download on Windows, Mac, Android, and iOS with a 30-day money-back guarantee. However, you can use it for free on browser extensions. The mobile version is unavailable on the Google Play Store but can be sideloaded. It's possible to get it from Apple's App Store, though.
9. Poper Blocker — Allows You to Personalize Your Ad Blocking Preferences
Effectively blocks all kinds of pop-up ads and overlays
Has an option to opt out of any data collection for improved privacy
Compatible with: Chrome and Firefox
Poper Blocker removes pop-ups and overlay ads on most websites. It also allows you to right-click any overlay (for example, on Tubi) and block it. So there's an option to customize the ads you want to stop and whitelist other platforms. Small notifications tell you when pop-ups are blocked, and it's possible to view the stats. You can report when an ad fails to get blocked too.
The app lets you opt out of data collection services for added privacy. Poper Blocker can even block pop-unders and timed and scroll ads that many platforms use. Scroll ads are shown to you after you start scrolling down a website, and timed ads overlay on your screen after a certain period of time. Plus, this program doesn't impact your device performance too much, as it's very lightweight.
You can use Poper Blocker for free on Chrome and Firefox by downloading it from the respective web stores. There's no sign-up required, so you don't have to give over your personal information.
Avoid Pop-Ups WIth Poper Blocker
10. Trustnav AdBlocker — Blocks Adware and Trackers With a Single Click
Beginner-friendly ad-blocking interface that lets you quickly block ads
Offers a smooth browsing experience by letting you block all or some ads
Compatible with: Chrome and Firefox
Trustnav is an easy-to-use ad blocker app that can be used with your Chrome and Firefox browsers with just a single click. The app also lets you customize it to either block all possible ads or just some of them.
I tested the extension on ABC News and didn't get any annoying pop-ups. However, some streaming video sites can detect it and make you turn the ad blocker off. There's also no whitelisting option or possibility to view the ad blocking stats.
Besides, Trustnav offers a separate SafeSearch plugin with extra privacy features and an antivirus you can get from the Chrome Store.
Stop Trackers With Trustnav AdBlocker
Quick Guide:
How to Block Pop-Ups in 3 Easy Steps
Download ad-blocking software. Pick an app or extension proven to work. I also recommend using a VPN like CyberGhost. It's consistent in blocking ads and provides extra tools to avoid tracking by third-party advertisers.
Activate the ad blocker. If you're using a VPN, some don't have ad blockers on by default. Check if the feature is up and running before connecting to a server.
Start browsing interruption-free. Enjoy streaming videos and reading news without annoying ads.
Free Ad Blockers to Avoid & Why
Free ad blockers have been known to secretly collect user data, unblock specific ads for profit, or contain malware. So, make sure to use a tried-and-tested free ad blocker. You can also use a premium VPN service like CyberGhost together with an ad blocker for the most secure experience.
Here are some ad blockers that we have found to be less effective, track users' traffic, or contain malicious files that you should avoid:
Privacy Badger — Doesn't block all the ads and puts users' privacy at risk without proper security measures.
Ghostery — Focuses more on blocking trackers than stopping ads.
uBlock — Allows third parties to profit from your traffic by modifying your cookies (not to be confused with uBlock Origin).
Adblock Focus — Collects user data without permission.
Adblock Pro — Unblocks ads of the companies that pay for it.
AdRemover — Might make some changes to your browser with a hidden code.
Ads Blocker — Contains malware.
Tips on Choosing the Best Free Ad Blockers
All my listed ad blockers have excellent protection against ads and trackers. However, if you want to do your own tests, here are the criteria I used to rank these services:
Totally free or with a free trial — Pick an ad blocker you don't have to pay for, or that you can test for free.
Reliably blocks ads — Get a program that stops most ads. A good ad blocker removes wallpaper, banners, video, and pop-up ads that are annoying and sometimes conceal malware or spyware. It's preferable that it also blocks floating, static images, text, and YouTube ads.
Open-source extension — An open-source ad blocker means anyone can verify the source code for potential security risks. This helps make the ad blocker secure and reliable. It also shouldn't require you to set up an account.
Easy-to-use interface — Look for user-friendly ad blockers that provide a seamless experience on your device. Plus, the extension should support multiple browsers and operating systems, have a good user rating, and be recently updated.
FAQs on the Best Free Ad Blockers
Is using free ad blockers legal?
Yes, it's legal to use free ad blockers. Ad blockers keep you safe from malware and spyware infected ads that can put your online privacy at risk. So, it's recommended to use an ad blocker service for your online safety and stay protected against rising cyber threats.
As always, you should check the rules on ad blockers for your location, as they may be subject to change.
Why do I need to install ad and pop-up blockers on my devices?
Ad and pop-up blockers help keep annoying and malware-infected advertisements and websites at bay. Most ads come from third-party advertising networks that track your movements across the internet to show relevant ads. A good ad blocker stops all forms of ads, trackers, and malicious websites, improving your online privacy.
While many ad blockers stop pop-ups, most pop-up blockers can't remove other kinds of ads. Ad blockers target all types of online advertising (including annoying pop-unders) and offer other benefits, such as faster page loading time. But even the best programs can't catch all the pop-ups as they're getting more intelligent.
Do ad blockers still work?
Yes, ad blockers still work and remove ads from many websites. They allow you to block trackers and ads that contain malware and spyware. However, CyberGhost offers the best protection from ads and is compatible with many devices. So, make sure you choose an extension that works on your browser and provides you with a seamless experience of the website you're visiting.
However, there's a risk that ad blockers might not be working on Chrome browser anymore because of the Manifest V3 API that Google plans to implement in 2023. This new extension platform is supposed to break most currently working ad blockers.
Does ExpressVPN block ads?
No, it doesn't block ads, but that doesn't mean you shouldn't use ExpressVPN. It provides robust security and privacy features like military-grade encryption and TrustedServer technology. You can use ad-blocking software with the VPN to get the best overall protection on your device and stop annoying ads.
Does Google Chrome Ad Blocker work?
No, Google Chrome's ad blocker seems to have a huge flaw that doesn't work well in blocking ads. It's very limited, and ads sourced through Google's own advertising platform appear to bypass the ad blocker. So, it's better to use reliable ad blockers like PIA MACE to keep ads away from your device and protect your online privacy.
What is the best free ad blocker for Chrome, Firefox, Safari, and Microsoft Edge?
All the ad blockers on the list are great options, but the best ad blocker for all browsers is CyberGhost. The app comes with protection against phishing attacks, ads, and trackers. Plus, the service has apps available for Android and iOS devices. You can easily download the CyberGhost app and use it to block ads.
What is the best free ad blocker for Android and iPhone?
Not all ad blockers work with Android and iPhones, but PIA is a great ad blocker for Android. The app is compatible with many browsers and blocks all ad forms. You can get it to run on your iPhone and iPad too, for a safe browsing experience. Plus, PIA has an easy-to-use interface to block ads on your mobile devices easily.
What is the best ad blocker for YouTube, Twitch, and Crunchyroll?
Among all the ad blockers on the list, CyberGhost offers the best protection against video ads on YouTube, Twitch, and Crunchyroll. The service has dedicated apps for Windows desktops, Macbooks, and iPhones. Plus, CyberGhost can easily block pre-roll, mid-roll, and post-roll ads that affect your watching experience.
What is the best ad blocker for Windows?
Many free ad blockers work well on Windows, like AdGuard and AdLock. These ad blockers have dedicated apps for Windows and block a wide range of ads. Simply download the ad-blocking services and remove annoying ads from the websites.
Do ad blockers stop viruses?
Yes, ad blockers, such as CyberGhost, PIA, and Adblocker Ultimate, can block viruses. The extensions and apps prevent infected page elements from loading by blocking them entirely. You can also prevent nasty scripts and pop-ups with malicious phishing links. That said, the CyberGhost app is a great all-around option to use and offers robust protection against viruses or malware-infected ads or websites.
What types of ad blockers exist?
There are multiple types of ad blockers, but the ad blocker browser extension and stand-alone ad blocker apps are the most common. However, other ad blockers fall into different categories. The listed ad blockers work as browser extensions, built-in blockers, or standalone apps that protect you from ads and trackers. Here are the types of ad blockers:
Ad-blocking VPNs — As the name suggests, it's a VPN (Virtual Private Network) with a built-in ad blocker.
Browsers with built-in ad-blocking abilities — This is a browser app that comes with an ad blocker to offer a better and faster browsing experience.
Ad blocker browser extensions — The most standard ad blocker form that works as an extension for different browsers.
Stand-alone ad blocker apps — Another common form of ad blocker that comes with dedicated apps for Windows, Mac, iOS, and Android devices.
Ad blocking on your router — It's possible to set up an ad blocker on your router but it might be difficult and time-consuming.
Do ad and pop-up blockers affect website revenue?
Many websites lose money if you block the ads. They rely on ad revenue which is their significant source of income. Ad blockers are useful tools for several reasons, including:
Stopping intrusive and annoying ads like autoplay videos, pop-unders, or separate page ads (for example, on Forbes, Crunchyroll, and Hulu)
Increasing your online safety by preventing tracking and malware
Improving the time of page loading
Reducing data usage for limited internet plans
However, using pop-up blockers costs websites billions of dollars in recent years. That's why many services come with whitelisting options. It means you can list your favorite sites you don't want to be affected by your ad blocker and help them monetize ads.
Block Ads With CyberGhost for Free
Get the Best Free Ad Blockers Today
Finding the best free ad blockers for your device can be challenging. That's why I only shortlisted adware blockers that stop most ads and work across multiple devices and browsers.
My top ad blocker recommendation is CyberGhost's Block Content feature. It has a user-friendly interface compatible with all major operating systems. The service offers impressive ad-blocking features to protect you against phishing attacks and malware. Best of all, you can try CyberGhost for free, using the 45-day money-back guarantee. So, getting a refund is hassle-free if you're not fully impressed.
Top ad blocker VPNs you can try for free with money-back guarantees are…
1
Privacy Alert!
Your data is exposed to the websites you visit!
The information above can be used to track you, target you for ads, and monitor what you do online.
VPNs can help you hide this information from websites so that you are protected at all times. We recommend ExpressVPN — the #1 VPN out of over 350 providers we've tested. It has military-grade encryption and privacy features that will ensure your digital security, plus — it's currently offering 49% off.