Top 6 (100% FREE) VPNs for Fire Stick | Updated 2020
Updated on 25th March 2020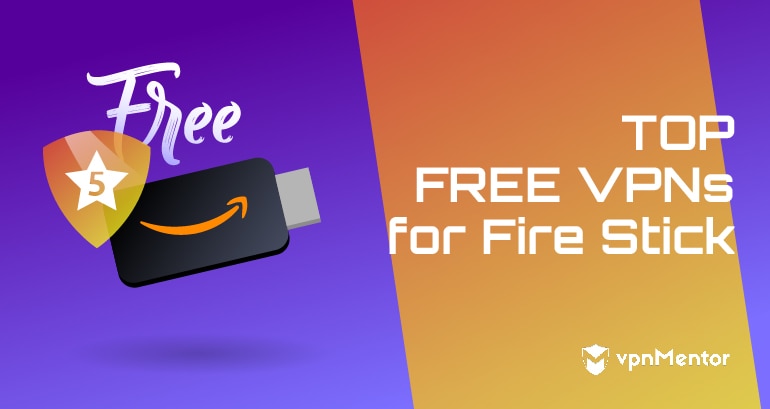 When you're already paying for several streaming subscriptions, it's annoying to face geoblocks on your Amazon Fire TV Stick.
I've tested 35 VPNs and have put together a list of the six best free VPNs for Fire Stick to unlock all that additional content.
However, you should know the risks that come with using a free VPN. From limiting your data to compromising your security, free VPNs aren't always the safest choice.
It's far safer and less stressful to use a service like NordVPN, a low-cost premium VPN. It can offer you the fast speeds and reliable connection you need for streaming, plus guaranteed anonymity and privacy.
You can even use NordVPN for free temporarily, with a 30-day money-back guarantee.
Out of the VPNs I tested, only five others came close to offering the speed, compatibility, and security provided by NordVPN. Most of them still have limitations but should work well if you don't mind a few restrictions.
Best VPNs for Amazon Fire TV Stick – Quick Guide
What's the Catch with Free VPNs?
Free VPNs might not cost any money, but they can cost you your time, convenience, and safety.
Compatibility
VPN apps for Amazon Fire TV Stick are relatively new. Even some paid services aren't yet compatible with the device.
Free VPNs don't have the resources to keep up with the apps offered by premium VPNs. A lot of free services don't offer apps for Fire Stick.
Security
Usually, only premium VPNs can guarantee your security. Most free services offer poor or limited security features.
Some free VPNs leave your personal information vulnerable to hackers and trackers. In some cases, the VPN itself may log and sell your data.
Premium VPNs use advanced security features like 256-bit encryption to protect your data. Quality services never log or sell your data, either.
Limitations
Many free services are just limited versions of a premium VPN. They restrict your data, bandwidth, and speed.
Small networks and overcrowded servers slow your connection down. Free services can rarely bypass geoblocks or censorship. 
Premium VPNs offer unlimited data, speeds, and bandwidth. They operate huge server networks that can access geo-restricted services and streaming sites.
The Best Free VPNs for Amazon Fire TV Stick (Updated 2020)
Here are the best free VPNs for your Fire Stick, according to my thorough testing.
As free services, these VPNs still come with limitations. That being said, they all work with the Amazon Fire TV Stick and have been tested for speed, security, and quality.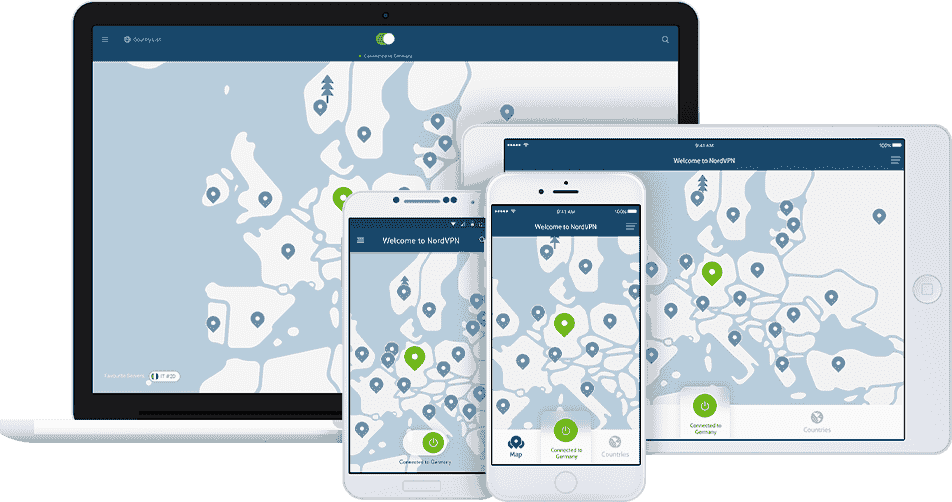 Premium VPN
Free usage for one month with a 30-day money-back guarantee
Dedicated Amazon Fire app
5,100+ servers across 59 countries
Lightning-fast speeds
Military-grade security
Works with: Amazon Prime Video, Netflix, HBO, BBC iPlayer, Hulu and several other streaming platforms
Compatible with: Amazon Fire TV Stick, smart TVs, Windows, macOS, Android, iOS, Linux, Firefox, Chrome, and routers.
NordVPN is always my top recommended service for streaming. So it's good news that you can enjoy the service for up to one month with its 30-day money-back guarantee.
This is ideal if you just need a VPN for Fire Stick temporarily. If you're traveling and you want to stream your usual content from anywhere in the world, NordVPN is the best choice.
NordVPN offers a dedicated app for Amazon Fire devices. Its website even includes a detailed guide and a video tutorial to help you download the app and get set up.
A worldwide network of 5,100+ servers in 59 countries means NordVPN can unblock the majority of streaming platforms. You can also expect super-fast speeds – so no frustrating buffering or lag while you stream.
SmartPlay technology combines smart DNS with VPN capabilities to offer you both excellent unblocking capabilities and guaranteed security. Other security features include 256-bit AES encryption, an automatic kill switch, DNS leak protection, and a strict no-logs policy.
Its unique CyberSec software even blocks ads and malware.
Best of all, NordVPN is easy to use. There's no complicated configuration, just use the Quick Connect feature to connect to the best server for your desired location.
You can also manually select servers. A drop-down list gives you a number of options to choose from, including obfuscated servers that are capable of hiding your VPN use. These kinds of servers are great if you don't want your ISP to snoop on your activity and throttle your bandwidth.
Find out why this service is always top of my list in our full NordVPN review.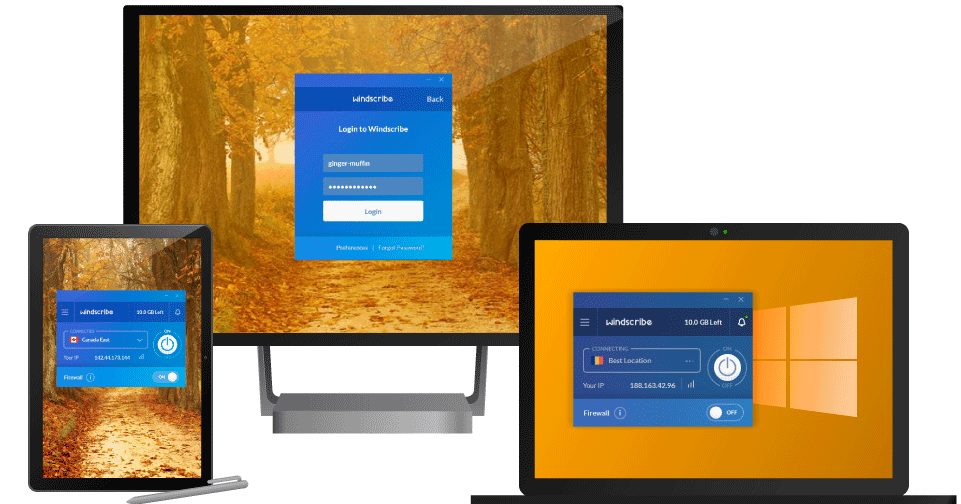 Easy-to-use Fire TV Stick app
Generous 10GB of free data/month
Good speeds
Military-grade encryption
Works with: YouTube, HBO GO, iPlayer, Kodi, ITV Player, Sky GO, Spotify
Compatible with: Amazon Fire TV Stick, Nvidia Shield, Kodi, Windows, macOS, iOS, Android, Windows Mobile, Chrome, Firefox, Opera, routers, and NAS devices
Windscribe is compatible with nearly every device and platform I tested, including the Amazon Fire TV Stick. That's impressive for a free VPN.
You get a generous 10GB of free data every month. That's about five hours of streaming HD content – or more if you're happy with lower quality SD video.
If you need additional data, you can even tweet the company to receive an extra 5GB. That's an extra two and a half hours' streaming!
Windscribe's speeds are good overall, although the VPN can be slow at peak times or on popular servers. During my tests, I found it hard to stream at these times because experienced some buffering and delays.
Windscribe has a reasonable network that spans over 60 countries, but free users can only connect to 10 locations. You have access to servers in Hong Kong, the US, the UK, the Netherlands, Germany, and France.
Unfortunately, free users cannot access Windscribe's special Windflix servers for unblocking Netflix.
This means that the service isn't 100% reliable when it comes to bypassing geo-restrictions. You might find that you cannot access some geoblocked streaming content and you won't be able to unblock anything outside of Hong Kong, the US, the UK, the Netherlands, Germany, or France.
On the other hand, security is first-rate for a free VPN. Expect military-grade encryption, a strict no-logs policy, and a blocker for ad and social media trackers.
Read our entire Windscribe review to find out why I'm impressed with this free VPN.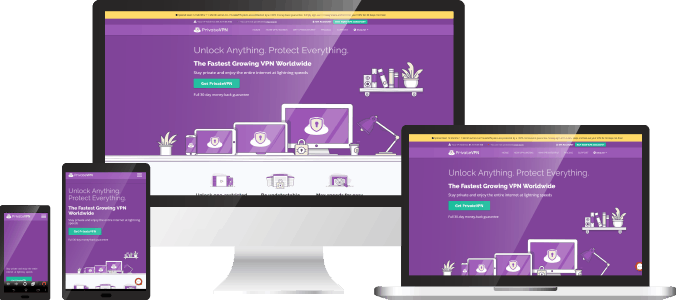 Top-rated VPN
Unlimited usage with a 7-day free trial
Super-fast
World-class security
Works with: Netflix, BBC iPlayer, Amazon Prime Video, Hulu, ABC, and many more
Compatible with: AmazonFire TV Stick, Nvidia Shield, Kodi, Windows, macOS, iOS, Android, Windows Mobile, Chrome, Firefox, Opera, routers, and NAS devices
PrivateVPN is one of my top-rated premium services. If you want to use it for free, though, you can for a week with a 7-day money-back guarantee.
That gives you a full week to test out everything PrivateVPN has to offer, completely risk-free.
You don't have to input any payment details to sign up for PrivateVPN, which means you don't have to worry about automated renewal charges. Just register an account, download the Amazon Fire Stick app, and enjoy seven days of free usage.
PrivateVPN offers you lightning-fast speeds with no restrictions – perfect for streaming. When I tested PrivateVPN, I didn't experience any buffering and was able to stream straight away with no delays.
PrivateVPN's free trial also gives you full access to 150+ server locations across 60 countries. You are not limited to any overcrowded servers.
PrivateVPN is capable of unblocking all major streaming sites, including Amazon Prime Video, Netflix, Hulu, HBO GO, and BBC iPlayer. It's ideal if you're looking to bypass geo-restrictions on your Amazon Fire TV Stick.
The VPN is also renowned for its security protocols. Your data is safeguarded by 256-AES encryption, a kill switch, and both DNS and IPv6 leak protection.
That means your IP address can't be leaked while you are connected to the VPN. It also means you are kept safe from any trackers, hackers, or third parties who want to monitor your online activity.
Find out more about one of my favorite VPNs in our full-length PrivateVPN review.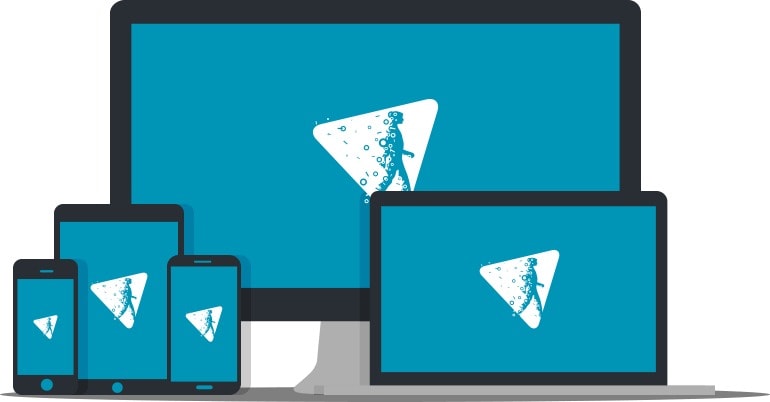 Intuitive Amazon Fire app
Totally free service with no signup
2GB monthly data allowance
Unrestricted speeds and bandwidth
Military-grade security
Works with: Spotify, Amazon Prime Video, Netflix, Hulu, BBC iPlayer, HBO GO, Kodi
Compatible with: Amazon Fire TV Stick, Windows, macOS, iOS, Android, Windows Phone, Linux, and routers
Hide.me is a totally free VPN for Fire Stick. There's no signup or registration required, and you won't have to input any payment details. Just download the intuitive Amazon Fire app to get started.
The simple setup process is great news for your privacy. It means hide.me doesn't get access to any of your sensitive data like name or banking information. It also means there's no risk that you'll be charged at any point.
You'll enjoy unlimited speeds and bandwidth with hide.me, which is fantastic for streaming. Unfortunately, you are restricted to about 40 minutes of HD content with your monthly 2GB allowance. Some users might find that too limiting when it comes to catching up with your favorite shows or movies.
Hide.me has a large network of 1,400+ servers in 57 countries. If you're not a paid subscriber, you are limited to five locations: US East, US West, Canada, the Netherlands, and Singapore.
Hide.me claims to be able to unblock Netflix, Hulu, and iPlayer. However, I found that its unblocking capabilities are unreliable.
You can upgrade to a premium account to see if that improves access. Hide.me offers a 14-day money-back guarantee so you can test it risk-free.
Meanwhile, your data is kept private and secure by the same security measures enjoyed by premium users. These include military-grade encryption, a kill switch, IP leak protection, and a strict no-logs policy.
Read more about this excellent free option in our complete hide.me review.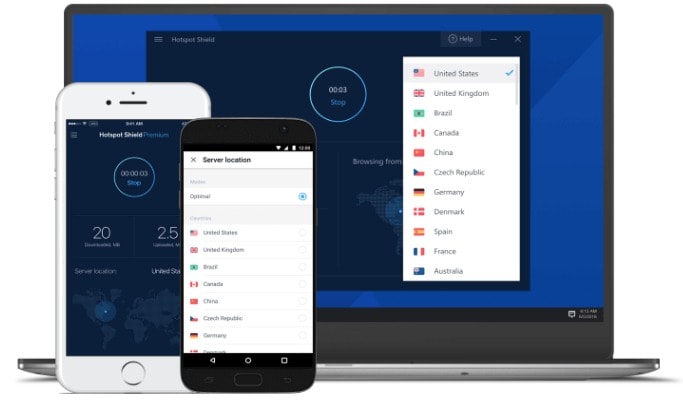 Dedicated Amazon Fire app
500MB of free data per day
Fast speeds
Safe and secure
Works with: YouTube, Spotify, ITV Player, CBS TV
Compatible with: Amazon Fire TV Stick, Android TV Box, iOS, Android, macOS, Windows, Chrome, and Firefox
Hotspot Shield has its own VPN app for use with Amazon Fire devices. Downloading and installing the app is quick and easy.
I tested apps across several different other devices and platforms and found them all intuitive and easy-to-use. Connecting to Hotspot Shield's VPN servers is as simple as opening the app and clicking "Connect".
Although there is a paid version of the service, you can use Hotspot Shield totally free without having to register or enter payment details.
Hotspot Shield gives you 500MB of free data every day. That's enough for 30 minutes of streaming on your Amazon Fire TV Stick.
The VPN's powerful Catapult Hydra protocol guarantees fast speeds, as well as safeguarding your privacy. I found that my connection was quick enough for smooth, uninterrupted streaming.
Other security features include military-grade encryption and malware detection. Both features are great for protecting your device from hackers and cyber threats.
However, I would have liked to have seen some kind of DNS or IPv6 leak protection, or a kill switch. Hotspot Shield cannot guarantee that your IP address will be kept private in the event of a dropped connection.
While Hotspot Shield is capable of unblocking several major streaming sites, these privileges are unfortunately reserved for paying customers. Free users are also restricted to the VPN's default US server.
That can make bypassing some of Amazon's geoblocks a bit tricky.
If you want full access to streaming sites and unlimited usage, you need to upgrade to Hotspot Shield's paid subscription.
Find out how Hotspot Shield stacks up to other free VPNs in our comprehensive review.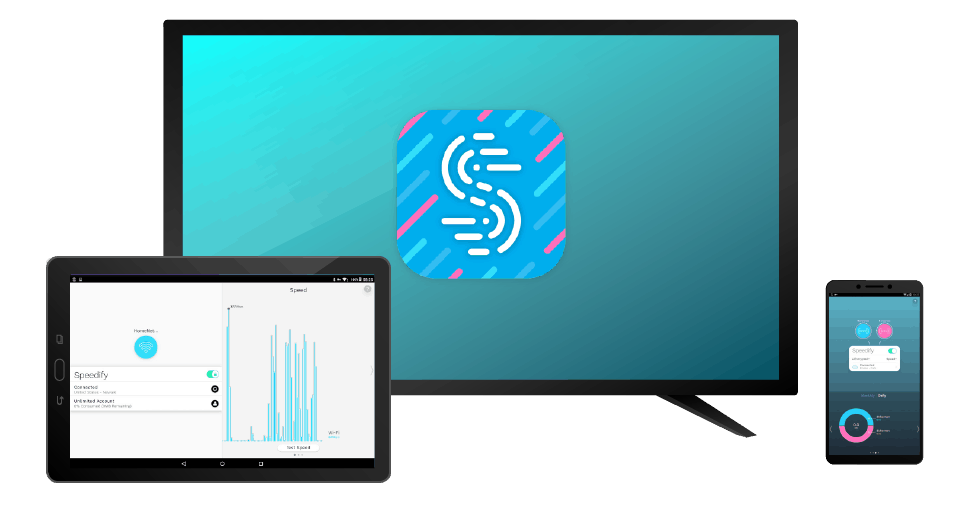 Monthly 2GB of free data
Channel bonding technology
Works with: Some Netflix and Amazon Prime Video regions (though not reliably), YouTube, Spotify
Compatible with: Amazon Fire TV Stick, Android, iOS, Windows, macOS, Linux
A new kind of VPN, Speedify, uses channel bonding technology to maximize your connection speeds.
Channel bonding uses all of your device's available connections to transfer data multiple times. While this does make data transfer (and therefore streaming) faster, it can also eat into your wi-fi and cell data allowances.
Speedify has its own dedicated Amazon Fire app and a comprehensive guide to installation and configuration that you can find on its website.
You get 2GB of free data per month, so you should be able to watch about two hours of SD TV.
Unfortunately, there are mixed user reports on Speedify's unblocking capabilities. I was not able to unblock most streaming sites reliably, and Speedify states on its website that it offers no guarantees.
Speedify also only uses 128 GCM encryption and does keep some logs of your usage.
Find out whether channel bonding is a worthy trade-off for your data in our full Speedify review.
The Top-Ranked Premium VPNs We Recommend For Amazon Fire TV Stick
As you can see, it's not easy to find free VPNs that are compatible with the Fire Stick.
Most free VPNs are also not capable of bypassing geoblocks.
A low-cost premium VPN offers both compatibility and excellent unblocking capabilities – all for a relatively small price.
They may not be completely free, but for the guarantee of convenience and safety, we think these premium VPNs are worth it.
FAQs
What are the benefits of using a VPN with my Amazon Fire TV Stick?
A VPN can help you bypass geoblocks on your Fire Stick, but it also offers other benefits.
When you connect to an unsecured network, like public WiFi, you are vulnerable to being spied on by hackers, trackers, and other third parties.
If your ISP detects high bandwidth usage, it can even throttle your connection.
A VPN hides you from prying eyes. It protects your data from being monitored and can prevent your ISP from deliberately reducing your speeds.
Some VPNs also come with built-in malware protection. Malware blockers detect and prevent any suspicious downloads. This is especially useful if you're looking for a VPN for Kodi on Fire Stick.
Will my free Fire Stick VPN work with my other devices?
Free VPNs don't usually offer a broad range of apps. Typically, only premium VPNs have apps for all major platforms.
That being said, I tested all my top recommendations for compatibility. They all work with a large range of devices.
Does a VPN impact speed?
A VPN server acts as a middleman between you and the website or service you're accessing.
Using a VPN adds another stop for your data to pass through. You should always expect this to have an impact on your speeds.
Fortunately, premium VPNs offer such fast speeds that any delay is barely noticeable. It's only with free VPNs that you might note some buffering or lag.
Summary
There are some secure free VPNs available that are compatible with the Amazon Fire TV Stick.
Sadly, free VPNs are often so limited that using them with your Fire Stick is pointless.
They can offer you an added layer of security and privacy, but they can't always help you access geoblocked content.
I would always rather pay to use a premium VPN, like NordVPN, to guarantee compatibility and unblocking.
If you only need a free VPN for Fire Stick temporarily, you can even use premium VPNs for free with a trial or a money-back guarantee.
To find out more about the premium VPNs we recommend for Fire Stick, check out our complete guide.
Or, for more help with installation and configuration, we have a handy tutorial on how to install a VPN on an Amazon Fire TV Stick.