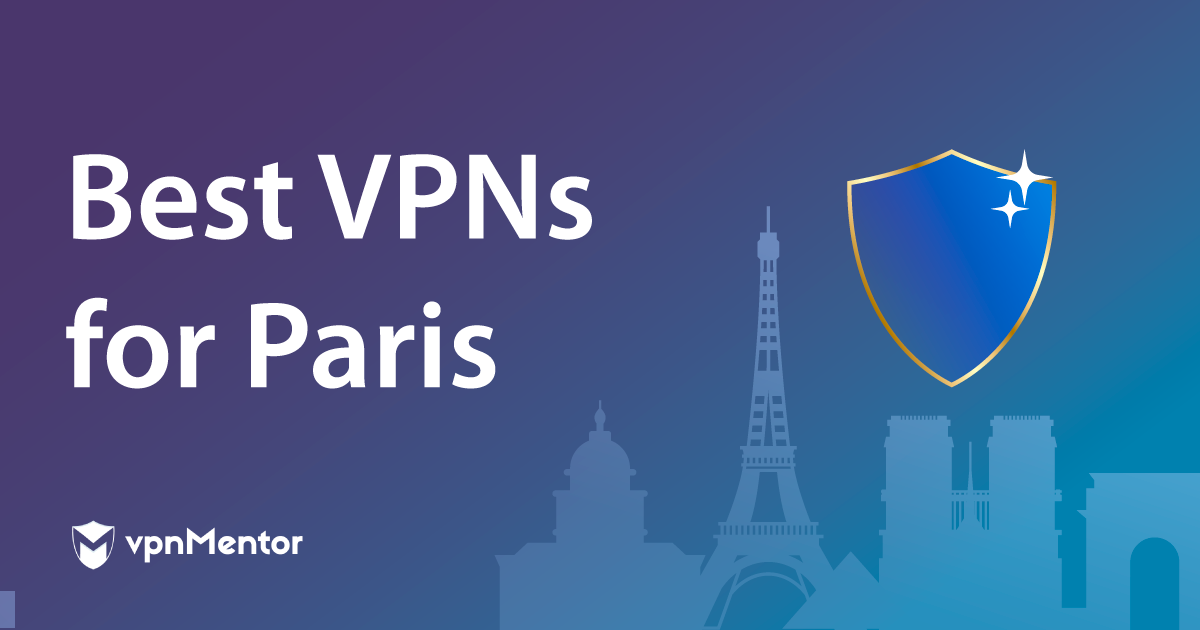 Best VPNs For Paris: Safety, Streaming and Speeds in 2023
We tested over 100 VPNs to see which ones can provide you with a French server that will give you the fastest speeds and access to all your favorite web content anywhere in the world. All the VPNs on our list can provide you with a Paris IP address, and offer strong security features like military-grade encryption, a kill switch, and solid no-logs policies.
Most of them also give you access to global streaming services like Netflix US, France, and UK, as well as Hulu, Amazon Prime Video, and even Disney+.
Some of the VPNs on this list don't have servers in Paris, but do offer servers in neighboring cities and countries. That way you can still get a French IP address for accessing local content.
Short on time? These are the 5 best VPNs for Paris in January 2023
What to Look for in a VPN for Paris
With so many VPNs on the market place, it's sometimes hard to see the wood from the trees. All of them appear to offer more or less the same ingredients, with unlimited speed and bandwidth heading the list. If a VPN has a French server, then you'll be able to obtain a Paris IP address which will give you optimal speeds. If you use a VPN without a French based server, then by going into the options menu, you'll be able to choose the nearest listed server to your location. Below we've listed the main features you should be looking for in a VPN to use on your trip to Paris.
Paris/French based server. This'll give the best speeds for streaming and downloads.
Unlimited bandwidth and speed. You'll never experience buffering when streaming high definition movies or timeouts thanks to data limits.
No data logging. No logs of your traffic are kept. It's essential that the VPN doesn't store traffic logs, IP addresses, connection logs or any other internet activity
Military-grade encryption. Shields you from hackers, spammers and snooping government agencies
Money-back guarantee. If you're unhappy with the service for any reason, you'll get an instant refund
The Best VPNs for Paris - Full Analysis (Updated 2023)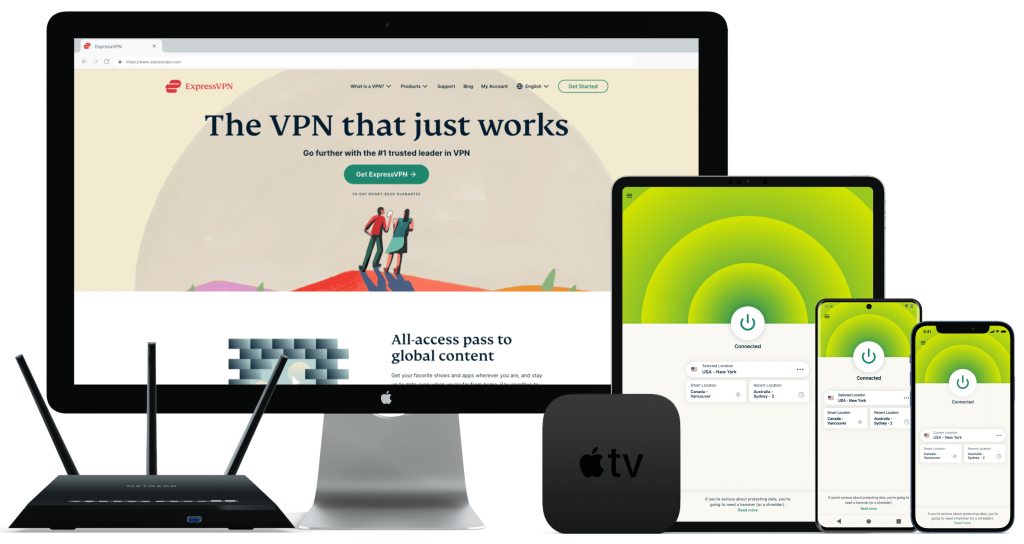 Editor's Choice
Editor's Choice

Tested January 2023
Try Risk-Free for 30 Days
Available on:
Chrome
Router
Smart TV
More
www.ExpressVPN.com
3,000 servers in 94 countries
Strong security
Split tunneling
Easy to use interface
Works with Netflix, Hulu, BBC iPlayer, Hulu, ABC, Sky GO, Sling TV, and more
Compatible with





































Though this is our second choice, it doesn't mean that ExpressVPN is lacking in any department. For many of our tests, this VPN came out on top. In fact, it was the fastest VPN we could find.
With over 3,000 fast servers around the globe, it offers excellent streaming and torrenting without buffering. If you're in Paris, then you'll have the choice of two servers. It's Media Streamer feature allows it to easily get around geo-blocks. It also supports P2P connections for torrenting.
There's a great location feature on the app that automatically chooses the best server for you. Check out ExpressVPN in our VPN review. Because ExpressVPN's TrustedServer technology never actually writes anything onto any of their server hard drives it means that there's no possibility of any of your data being stored remotely. In addition there's a DNS leak protection along with a connection kill switch.
For proof of this VPN's strength, it's one of the few VPNs that can consistently break through China's Great Firewall. There's a fast and helpful 24/7 live chat support, along with a 30-day money-back risk free guarantee. Without a doubt this VPN is a great all round choice.
9,758 Worldwide servers in 91 countries
High VPN speeds for unlimited bandwidth and traffic
Strict no-logs policy
24/7 live customer support
Works with Netflix, Disney+, NBC, Amazon Prime, BBC iPlayer, Hulu, MTV, Canal+, HBO, ESPN, Comedy Central, Crunchyroll, Vudu and more
Compatible with


































CyberGhost is a great all round VPN that combines security with ease of use. This reliable performer is based in Romania, and comes with all the features you'd expect from a top player, including zero logging and high end encryption. What's more, it has a "one click" setup, meaning you can be up and running within seconds.
Though it boasts of over 9,758 servers, with 324 in France, CyberGhost isn't as fast as ExpressVPN. In spite of some speed drops, you can still watch Hulu or Netflix in HD without a problem in your hotel room in Paris. One of CyberGhost's main selling points is its extreme ease of use. And if you do run into any problems, then there's a great 24/7 live chat, staffed by helpful and knowledgeable employees.
The reason why CyberGhost is one of our top picks is that it's a straightforward VPN that does exactly what it's meant to, without fuss or drama. Simple to set up and simple to use, with zero knowledge about VPNs, servers, etc. They even offer a generous 45-day money-back guarantee. A great all-rounder. Read more about CyberGhost in our full VPN review.
29,650 servers in 84 countries
Up to 10 separate devices together
Unlimited bandwidth
No logs kept and ad blocking
Works with Netflix, Hulu, Amazon Prime, Disney+, Crunchyroll, HBO Go, Showtime, BBC iPlayer, Sky TV, Crunchyroll and more
Compatible with


































Thanks to its military-grade encryption and exceptionally low price, Private Internet Access VPN is becoming increasingly popular. It's one of the simplest in terms of features. The important ones of speed and security are perfectly adequate for keeping your data safe whilst allowing fast access to all the major streaming services using geo-block busting technology.
With 48 French servers, along with unlimited bandwidth and total security over public WiFi, you'll be watching Netflix US in Paris in no time. Furthermore, there's a built-in malware blocker which will protect you from adware and viruses. With a Private Internet Access subscription you'll be able to connect up to 10 different devices at the same time. Once connected, it will allow the seamless surfing of Tor, with no dropped connections or slowdowns and furthermore, your use of the Tor network is completely concealed from the ISP.
There's also a zero log policy that keeps your traffic and DNS logs hidden from third parties. All in all, Private Internet Access provides great value for money. See what our readers thought of Private Internet Access. There's a 30-day money-back risk free guarantee so you can take this VPN for a test drive.
Connect up to 10 devices
Unlimited bandwidth and speed
200 servers in 63 countries
Customer-centric with a 30-day money back guarantee
Works with Netflix, Hulu, Amazon Prime, BBC iPlayer, Sling TV, Vudu, Putlocker, 123 Movies and more
Compatible with

























We tested PrivateVPN's boast that you could be up and running within 60 seconds with a one-click setup. And it's true! Their simple interface is designed with clarity and ease of use in mind. Hailing from Sweden, the company takes great pains to point out that they take your security and privacy seriously. There's absolutely no data logging and they run PrivateVPN with AES 256-bit encryption with a 2048-bit DH key making it impossible for hackers to crack. Read our full PrivateVPN review.
There's a very effective "Stealth Mode'' which allows you to bypass all geo-blocks and even the Great Firewall of China. One feature that we really liked was their excellent in-house customer support. Going beyond what many other VPNs offer, they even can set up their VPN on your devices remotely, meaning you don't have to do anything. A couple of clicks from their end, and you're good to go.
And it's the same story whether you want to stream Hulu or surf with Tor. If you're in Paris, then simply connect to the single French server for optimal speed. There's a 7 day free trial along with the standard risk free 30-day money-back guarantee.
Torrenting and P2P allowed
700 servers in 70 countries
No IP or data logging
Up to 10 devices allowed
Works with Netflix, Disney+, HBO, ESPN, BBC iPlayer, Sky Go, Kodi, Sling TV and more
Compatible with































VyprVPN comes from the Swiss company Golden Frog and France is one of their server locations. So if you're in Paris, you'll get fast download speeds. They have a no logs policy. This means that your data is protected from end to end. Though it's certainly not the fastest VPN, it does get the job done. There's no difference in speed from other VPNs when streaming in HD or torrenting.
As a mark of how good their internet masking is, by running their system called "Chameleon" they are able to bypass the Great Firewall of China. Find out what our readers think of VyprVPN.
As with many of today's VPNs, it's both straightforward and easy to use. When you first join, it appears that there's not a lot of options. But advanced features are there if you want them.
VyprVPN offers a risk free 30-day money-back risk free guarantee. If, for whatever reason you want to cancel, then just contact the company via chat.
Servers in 210 countries
P2P high speed traffic for torrenting
Connect up to 5 separate devices
Works with Hulu, Netflix, Amazon Prime BBC iPlayer
Compatible with




























HideMyAss is incredibly simple to set up with zero technical knowledge required. Even though they do have a server in Paris, we suggest that you take care using this VPN. They readily admit to collecting data. Also, you'll have problems with streaming media like Netflix. Unfortunately Torrenting is actively discouraged.
Though they have live support, it's not 24/7. Being based in the UK, this could make contacting them from abroad a bit of a headache. Check out what our users have to say about HideMyAss.
Although HideMyAss does boast a lot of servers in different countries, there are only 2 in France, with one in Paris. And though they also can run at great speeds, we would tend to shy away from them.
The whole point of a VPN is to shield your web activity from third parties. Because the company is based in one of the most aggressive spying jurisdictions, coupled with the fact that they keep all sorts of user logs and information, means we can't recommend them in any way. Of course you could try their 7-day free trial or their risk free 30-day money-back guarantee as you'd have nothing to lose.
2,600 servers in 47 countries
Zero logs kept
Free and paid service
Up to Unlimited simultaneous connections
HBO Go, Spotify
Compatible with

























This Canadian company was recently bought by the internet security company McAfee. So, as you'd expect, they use industry standard 256-bit encryption and don't keep any logs of your activity. There's also a "killswitch" that automatically protects your data if the VPN connection is temporarily lost.
The website is clear and easy to use. In fact the whole design makes TunnelBearVPN fun, with awesome visuals and details. TunnelBear is easy to install on any device. Though you can save money with their free version, you'll be limited to just 500MB of data. In spite of having servers in France (they don't say how many), this VPN is going to be very limiting as they don't allow P2P traffic. This means that you can't torrent. Also, you can't access Netflix or many streaming sites.
Because TunnelBear is more focused on privacy, as opposed to streaming sites and torrents, it's not the VPN for travelling. See the full test results of TunnelBearVPN. If you want to watch your favorite show on Netflix US, whilst relaxing in your hotel room in Paris, then this is not for you. Furthermore, we're wary of any site that doesn't offer any sort of money-back guarantee.
Easy to learn interface
Military-grade 256-bit encryption
1,925 servers over 67 countries
7 Day free trial
Works with Hulu, Netflix, HBO Go, ESPN, Crunchyroll, Vudu
Compatible with




























Though this company offers the usual level of internet security, it does collect some of your information. In some ways this is no surprise when you see that the company is located in the UK. They retain your IP address, device information and your location. These are not good optics. Furthermore, though this VPN is just OK for streaming some content, there's no P2P offered. This means that you can't torrent.
Getting through to Netflix was doable, but BBC iPlayer, along with Vudu and Disney+ couldn't be unblocked in our test. See our full Proton VPN review. Unfortunately you can only connect a maximum of 10 devices which is disappointing. In truth Proton VPN is lacking in many ways. For us it's shortfalls mean that we can't trust that our data won't leak.
When compared to some of the top players in the VPN space, and their smooth streaming or super fast torrents, then we are inclined to give Proton VPN a miss in spite of it's 7 day free trial and risk free 30-day money-back guarantee.
Which VPN is Right For You?
The ideal VPN should be fast enough to stream media in high definition and torrent. It'll need to have great security and encryption, to block intrusive ads as well as stopping spyware and viruses. The best VPN will be the one closest to you, as it will be the fastest. If you're going to be unblocking streaming content then the VPN will need to be country specific. So choose the VPN which has lots of locations and servers.
FAQ
What's the best VPN for Paris?
Having rigorously tested all the VPNs here for their suitability for a Parisian trip, we're going to go with ExpressVPN. They both have fast speeds for streaming and torrenting, and each company has a huge number of servers worldwide. Their proprietary encryption means that your internet activities are kept totally anonymous. There are no limits on bandwidth or data either.
Can I use a free VPN in Paris?
Yes, of course you can. But whether you should is another question altogether. It all comes down to security. A free VPN still has to pay for the maintenance of its VPNs and the features it offers users, which is usually done by selling your browsing history and personal data to third-parties.
They tend to offer a less than stellar experience by bombarding you with ads, throttling speeds, and having major server restrictions.
Is a VPN legal in Paris?
VPNs are completely legal in France. The French Government passed a sweeping surveillance bill in 2015, known as the "Big Brother Act". This gave various security agencies permission to pry into the lives of French citizens. But it's completely legal for you to block them. A VPN will completely hide your identity and ensure that you remain anonymous online. They are completely safe to use, even in countries where they are banned, like Russian and China.
Which VPN is the fastest?
Not only does ExpressVPN offer one of the fastest VPNs on the planet, almost as importantly, it's one of the most stable and consistent. This means that the speeds will be more or less constant. We've noticed that ExpressVPN has introduced new security protocols, which have seen server speeds steadily improving.
How can I get a French IP address?
With ExpressVPN, simply open the server menu and look up "France''. Then click to connect. It's really that simple. By connecting to a French server, you'll have a French IP address. You can do this across all your devices thanks to both mobile and desktop VPN apps. If your chosen VPN doesn't list a server in France, then you'll need to connect to the nearest server, but you'll miss out on having a French IP address.
To summarize, the best VPNs for Paris are…
Privacy Alert!
Your data is exposed to the websites you visit!
The information above can be used to track you, target you for ads, and monitor what you do online.
VPNs can help you hide this information from websites so that you are protected at all times. We recommend ExpressVPN — the #1 VPN out of over 350 providers we've tested. It has military-grade encryption and privacy features that will ensure your digital security, plus — it's currently offering 49% off.