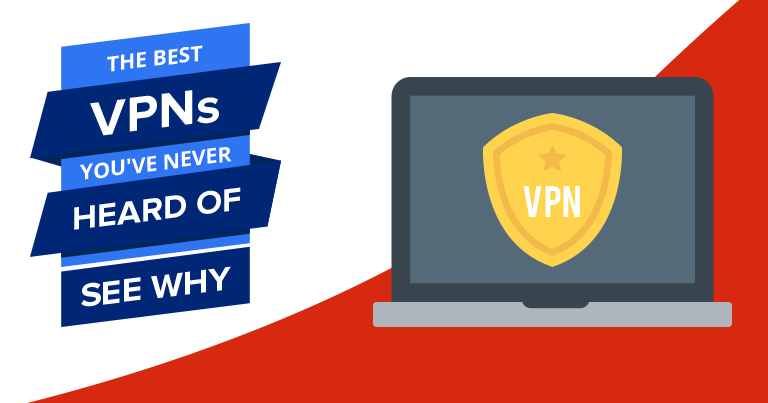 5 Best VPNs You've Never Heard Of for 2023 (Hidden Gems!)
Do a simple online search for the best VPNs and you'll find certain VPN services that are listed on almost all review sites and blogs.
While they do provide great services, the truth is that they have their own affiliate programs to make sure they are marketed on all the right places. To become a top service provider, you need to offer the best services and market yourself well. And these VPNs do it all.
But what about the VPNs that do provide good services, but don't pay for marketing – the ones that are hidden from public's eyes? There are several good VPNs that deserve recognition, but since they don't pay for affiliate programs, not many people have heard about them.
Here are the top 5 VPNs that don't pay commission.
With unlimited bandwidth, P2P support, 10Gbit servers, ability to connect to up to 10 devices, and professional support, Proton offers what the big boys are offering.
Proton was known for providing the world's biggest secure email service, and now they have their own VPN service as well.
ProtonMail was launched in 2014 by a team of scientists and engineers who met and discussed security issues at MIT and CERT. Their email quickly became popular among millions, including journalists, activists, and businessmen.
The Proton team is dedicated towards the fight against censorship, mass surveillance, and online security threats.
 
When you connect to Proton VPN, your traffic is routed through several secure core servers before it leaves the private network, making it impossible to trace the data from individual users. These servers are located in Sweden, Iceland, and Switzerland, where there are strong privacy laws so the government cannot ask for their details.
Also, every time you create a session, you get a new encryption key, so even if one key gets compromised, it cannot be used to decrypt other traffic from your previous sessions. They also have AES-256 bit encryption, 2048-bit RSA key exchange, and HMAC-SHA256 message authentication.
There are some drawbacks to Proton VPN though – it has servers in just 14 countries, and it only supports OpenVPN. You cannot use Proton VPN with PPTP and L2TP. It is done to ensure that the network is completely private as OpenVPN is the most secure. This isn't always convenient but it's secure for sure. If you're still weighing the pros and cons, these user reviews may help you decide if Proton VPN is for you.
Free: Yes
Speed: Good (limited for the free version)
P2P/Torrent: Yes
Betternet is a free VPN service and you don't even need to register with. That's something that you wouldn't find in other top VPNs. It works on a number of devices and doesn't show ads like other free VPNs.
They have a very different and unique way of earning money. When you install their mobile app, it will come with "install an app" button. When you click on that button, it will show you app recommendations. When you install one of their recommended apps, they will make money. And if you don't want to install an app, you can click on "Watch a video and connect" button. This will play a short video on your phone. Each time you play a video, Betternet earns money.

This is a win-win situation – you don't pay money or see irritating pop-up ads.
They also have a premium model. As the free model can generate only enough money to keep the servers running, they have come up with a premium app to cover the expenses of human resources, new locations, and dedicated servers.
Betternet has apps for a number of major platforms. The speed offered to free users is decent. If you want a fast connection, you'll have to switch to their Premium account. Overall, it's a decent free VPN that does not show pesky pop-up and in-page ads to its users. To find out what customers really think, click here.
Free: Yes
Speed: Decent
P2P/Torrent: Yes
Truthfully, we wouldn't be surprised if you've heard of PIA before. After all, it's one of the most popular VPNs out there. But, what makes PIA so special (and why we added it on here), is because they don't put a lot into marketing or advertising. Sure, they have an affiliate program, but it doesn't come with a high commission rate.
The reason for PIA's popularity is because it's a great product, and word-of-mouth has brought it this far.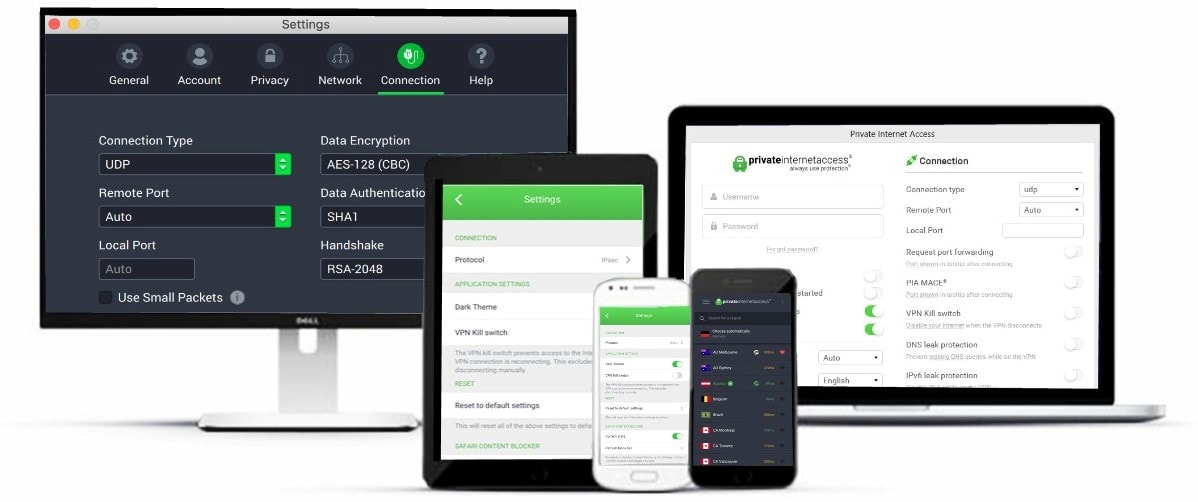 PIA isn't free, and it only comes with a 7-day money-back guarantee, but they have many happy customers.
The only areas where PIA falls short is its speed and its inability to unblock popular streaming sites (like Netflix and Hulu), but for security, it's incredible. Plus, you can torrent on specific servers.
Free: No
Speed: Good
P2P/Torrent: Yes
Private Tunnel is the brainchild of OpenVPN and is more of a privacy initiative than a regular VPN provider. Since it is associated with OpenVPN, it is considered a reliable and trustworthy VPN.
It was known earlier for its data usage based pricing but it has changed its price plans now. They offer two plans – Fixed and Flexible and the difference in them lies in the number of devices you want to connect.
 
When you subscribe, you get private tunnels in a number of countries. They have 128-bit AES GCM encryption and allow unlimited server switching. They also offer unlimited speed and a zero-logging policy.
It offers apps for several major platforms. While there is no app for Linux, it can be setup manually. Also, you can try it for free for 7 days. Or, check out what their customers have to say about Private Tunnel.
Free: No, but there's a 7-day trial offer
Speed: Decent
P2P/Torrent: Yes
Lantern is a free service with limited speed. Its aim is to allow you to access blocked content. Lantern becomes active only when it sees a blocked website. It does not hide your IP for regular websites. If your ISP has blocked certain websites, Lantern will let you visit them without any censorship. It acts as a proxy server and routes your connection through a different server. Proxy connections are secured with HTTPS (TLS). If you want to be anonymous while browsing the internet, you should consider using Tor.
The Lantern tool is extremely lightweight and can be downloaded quickly even on slow connections. With a free account, you get 500MB of free monthly data usage. You need to get a Pro account to get fast speed and unlimited data.

The Pro connection will also get you encrypted HTTPS connections when opening a proxy site. Apart from that, Pro will block all ads, offer unlimited data usage, and let you connect to three devices simultaneously. It lets you visit the open internet and bypasses firewalls and censorship. Find out more about what users think of Lantern here.
Free: Yes
Speed: Good (limited for the free version)
P2P/Torrent: Yes
Conclusion
While you might just find a few VPN names mentioned all over the internet, the truth is that there are many good VPN companies that are working without being heard of. Try some of the VPNs mentioned here – you just might like them.
Privacy Alert!
Your data is exposed to the websites you visit!
The information above can be used to track you, target you for ads, and monitor what you do online.
VPNs can help you hide this information from websites so that you are protected at all times. We recommend ExpressVPN — the #1 VPN out of over 350 providers we've tested. It has military-grade encryption and privacy features that will ensure your digital security, plus — it's currently offering 49% off.