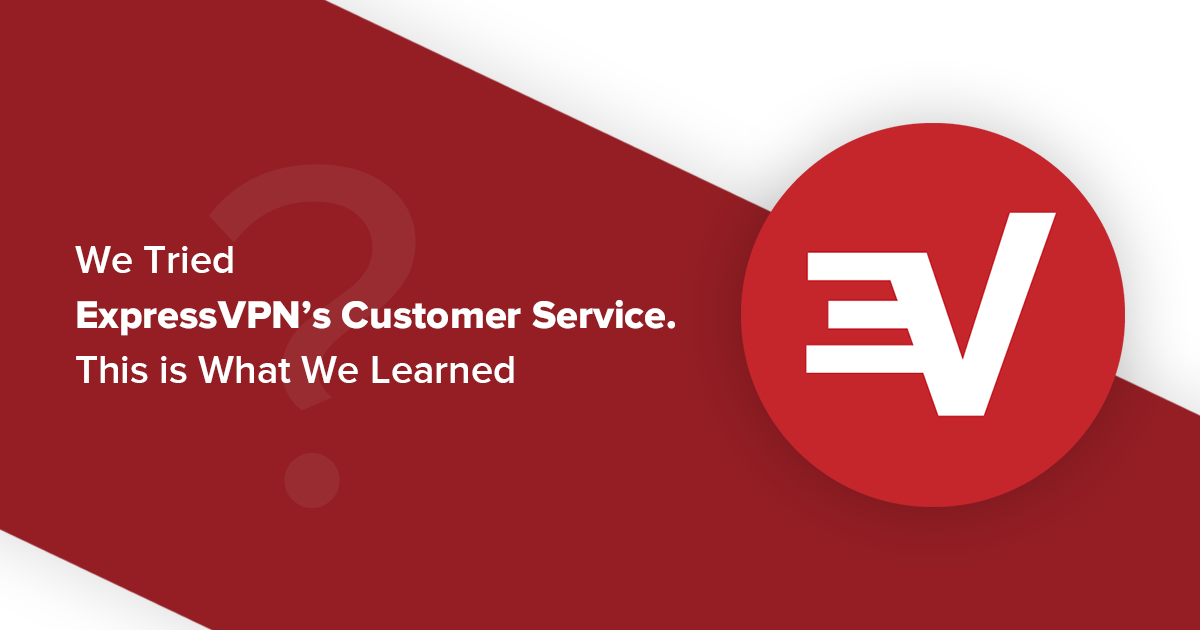 We Tried ExpressVPN's Customer Service – This is What We Learned
ExpressVPN is one of the most popular VPNs available, not to mention the fastest.
It boasts friendly and efficient 24/7 customer support, but does this claim hold true?  I decided to put ExpressVPN to the test to find out.
I am not a journalist or activist who needs to hide my identity, but I like to download torrents from time to time and surf the internet when I get bored.
The majority of my internet use involves online banking, shopping, and watching Netflix, so I needed a VPN with great security and high-speed connections.
I did some research before landing on ExpressVPN.I was impressed with their speed tests and the customer reviews I had read. Most importantly, a friend recommended ExpressVPN. 
ExpressVPN advertises a huge network of 3,000+ servers, which is great for streaming. It also claims to be the fastest VPN on the market - another definite advantage. Plus, it is can bypass geoblocks and unblock Netflix, and its sleek apps are compatible with my Windows 8 desktop and Android phone.
Installing the app was pretty easy: I was ready to go in just a few clicks. I wanted to make sure my connection was optimized for torrenting, so I decided to turn to the experts.
Contacting ExpressVPN Support via Live Chat
It was easy to get in touch with ExpressVPN's customer support team.
They have several different contact options, and I chose the Live Chat because I wanted instant help. They also offer a ticketing system through  ZenDesk, and you can contact them via email. There is no ExpressVPN phone number, but that suits me. I'm not very comfortable with phone calls, and I don't like to wait on hold.
A friendly customer service representative, Romulo,  entered the chat and answered my question within a minute of sending it. I told him I wanted to download some torrents, and asked if it mattered which location I connected to, or which security protocols I used.
Romulo told me that it didn't matter which location I connected to. He also gave an extra tip to make sure I was 100% protected while torrenting.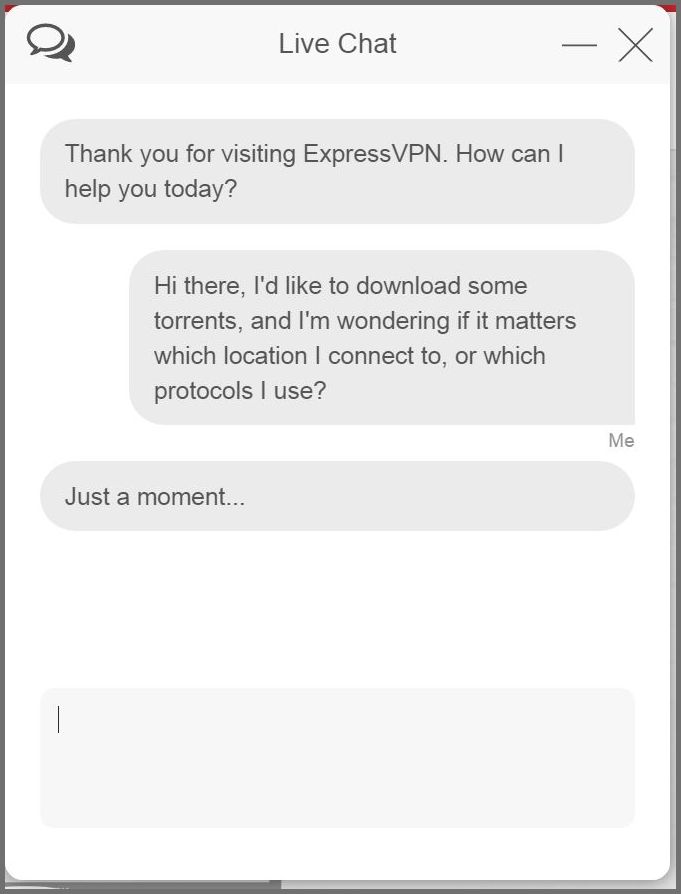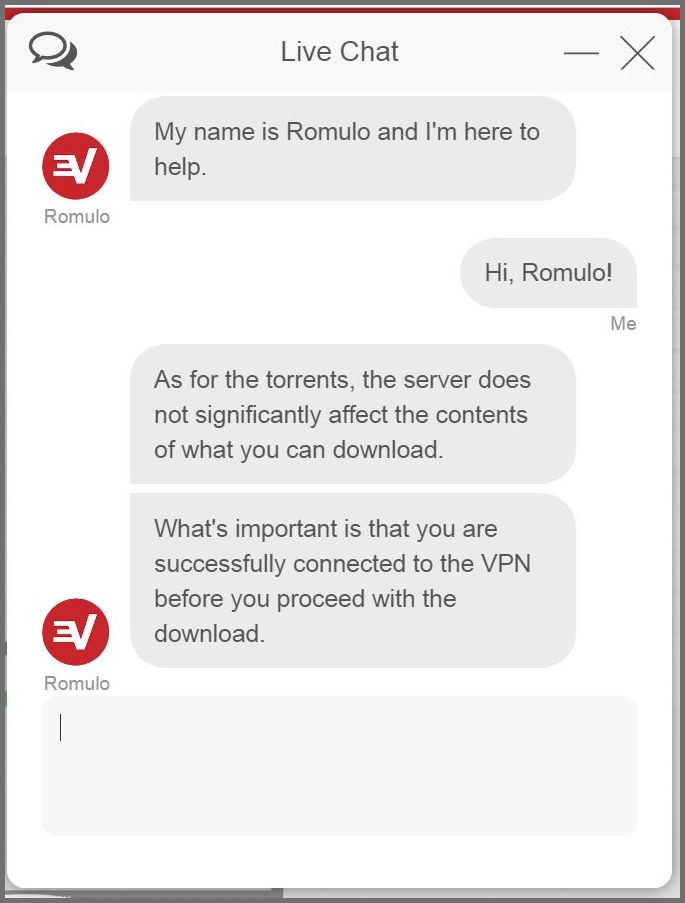 At the end of the chat, I was able to rate my service rep, a customer service feature that I really like. Romulo earned his 5 stars. Using ExpressVPN's chat option was far easier than I had expected.
Using the Ticketed Support System to Contact ExpressVPN's Customer Service
One of the most important features of a VPN, for me, is its ability to unblock Netflix US. As an Australian citizen, I have always felt it was unfair that I had to pay the same price for less than half the content.
Before subscribing to ExpressVPN, I wanted to double check that it can bypass Netflix's VPN blocks and geo-restrictions. I was also curious to see which other streaming services it could unlock for me.
I wasn't under any real time crunch, so I decided to open a support ticket to contact ExpressVPN support instead of using live chat.
It was a little more difficult to find the support ticket link, but I was able to open it by clicking Contact Us at the bottom of the website. You can also open a support ticket by heading to the Support page from the top menu.

I got an auto-response email right away that let me know they received my question and that there was a customer service delay. It also included a link and ticket number in case I wanted to check the status of my question.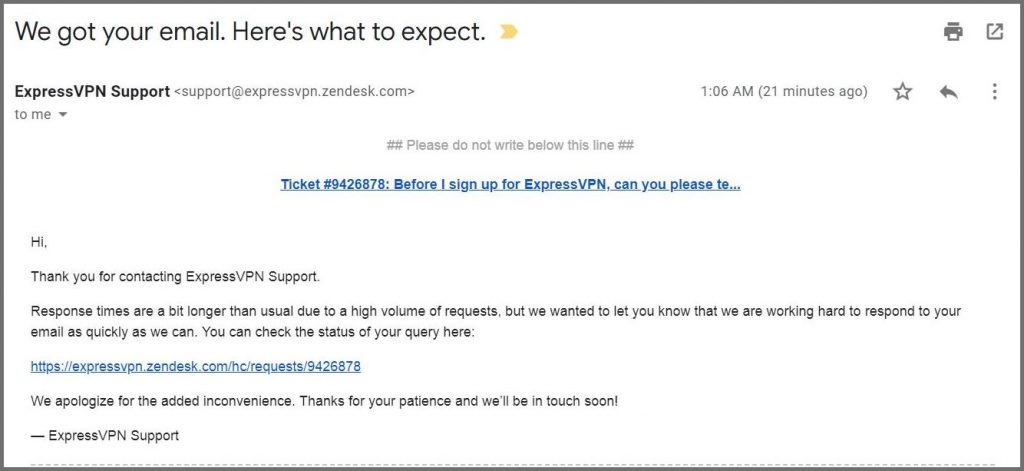 In reality, it took just over two hours for customer service to respond to my question and let me know that I can use it to unblock Netflix in the US, Canada, and the UK. They even told me which servers I should connect to for each country.
It was a nice touch, and a definite bonus, that both customer service reps I spoke with offered me additional advice to help me get the most out of my VPN.
Frequently Asked Questions
How Do I Troubleshoot My ExpressVPN Connection?
ExpressVPN offers an extensive troubleshooting guide in the support section of its website.
To access these guides:
1. Click on the Support button in the top menu of the website.

2. Select Troubleshooting Guides.

How Do I Start a Live Chat?
Starting a live chat is easy!
All you need to do is click the green Live Chat button in the lower right-hand corner of the page, and enter your question!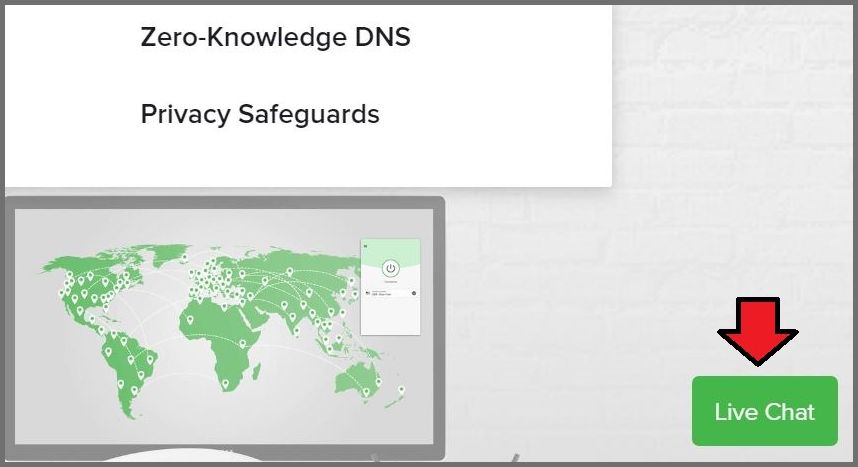 How Do I Submit a Support Ticket?
You'll find the support ticket button on the same page as the Troubleshooting Guide. To get there, you'll need to click the Support button in the top menu and then scroll down until you see "file a support ticket."

Click on it, and then enter your details and your question before hitting submit. You'll receive your reply via email.
Summary
It's been three months, and I'm still really happy with my purchase. I do my online banking and shopping with confidence that hackers and identity thieves can't get their hands on my personal information thanks to the great security protocols.
The speeds are great for both torrenting and streaming Netflix. It was easy to get hold of customer support with my questions, and the staff are always polite, friendly, and helpful.
Overall, I'm very happy with ExpressVPN!
Get Started with ExpressVPN NOW!
What has your ExpressVPN experience been like? Please take a minute and leave a review here.

Further Reading
Our budget-savvy experts have compiled a list of the best deals currently available for ExpressVPN and other top services.
Want to try before you buy? Here's how you can get an ExpressVPN free trial.
Privacy Alert!
Your data is exposed to the websites you visit!
The information above can be used to track you, target you for ads, and monitor what you do online.
VPNs can help you hide this information from websites so that you are protected at all times. We recommend ExpressVPN — the #1 VPN out of over 350 providers we've tested. It has military-grade encryption and privacy features that will ensure your digital security, plus — it's currently offering 49% off.