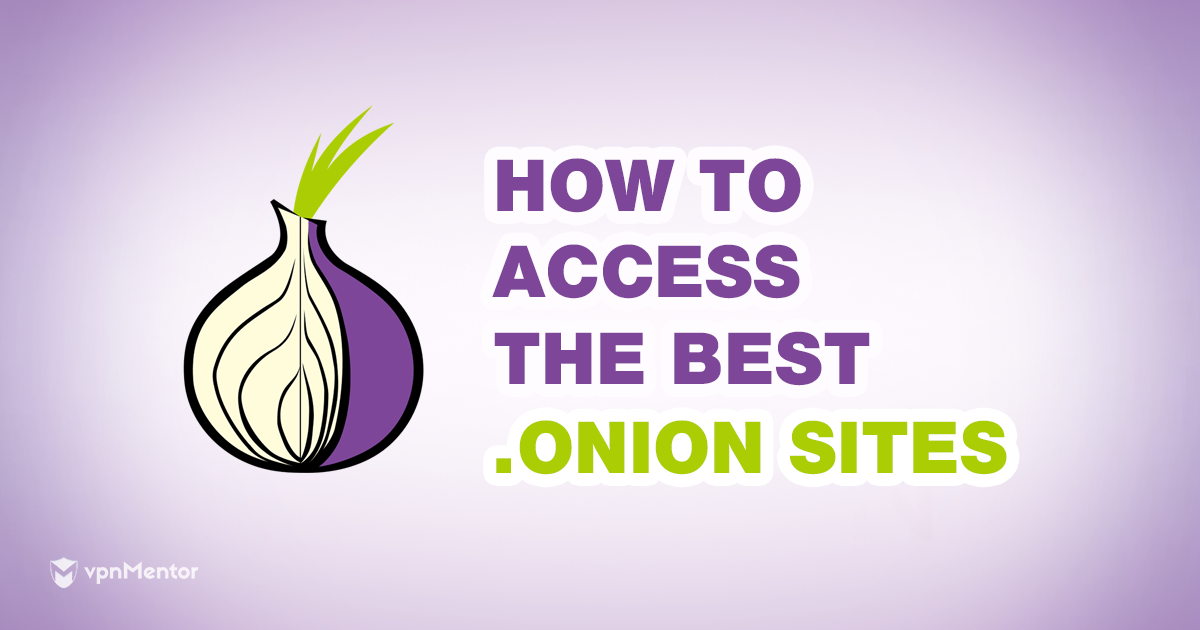 The Best .onion Sites on The Dark Web — Updated in 2023
Entering the Dark Web gives you access to uncensored information such as global news and politics, private messaging services, and anonymous Bitcoin wallets with additional privacy and security. However, delving into the Dark Web can mean you are exposed to serious cyber threats.
To help you to safely use the Dark Web, I've put together a list of the best.onion sites, a guide about how to access them (your regular browser can't do it), and ways to keep yourself fully protected while you explore Tor. The best way to keep yourself safe on The Dark Web is by using a VPN, which is an app that provides you with an IP of one of its own servers, keeping your personal data secure.
The number 1 VPN for accessing the Dark Web is ExpressVPN. It has top security features to keep your information fully private, great speeds to counter slow loading pages, and a global server network so you can use it in most countries. You can test ExpressVPN out completely risk-free as it's backed by a 30-day money-back guarantee — if you find you don't like it, you can easily get a full refund.
Safely Access The Dark Web Today
Important! My team and I do not condone using the Dark Web for illegal activities. While the sites recommended in this article are legal to visit, there are plenty of sites within the Dark Web that are either illegal to access or dangerous. Always exercise extreme caution when using the Dark Web and carefully research the sites that you intend to visit.
Quick Guide:
How to the Access the Best.onion Sites on The Dark Web in 2023
Get a VPN. My top recommendation is ExpressVPN due to its outstanding security and privacy features.
Connect to a local server. All of the top VPNs in my list have outstanding security features and top speeds to maximize your experience on the Dark Web.
Access Tor and start browsing.onion sites. Check out my list of top.onion sites below.
The 10 Best.onion Sites on The Dark Web
Contrary to popular belief, the Dark Web isn't only for nefarious activities and criminals. You can find multiple news resources and other useful information, without the risk of censorship and restrictions influencing what you read. Here are some of the best.onion sites available on the Dark Web:
1. ProPublic - A News Outlet Advocating Freedom of Speech
ProPublic allows people in heavily censored countries to access real information. The Pulitzer prize-winning publication was the first major news organization to launch a.onion version of its website. It's a non-profit organization that advocates free speech and privacy rights.
ProPublic URL - https://www.propub3r6espa33w.onion/
2. Blockchain - Pay and Be Paid Securely and Anonymously With Cryptocurrency
Blockchain allows you to send and receive bitcoins anonymously. The site is fully protected with a HTTPS certificate, so you can manage your cryptocurrency without compromising your security.
Since purchasing anything on the Dark Web is risky, you should always use cryptocurrency to keep your funds and data secure.
Blockchain URL - https://blockchainbdgpzk.onion/
3. Sci-Hub - Get Access to Scientific Papers, Research, and Uncensored Facts
Sci-Hub is a library of free, open-access scientific research papers and academic articles. It was created with the belief that everyone should have access to scientific facts, regardless of where you are in the world and your background.
Sci-Hub URL - http://scihub22266oqcxt.onion/
Hidden Answers is a little bit like Reddit and Quora, except it's entirely uncensored and unregulated. It's an open forum system where people ask questions and respond to questions that other people have posted. The fact that it is completely anonymous means that people have the freedom to ask and answer things that they may have been afraid to share otherwise.
Exercise caution if you are using Hidden Answers - like much of the unregulated content on the Dark Web, there will be posts that you might find upsetting or disturbing. There is also the risk of extreme trolling, since there is no moderator to remove offensive posts. If you click on any links within the site, make sure you're connected to a quality VPN, such as ExpressVPN, to keep you safe.
Hidden Answers URL: http://answerstedhctbek.onion/
5. SecureDrop - Sends Anonymous Tips to Major News Outlets
SecureDrop allows you to anonymously provide news outlets with whistleblowing tips or facts. It was created by The Freedom of the Press Foundation as part of the ongoing battle against censorship and restricted media.There are.onion sites for a number of mainstream press outlets where you can drop your tips, including:
The Guardian: http://33y6fjyhs3phzfjj.onion/
The Washington Post:http://jcw5q6uyjioupxcc.onion/
NPR: http://5ha7oig7du2jeyer.onion/
Forbes:http://fje2vboa55bbxjpm.onion/
Associated Press: http://3expgpdnrrzezf7r.onion/
Buzzfeed: http://ndg43ilvrrj465ix.onion/
You can also find other links to news and media outlets'.onion SecureDrop sites here:
https://securedrop.org/directory/
SecureDrop URL: http://secrdrop5wyphb5x.onion/overview/
As the name suggests, this is like Wikipedia, but its directory is designed to help you navigate Tor. Its content is unregulated, so always be careful when you click through it. You should also make sure that you access it using the URL provided, as there are copycat pages out there designed to spread malicious content such as malware, illegal images, and copyrighted documents.
The Hidden Wiki URL: http://zqktlwiuavvvqqt4ybvgvi7tyo4hjl5xgfuvpdf6otjiycgwqbym2qad.onion
7. The Intercept - Read Uncensored Political Opinions
This publication is a haven for reporters and activists who want to see real political views and opinions without there being any censorship. The Intercept is dedicated to giving its journalists the legal support required to publish content with complete editorial freedom. Like SecureDrop, The Intercept allows whistleblowers and tipsters to submit without revealing any personal information.
The Intercept URL: http://xpxduj55x2j27l2qytu2tcetykyfxbjbafin3x4i3ywddzphkbrd3jyd.onion/
8. ZeroBin - Share Encrypted Messages Without Risk from Prying Eyes
ZeroBin is a self-destruct messaging system that is password protected so that only the intended recipient can gain access. Once the message is read, it is completely destroyed. The messages can be stored for up to 5 years, but they are completely encrypted at all times, so even the creators of ZeroBin can't read them.
This is a popular system amongst journalists, but it can also be used to great effect by friends who want to share information without the risk of prying eyes.
ZeroBin URL: http://zerobinqmdqd236y.onion/
9. Library Genesis (LibGen) - A Free Library Resource
Library Genesis is hugely popular thanks to its vast free library of fiction, non-fiction, magazines, comics, and academia. There is a forum so you can discuss your favorite titles with like-minded readers, and can even download the publications to your device - just make sure it isn't copyrighted first. Always use a VPN when you download anything to your computer, and run a virus scan once it's complete. I recommend ExpressVPN, as it will keep your personal data fully hidden while you use the Dark Web.
Library Genesis URL: http://genotypeinczgrxr.onion/
10. DuckDuckGo - A No-Log Search Engine to Browse Without Tracking
DuckDuckGo is a great alternative to Google, and you can use it both in the Dark Web and for the regular internet. It doesn't store logs of your searches, and it blocks trackers so you won't get targeted by annoying ads. While I recommend only typing specific URLs into the Dark Web, DuckDuckGo can be a useful resource if you use it carefully, and be mindful of what you click on. Always keep your devices and data protected by using a quality VPN if you are clicking into sites from a link.
DuckDuckGo URL: http://3g2upl4pq6kufc4m.onion/
Safely Access The Dark Web Today
Best VPNs to Access.onion Sites on the Dark Web in 2023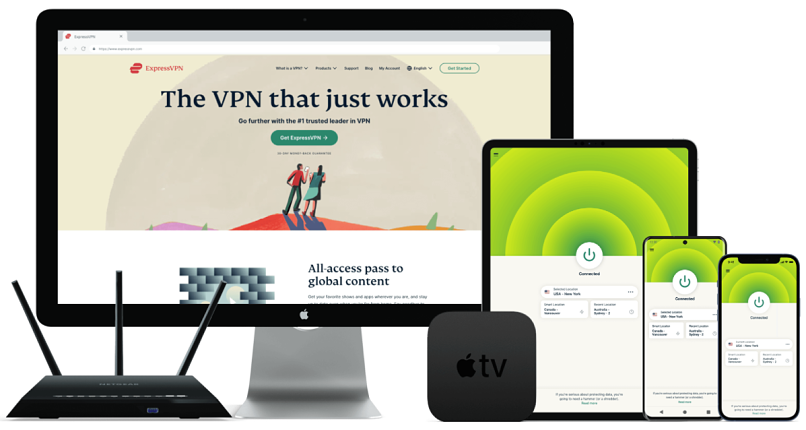 Editor's Choice
Editor's Choice

Tested January 2023
Try Risk-Free for 30 Days
Available on:
Chrome
Router
Smart TV
More
www.ExpressVPN.com
Great security features
3,000 servers in 94 countries
Excellent speeds
Works with: Netflix, BBC iPlayer, Hulu, Prime Video, Fubo, and more
Compatible with: Windows, Mac, Linux, Android, iOS, and more
ExpressVPN has military-grade security features that keep you fully secure on The Dark Web. It uses 256-bit encryption, which makes it impossible for hackers to decode your data and read it. The protocols it uses are state-of-the-art, including WireGuard and OpenVPN, so you can be sure your internet traffic is traveling in secure tunnels. Split tunneling allows you to access the Dark Web on a fully encrypted server while simultaneously using another server to access the regular internet. This is useful, as no one will know you're actually accessing the Dark Web.
There is no need to worry about privacy breaches with this VPN, thanks to multiple safety features. Your connection is protected by a kill switch, which acts to cut your internet connection completely in the event that the VPN drops out. This means your ISP is never aware of your activity. All servers are protected against DNS and IP leaks. During my tests, I ran a DNS and IP leak check and all of the servers I tested were fully safe and did not reveal my details. Its no-log privacy policy means that ExpressVPN doesn't monitor or store any of your information, so it can't be shared with any third parties.
This VPN's speeds are outstanding. Since the Tor network can run slower than the internet due to its multiple layers of encrypted node tunnels, a fast VPN is essential. I had average speeds of 80 Mbps while using the VPN to access the Dark Web. This means that you can open web pages and documents quickly, and avoid frustrating wait-times.
Although ExpressVPN is a bit pricier than other VPNs — its cheapest plan is $6.67/month, it often offers generous discounts. When I signed up, I got 49% off my subscription plus 3 months for free. Considering all the plans come with the same features, I recommend you go for a long-term plan, since it's considerably cheaper than the short-term options.
You can try all of ExpressVPN's features risk-free since it's backed by a 30-day money-back guarantee. Its refund process is quick and its customer support is very friendly. I chatted to one of the customer service reps and let them know I wanted to cancel on day 28. They asked the reason why I wanted to cancel, but soon approved my refund. I had my money back in 3 working days.
Access.onion Sites With ExpressVPN
Outstanding security features
9,758 servers in 91 countries
7 device connections
Works with Netflix, BBC iPlayer, Amazon Prime Video, Hulu, and more
Compatible with Windows, Mac, Linux, Android, iOS, and more
CyberGhost has NoSpy servers which mean you're protected from surveillance and other cyber threats. Your data is covered by CyberGhost's strict no-log policy, so it doesn't keep tabs on the sites you visit or any of your personal data when you use its servers. This guarantees that, even if a request was made to see your internet activity history, it would have nothing to share. The company is based in Romania, so it doesn't have to abide by any data-sharing laws.
It uses outstanding security measures to protect your information. 256-bit encryption is the same level used by top banking networks, and it would take a hacker over 100 years to work out how to read your personal details. The kill switch feature stops your internet connection if the VPN fails. I tested this by disconnecting the VPN when a web page was in the process of loading. My internet was cut instantly, and would only reconnect when I clicked back into a secure VPN server. This means that your IP address is continually hidden.
Like ExpressVPN, there is a huge network of global servers, so you can access Tor no matter where you are in the world. As well as the uncensored information available on.onion sites, you can also use its international servers to check public news and social media sites in different countries. When I tested servers in various locations, I found that all of them connected quickly and maintained stable connections, so you don't have to deal with annoying disconnects.
One downside is the expensive monthly plan. However, the yearly plan is only $2.19/month, which is extremely reasonable considering how many features this VPN has.
You can try CyberGhost to see if you like it by using its money-back guarantee. If it's not for you, you can cancel before the generous 45 days are up and get a full refund. I asked the customer rep to cancel my auto renewal and give me a refund. The rep asked why I wasn't happy with the VPN, but soon approved my request. I had my money back in my account within 4 days.
Access.onion Sites With CyberGhost
Excellent security features
29,650 servers in 84 countries
10 simultaneous device connections
Works with Netflix, BBC iPlayer, Amazon Prime Video, Hulu, and more
Compatible with Windows, Mac, Linux, Android, iOS, and more
Private Internet Access (PIA) comes with a reliable kill switch which stops your internet connection in the event the VPN malfunctions. Even if your VPN drops for just a second, your IP address could be visible to cyber spies or your ISP. This is very risky if you're on the Dark Web when it happens. A kill switch immediately halts your internet connection, meaning there is no time for anyone to see your personal information.
It has excellent security features, protecting you with up-to-date protocols such as WireGuard and OpenVPN. You get a choice of secure encryption, and can select 128-bit or 256-bit encryption. During my tests, I found that 128-bit was a little faster than 256-bit, but the latter is the highest protection you can get, even stopping brute-force attacks. Like ExpressVPN, PIA offers split tunneling, so you can simultaneously use the Dark Web while keeping a secure local connection for everyday activities such as personal banking.
Although PIA has great privacy features and policies, it is based in the US, which falls under data sharing jurisdictions. However, PIA's no-log policy means it wouldn't have anything to share, even if it was asked.
With its great discounts, you can currently get PIA for only $2.19/month. All its plans have the same features, but the long-term ones offer better value overall.
This VPN has a 30-day money-back guarantee, which is great if you want to try it for free. The cancellation process was quick and easy. I just messaged the support team and asked for a refund. Customer support asked why I didn't need the VPN anymore, and the agent tried to offer me a better deal, but soon approved my request. My money was returned within 1 working week.
Top security
2,000 servers in 75 countries
Unlimited device connections
Works with: Netflix, Disney+, Amazon Prime Video, Vudu, BBC iPlayer, Kodi, and more
Compatible with: Windows, macOS, Linux, Android, iOS, and more
IPVanish has a zero-logs policy, which means that it does not keep a record of the sites you visit, the content you access, or any of your personal information. I looked through its no-log policy and was happy to see that it takes the bare minimum needed to operate. Even if it was asked by a government body to hand over information about you, it would have none to give.
It has strong security features, including 256-bit encryption, a kill switch, and modern protocols that mean you are kept fully secure while you browse. During my tests, I ran an online IP and DNS leak check and found all of its servers protected my data. It's even more important to protect your IP address when you're using the Dark Web, and IPVanish gave me zero leaks.
One problem with IPVanish is that it doesn't accept cryptocurrency payments, which is a bit annoying as I wanted to retain full anonymity. But this wasn't a dealbreaker, and it does accept all major credit cards and PayPal, so there were other options available.
Grab a yearly plan for just $3.99/month. The long-term plan is far better value than the shorter term one, and it has all of the same features as the more expensive plan so you aren't missing out.
You can use its 30-day money-back guarantee to see if you like it before you keep it. It was incredibly easy to cancel and get my refund. All you have to do is cancel your subscription online in your account settings. The refund was with me in 4 days.
Access.onion Sites With IPVanish
Excellent security measures
200 servers in more than 63 countries
Fast speeds
Works with Netflix, BBC iPlayer, Disney+, Hulu, and more
Compatible with Windows, Mac, Linux, Android, iOS, and more
PrivateVPN will keep your personal information safe with 256-bit encryption, which means that even the most skilled hackers can't decipher it. It would take them over a century to work out how to read it, meaning it's not worth a cyber attacker's time and effort to even try.
Its other security features include DNS leak protection, and state-of-the-art connection protocols. This means that you don't have to worry about being the victim of a targeted attack while you access The Dark Web. I tested its servers for leaks and can confirm that all of the servers I tried kept my private information secure.
It doesn't have the largest network of servers, with just 200 in 63 countries available. However, the servers I have used connected quickly and I was happy with its location distribution.
PrivateVPN is quite affordable to begin with, but you can get it for just $2/month with its best deal.
Use its 30-day money-back guarantee to make sure you like it before you keep it long-term. The rep asked a couple of questions about my user experience when I called to cancel, but was extremely friendly. I had my refund in 3 days.
Access.onion Sites With PrivateVPN
What is the Tor Network and How to Stay Safe on The Dark Web
The Onion Router (Tor) is a free, open-source software that uses a network of servers to help you browse anonymously (check out our beginner's guide to Tor for more information). The "onion" reference comes from the multiple layers of encryption that your data is protected by as soon as you connect to Tor. Your internet traffic is directed through a random series of independent servers called nodes. Every node will decrypt one aspect of the encrypted data, allowing it to direct your traffic to the right location. This multi-layer process means that each server recognises which node the traffic has come from, and which node it is to send it to, but nothing else.
A website that is hosted on the Tor network has a URL that ends.onion, and you won't be able to access it using your regular browser. The only way to gain access is by using Tor. You'll find that websites that are hosted by the Tor network have long and complex URLs which will be difficult to remember. Some.onion sites will regularly switch their URL in order to maximize their privacy.
The Tor network is designed to protect your anonymity, but your safety is still at risk. If you access Tor without using a VPN, your ISP will know whenever you go into the Dark Web. If your ISP knows, the government can follow your activity as well. While it's not illegal to use Tor in most countries, you can still attract unwanted attention by being seen to openly access the Dark Web.
Not only that, the node servers are all operated by volunteers, which means you have no idea who is controlling your traffic. Tor's encryption is strong, but it isn't completely secure. To protect yourself while you use the Tor network, you need to connect to a strong VPN such as ExpressVPN before you access any.onion sites.
Safely Access The Dark Web Today
Tips on How to Access.onion Sites on the Dark Web Safely
To access the Dark Web safely, you need to use a method called "Tor over VPN". This means you first connect to a top-rated VPN, such as ExpressVPN, then use a Tor browser to access specific.onion sites. By connecting to a VPN before you go anywhere near the Dark Web, your personal IP address is never revealed.
Here are the main ways to keep yourself safe when you go on the Dark Web:
Insert the correct URL - Tor doesn't work as a regular browser, as it doesn't have a built-in search engine. So, in order to access the page you need, you need to copy and paste the exact URL. This way, you won't be at risk of accessing shady or disturbing websites or landing on dangerous sites.
Keep contacts to a minimum - the Dark Web is unregulated, so can be a haven for people with poor intentions. This means that you shouldn't give away any personal information and, if possible, don't engage in public chat rooms where your online footprint can be tracked.
Mind the links you access - While a good VPN keeps you protected, it's always wise to avoid cyber threats. Links and scripts can be packed with malware, and downloading files can put you and your device at risk.
Use a Dark Web email account - you should never use your personal email accounts when you're on a.onion site, even if you believe it to be trustworthy. It just isn't worth the risk.
Use complicated passwords - By creating strong passwords and making them individual for every account you open, you'll reduce your risk of hacking. Don't ever use the passwords you keep for personal banking, etc.
Avoid proxy services such as Tor2Web - These connect using your regular browser, meaning you lose the protection of the layers of encryption. It also means that you are more readily exposed to threats.
Cover your webcam and block your microphone - Some hackers use technology that infiltrates your camera and microphone, meaning they can spy on you. This isn't just creepy, it is potentially very dangerous.
Always protect yourself before accessing the Dark Web by connecting to a quality VPN. I recommend ExpressVPN for use with the Dark Web, as its speeds and security features make it perfect for browsing Tor.
FAQs on How to Access.onion Sites on the Dark Web with a VPN in 2023
Is it illegal to enter the Dark Web?
In most countries, accessing the Dark Web is not illegal. However, accessing certain content on the Dark Web most certainly is. If you don't use.onion sites carefully, there's every chance you can stumble upon illicit images. There is also an abundance of copyrighted material and malware on the Dark Web, so it's essential you keep yourself fully protected with a quality VPN every time you use it.
Will a VPN protect you on the Dark Web?
A VPN is the best way to protect your safety on the Dark Web. Security and privacy features including military-grade encryption, kill switch technology, and current protocols mean that you don't have to worry about your IP address being compromised. You only get state-of-the-art security with the very best VPNs, so be sure to use a recommended provider with quality features every time you access the Dark Web.
How can I access.onion on my iPhone?
You can access.onion on iPhone using Tor browser apps, but it may not be safe to do so. Although you'll find the Tor browser on Android devices, iOS users can only access it using 3rd party applications. Onion Browser can be found in the app store, and you can also use the Dark Browser app which can be used for both Tor and I2P networks.
However, even though you can, it doesn't necessarily mean you should — security experts strongly advise only accessing the Dark Web using Windows, Mac, Android, or Linux, which support the actual Tor browser. No matter which device you use, you should always couple it with a quality VPN to keep you as safe as possible. Not all security features are available on mobile devices, so be certain you are fully covered by a kill switch and other security technology whichever device you are using to access the Dark Web.
Can I use a free VPN to access the Dark Web?
It may be possible, but I would strongly advise against it. Using the Dark Web without additional protection can be extremely dangerous. Free VPNs don't have the same quality security and privacy features as the top VPNs. The best VPNs will stop malware, keep your IP address completely hidden, and don't monitor your activities online.
Access.onion Sites on the Dark Web with a VPN Now
Accessing the Dark Web can be enlightening, with access to unrestricted public information, anonymous banking, and private messaging services. However, I can't recommend accessing.onion sites without using the very best security available. The only way to protect yourself on the Dark Web is with a VPN.
I recommend ExpressVPN because it has outstanding speeds, and military-grade encryption and security features to keep you private while you enter the Dark Web. You can get it now for just $6.67/month and try it risk-free. If you don't like it, you can claim a full refund within 30 days.
To summarize, the best VPNs for accessing.onion sites on the Dark Web are…
Privacy Alert!
Your data is exposed to the websites you visit!
The information above can be used to track you, target you for ads, and monitor what you do online.
VPNs can help you hide this information from websites so that you are protected at all times. We recommend ExpressVPN — the #1 VPN out of over 350 providers we've tested. It has military-grade encryption and privacy features that will ensure your digital security, plus — it's currently offering 49% off.