Avast SecureLine VPN is a VPN service provided by cybersecurity company Avast. Avast offers several other cybersecurity products, including anti-virus software.
The VPN has servers in 55 locations in 34 countries. The company doesn't disclose the exact number of VPN servers in the network.
Avast SecureLine VPN promises to mask your IP address, hide your online activity from spying eyes, and help you access blocked streaming content.
I tested Avast SecureLine VPN to find out if the VPN performs as well as it promises. I found some different pros and cons that I will discuss in more detail below.
Highlights include Avast SecureLine VPN's streaming services, speed, and user experience. It's also a good choice for unblocking major Netflix libraries, as well as other streaming platforms.
Downsides include the company's logging policy, the lack of responsive customer service, and the price point.
Streaming – Does Avast SecureLine VPN Work with Netflix?
While connected to Avast SecureLine VPN, I was able to stream shows on Netflix without a problem.
The VPN was able to access multiple Netflix catalogs, including US Netflix. I was not blocked by Netflix's VPN ban at any time.
I was also able to access Hulu, Amazon Prime Video, HBO GO, and BBC iPlayer.
If you're looking for a VPN to help you access geo-restricted streaming content, Avast SecureLine VPN has proven itself to be a good choice.
Is Netflix top of your list? Check out our review of the best VPNs for Netflix in 2020. They all offer incredible speeds and even have streaming profiles dedicated to Netflix.
Avast SecureLine VPN Speeds
Avast SecureLine VPN advertises lightning-fast speeds on servers around the world. The VPN has no bandwidth limits and says that it supports speeds of up to 2 Gbits/s.
I tested the VPN to find out if the connection speeds are as fast as the company claims.
Before connecting to Avast SecureLine VPN, my average download speed was 67.38 Mbps.
I started by connecting to the server that the app identified for me as my "Optimal Location". In my case, this was a server in Atlanta, USA.
My download speed was 66.78 Mbps:

Next, I connected to a server in the UK. My download speed was 66.99 Mbps:

A server in Germany gave me a download speed of 43.19 Mbps:

Across the world from my physical location, a server in Australia gave me a download speed of 2.32 Mbps:

Even with the slow Australian server, these are very impressive connection speeds.
It's common for your connection speed to decrease when you connect to a server far away from your physical location, so that's not necessarily an issue by itself.
The important thing is that I was able to stream and browse while connected to Avast SecureLine VPN without being slowed down.
Is Avast SecureLine VPN Good for Torrenting?
The VPN allows torrenting on some servers in its network.
Servers that support P2P file sharing are clearly marked on the server selection screen in the app, so it's easy to figure out which server to connect to.
Avast SecureLine VPN has some important features to protect your safety and anonymity while torrenting, including an automatic kill switch.
On the other hand, the company collects some connection logs that it keeps for 30 days. These include the amount of data transmitted during each session.
That is information that you might not like the company knowing if you want to keep your torrenting activity private.
If you are looking for a good VPN for torrenting anonymously, check out NordVPN.
Security – Is Avast SecureLine VPN Safe?
Avast SecureLine VPN protects your privacy with bank-grade encryption and DNS/IPv6 leak protection.
The app also has an automatic kill switch that is turned on by default. You can easily turn it on in the app's Network Security settings menu.
One of the most important things that a VPN does to keep you safe is mask your IP address. Your VPN should be able to hide your real IP address from the websites you visit.
I put the VPN through several different leak tests to find out if my DNS, IPv4, or IPv6 addresses were being leaked to the websites I visited.
I did not detect any DNS or IP leaks during my tests.
When I connected to a VPN server in the UK, this is how my IP and DNS address looked to the websites I visited: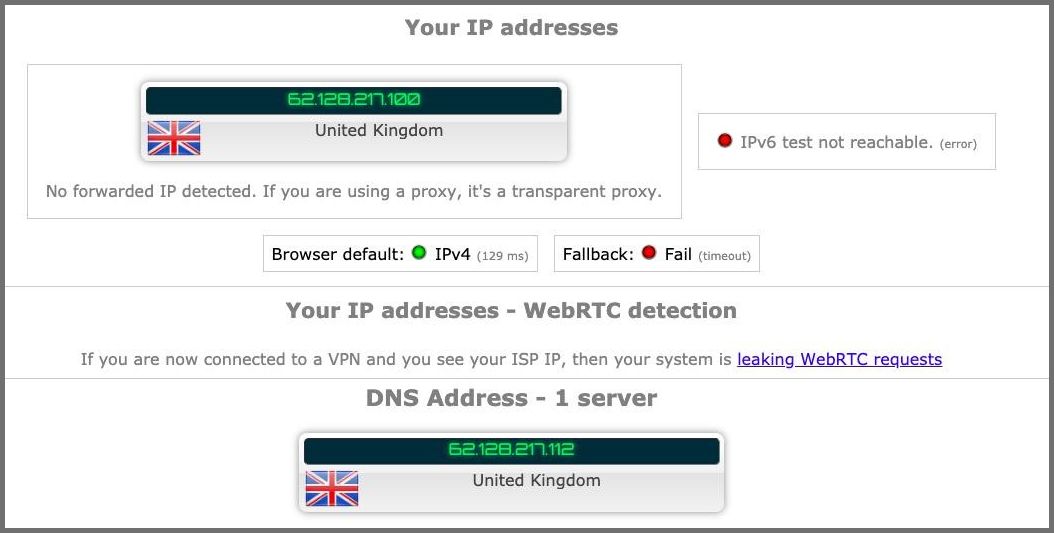 As you can see, my real location in the US was hidden. The VPN's IPv6 leak protection also was functional.
To the websites I visited, it looked like I was located in the UK. That means that Avast SecureLine VPN was doing its job correctly.
Does Avast SecureLine VPN Keep Logs?
The company's website states that Avast SecureLine VPN has a zero-logging policy. The company promises never to track the apps you use, the websites you visit, or the content you consume.
A VPN needs to have a zero-logging policy if it wants to guarantee your anonymity.
A VPN that keeps logs of your activity can be forced to give away information about your online activity to law enforcement agencies, government agencies, and other groups.
In contrast, a VPN that doesn't log your activity won't be able to give away your information under any circumstances.
I was pleased to see that Avast SecureLine VPN has a link to the company's privacy policy in the app's settings.
Transparency is always a good sign. The privacy policy confirms that Avast SecureLine VPN doesn't collect any data about your activity online.
However, it does collect some connection logs, including timestamps of your connection and the amount of data transmitted. This information is stored for up to 30 days.
Does Avast SecureLine VPN Have an Ad Blocker?
No, Avast SecureLine VPN does not include an ad blocker in the VPN service.
Does Avast SecureLine VPN Work in China?
The company doesn't make any promises that the VPN will work in China.
China has been cracking down on VPN use in recent years. This has made it more difficult for providers to guarantee that their VPNs will work in China.
Avast SecureLine VPN uses an OpenVPN protocol, which is often easily detected and blocked by the Great Firewall of China.
Avast SecureLine VPN also doesn't come with any advanced obfuscation features, which are designed to disguise your VPN activity to make it look more like regular traffic.
You may want to look elsewhere if you need a VPN specifically for use in China.
Price and Value for Money
This VPN is not super expensive, but it has a higher cost than many of the popular options on the market.
If you are looking for a short-term VPN, Avast SecureLine VPN might be a good option. The VPN's monthly subscription price is reasonable for the value it offers.
If you purchase a longer subscription, you can get a discount off the monthly price. However, the discounts are not very significant.
If you are looking for a long-term VPN, there are other options out there like NordVPN that offer big discounts on long-term subscriptions.
Does Avast SecureLine VPN Have a Free Version?
No, but it has a 7-day free trial. You do not need to create an account or enter a credit card number to take advantage of the trial.
Avast SecureLine VPN's Refund Policy
Avast SecureLine VPN subscriptions come with a 30-day money-back guarantee.
You can receive a full refund as long as you request it within 30 days of purchasing a subscription.
Requesting a refund is easy. There is a convenient refund request form available on the company website that only takes a minute or two to fill out.
Is Avast SecureLine VPN Compatible with My Device?
Avast SecureLine VPN offers dedicated apps for Windows, macOS, Android, and iOS devices.
You can also install the VPN as a browser extension for Chrome and Firefox.
The company doesn't provide any manual configuration files, so you won't be able to install the VPN on other devices.
The VPN supports up to five simultaneous device connections with each account.
Encryption
Avast SecureLine VPN uses robust 256-bit AES encryption to protect your data.
The VPN's protocol is based on open-source OpenVPN software. When you connect to the VPN, your data is secured with OpenSSL libraries through UDP ports.
This protocol offers a good balance of tough security and fast speeds.
Avast SecureLine VPN Customer Service
If you run into any issues while using Avast SecureLine VPN, there are a few places where you can get help.
The company's website has a well-organized help section that can answer most common questions that you might have.
The help center is searchable, but you can also browse guides and FAQs by topic.
If you can't find the answer to your question on the website, there is a contact form that you can fill out on the website to get in touch with Avast customer support.
Both the help center and the contact form are well-designed, but I was disappointed when I submitted a question and didn't receive a response.
Avast also offers a phone line that you can call to get help with any technical issues that you run into.
You can call and receive a free consultation, but the technical experts will then charge a hefty fee if you want them to help you fix your problem.
If I am paying a company to provide me with a VPN service, I don't expect to have to pay an additional fee to get live technical support.
Most of the big names in the VPN market right now provide 24/7 live chat support that you can use anytime at no additional cost.
Overall, I was impressed with the quality of Avast's help center but not very impressed with the quality of the company's customer service.
User Experience
I was pleased with my experience as a user with Avast SecureLine VPN. The VPN's dedicated apps are well-designed and easy to navigate.
Here is Avast SecureLine VPN's main interface: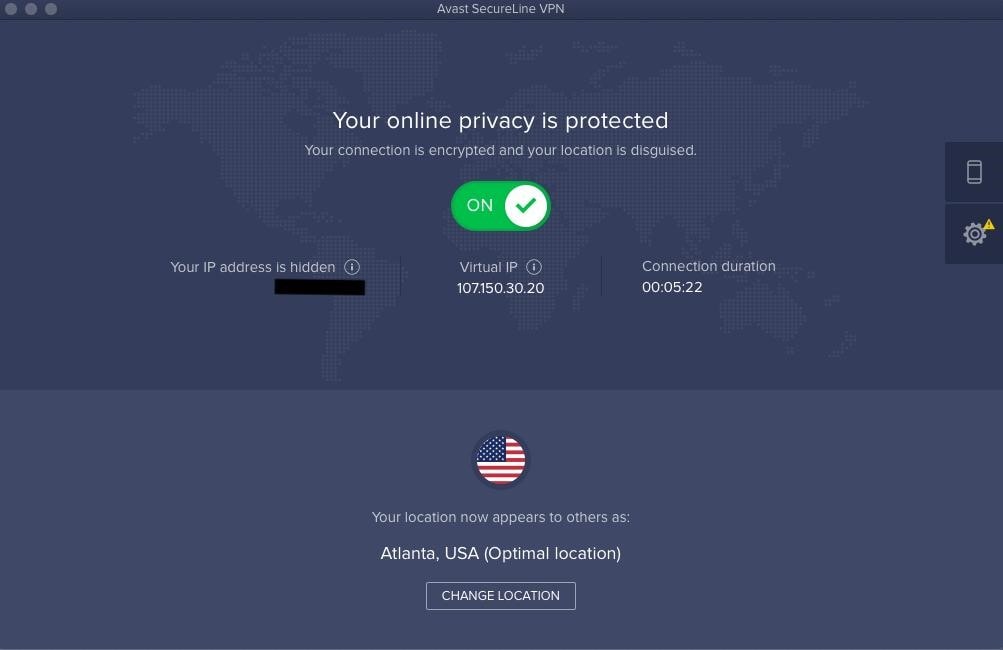 The app makes it easy to get started even if you don't have much experience with VPNs.
You can connect to the VPN with a single-click.
If it's your first time opening the app, the VPN will automatically connect you to your "Optimal Location". This is a server near your physical location that the app thinks will give you the best performance.
The server selection menu is simple and intuitive. Servers that support P2P file sharing are clearly marked.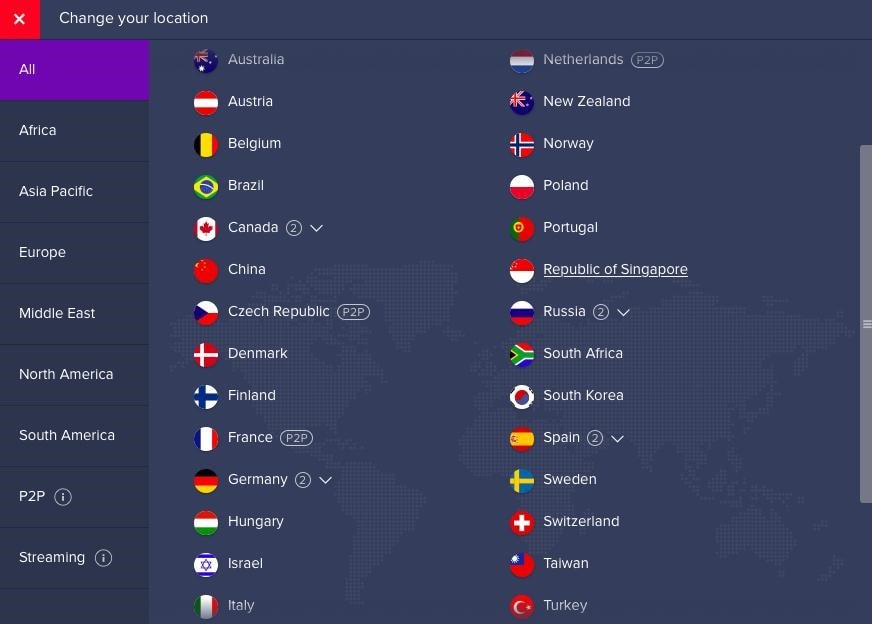 I also found the settings menu to be easy to navigate. I was easily able to find the options I was looking for.
There aren't a huge number of advanced features to play around with, but there are a few advanced settings that allow you to customize your connection and app experience.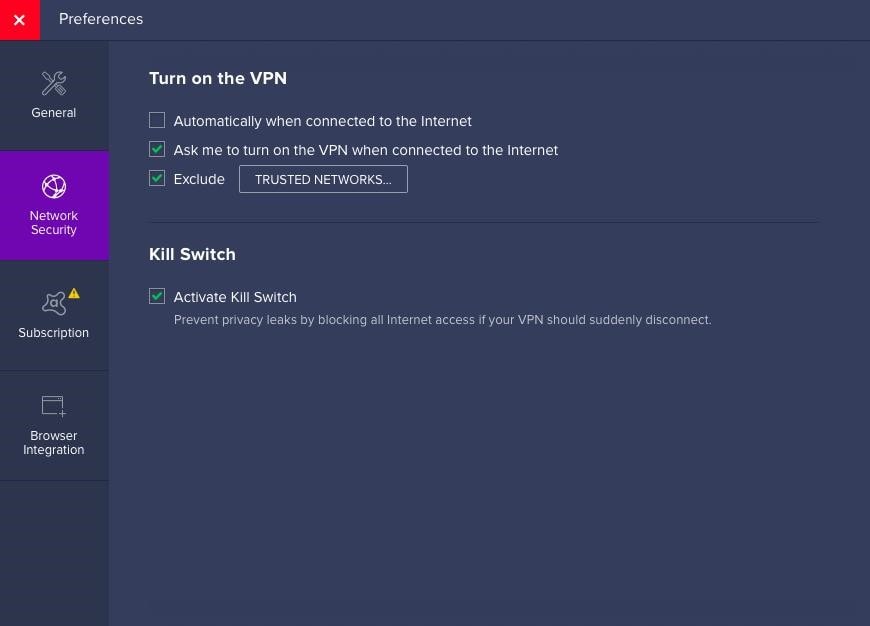 Another nice feature is the way that Avast makes it easy to install the VPN on multiple devices.
The desktop app has a button that brings up a window where you can send a link via email to your mobile device to quickly set up the mobile app.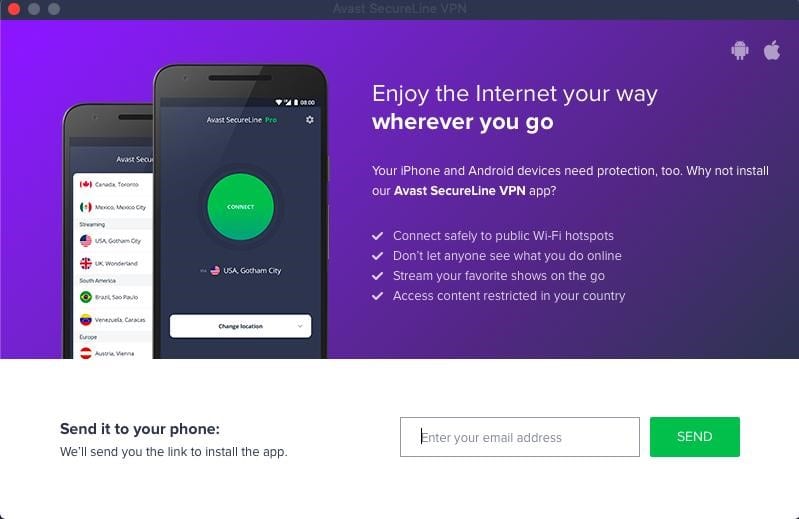 It's clear that Avast put a lot of thought into designing a user-friendly VPN app. I was very pleased with the overall user experience.
Conclusion
There were a few things that I really liked about Avast SecureLine VPN.
The VPN has a user-friendly app, fast connection speeds, and it can access geo-restricted content on popular streaming platforms, including Netflix. It's not quite made it to our list of the top five VPNs for Netflix, though, since these vendors all offer even better speeds, server coverage, and ease of use.
The VPN still has room for improvement in other areas.
Avast SecureLine VPN offers a good basic service, but it still costs more than some of the top VPNs on the market that come with more advanced features.
If you are looking for a powerful VPN at a low cost, take a look at NordVPN, our current top-rated provider.
| Features | Details |
| --- | --- |
| Number of countries with servers | 54 |
| Number of servers | 33 |
| Number of IP addresses | 1 |
| Does VPN keep logs? | No |
| Does VPN include a kill switch? | No |
| Number of devices per license | 1 |