Betternet VPN has received a lot of criticism in the past few years after an academic study came out in 2016 that listed Betternet as one of the top five Android VPN apps with the most third-party tracking software.
Since then, Betternet has made a few changes to the service, including the release of a paid premium plan in addition to their popular free tier. One continuing downside (okay, two): slow speeds and an inability to connect to Netflix despite its claims. If you need a VPN that runs easily on Android and supports  international streaming platforms: we still have ExpressVPN.
If you're wanting to stream Netflix libraries from around the world, why not check out our top 10 recommended VPNs? They all have lightning-fast speeds and impressive unblocking capabilities to guarantee hassle-free streaming.
The premium plan provides access to a network of 80 servers in 10 countries. Meanwhile, free users can only access the US servers.
But, are the changes enough? We thoroughly tested Betternet's service to find out if this VPN is safe and worth the download.
Streaming – Does Betternet VPN Work with Netflix?
Betternet's download page on the App Store claims that the VPN can help you access Netflix.
Unfortunately, our tests told a different story. Even with the premium version, none of the servers that we connected to were able to access US Netflix.
We were also blocked by the proxy bans on other popular US streaming sites, including Hulu and Amazon Video.
Betternet's UK server didn't perform any better. We were unable to access UK Netflix or BBC iPlayer while connected to the VPN.
If you're looking to stream, Betternet won't be for you. Why not try out ExpressVPN instead? It can unblock every major streaming platform and offers unlimited streaming wherever you are.
Betternet VPN Speeds
Betternet claims to be a "super fast VPN" because of its Optimal Location feature, which automatically connects you to the closest server.
Unfortunately, when we tried to use this feature we were unable to connect. Each time, the app displayed a loading screen for about 30 seconds before disconnecting.
When we finally decided to manually connect to a server instead, we had no problems. This time, the VPN made a connection within several seconds.
Without the VPN, we started out with a connection speed of 70 Mbps. After connecting to a nearby Betternet server in the US, we immediately noticed a big increase in loading times.
After our first speed test, we could see why. Our average download speed went from 70 Mbps all the way down to less than 13 Mbps.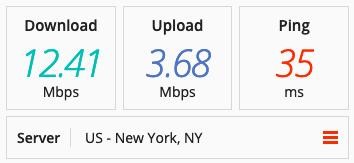 We had similar results with other US servers.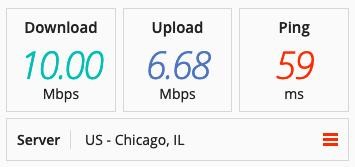 Surprisingly, we got slightly better results when connecting to Betternet's UK server despite the physical distance. This time, our download speed was around 22 Mbps.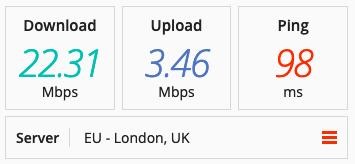 We were even more surprised by the excellent speeds we got with Betternet's German server, at over 56 Mbps.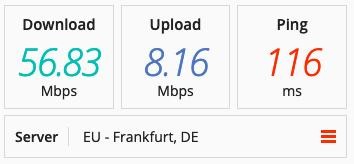 Overall, Betternet's speeds were inconsistent, but significantly faster when connecting to servers outside of the US.
This is probably because servers outside of the US are only available to premium members.
Free users can only connect to Betternet's US servers, which means that those servers are the most crowded. The US server speeds suffer as a result.
Is Betternet VPN Good for Torrenting?
Betternet VPN supports P2P activity on all of its servers. Both free and premium users can torrent, although the free tier has an overall 500 MB bandwidth cap per day.
Premium users can take advantage of unlimited bandwidth to torrent as much as they want. However, you may find that the limited server network and inconsistent speeds aren't the best for torrenting.
We also have concerns about torrenting with Betternet due to its privacy policy, which we will discuss in more detail below.
Security – Is Betternet VPN Safe?
A VPN that leaks your data or doesn't protect your privacy is not worth downloading. Betternet claims to keep your internet connection safe with secure AES 256-bit encryption.
The VPN uses the Catapult Hydra protocol on all platforms, which is a secure protocol growing in popularity because of its speed and performance.
Betternet's protection also includes perfect forward secrecy, which adds an extra layer of security by regularly changing your encryption keys.
This means that even if your encryption were somehow compromised, the majority of your data would still be completely secure.
The good news is that we detected no DNS leaks while connected to Betternet during our security tests.
The downside is that Betternet doesn't offer an automatic kill switch, so your data could be leaked if your VPN connection were to suddenly drop.
This was a concern for us, especially since we didn't find the server network to be super reliable.
Meanwhile, there are some additional privacy concerns with Betternet's logging policy, especially when it comes to the free version.
Does Betternet VPN Keep Logs?
We looked at Betternet's privacy policy with an extra critical eye to find out if there was any truth to concerns about Betternet's tracking, adware, and user privacy practices.
Betternet is based in the United States, which isn't ideal for privacy lovers. The US is one of the founding members of the 5/9/14-Eyes Alliance, which is an international intelligence sharing agreement.
Betternet claims not to ever "collect, log, store, or share any data log belonging to users."
However, the actual privacy policy isn't that straightforward. Their policies about users' real IP addresses aren't completely consistent, and we had concerns about how vague they were about some of the information they may collect.
Here are some of the ways that Betternet and its service providers may use, collect, and store your data, for both free and premium accounts:
Betternet "may use, but never log or store, your IP address" to find your approximate location
Beternet's service providers "may collect IP addresses" for marketing purposes
Betternet collects your real IP address, encrypts it, and stores it for the duration of your VPN session. Your IP address is deleted after you disconnect.
Betternet and its service providers may collect your device ID, hardware model, operating system version, language, and network information.
Another policy that made us nervous had to do with usage logs. According to the privacy policy, Betternet "does not attribute any specific website visits or app usage to any specific user."
However, they do keep records of all of the websites that are visited through each of their servers. They claim these records can't be traced back to specific users, but we have concerns about the existence of these logs at all.
Free users have even more privacy concerns. The free version of Betternet VPN is powered by ads, so advertisers may have access to even more information.
Betternet explains that advertisers may have access to free users' location, advertising ID, IMEI, MAC address, and wireless carrier.
If you are simply using a VPN to protect your data while connecting to unsecured public wifi, for example, you may not have an issue with this privacy policy.
However, if you are looking for a VPN that can provide total anonymity and privacy, Betternet likely isn't for you.
Does Betternet VPN Have an Adblocker?
Betternet does not include an adblocker in its VPN service.
Price and value for money
Betternet's paid plan is a little pricey considering that there are many premium VPNs out there with more features and better performance that offer lower prices.
Betternet does offer good discounts on longer subscriptions though, which makes the cost a lot more reasonable.
Payment methods for the premium plan depend on your device. MacOS and iOS users can purchase a subscription using the iTunes Store.
Android users can purchase a subscription through the Google Play Store. Windows users must first download the free Betternet software, and can then purchase a subscription within the app.
You can request a refund on any subscription within 45 days of purchase, although Betternet does not guarantee that you will get a refund.
Does Betternet VPN Have a Free Version?
Betternet's most popular plan is its free version, which is paid for through advertising. The free version has a few differences from the paid version:
Can only access US servers
Betternet blocks you with a Premium Payment wall when you try to access streaming content while connected to the free VPN
Displays ads
No access to 24/7 email support team
Limited to one device per account
500 MB daily bandwidth cap
In addition to the free version, you can also take advantage of a 7-day free trial on Betternet's paid plan to try out the premium service.
Is Betternet VPN Compatible with my Device?
Betternet VPN offers dedicated apps for Mac, Windows, iOS, and Android. Each of the apps offers the same features and interface.
You can also install Betternet VPN as a Chrome extension. There is currently no Firefox extension available.
Betternet does not provide manual installation guides for other platforms.
With a premium plan, you can connect up to 5 simultaneous devices with one subscription.
Betternet VPN Customer Service
There are two ways to get in touch with Betternet's customer service team. Free and premium users can both submit request tickets on Betternet's website.
Premium users also gain access to Betternet's 24/7 email support team, which can be found within the Betternet app. There is no live chat or phone line offered.
We emailed the support team with some questions to test their responsiveness. We had to wait a bit, but we did hear back within a few hours.
The team was friendly, but the answers that we received were less thorough than we would have liked.
We still were unable to resolve the issue of being unable to use Betternet's "Optimal Location" feature even after receiving help from the customer service team.
The Betternet website also provides some resources, including a searchable help center and a blog. There are no installation guides.
Betternet's customer service isn't terrible, but it's not of the same high quality as many other premium VPNs.
User Experience
It's hard to get lost in Betternet's simple interface. When you open the app, you will see a large gray button, a connect icon, and your most recent server location.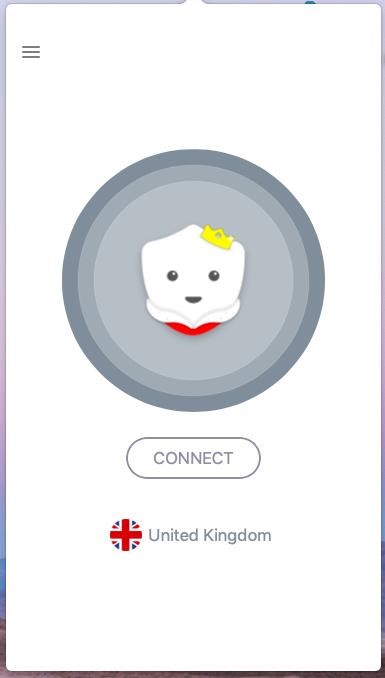 If you are using the premium service, you can change your location by clicking on your current server selection at the bottom of the screen. This will bring up the server list.
To connect from the main page, either click on the connect icon or the big gray button.
The app displays a cute little screen to notify you that it is trying to establish a connection.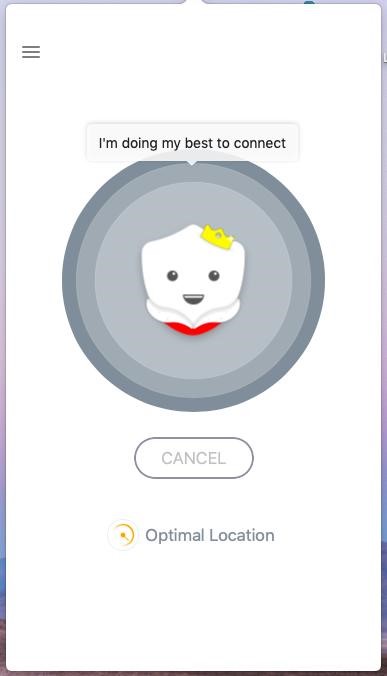 Settings and customer support can be found by clicking on the three lines in the top left corner.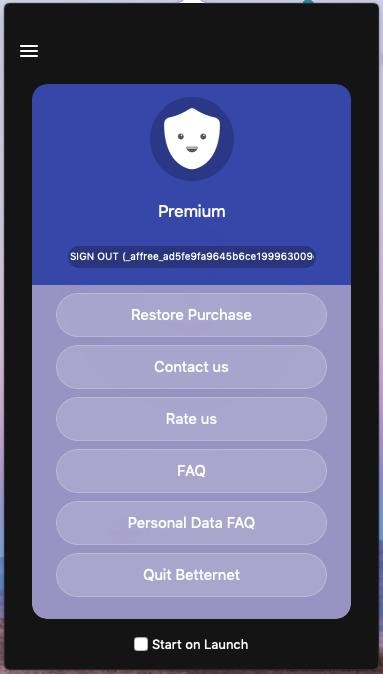 Conclusion
Betternet is a simple, easy-to-use VPN that can effectively mask your IP address and protect your data with secure encryption.
The security and interface of this app are pretty good, especially considering that these are available in a free version.
Overall: Betternet's unreliable speeds, questionable privacy policies, inability to access popular streaming sites, and lack of an automatic kill switch are some of the reasons why we wouldn't recommend Betternet over our top-rated premium VPNs.
There are plenty of other VPNs that can access all the major streaming sites, and offer reliable speeds and high-quality viewing, too. See which vendors made it to our top VPNs for Netflix list to help you make the right choice.
There are simply too many downsides to this VPN to overlook, especially if you are considering paying for the premium service. If you're looking for a fast, reliable, and completely private VPN, we still recommend a more reliable company like ExpressVPN or IPVanish.
💸

Price
$0/week

📆

Money Back Guarantee
45

📝

Does VPN keep logs?
No

🖥

Number of servers
80

💻

Number of devices per license
5

🛡

Kill switch
No

🗺

Based in country
United States

📥

Supports torrenting
No