BBC iPlayer Not Working With a VPN? Try This 3 Minute Fix! (2020)
Updated on 26th February 2020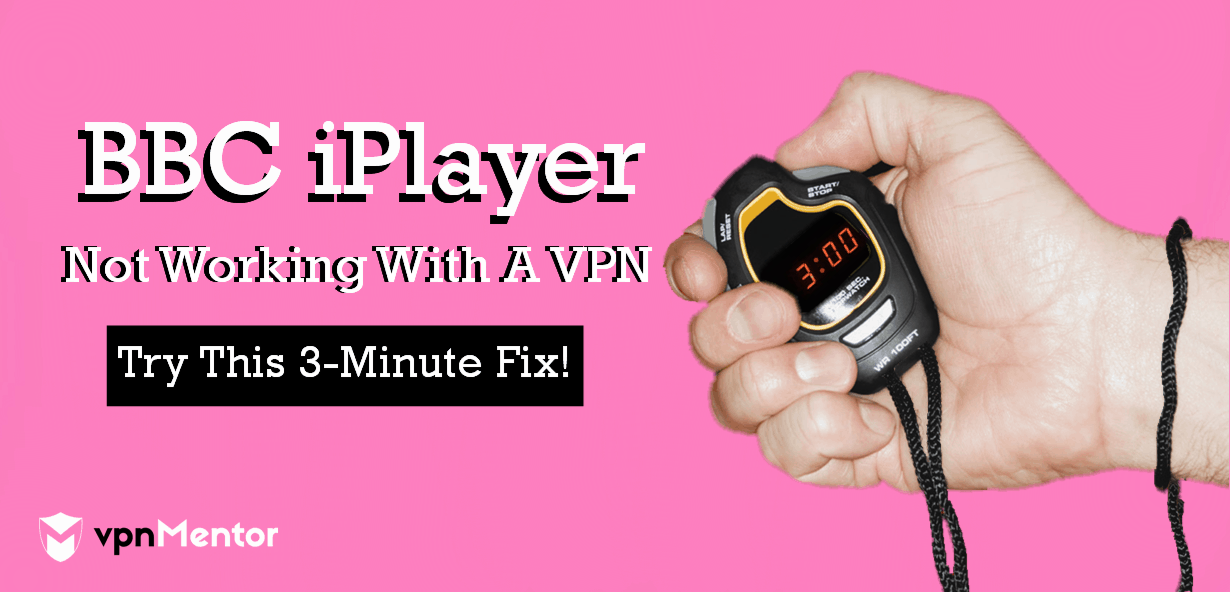 You turned on your VPN and settled in for a streaming marathon with BBC iPlayer, but got blocked by an error message. Now what? Does this mean you need a new VPN? Not necessarily. The reason is that the BBC is cracking down on VPNs, and blacklisted many of them.

There are a few things you can try to fix the problem. I have some quick and easy tips and tricks to help you get the BBC iPlayer working so you can start watching the latest season of your favorite BBC show in 3 minutes, maybe less. 
Why Doesn't My VPN Work with BBC iPlayer?
BBC got better at blocking VPNs using advanced tracking, active scans, and other tools for hunting VPNs. Thanks to new tracking software, iPlayer's geoblocks have become tougher than ever. Many VPNs no longer work, and ones that do need a small tweak. BBC iPlayer can detect VPNs for a variety of reasons and most of them have to do with your true location, including: 
Your VPN isn't masking your IP address well enough. Some VPNs only mask your IPv4 address but leave your IPv6 address exposed. 

Your VPN uses virtual servers that may leak your real location. Rather than investing in physical servers in each location, some VPNs rely on virtual servers to cut costs. 

Your device is displaying your real GPS location. This directly conflicts with your virtual location in the UK, and is easy to spot. 

You have cookies stored on your device that are giving away your true location to BBC iPlayer.

Your VPN's servers have been blacklisted by BBC iPlayer. This is more common if your VPN has a small server network. It's much harder for BBC iPlayer to block VPNs with a large server network.

Your VPN lacks the resources to keep up with BBC iPlayer's geoblocks, which are always evolving.
The tips and tricks I'm about to show you solve some of these problems, but ultimately it's also up to your VPN provider to give you a VPN service that's strong enough to bypass geo-restrictions. If you've tried all my tips and you're still seeing this error message:
"BBC iPlayer only works in the UK. Sorry, it's due to rights issues. In the UK? Here's some advice."
The problem is your VPN. In that case, I recommend you try streaming BBC iPlayer risk-free with NordVPN's 30-day money-back guarantee. It offers lightning fast speeds and a huge network, including plenty of servers in the UK that can access BBC iPlayer.
How to Fix VPN Problems with BBC iPlayer
It's tough to bypass BBC iPlayer's geo-blocks. If the platform has any reason to think you're not in the UK, it blocks you from streaming. Before you try any of these tips, make sure you're following these steps to easily watch BBC iPlayer with a VPN.
Quick Guide – How to Easily Watch BBC iPlayer with a VPN
Top ranked VPNs including NordVPN, ExpressVPN, Cyberghost, and Surfshark, can still break BBC iPlayer's geoblocks in most cases. If you already use one of these providers and are having issues, skip to Step 2.

The bad news is, if you're using any other provider, there is no walkaround as most of them have given up trying to bypass BBC iPlayer. Now for the good news, both NordVPN and ExpressVPN have incredible extended money-back guarantees, so you can test their ability to unblock BBC iPlayer risk-free.

Connect to a VPN server in the UK.
Go to BBC iPlayer and start streaming.
(Note:) It may ask you to provide a UK postcode, such as this one for Windsor Castle: SL4 1QF.
Still not working? The steps below make it quick and easy to try and troubleshoot the problem. Follow the steps one at a time, and then check to see if the problem is resolved. If you not, move on to the next step.
1. Switch Servers
Open up your VPN's

server selection menu

and connect to a new UK server.

If it still doesn't work, try

at least one more server.
Can't select another UK server?

Some VPN providers don't allow that and only let you choose your desired virtual country location. Reach out to the vendor's customer service and ask if they can recommend a better server.
2. Clear Your Tracking Cookies
Open your browser settings

. For most browsers, you can find the settings menu by clicking on the three dots or lines in the upper right-hand corner of your browser screen. 

Navigate to your cookies settings

. You can usually find this under a settings tab labeled something like "Privacy & Security" (Firefox and Chrome), "Clear Browsing Data" (Edge), or "Manage Website Data," (Safari). 

Select the option to

clear all cookies

.
3. Restart Your Browser
Try fully closing your browser.
Then reopen it and check access to BBC iPlayer again.
4. Enable Leak Protection
Open your VPN app and navigate to its settings.
If available, enable the setting called "leak protection" or "IPv6 leak protection."
5. Switch Time Zones
Go into your device settings and find the option to

set your time zone. 

Change your time zone

to match the UK

rather than your real location; If these are different, it might indicate your true location. 

The UK uses

Greenwich Mean Time (UTC+0) or British Summer Time (UTC+1)

, depending on the time of year.
6. Switch Devices
Are you trying to watch BBC iPlayer on a phone, tablet, or Smart TV? This can create some extra geo-spoofing challenges. You might have more success with a desktop PC or laptop. Try installing your VPN on a computer and then load BBC iPlayer on your desktop browser.
7. Get a Dedicated IP Address
A dedicated IP address is simply a virtual IP address given to you by your VPN provider that only you can use.  Not all VPNs offer dedicated IP addresses and those that do typically charge a small extra fee for the service. When multiple users connect to BBC iPlayer with the same IP address, that IP address is often flagged and blocked. Since you're the only one with access to the dedicated IP address, it's unlikely to be blacklisted.
Top VPNs That Work with BBC iPlayer
The two VPNs I recommend are NordVPN and ExpressVPN – these are guaranteed to work with BBC iPlayer. And I tested them myself to make sure. If your current VPN still isn't working, give one of these great options a try and start streaming.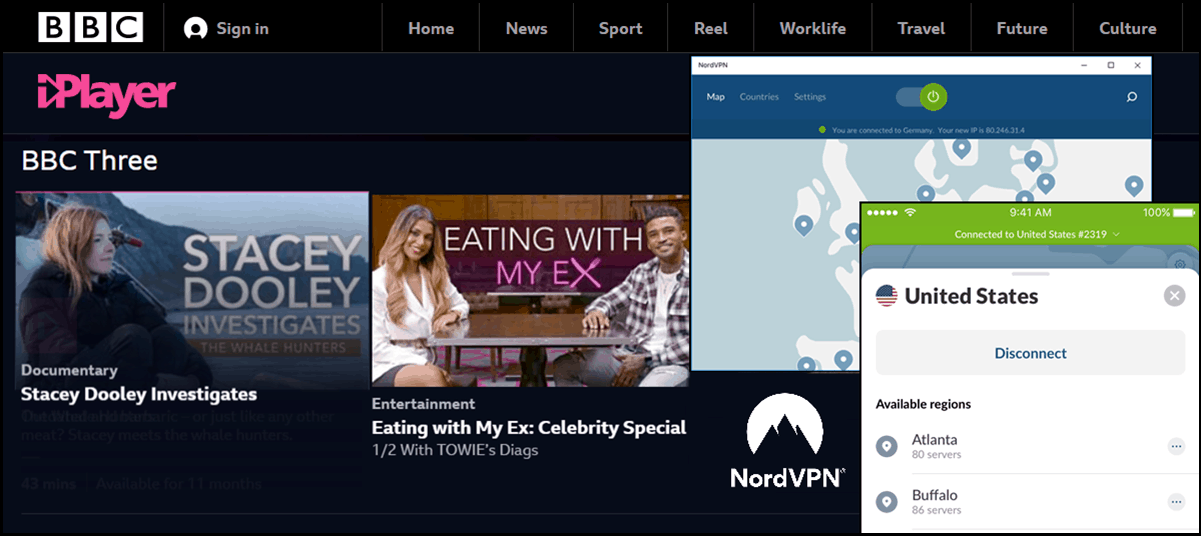 600+ UK servers to choose from
Unlimited data
Connect on up to six devices at once
30-day money-back guarantee
24/7 live chat support
Works with: BBC iPlayer, Netflix, Disney+, Hulu, HBO GO, Amazon Prime Video, Sky Go, and many more.
Compatible with: Windows, macOS, iOS, Android, Android TV, Linux, Firefox, Chrome, and routers.
With NordVPN's enormous network, it doesn't matter how many servers BBC iPlayer blocks; ultimately, you only need one working server to start watching.
This VPN currently boasts an impressive 5,400+ VPN servers, and the number is always growing. There are locations available in 58 countries, including 600+ servers in the UK alone, making it a great option for BBC iPlayer.
Thanks to its large network, crowded servers are never an issue with NordVPN, even during times of peak traffic.
NordVPN gives you the option to purchase a dedicated IP address in the UK that only you can use. This gives you reliable access to BBC iPlayer without any concerns about your IP address being blacklisted by the site. It can also give you a huge speed boost since you don't have to share your connection.
NordVPN also came out as the clear winner in our VPN speed tests. When I tested NordVPN with BBC iPlayer, my connection was fast enough that I could start streaming right away without any buffering delays. Plus, it offers unlimited data, which means your streaming marathon will never be cut short.
The SmartPlay feature combines a VPN with Smart DNS technology, making it easy to bypass geoblocks on streaming sites, no matter what device you're using.
Another useful feature for streaming is NordVPN's built-in ad blocker, CyberSec. This blocks pesky ads and pop-ups that slow you down and increase your loading times. CyberSec also provides protection from trackers, malware, and phishing attacks to improve your safety and privacy online.
NordVPN has plenty to offer in terms of security, including 256-bit AES encryption, IP/DNS leak protection, and an automatic kill switch to ensure none of your data or browsing activity ever leaks.
The vendor's strict zero-logging policy protects your anonymity and makes sure your activity is truly private, even from NordVPN.
Ready to give NordVPN a try? Test it out and start streaming with BBC iPlayer risk-free thanks to a 30-day money-back guarantee. If you run into any problems using the VPN with BBC iPlayer, NordVPN's friendly support team is there to help 24/7 via live chat.
Want to know more? Explore our expert review of NordVPN to see the full results of our research and testing.
Watch BBC iPlayer with NordVPN!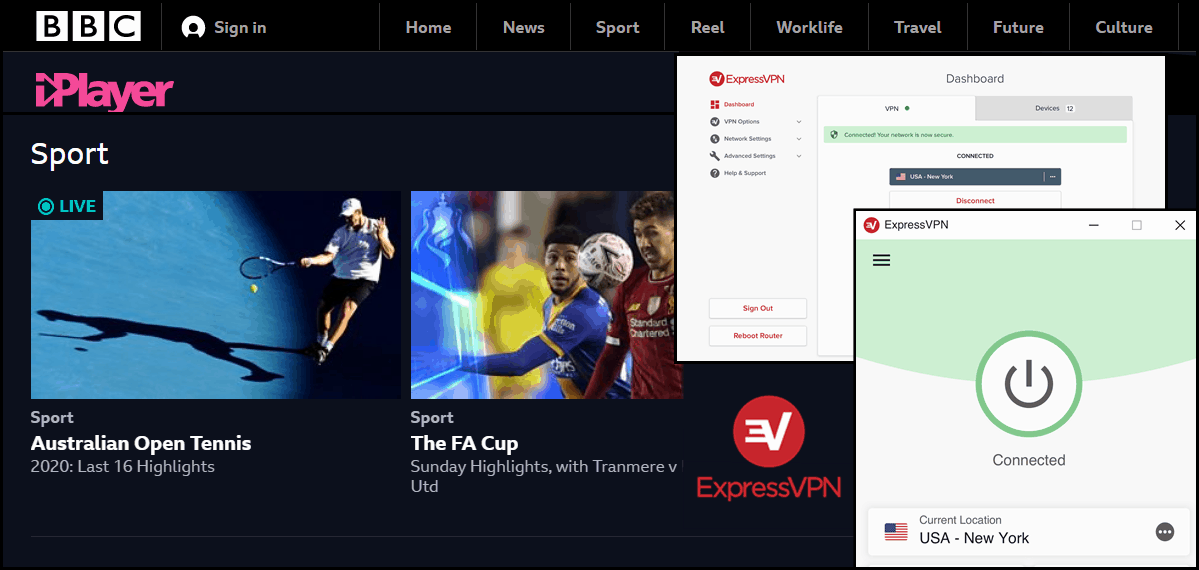 3,000+ high-speed VPN servers around the world, with 5 UK locations
Unlimited data
Connect on up to five devices simultaneously
30-day money-back guarantee
24/7 live chat support
Works with: BBC iPlayer, Netflix, Disney+, Hulu, HBO GO, Amazon Prime Video, CBC, NBC, and more.
Compatible with: Windows, macOS, iOS, Android, Linux, Firefox, Chrome, Chromebook, Kindle Fire, Nook, Smart TVs, gaming consoles, and routers.
There are lots of reasons why ExpressVPN's premium VPN service is great for streaming BBC iPlayer. This VPN offers lightning-fast speeds and unlimited data on its worldwide network of 3,000+ VPN servers.
Its user-friendly VPN apps allow you to easily switch between five virtual locations within the UK: Docklands, East London, London, Kent, and Wembly.
During my tests, ExpressVPN's customer service team quickly recommended to me the best server location to use with BBC iPlayer. I was able to start streaming right away without error messages or buffering delays.
ExpressVPN also offers split tunneling, which allows you to pick and choose which apps you want to route through the VPN.
This means you can stream BBC iPlayer with a UK IP address and still use your local IP address for everything else without the hassle of turning your VPN on and off.
ExpressVPN's airtight security masks your location and protects your private data from spying eyes with 256-bit AES encryption, a strict no-logs policy, an automatic kill switch, and IP/DNS leak protection.
You also get a choice of multiple secure VPN protocols, so you can find the one that works best for your device. OpenVPN offers great speed and security, making it the best choice for most people. However, switching protocols can help to troubleshoot streaming errors and improve speeds on older devices, so it's good to have the option.
ExpressVPN's 24/7 live chat support is always there to help if you have any problems or concerns. The vendor offers a no-questions-asked 30-day money-back guarantee on all subscriptions, so you can try out this VPN with BBC iPlayer risk-free.
Want to know more? Explore our expert review of ExpressVPN to see the full results of our research and testing.
Watch BBC iPlayer with ExpressVPN!
FAQs
How can I watch BBC iPlayer abroad on my iphone?
Just like watching it on your laptop or desktop, you need a reliable VPN, like NordVPN or ExpressVPN. Both of these consistently bypass BBC iPlayer's tough geoblocks and both offer solid iPhone apps via the Apple Store.
Which free VPNs work with BBC iPlayer?
Not many free VPNs work with iPlayer. We found two that technically can bypass BBC iPlayer's geoblocks – but even those have serious limitations. Both Windscribe and Speedify free plans can access BBC iPlayer, but both have relatively small monthly data allowances, so they might be okay for watching the occasional show, but that's it. Honestly? You're much better off with a cheap but top-quality premium VPN.
Is it safe to watch BBC iPlayer with a VPN?
The VPNs I'm recommending here are completely safe. But, that's not true for every VPN out there. In particular, a number of free VPNs have been caught giving away private user data for profit, and even secretly installing spyware and other suspicious software.
Bottom Line
The tricks on this page can solve most problems that block you from watching BBC iPlayer with a VPN.
However, keep in mind that BBC iPlayer has some of the most challenging geo-restrictions of any streaming platform, so not every VPN is powerful enough to access its content.
If none of these tips fixed your problem with BBC iPlayer, it's time to try a new VPN. There are only a few VPNs that can still successfully stream BBC iPlayer content.
When you stick with a high-quality provider like NordVPN, you're guaranteed to be able to stream BBC iPlayer without problems. You can test it out risk-free with the 30-day money-back guarantee.
Take a look at our top VPN recommendations for BBC iPlayer if you want to check out some more great VPN options.
Done with BBC iPlayer but still want to stream? Take a look at our top VPN recommendations for Netflix.