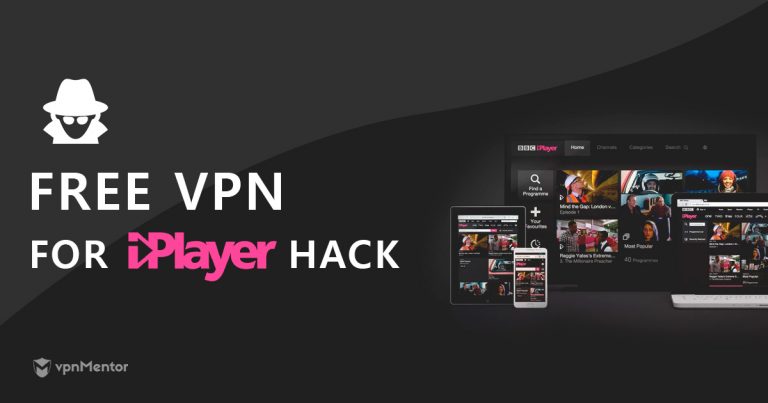 3 Best (REALLY FREE) VPNs for BBC iPlayer in June 2021
Updated on 15th May 2021
It's hard to find a free VPN that can bypass BBC iPlayer's geoblocks so you can watch it from outside the UK. That's where I come in. I put together a definitive list of the best free VPNs for BBC iPlayer that still work in 2021 so you can start watching His Dark Materials, Drag Race UK, and other great content for free.
I tested 39 free VPNs with BBC iPlayer and only found three that are powerful enough to bypass the site's tough geo-restrictions. As expected, many of the free services I tested were poorly designed, slow, and unsafe to use.
But even the best free VPNs come with downsides. Small data allowances and limited server options stop you from streaming more than an episode or two – if they allow streaming at all.
Even worse, some free VPNs actually pose a threat to your safety and privacy with shady data collection practices, adware, or dangerous malware.
That's why my top recommendation is a low-cost premium VPN service like ExpressVPN so you can safely binge-watch your favorite shows on BBC iPlayer with superb speeds and unlimited data.
Best Free VPNs for BBC iPlayer – Quick Guide
ExpressVPN – Enjoy unlimited streaming and superfast speeds on BBC iPlayer. You also get powerful security, easy-to-use apps, and several servers in the UK. You can try it out risk-free and claim a full refund if it's not for you.
Windscribe: Access BBC iPlayer with two free UK servers on Windscribe's well-designed apps and secure browser extensions. You get 10GB of free data per month, which is enough to stream about six movies in SD.
Speedify: UK servers that can reliably access BBC iPlayer with decent speeds. But with only 2GB of free data per month, you won't be able to stream more than a few episodes in SD.
What's the Catch With Free VPNs?
There's a reason that the best VPNs come with a price tag. Running a good VPN network is expensive. Free VPNs cut costs by limiting you in some pretty significant ways.
Compatibility
Free VPNs rarely offer as many different apps as premium services. You're better off with a low-cost premium service if you're looking for a router-compatible VPN or want to watch BBC iPlayer on your Smart TV.
Security
The scariest downside of using a free VPN is that you can't always trust them to keep you safe online.
Free VPNs often limit your security features to convince you to upgrade. It's also common for free VPNs to rely on money from third-party advertisers. They use adware and trackers that collect information about you and compromise your privacy.
Premium VPNs secure your private data with IP masking, bank-grade encryption, and advanced IP/DNS leak protection.
Limitations
BBC iPlayer has some of the strictest geoblocks of any streaming site, so finding a free VPN that can unblock it is rare. It is particularly good at detecting and blocking VPN traffic.
It takes advanced obfuscation technology and a large server network to outsmart BBC iPlayer, and most free VPNs lack the resources to make that happen.
Almost all free VPNs limit how much data you can use. This might not be a big issue if you're just browsing the web or updating your social media, but you won't be able to do much streaming even if your free VPN can access BBC iPlayer.
For reference, 1GB of free data lets you stream about 1.5 hours in SD. Most free VPNs only give you a few GB or less each month.
The Best Free VPNs for BBC Player (Updated June 2021)
I found three free VPNs that can reliably bypass BBC iPlayer's tough geo-restrictions without putting your safety at risk.
Superfast speeds for streaming
Reliable servers in the UK
30-day money-back guarantee
AES 256-bit encryption, automatic kill switch, and DNS leak protection
30 simultaneous device connections
Works with: Netflix, Disney+, Amazon Prime Video, Hulu, BBC iPlayer, Vudu, and more
Compatible with: Windows, Mac, iOS, Android, Linux, routers, Apple TV, and more
ExpressVPN will give you the best streaming experience with BBC iPlayer. Even though it's a premium VPN, you can try it risk-free knowing it's backed by a 30-day money-back guarantee. If you're not happy with it, you can cancel your subscription and get a refund.
It has an extensive server network with 4 locations in the UK. Each of the cities unblocked BBC iPlayer with zero issues, so you'll have no trouble accessing the platform.
Buffering isn't an issue, even when traffic is high. I recorded an average speed of 56 Mbps with tests using its UK IPs. You only need 5 Mbps to stream in HD, so you'll be able to stream live sports and shows completely lag-free.
This VPN gives you unlimited data and bandwidth, so you can watch BBC iPlayer in HD for as long as you want.
MediaStreamer helps you connect all of your devices, even if they don't normally support VPNs. I used its easy-to-follow guide to set-up my router in a few minutes. This let me stream BBC iPlayer on my smartTV. With this feature, you'll be able to watch the platform on any of your Wi-Fi-enabled devices.
Obfuscated servers hide your traffic and keep your VPN use undetected. This will help you bypass censorship and access restricted sites at school, and work with less chance of getting caught and blocked.
Strong encryption technology, an automatic kill switch, and DNS leak protection keep your data secure while you're torrenting, checking emails, or streaming.
A strict no-logs policy ensures that nothing you do online while connected to ExpressVPN is recorded. Plus, its TrustedServer technology eliminates all of your sensitive information, including IP addresses, browsing history, and metadata, so it can never be shared with a third-party.
Check out our in-depth review to learn more about ExpressVPN's features and performance.
Try ExpressVPN Risk-Free Today!
10GB of free data per month
Two free servers in the UK (including one with access to BBC iPlayer)
No ads with a free account
AES 256-bit encryption and IP masking
Connect an unlimited number of simultaneous devices
Works with: BBC iPlayer, HBO GO, YouTube, and Kodi
Compatible with: Windows, macOS, iOS, Linux, Chrome, and Firefox
Windscribe gives you a generous 10GB of free data per month. You can't have multiple binge-watching sessions with 10GB, but you can stream about six movies in standard definition (SD) every month. Plus, you can get an extra 5GB free by tweeting the company, as well as an additional 1GB for every new user you refer to Windscribe.
You can choose from 10 free server locations, including two servers in the UK. The first server I tested couldn't access BBC iPlayer, but I was able to consistently stream BBC iPlayer while connected to the London Tea server.
These free servers offer decent speeds. I experienced brief buffering delays when I tested the VPN during high-traffic periods, but overall, Windscribe offers much more reliable connections than most free VPNs.
You can also use Windscribe to ensure your privacy while you torrent. It has a strict no-logs policy and offers P2P support on multiple servers.
The free version of Windscribe comes with the same robust security features as the premium version. It protects your privacy and safety with IP masking and secure encryption. It even protects you from malware, trackers, adware, and other cyber threats.
Windscribe's chatbot, Garry, can answer most questions, but you can also chat with a live customer service representative if your query is more complicated. Windscribe also has an online support ticket system.
Learn more about Windscribe by reading our full review.
2GB of free data per month
Six free servers in the UK (including two with access to BBC iPlayer)
Choose between AES- or ChaCha-based encryption for a balance of speed and security
No ads with a free account
Works with: BBC iPlayer, YouTube, HBO GO, and Kodi
Compatible with: Windows, macOS iOS, Android, and Linux
Speedify offers 2GB of free data per month, which is only enough to stream in SD for about three hours. Still, it is a reliable choice if you just want to watch a sports match or a specific movie that's only available on BBC iPlayer.
It has VPN servers in 430+ locations across the globe, including six free UK servers. Two of these servers successfully unblocked BBC iPlayer during my tests. I was able to stream with minimal buffering, but it wasn't fast enough to watch anything in high definition.
Speedify's Channel Bonding technology sends your data over two or more internet connections at once to improve your connection speeds. The downside is that it can use up to twice as much of your WiFi and cellular data.
Speedify uses AES 128-GSM encryption to protect most modern devices. If you have an older device, Speedify's ChaCha encryption cipher can dramatically improve your speed without compromising security.
The VPN's effective IP masking hides your location from the websites you visit, while the strict no-logs policy ensures that your activity stays private.
You can use Speedify to effectively bypass censorship and access a wide range of geo-restricted content online.
Speedify supports torrenting on its Amsterdam server, which is available for free and is optimized for BitTorrent. However, you won't be able to download large files with only 2GB.
Find out how Speedify performed in other areas by reading our full expert review.
FAQs
? What features should I look for in a VPN for BBC iPlayer?
Your VPN's network should have multiple servers in the UK to increase the chances that you can find a server that's able to unblock BBC iPlayer. A larger server network also improves your VPN connection speeds by reducing traffic and server crowding.
In addition to fast speeds, you need unlimited data and bandwidth so that you don't run out of data right in the middle of an episode.
Other useful features to look out for are device compatibility so that you can watch BBC iPlayer on your favorite platforms, and responsive customer service to help you troubleshoot if you have trouble streaming content on BBC iPlayer.
? How do I watch BBC iPlayer with a VPN?
It's easy to watch BBC iPlayer with a high-quality VPN. After you download the VPN to your device, open the VPN app and, connect to a server in the UK. You should now be able to watch BBC iPlayer with no further steps.
If you still can't access BBC iPlayer, try connecting to different UK servers in your VPN's network until you find one that works.
Make sure you refresh BBC iPlayer after connecting to a new server. Depending on your browser settings, restarting your browser may also help.
? Can I also use the VPNs on this list to watch Netflix?
If you are looking for a VPN that works with multiple streaming sites, including BBC iPlayer and Netflix, a premium VPN like ExpressVPN is your best option. Windscribe also works with Netflix, but only if you upgrade to a premium account. Speedify does not currently work with Netflix.
? Are VPNs legal?
Generally yes, but it depends on where you live. VPNs are legal in most countries, but a select few restrict or completely ban the use of VPNs. To check if VPNs are legal where you live, you can read our complete guide here.
Bottom Line
The free VPNs on this list can access BBC iPlayer, but you can only stream a limited amount because of their data limits.
BBC iPlayer is continuing to crack down on the use of free VPNs. There's no guarantee that any free VPN will always be able to access the content you want in the future.
A premium VPN is your best option to have consistent, long-term access to BBC iPlayer. I recommend ExpressVPN because it offers top-notch security, a vast server network, blazing-fast speeds, and unlimited streaming.
With ExpressVPN, you can unblock all of your favorite streaming sites, including BBC iPlayer, Netflix, HBO Max, and tons more. You can even test out ExpressVPN risk-free for 30-days with its money-back guarantee. If you don't like it, you can always ask for a refund.
Top VPNs for BBC iPlayer that you can try risk-free with money-back guarantees…
Take a look at our VPN deals page (updated weekly) for big discounts on top-rated VPNs.
Privacy Alert!
Your data is exposed to the websites you visit!
The information above can be used to track you, target you for ads, and monitor what you do online.
VPNs can help you hide this information from websites so that you are protected at all times. We recommend ExpressVPN — the #1 VPN out of over 350 providers we've tested. It has military-grade encryption and privacy features that will ensure your digital security, plus — it's currently offering 49% off.