10 Best (REALLY FREE) VPNs for Australia in September 2020
Updated on 23rd September 2020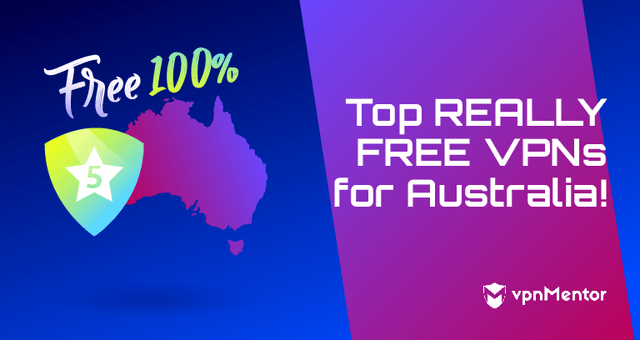 If you're looking for a free Australia VPN, I'm here to help! I ran tests on over 50 VPNs and came up with the 10 best free VPNs for Australia. My criteria for each VPN looks at streaming, security, and speed.
However, with most free VPNs, there are catches. While you may not pay at first, you can pay big in the long run. Security issues like a VPN logging your data and malware and adware intrusions are common with free VPNs.
Plus, you may only have access to a limited number of servers with slow speeds and bandwidth throttling until you upgrade to a premium plan.
That's not good.
There's a wealth of premium VPNs out there that are low cost and minus the pitfalls of many free VPNs. I recommend NordVPN for its overall strengths in server numbers, speeds, and security.
You can try NordVPN worry-free with a 30-day money-back guarantee. It's perfect if you're working or traveling abroad for less than a month.
Still interested in pursuing a free VPN? No problem. After a lot of testing and research, here are my 10 best free VPNs for Australia.
Best Free VPNs for Australia – Quick Guide
What's the Catch With Free VPNs?
Anything free is cause for concern. It's no different with free VPNs. Here are some of the risks you can find with choosing a free VPN.
Streaming
If you want to stream Netflix or DAZN in Australia with a free VPN, for example, the streaming site often geo-restricts you from its content. That's why it's always better to go with a premium VPN if you stream on a regular basis. Most premium services can bypass geoblocks from popular streaming sites.
Security
Free VPNs carry the risk of limited security. Some don't have no-logs policies, which opens up your data to tracking and hacking. Other free VPNs use ads to make money, which means they can carry malware that infects your system. If you want to know more about the effects of malware and other risks of free VPNs, read our article on the hidden dangers of not paying for a reliable VPN.
I have even seen reports of free VPN services stealing personal information and selling it to third parties. No thanks.
The best way to keep your online identity safe is by going with a premium VPN that has cybersecurity features like AES 256-bit encryption, a no-logs policy, and adware and malware blockers.
Limitations
Free VPNs typically give you a small amount of data if you don't upgrade to one of their premium services. It usually means that streaming and torrenting is not doable. Even if you can stream, the data runs out fast.
Other limitations include slow speeds and bandwidth throttling, if the free VPN has a small number of servers.
The Best Free VPNs for Australia (Updated September 2020)
After thorough testing, I came up with the 10 best free Australian VPNs. All of them uphold the standards for cybersecurity so you're safe on the internet. While speeds and streaming vary with each VPN on this list, all of them allow you to connect to the internet to watch videos and listen to music. Let's take a look.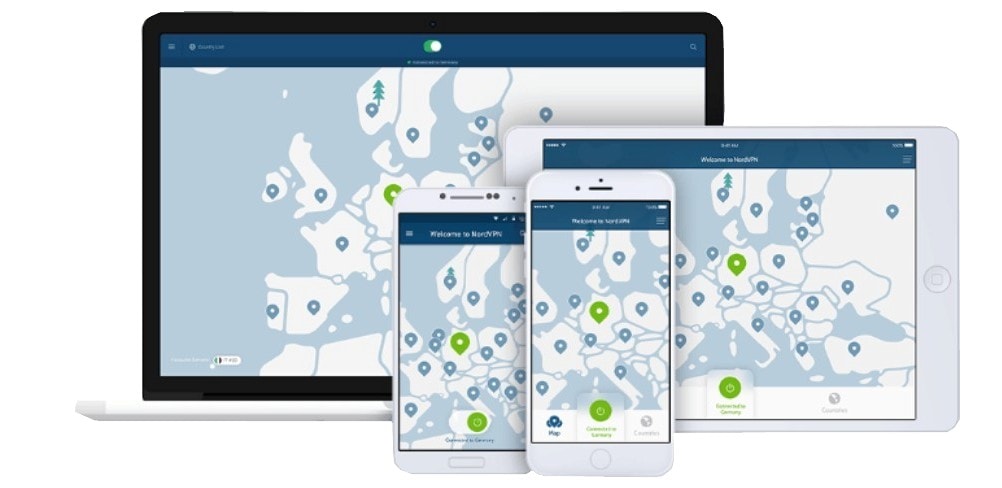 30-day money-back guarantee
Unlimited bandwidth
Over 250 servers in Australia
Military-grade encryption, no-logs policy
CyberSec and SmartPlay features
Works with: Netflix, Showtime, BBC iPlayer, Sling TV, Hulu, HBO GO, Amazon Prime Video, ESPN
Compatible with: macOS, iOS, Android, Android TV, Amazon Fire TV Stick, Windows, Linux, Chrome, Firefox, routers
NordVPN is the only premium VPN on this list. But it's here because it's the best overall VPN that's actually free for a limited time with the 30-day money-back guarantee.
Your online presence is always safe from cyberthieves and government snoops with NordVPN's superb security features.
The Double VPN feature provides two layers of security by passing your encrypted data through two servers. Also, hackers aren't able to decipher your information through the military-grade encryption.
This VPN covers all your data at all times by keeping it anonymous with a strict no-logs policy and an automatic kill switch.
In Australia alone, NordVPN has more than 250 servers. Its 5,400+ global servers allow you to find almost any streaming site without geoblocks. Super-fast speeds and unlimited bandwidth mean you can stream and torrent as long as you like.
It can unlock over 400 streaming services worldwide including Netflix, HBO, ESPN, and much more.
Speaking of seamless streaming, NordVPN contains the SmartPlay option. It automatically connects you to the fastest server for your streaming site preference.
CyberSec technology protects all your streams and valuable information–like bank accounts–from malware, adware, and DDoS attacks.
If, for example, you have trouble connecting with SmartPlay, NordVPN offers fast and informative 24/7 live chat. You can also try out NordVPN with a safety net thanks to its 30-day money-back guarantee.
If you have a big family or are traveling with a large group of friends, you can use 6 device connections per account.
Our expert review of NordVPN shows you why it's ideal to pick this premium VPN over a free one.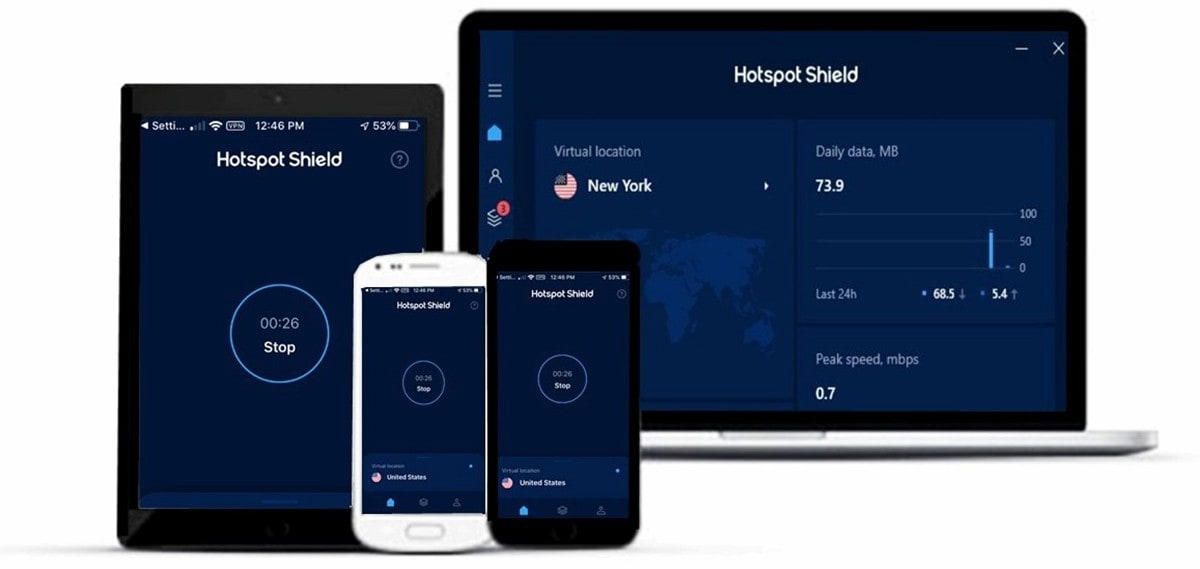 500MB of free data per day
45-day money-back guarantee with the premium plan
Military-grade encryption, no-logs policy, DNS leak protection
Supports torrenting
Works with: YouTube, Hulu, Kodi
Compatible with: Windows, Android, macOS, iOS, Firefox, Chrome
This VPN is one of the fastest free VPNs for Australia in my tests. Its 500MB of free data per day isn't enough for streaming, but it allows for about six hours of internet browsing.
Hotspot Shield's privacy and security features are robust, even with the free version. It uses 128-bit encryption and DNS leak protection. It also comes with perfect forward secrecy, which continually changes its encryption key.
An automatic kill switch is available but it's only accessible for Windows users.
Hotspot Shield does share your location with Google so it can display relevant ads. However, Google can't see your real IP address when you're on the VPN. Plus, your internet footprint remains secret since Hotspot keeps no logs of your internet activity.
The free version comes with ads and access to only one server in the US, but you still get good speeds.
Torrenting is available with the free package, but with just 500MB of free data daily, it's definitely not enough to download a full movie.
I also like the intuitive interface, which is ideal if you're a VPN beginner.
Customer service on the free platform is limited, but you get 24/7 live chat if you upgrade. The premium version comes with a 45-day money-back guarantee, and it unlocks streaming services like Hulu and US Netflix without any buffering.
Only one device connection is available for free, but you get 5 simultaneous connections starting with the basic paid plan.
See how Hotspot Shield did in all our speed and security tests in our comprehensive review.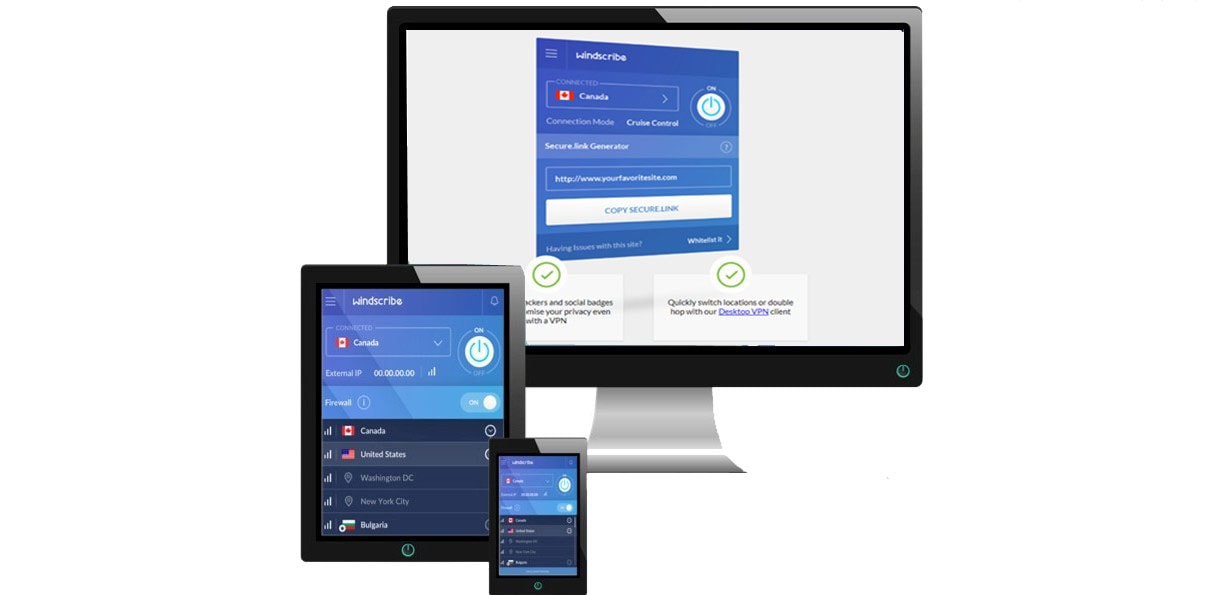 10GB data per month with a chance at an extra 5GB
Robust security features including adware and malware blocker
Ten servers available with the free version
User-friendly service
Torrent support on most servers
Works with: YouTube, Kodi
Compatible with: macOS, iOS, Windows, Linux, Amazon Fire TV Stick, Chrome, Firefox, Nvidia Shield, routers
Windscribe's free version gives you 10GB of data a month, which amounts to streaming several movies. Plus, you can get an extra 5GB a month if you tweet the company.
Free doesn't mean hackers and trackers can break through. Your online data is safe and anonymous with this VPN's strong encryption features.
Windscribe does keep a record of the amount of memory you use in a month as well as a timestamp of your last online activity. But it doesn't keep logs on things like your IP address or sites you visit.
On top of its no-logs stance, you have the extra protection of AES 256-bit encryption.
As far as streaming potential, It's not able to unblock Netflix, Hulu, or BBC iPlayer. But with the premium plan upgrade, I was able to stream US Netflix.
While you only get access to servers in 10 countries with the free plan, you get servers in 63+ countries–and 5 server locations in Australia–with the low-cost premium plan.
There's even a student discount.
Windscribe doesn't slack in the cybersecurity field, even if you have it for free. Its unique R.O.B.E.R.T. feature prevents it from allowing adware and malware to get to your devices.
Windscribe comes with a Firewall mode, which is like a kill switch in case your connection drops. It blocks all connections outside the encrypted tunnel to ensure that no leaks of any kind, like DNS or IPv6, happen.
I recommend using Windscribe's chatbot, which replies quickly to your questions.
It offers unlimited device connections and torrenting on the free version, which is great for a household on a budget. But its slow connections with the free version mean buffering is a constant.
Still interested? Check out our in-depth review on Windscribe to see if it's the right free VPN for you.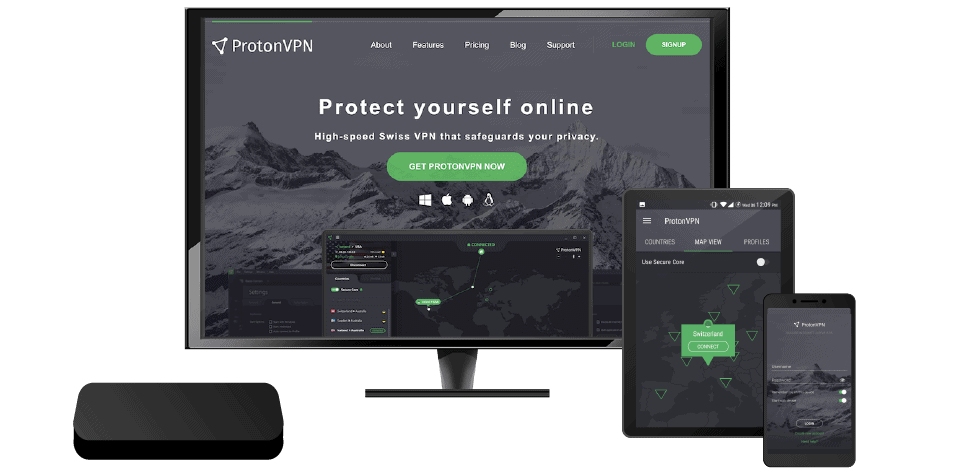 Unlimited bandwidth and unlimited data usage
Beginner-friendly VPN
Top-notch cybersecurity features like a no-logs policy, an ad blocker, and AES 256-bit encryption
Works with: YouTube, Kodi
Compatible with: Windows, macOS, iOS, Android, Linux, routers
Is it true that this free Australia VPN offers unlimited bandwidth and unrestricted data?
Yes, with a catch.
If you want to stream Netflix or do P2P file sharing, you have to upgrade to a Plus plan. Once you subscribe, the connection speeds up on all its servers, and it allows for both streaming and torrenting. Plus, you can access Hulu if you upgrade to the pricier Visionary Plan.
Both the paid and free versions have excellent cybersecurity. Since ProtonVPN is in Switzerland, it's outside the 5, 9, and 14 Eyes Alliance, keeping your data from government snoops.
All of your online data goes through the stronghold of 256-bit encryption. Plus, the transparency report on the website ensures a zero-logs policy.
Customer service via email or tickets is not one of ProtonVPN's stronger traits due to slow response times. However, I do like its extensive knowledge base with everything from download and setup to troubleshooting guides.
There's also a pro-rated 30-day money-back guarantee with all the plans.
The free version has only one device connection and access to servers in Japan, the Netherlands, and the US. If you upgrade to its Plus plan, you get access to over 1,060 servers in 54+ countries with 10 device connections.
See the difference between the free and premium versions of ProtonVPN in our full review.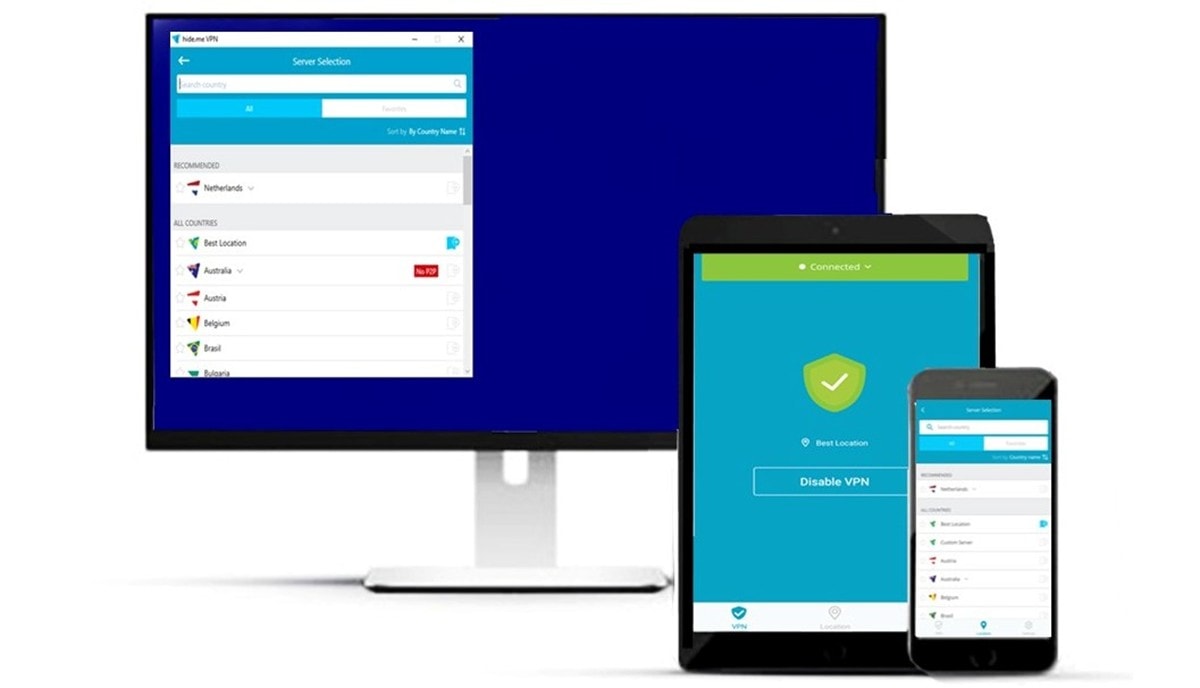 2GB of data per month
No ads
Fast connection speeds
Robust security features including Stealth Guard
Works with: BBC iPlayer, Amazon Prime Video, YouTube, Kodi, HBO GO
Compatible with: macOS, iOS, Windows, Android, Linux, Android TV, Amazon Fire TV Stick, Chrome, Firefox, routers
Another great VPN for Australia, hide.me offers 2GB of free data per month. While you can't stream all day, you can still watch about two hours of streaming in SD.
If you have the free version, you can still enjoy all of hide.me's top-notch security and privacy features. Your data remains unseen–even with public WiFi–behind this VPN's AES 256-bit encryption.
Since hide.me is in Malaysia, it isn't required to store logs. It runs its own DNS on every server to ensure that no outside intruders can monitor or record your data.
Its 0% logs policy carries over into its free subscription. You don't have to provide a credit card or email to use the free plan. You simply download the app and you're ready to go!
You also get the added security of IP leak protection and an automatic kill switch that you turn on manually with a simple click.
The Stealth Guard feature gives you two options on how to protect your data. You can either limit your internet connection to only hide.me's servers. Or, you can select apps that only function if you connect to the VPN. How's that for peace of mind?
Other free perks that are premium in its features include no bandwidth throttling and no ads.
If you do upgrade to a premium plan, you get access to 1,800 servers in 70 locations, including 2 in Australia. While it can't unblock Netflix, you get unlimited streaming from sites like BBC iPlayer, Amazon Prime Video, and HBO GO.
There's a 30-day money-back guarantee with a paid plan as long as you email the company before the month-long trial is over. While you only get one device connection with the free option, you get 10 simultaneous connections if you upgrade.
If you want to find out more about hide.me's capabilities, check out our full expert review to see if this is the best free VPN for Australia.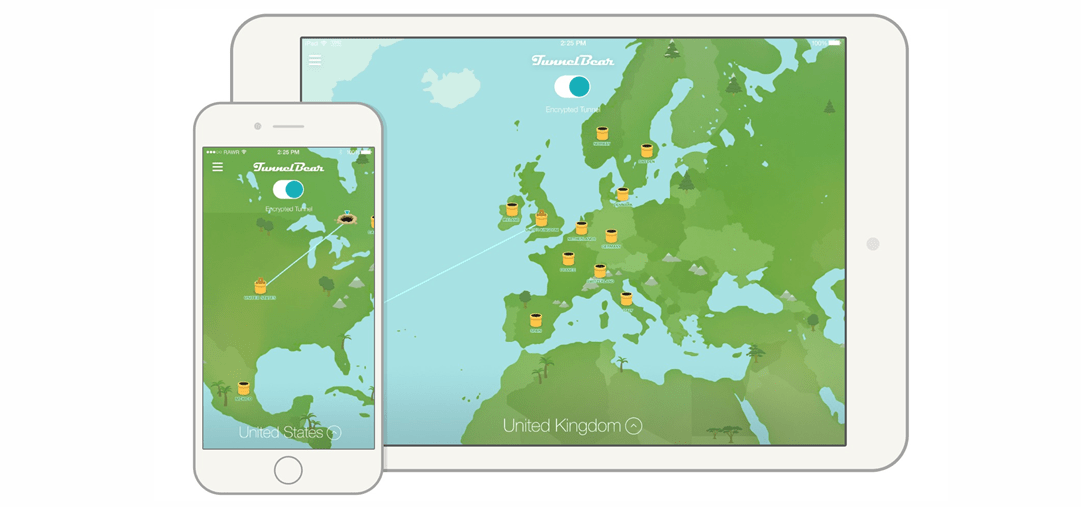 500MB free data a month
Minus ads
User-friendly apps
High-grade cybersecurity includes no logs, AES 256-bit encryption, and a kill switch
Works in China with the GhostBear feature
Works with: Kodi, YouTube, HBO GO
Compatible with: Android, Windows, macOS, iOS, Linux, Chrome, Firefox
If you're new to VPNs, TunnelBear is one of the best free VPNs for Australia with its easy-to-use apps. The free version only offers 500MB free data per month, but it's ad-free, and you can update your social networks, watch some YouTube, and listen to music with that much data.
You can tweet TunnelBear for an extra 1GB!
If you're using the free TunnelBear VPN in Australia, you still enjoy all its cybersecurity features. For starters, TunnelBear uses AES 256-bit encryption to hide all your online data. Plus, it uses an independent public security audit to ensure that it keeps zero logs.
The VigilantBear mode is TunnelBear's automatic kill switch. If your connection drops, it masks your data while it searches for a reconnection to the internet.
If you're in a strict censorship country like China, you can turn on the GhostBear mode to connect. This robust feature disguises all your data on a network, which can then bypass the infamous Great Firewall of China. For now, this feature doesn't work on iOS.
Another significant facet of TunnelBear is that it has fast and reliable connection speeds on its 23+ servers. It can't bypass most streaming geo-restrictions, like Netflix, but your internet experience with TunnelBear never buffers.
When you upgrade to its premium version, you get unlimited data, 5 device connections, and priority customer service.
Our thorough review of TunnelBear gives it high marks for its robust yet straightforward features.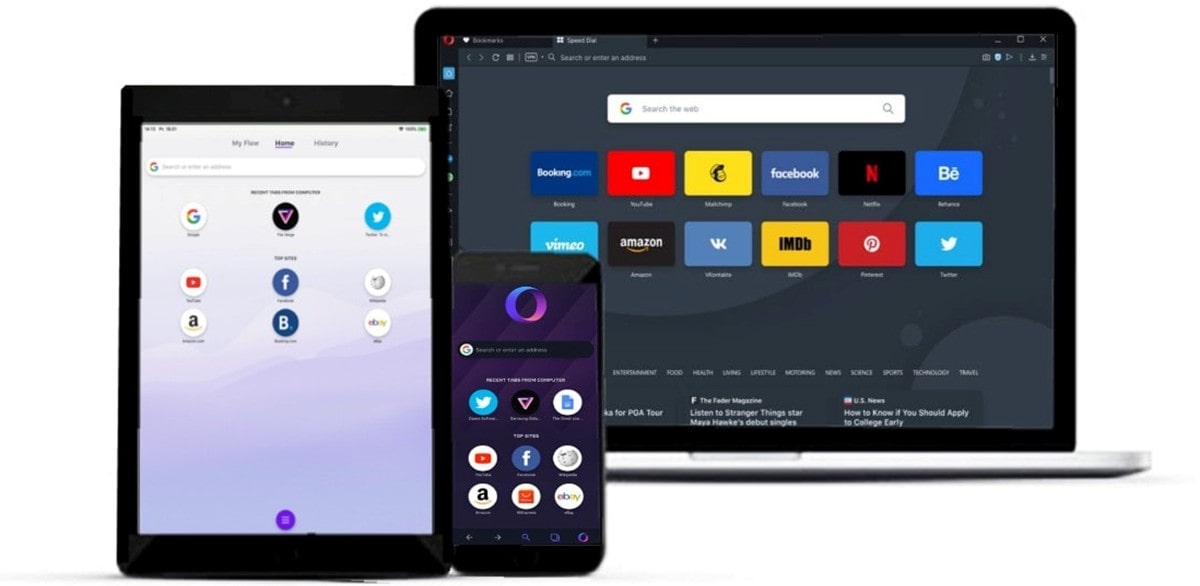 No software installation requirement
Unlimited bandwidth
Unlimited data
AES 256-bit encryption, ad blocker
Works with: Netflix, YouTube
Compatible with: Windows, macOS, Linux
Opera's VPN doesn't work as a standard VPN since you access it through the Opera browser. You then go into the Opera browser settings (or preferences on a Mac). Next, you click on privacy and security and then toggle the VPN setting on. It's that simple.
Plus, there are no catches with using this free VPN in Australia. Opera uses industry-standard 256-bit encryption to keep your online data hidden from cyber snoops. It also blocks ads on your browser and it removes tracking of your internet history.
But the speeds are not super reliable. While I was able to access Netflix, the speeds were slow with every server in Europe, America, and Asia. Hulu and BBC iPlayer were both geoblocked.
Plus, there's no guarantee that your online activity is completely secure since the Opera VPN only works on a browser. It's problematic if, for example, you torrent with external software.
Opera's privacy policy states that it doesn't store logs. It does, however, collect usage data–for up to three years–to better understand how the user interacts with Opera's applications and services. However, Opera states that it can't identify a user personally.
If you run into issues as I did, there's no customer service beyond FAQ and troubleshooting guides. If you need a VPN that's compatible with mobile devices, look elsewhere. Opera doesn't have a mobile version for the VPN anymore.
Still, Opera's VPN is easy to install, and it's free for life. Plus, for now, you can stream Netflix.
If you want to know more about Opera's VPN services, read our up-to-date review.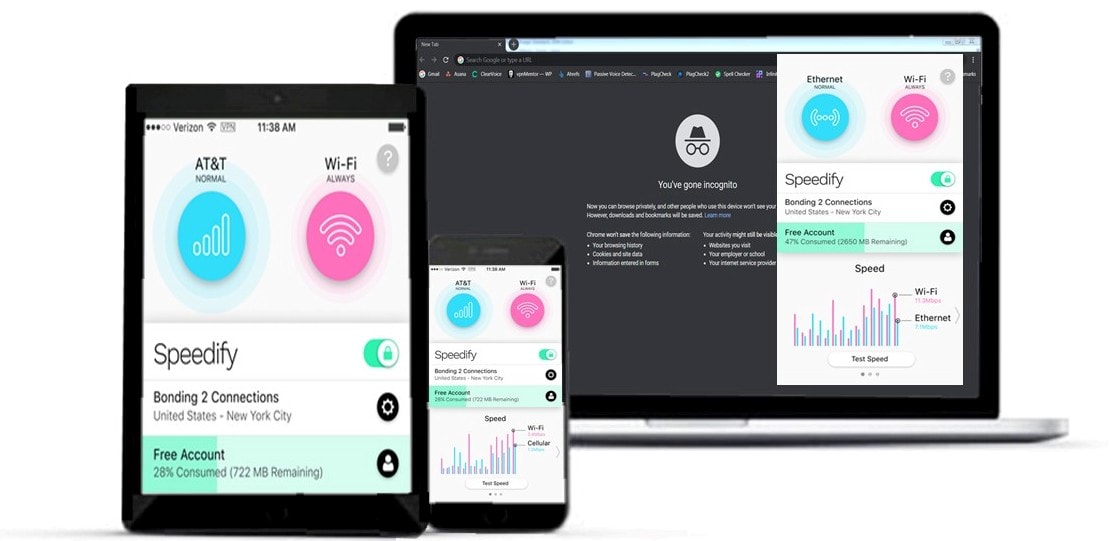 2GB of free data per month
User-friendly VPN
Security highlights include strong encryption, channel bonding, and no logs
Servers in 50+ locations
Works with: YouTube, Kodi
Compatible with: macOS, iOS, Windows, Android, Linux
You can try out this free Australia VPN with 2GB data per month, and you don't need to sign up for an account. It's enough to stream on SD for two hours a month.
One of the more unique features of Speedify is its channel bonding feature. It combines your cellular and WiFi data to speed up your internet connection. However, my tests of this feature show the speeds to be slow. Also, since the channel bonding sends your traffic over both connections, it uses double the data.
Speedify keeps all your data secure, even with the free version. It uses ChaCha or AES-based encryption, depending on what device you use.
It also has an optional kill switch for Windows that you turn on manually. It's great for hiding your IP address if your connection drops.
The company has a strict no-logs policy, although it collects things like contact information and your connection duration.
If you upgrade to Speedify's premium plan, you move from one server connection to 5 connections, and you get unlimited data.
For now, it's geoblocked from Netflix, Hulu, and BBC iPlayer, to name a few.
You can learn all about Speedify in our extensive review of its speeds and security.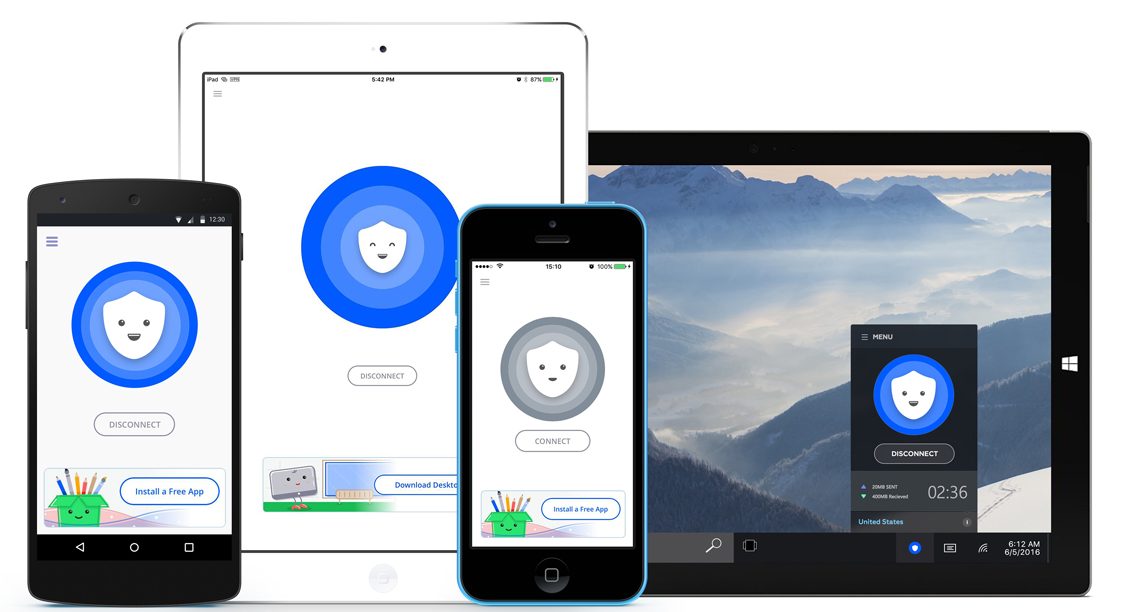 500MB free data a day
Easy-to-use app
Supports P2P on all its servers
128-bit encryption and Catapult Hydra security protocol
Compatible with: macOS, iOS, Windows, Android, Chrome
With 500MB of free data a day and user-friendly installation, Betternet is a decent choice as a free VPN for Australia. But you're limited to one US server with ads, streams are geoblocked, and you get only one device connection.
My speed tests of the free version were slow. This is due in part due to free users only being able to connect to the lone US server.
If you upgrade to a premium plan–the yearly plan being quite economical–you get ad-free browsing, 6 device connections, and 17 global locations.
Speedify, with both the free and upgrade plans, offers ample cybersecurity. All your online data is safe with 128-bit encryption and the Catapult Hydra security protocol.
It doesn't record your browsing activity, although the ads with the free version have the potential for ad tracking.
Still, If you choose the free service, you don't have to register for an account.
See how Betternet stacks up to the rest of the VPNs in our conclusive review.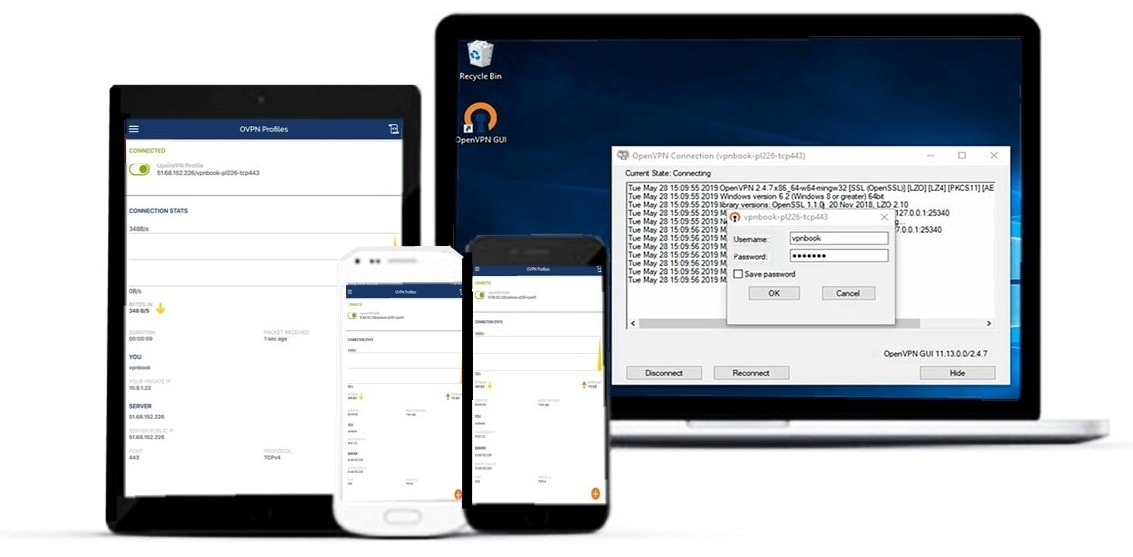 Easy to install, no software installer requirements
6 different servers
AES 128-bit and 256-bit encryption
Supports OpenVPN and PPTP
Works with: Netflix US, YouTube, Hulu
Compatible with: Windows, macOS, iOS, Android, Linux
VPNBook is a free service that you download from its site on either OpenVPN or PPTP. It even tells you if the server you pick can do P2P downloading.
It has unlimited bandwidth and no data restrictions.
So how does it remain free? VPNBook has ads to monetize its site, which means there's a chance that your data is visible to advertisers.
Although the company states that it doesn't keep logs, it does store IP addresses and timestamps, and it keeps connection logs for a week. However, you remain anonymous online with VPNBook's military-grade encryption.
My speed tests on VPNBook across its 6 servers were inconsistent and slow. Still, I was able to connect to US Netflix. Not too shabby for free!
If you're in Australia and looking for a free VPN, read our review of VPNBook to see if it's safe and dependable enough for you to try.
FAQs
😀 Do these free VPN providers keep log files?
Most of the VPNs on this list do not keep any logs of your online activity. There are some exceptions:
Hotspot Shield keeps no logs of your browsing history, but it does share your location with Google Ads.
If you read Betternet's privacy policy, it does state that it may collect IP addresses for marketing means.
Speedify uses ads in its free version, which may expose you to third-party advertisers.
VPNBook states it does not keep logs; it does keep connection logs for a week.
😎 Does a VPN impact speed?
Premium VPNs encrypt all your data and send it through one of their global servers without any compromise in speed.
I can't say the same about free VPNs. Some slow down your speed on purpose in hopes of you upgrading to a paid plan. Lots of these free VPNs only have a small number of servers. If too many users are on these limited servers, you get a lot of buffering and lags.
🤓 Are VPNs safe in Australia?
Yes, they are. Plus, it's optimal to have a VPN in Australia since the country introduced mandatory data retention laws in 2015 that allow data–like internet and email metadata–to be kept for up to two years.
🤓 Are VPNs legal?
VPNs are legal in 95% of the world. However, VPNs are restricted in countries like Iraq and the UAE. You can read our full report on where VPNs are legal and illegal.
China isn't dependable for VPN connections, and its Great Firewall blocks numerous VPN providers. However, a premium VPN like NordVPN can bypass China's barrier.
A free VPN service is almost always too good to be true. You run the risks of exposing your online data or finding your patience disappearing with slow speeds and unreliable servers.
If you're in Australia, you want a top-notch VPN that gives you features like unlimited bandwidth and impassable cybersecurity.
The free VPNs on my list are sturdy enough for internet usage. Although the data caps for most of these VPNs mean you'll be watching YouTube more than streaming Netflix.
A VPN that offers a free trial or a money-back-guarantee is ideal, especially if you're in Australia for a short period. That's why I recommend NordVPN. You get a 30-day money-back guarantee, access to 5,400 global servers, excellent connection speeds, and trustworthy security.
The best premium VPNs for Australia are…
Provider
Our Score

9.8

/10

9.8

/10

9.4

/10

9.6

/10

9.2

/10
Privacy Alert!
You are exposing yourself to the websites you visit!
The information above can be used to track you, target you for ads, and monitor what you do online.
VPNs can help you hide this information from websites so that you are protected at all times. We recommend NordVPN — the #1 VPN out of over 350 providers we've tested. It has military-grade encryption and privacy features that will ensure your digital security, plus — it's currently offering  68% off.