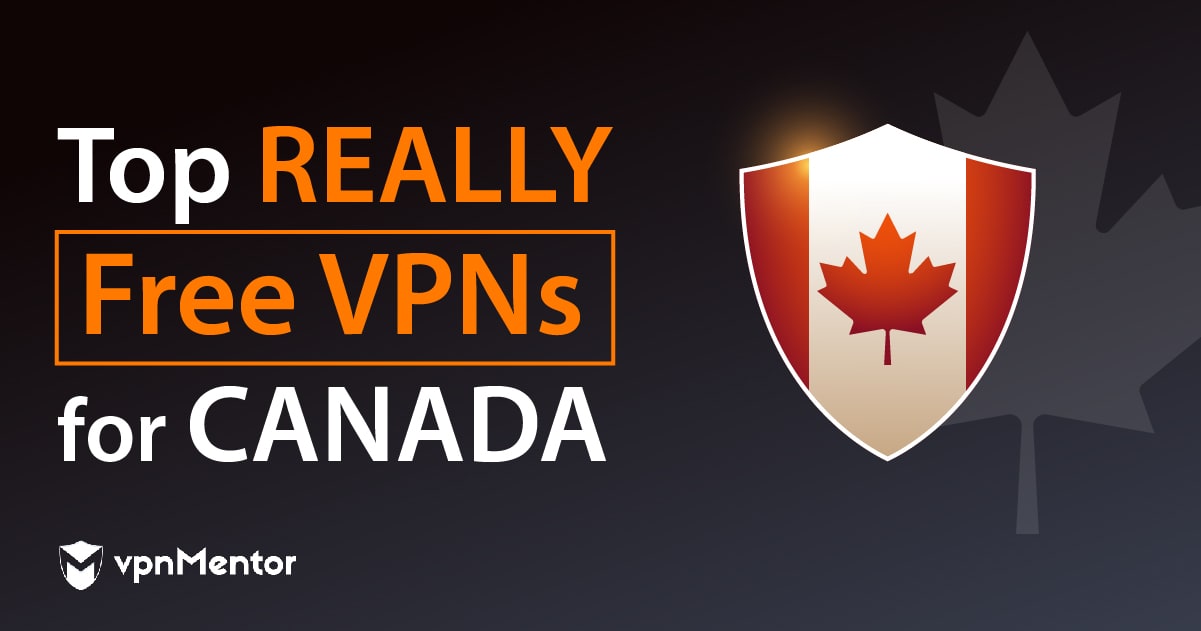 8 Best Free VPNs for Canada in 2023 — Safe, Fast, and Reliable
Updated on 23rd January 2023
It's not easy to find a good free VPN for Canada. Not many of them have servers in the country, they don't work well to bypass geoblocks, and they usually cap your data or speeds. Even worse, some are just unsafe — to make money, free VPNs have been caught logging and selling data to third party advertisers, so they're not good options for privacy, either.
I tested 45 free VPNs and shortlisted the ones that are safe and work well in Canada. These VPNs protect your privacy and are fast enough for HD streaming. Some of them even unblocked Netflix and popular American sites like Hulu and HBO Max. They all come with some form of limitation as free VPNs do, but are overall decent options.
Ultimately, the best VPN for Canada is a low-cost premium service, like ExpressVPN. It doesn't limit you the way free VPNs do — you get unlimited data, incredible speeds, and reliable access to Canadian, American, and other international streaming platforms. ExpressVPN also comes with a solid 30-day money-back guarantee. I made sure this guarantee is legit — my money was returned in a few days without hassle.
Short on Time? Here Are the Best Free VPNs for Canada
Best Free VPNs for Canada — Full Analysis (Updated 2023)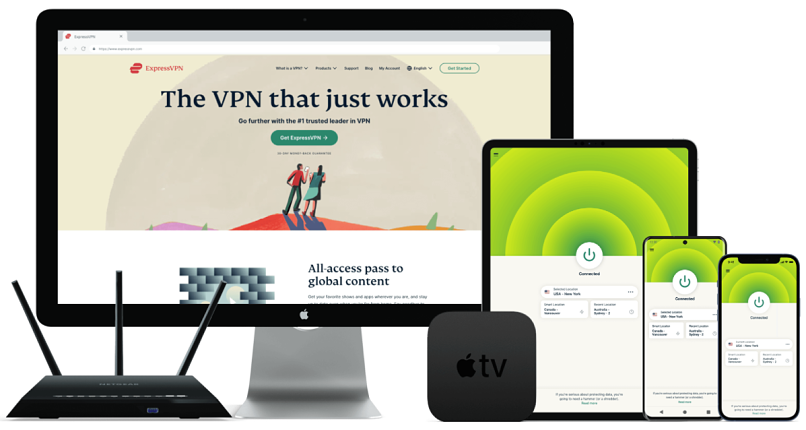 Editor's Choice
Editor's Choice

Tested January 2023
Try Risk-Free for 30 Days
Available on:
Chrome
Router
Smart TV
More
www.ExpressVPN.com
Lightning-fast speeds and unlimited data
256-bit encryption, DNS/IP leak protection, and a kill switch
Split tunneling to maximize speeds and performance
5 simultaneous device connections
Works with: Netflix, DAZN, Crave, CBC, CTV, Disney+, HBO Max, Hulu, APV, Kodi, IPTV, and more
Compatible with: Windows, macOS, iOS, Android, Linux, browsers, routers, smart TVs, Fire devices, game consoles, and more
ExpressVPN is superfast — it won't slow down your online activities whether you torrent, game, or stream in UHD. I started with a base speed of 52.24 Mbps. When I tested its 5 Canadian locations, I got an average of 50.30 Mbps — double what you need for Ultra HD streaming. While connected to its Canada - Montreal server, I watched Jim & Andy: The Great Beyond on Netflix Canada in Ultra HD and didn't have any buffering the entire time.
With 3,000+ servers in 94 countries, it's a top choice for streaming international shows. I connected to servers in Canada, the US, the UK, and Japan — these gave me easy access to the Netflix library in each of these countries. Its Montreal server worked seamlessly with Crave, and the 3 US servers I used let me access Netflix, Hulu, and HBO Max without issue.
With its enhanced security and privacy features, you can torrent safely, too. It comes with top encryption, leak protection, and a kill switch which ensure your activities are kept private while using shared P2P networks. Its no-logs policy is proven and it has extra privacy features, too, like RAM-only servers that wipe your data with every reboot of the server. This makes your online movements essentially untraceable. Better yet, it's based in the privacy-friendly British Virgin Islands, so you know your data is safe from government intervention.
ExpressVPN's apps are easy to use on all the devices it's compatible with. But, I particularly love the MediaStreamer Smart DNS feature. MediaStreamer allows you to unblock American streaming apps on devices like smart TVs and gaming consoles (these devices normally don't support VPNs). I watched Hulu, HBO Max, and American Netflix, just by copying a code into my PS5's network settings.
Although it isn't really a free VPN, ExpressVPN comes with a trustworthy money-back guarantee. I made sure they stood by this guarantee, so you can get a full refund if you're not 100% satisfied. After signing up for 3 weeks, I contacted a support rep via its 24/7 live chat feature. They only asked me a couple questions about my experience, and didn't push me to stay. It only took 3 days for the money to return to my account.
Start Risk-Free With ExpressVPN
9,758+ servers in 91 countries, plus optimized streaming/torrenting servers
NoSpy servers and a strict no-logs policy for extra privacy
7 simultaneous device connections
Works with: Netflix, DAZN, Crave, CBC, CTV, Disney+, HBO Max, Hulu, Kodi, IPTV, and more
Compatible with: Windows, macOS, iOS, Android, Linux, routers, smart TVs, Fire devices, game consoles, and more
CyberGhost's streaming-optimized servers give you easy access to Canadian and global platforms. When I tested its Netflix Canada server, it unblocked the site without hesitation. Using this, I watched 4 episodes of Ozark — my connection remained stable the entire time. The US Hulu and Netflix servers worked just as well. Aside from the optimized servers, it also provides regular servers in 3 Canadian locations.
Its torrenting servers are optimized for fast downloads. To make it easier for you to choose the fastest connection, each one is displayed with its distance to you — closer servers usually have the best speeds. Using its US torrenting connection, I was able to download the film Charade (1.79 GB) in less than 5 minutes.
Its robust security and privacy features ensure your personal data is safe in and outside of Canada. This includes special NoSpy servers, which are located in Bucharest, Romania. Unlike Canada, Romania is outside of the 5/9/14 Eyes Alliance. CyberGhost manages these servers itself to eliminate the risk of third-party interference. On top of this its 256-bit encryption, DNS/IP leak protection, and kill switch further protect your info from being exposed.
Its servers in Canada offer superfast speeds for whatever you do online. Without a VPN, my base speed was 52.41 Mbps — when I tested its 2 nearby servers, I found an average of 45.46 Mbps, which is a great result. Long-distance servers in Europe gave me an average of 30.21 Mbps, which is also impressive for servers located thousands of miles away.
Similar to ExpressVPN, CyberGhost isn't 100% free. But, you can try CyberGhost for free with its money-back guarantee. If you sign up for a month, you get 14 days, but longer plans give you 45 days to get a refund if you're not happy. I made sure CyberGhost upheld this promise and the process was straightforward. I made my request via its 24/7 live chat and after a couple questions, the support rep issued my refund. All my money was back in 4 days.
Start Risk-Free With CyberGhost
Unlimited data and superfast speeds
3 server locations (Japan, Netherlands, the US)
10 device connection
Works with: Netflix Originals, Peacock, Crackle, Crunchyroll, YouTube, Spotify
Compatible with: Windows, Android, Mac, iOS, Linux, routers, Android TV, Fire devices, and more
Proton VPN has no data restrictions, so you can enjoy your online activities free from interruptions. This is impressive, because most free VPNs only offer enough monthly data to stream for a couple hours tops. During my tests, I connected to a US server and streamed an entire season of Demon Slayer on Crunchyroll. I didn't encounter any interruptions the entire time.
Plus, Proton VPN is impressively fast. Its site says its free plan has capped speeds, but I didn't find my speeds were affected much at all. My base speed was 50.14 Mbps without the VPN. After connecting to US servers, I got average speeds of 39.25 Mbps. This is a 21% drop in speeds, but it's well above the 50-80% drops I had with other free VPNs.
It also comes with split tunneling, which many free VPNs don't. This allows you to choose which traffic is routed through the VPN, and which stays on your local network. I used it to stream Peacock in the US, while keeping my news app local.
You can depend on Proton VPN's privacy protection in and outside of Canada. It uses 256-bit encryption, DNS/IP leak protection, a kill switch — plus, it adheres to a no-logs policy. In addition, it is headquartered in Switzerland — which is outside of the 5/9/14 Eyes jurisdiction.
A couple of downsides to the free version: its free plan doesn't allow torrenting and it doesn't have any servers in Canada. So, Proton VPN isn't a good option if you want a torrenting VPN or wish to access Canadian content.
Strong unblocking abilities and 37 locations to enjoy global content on mobile (only 1 location on desktop)
256-bit encryption and DNS/IP leak protection for security and privacy
Up to 1GB of data/month
Works with: Netflix, CBC, Crave, Disney+, HBO Max, Hulu, and more
Compatible with: Windows, macOS, iOS, Android, and more
Avira Phantom stands out because its free mobile apps work super reliably with Canadian and global streaming sites. Its Canadian servers easily unblocked Crave and CBC Sports and its US streaming server unblocked Hulu, Netflix, and Disney+. I had no lag while streaming Community on US Netflix with my Android and recorded good speeds of about 34 Mbps (25% drop).
It offers strong security features on both mobile and desktop — on desktop, it even includes a built-in malware blocker. You can also have the VPN launch at system start. I tested this feature, which automatically connected me to the VPN anytime I went online. In addition, 256-bit encryption and a strict no-logs policy ensure that your personal data won't be compromised in Canada or abroad.
It's easy to install and use. Although it offers a good amount of settings you can tweak, you don't have to as it comes pre-configured for enhanced security. Plus, it offers unlimited device connections, so you can cover your entire household for free.
Unfortunately, its desktop apps are very limited, so they're not the best for unblocking global content. It only gives you access to 1 server which is chosen automatically based on your location. In addition, all of Avira's VPN apps limit you to 500 MB of monthly data, but you can double that to 1GB if you sign up with email.
5 server locations (1 in Canada) and all support torrenting
10GB of data/month and good speeds for fast downloads
1 device connection
Works with: Netflix Canada, CBC, Crackle, Funimation, Crunchyroll, Kodi, YouTube, and Spotify
Compatible with: Windows, Android, Mac, iOS, Linux, and more
All of hide.me's free servers are P2P-friendly. I downloaded Night of the Living Dead to test it — the 790 MB file took just 3.5 minutes to download. It gives you 10GB of data monthly, which is much more generous than most free VPNs. This allowed me to download 4 HD movies, and my speeds remained stable at around 31 Mbps the whole time.
Unlike most free VPNs, hide.me's free plan has several security options to protect your data in and outside of Canada. Using its Auto Connect feature, I set it to "ask" before joining an unsecured network. When I visited my local library, hide.me alerted me that the WiFi wasn't secure, and asked if I wanted to connect to the VPN before using it. These security features are paired with a no-logs policy to ensure your personal info is kept safe.
You can also use split tunneling with its free version, which lets you select which apps use the VPN tunnel and which don't. Of course, it's a safe VPN and comes with the standard features like 256-bit encryption, leak protection, and a kill switch.
It has 5 server locations, including one in Canada. The other 4 are in Germany, the US (East and West), and the Netherlands. This allowed me to access a couple of sites, like Netflix CA, Crunchyroll, and YouTube. However, I couldn't get it to work with Disney+, Amazon Prime Video, or Hulu.
2,600+ servers in 47 countries, including 1 location in Canada
Unlimited simultaneous device connections
Fast speeds and up to 1.5GB data/month
Works with: Netflix US and Canada, CBC, Amazon Prime Video, BBC iPlayer, YouTube
Compatible with: Windows, macOS, iOS, Android
TunnelBear lets you use its full server network for free, including servers in Canada. I tested its Canadian connection with Netflix and had no problem unblocking the library. Using its US server, it worked with Amazon Prime Video — unlike any other completely free service I tested. Although, during busier times (like weekends), I had to reconnect a few times before it would establish a connection.
Its consistently fast speeds allow you to stream and browse in Canada without lag. When I tested its Canadian server, it produced 32.23 Mbps. Although it's not as fast as ExpressVPN, it was still enough for Ultra HD streaming, only causing a decrease in speed of about 30%. Its US server was almost as fast, at 30.12 Mbps.
Your data is safeguarded by TunnelBear's security and privacy features. This includes GhostBear, an obfuscation function that few free VPNs offer. GhostBear disguises your VPN connection as regular internet traffic to protect your privacy and help you bypass geoblocks and firewalls. On top of this, it provides 256-bit encryption, a kill switch (VigilantBear), and DNS/IP leak protection to secure your connections.
The biggest limitation of TunnelBear is the 500MB per month data limit, but you can boost your data allowance to 1.5GB per month if you tweet about TunnelBear. When I tested this, I Tweeted @theTunnelBear asking for an extra GB of data — within an hour, it was added to my account.
Superfast speeds with its exclusive Hydra Catapult protocol
500MB data/day and standard security features
1 device connection
Works with: YouTube, Facebook, Twitter, Spotify
Compatible with: Windows, macOS, iOS, Android, Chrome
Hotspot Shield gives you impressive speeds with its free plan. It uses its own exclusive Hydra protocol, designed for strong security and minimal speed loss. Using Hydra, I tested its free US server and got speeds of 45.33 Mbps from a base speed of 52.18 Mbps — only a 13% drop and 15% faster than IKEv2. That's fast enough to watch YouTube videos in Ultra HD. Hydra's speeds also mean you can enjoy your online activities without interruptions.
The free plan includes strong security and privacy features to help keep your information safe in Canada. For instance, it provides 256-bit encryption, plus, an auto-connect feature for immediate protection. It also has a kill switch to ensure that your personal data doesn't leak — even if your connection drops for some reason. Although its privacy policy is a bit vague, Hotspot Shield states that any data it collects is anonymized.
It has 1 free server in the US, but it doesn't work with any popular streaming platforms. I was actually blocked by a payment wall when I tried to access Netflix. Even if Hotspot Shield did work with streaming sites, its 500MB/day data cap wouldn't let you watch much anyway. Unlike Avira Phantom and TunnelBear, there's no easy hack to increase your daily limit. That makes its impressive speeds a little less beneficial.
Start Free With Hotspot Shield
Smart Protection for safe and secure browsing on public WiFi networks
No registration required, you hand over zero personal information
Good speeds and 200MB data/day
Works with: Netflix US, YouTube, Facebook, Twitter, Spotify
Compatible with: Windows, macOS, iOS, Android, and more
Kaspersky offers a Smart Protection feature that keeps you safe on public WiFi, instantly connecting to VPN when it detects an unsecure connection. It also has a customizable Autorun feature to ensure your online behaviour is always protected by the VPN.
It has 1 server location in New York — so you can access a few US sites and platforms. I tested this connection with Netflix US. It unblocked the whole library within seconds. However, it didn't work with other streaming platforms like Hulu and Disney+.
The free plan gives you fast speeds for streaming without lag. When I tested its US server, it gave me an impressive 41.18 Mbps from a base speed of 53.02. I was then able to watch a queue of 5 YouTube videos with no buffering. However, the fast speeds won't help you with torrenting since the free plan doesn't support P2P traffic.
A downside to Kaspersky is that it has a 200MB daily data cap (6GB per month). That's enough to read news sites or browse social media, but it's not enough to do much streaming. You can upgrade to 300MB per day by registering your email, but that's still only enough to stream around 40 minutes of HD video.
Start Free With Kaspersky Secure Connection
Quick Comparison Table: Canada VPN Features
While all the free VPNs on this list are reliable and safe, they have some significant differences. Capped speeds and limited data can cause lag and interruptions to online activities, depending on what you use the VPN for.
You may also need a free VPN offering P2P support and servers in Canada. While P2P support is needed for torrenting, servers in Canada are necessary to access sites and streaming platforms only available in the country.
If privacy is your main concern, consider the signup process. Without having to sign up, you don't have to share personal information or payment details with the VPN provider.
Try ExpressVPN Risk-Free Today
Tips on How to Choose the Best Free VPN for Canada
Listed below is the criteria I used to rank my top picks. Feel free to use this as a checklist to help you make an informed decision when choosing the best free VPN for Canada:
Really free — I made sure all the VPNs on this list are either completely free or backed by a tried-and-tested money-back guarantee.
Reliable servers — Consider your use for the VPN, and ensure that there is a stable connection in the location you need access to. If you're outside of Canada, you may need a VPN with a Canadian server to access region-locked content from outside of the country.
Secure and private — My recommended VPNs all provide necessary security features, like military-grade encryption and IP leak protection. This prevents your personal data from being exposed. I also ensured that each VPN's logging policy states they don't store any identifiable user information.
Enough data — Depending on your usage, you may need to consider the amount of data your VPN provides. My top 3 recommended VPNs give you unlimited data, while you can get at least 500MB of data per month with the completely-free options.
Streaming capabilities — Although free VPNs generally struggle, they should be able to unblock at least a couple of streaming platforms. However, for reliable access to the most popular sites (like Netflix), it's best to go with a low-cost premium VPN.
Fast speeds — Slower speeds result in lower video quality and buffering. I tested the speed of every VPN on my list to ensure they're fast enough for browsing, streaming, and torrenting. These didn't decrease my base speed by more than 30%.
Easy-to-use apps — I tested each VPN to make sure they all provide user-friendly apps for most modern devices. This way, you can set them up and use them without hassle.
Reliable support — Your free VPN should provide responsive customer support, so you can get answers. Live chat is preferable because responses are quick, but most free VPNs don't offer it. I only chose VPNs that offer some kind of support, via live chat, email, or knowledge base.
Try ExpressVPN Risk-Free Today
Warning: The Risks of Free VPNs
Most free VPNs come with various security flaws, which can compromise your privacy. That's why it's important to choose the right free VPN before you install it on your device. The risks that free VPNs can pose include:
Data leaks. If a VPN leaks your IP address or DNS requests, your ISP and other third parties can see your online activities, even with your VPN turned on. Not only does this compromise your security, but it also makes it harder to bypass geo-blocks.
Some free VPNs expose you to malware. Even some reputable free VPN providers have been known to infect their users with viruses and malware.
They bombard you with intrusive advertising. Completely-free VPNs don't have subscribers, so they have to make money some other way. That usually results in constant interruptions by targeted ads.
They can sell your private data. Many free VPNs don't provide a clear no-logs policy. That means they can record your personal data (like your IP address and the sites you visit), and sell it to third parties.
Avoid These Free VPNs for Canada
The VPNs on my list are safe to use in and outside of Canada. However, I encountered a number of free VPNs that are simply unsafe. The following VPNs should be avoided:
Hola VPN: Hola is basically a P2P network — you're using other people's IP addresses, and they are using yours. That means you're giving up your IP address to anonymous users. You could then be legally accountable for anything they do online and any site they visit when using your IP.
TurboVPN: This VPN does not have a no-logs policy and is known to bombard users with persistent ads.
Betternet VPN: Unlike the free VPNs on my list, this service doesn't have reliable speeds. Worse still, it lacks basic security features such as a kill switch and leak protection, and its privacy policy is vague, which are all red flags.
Psiphon: This VPN logs every site you visit, along with session times and duration, and other data that should be kept private.
CrossVPN: Various anti-virus programs have flagged this VPN. It has infected people's devices with malware, including trojans and spyware.
Start Risk-Free With ExpressVPN
FAQs on Free VPNs for Canada
Do any free VPNs work with Netflix Canada?
Yes, 2 of the completely free VPNs I tested can access Netflix Canada, but they both have restrictive data limits. Avira Phantom could access Netflix CA without a problem on mobile, but it only offers 500MB of monthly data (1GB if you register your email). Similarly, TunnelBear has a 500MB data cap, or 1.5GB if you tweet @theTunnelBear. A more generous 10GB per month is on offer by hide.me, but it's not always reliable at connecting to Netflix.
The best VPNs for unblocking Netflix Canada are low-cost premium services — but they are not completely free. ExpressVPN, for example, has reliable servers for unblocking the site, it's super-fast, and has no data caps. CyberGhost has special servers optimized for streaming platforms. Both offer reliable money-back guarantees, so you can test them without risk and get a refund if you're not 100% satisfied.
Is there a free VPN with servers in Canada?
There aren't many free VPNs with servers in Canada, but I did find a few. They aren't always completely reliable for unblocking Canadian platforms, and Proton VPN doesn't allow torrenting. That's unfortunate since it's the only free VPN with unlimited data.
If you're located in Canada, you can also use Avira Phantom VPN and Kaspersky Secure Connection VPN. Both of them have servers in Canada, but they choose your location for you, so you won't be able to connect to a server in Canada from abroad.
Are there any free VPNs for Canada that work with Fire TV Stick?
A few free VPNs have Fire apps, but most have strict data caps and poor unblocking abilities. However, 1 VPN I tested (Proton VPN) has unlimited data and unblocked Netflix US after a few attempts at reconnecting. It doesn't have Canadian servers, but it does give you unlimited data, so you can stream uninterrupted.
On the other hand, you'll always be better off using a low-cost premium VPN for streaming on FireStick. The top 2 VPNs in this list aren't 100% free, but both offer native Fire apps, strong unblocking abilities, Canadian servers, and unlimited data — so you have the freedom to stream as much as you like. They are not free, but are backed by a money-back guarantee.
Which free VPNs for Canada work on iPhones and iPads?
Every free VPN in this list offers dedicated apps for iOS devices. During my tests, I found each was quick and easy to install — it always took less than 3 minutes. If a free VPN does not offer a native app for iOS, it's still possible to use it. However, you'll have to install it on your router which is a bit more time-consuming. So it's best to go with a free VPN that you can find in Apple's App Store.
Is it legal to use a VPN in Canada?
Using a VPN in Canada is completely legal, so you can download and use any of the VPNs from this list without worry. Only highly censored countries (like China and Russia) prohibit the use of VPNs. However, the activities you engage in while using a VPN are what determine the legality of your use. For instance, downloading copyright protected content is not legal in any countries — and using a VPN doesn't change that.
Get the Best Free VPN for Canada Today
Most free VPNs for Canada are not ideal for streaming, torrenting, or staying safe online. Free VPNs often throttle your speeds, limit your data, and have a few servers at best — and you're lucky if there's any in Canada. Even worse — some can be dangerous and risk your safety. Luckily, this isn't true of the VPNs on my list, and they each have one or two fantastic features and benefits.
The VPNs on this list are all safe to use, but my #1 recommendation is ExpressVPN. It doesn't limit you the way that free VPNs do. You'll get superfast speeds, and superb unblocking abilities with top security to access content in and outside of Canada. Even though it's not 100% free, you can test ExpressVPN risk-free, since it offers a 30-day money-back guarantee.
Top VPNs You Can Try Risk-Free With Money-Back Guarantees...
Privacy Alert!
Your data is exposed to the websites you visit!
The information above can be used to track you, target you for ads, and monitor what you do online.
VPNs can help you hide this information from websites so that you are protected at all times. We recommend ExpressVPN — the #1 VPN out of over 350 providers we've tested. It has military-grade encryption and privacy features that will ensure your digital security, plus — it's currently offering 49% off.