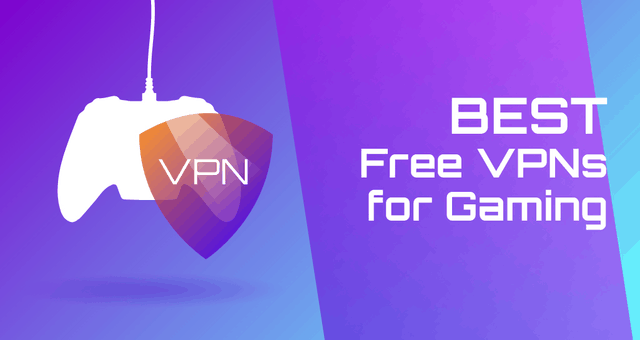 11 Best Free VPNs for Gaming | Fastest in September 2021
Updated on 15th August 2021
A free gaming VPN might seem like a good solution to protect yourself from DDoS attacks or swatting. However, free VPNs are rarely good for gaming.
Many don't provide the security that premium services offer. So if you're looking to protect your IP address, using a free VPN for gaming can be counterproductive.
When you add data limits, restricted speeds, and compatibility issues, lots of free VPNs can end up ruining your gaming experience.
For game VPNs, I suggest a low-cost premium option. Services like ExpressVPN are affordable and give you the security and speed you need for safe, uninterrupted gaming.
If you want to go ahead with a free game VPN, I can help.
I went on a quest to test over 49 free VPNs for security, speed, and compatibility. While my recommendations come with some limitations, here are the best free VPNs for gaming that I found.
Why You Should Use a VPN for Gaming
When you connect to a public gaming server, your primary concern is exposing your IP address to other gamers.
A malicious gamer can use your IP address to launch DDoS or DoS attacks. These can take down your home network and prevent you from playing.
Hackers can even find out your real location and trigger a swatting attack.
Swatting means sending armed SWAT police to another gamer's house with a hoax threat. It can be dangerous and has led to fatalities in the past.
A VPN can protect you by redirecting your traffic through a server in a different location. It hides your IP address from public view.
VPNs can also decrease ping and latency and increase speed.
If you live far away from a game server, the increased ping can cause annoying lags while you play. By connecting to a VPN server that's closer to the game server, you reduce this latency and enjoy higher speeds.
Geo-spoofing your IP address has the additional benefit of giving you access to international game servers. A VPN allows you to access geo-restricted content and play with friends around the world.
That's why any VPN for gaming should have a large network of servers in the right locations, unlimited bandwidth, and lightning-fast speeds.
If you game on a console, you will also need a VPN with router compatibility.
Which is where we come to the problem with free VPNs.
What's the Catch With Free VPNs?
Free VPNs don't charge subscription fees, so they need to make money in other ways.
The resulting limitations can compromise both your security and your gaming experience.
Compatibility
Most gaming consoles don't include VPN support. Instead, you need to install your VPN onto your router. Your console is immediately protected as soon as it connects to your network.
Unfortunately, router-compatibility is usually reserved for premium VPNs. It's hard to find a free VPN that supports router connection.
Security
Free VPNs seldom offer the same levels of security you get from a premium service.
A free VPN with inadequate security cannot guarantee your privacy and protection from DDoS attacks.
Some free VPNs have even been known to log and sell your data to third parties.
Limitations
Most free VPNs limit the number of servers you can access. This can prevent you from connecting to the correct game server.
It also means that available servers often get congested, making them slow and unreliable.
To prevent servers from crashing, many free VPNs restrict your speeds and limit your bandwidth and usage.
Gaming uses up to 300MB of data per hour, so these limitations can be too restrictive.
The Best Free VPNs for Gaming (Updated September 2021)
A free VPN may not be the best choice for gaming, and all free VPNs have some limitations, however, I've done some extensive research and testing of the various options available. Here are my recommendations for the ten best free VPNs for gaming based on speed, security features, and ease of use.
ExpressVPN already tops our list of the best VPNs for gaming. Even though it's not free, you can try it risk-free, and if you're not satisfied, get your money back within 30 days.
Its network of high-speed servers guarantees you'll have zero interruptions while you game. During my tests, I connected to 8 locations worldwide and recorded an average of 55 Mbps. This was more than enough for me to enjoy lag-free gaming.
You can play games from around the world since ExpressVPN boasts 3,000 servers across 90 countries. Unlimited server switching allows you to quickly change locations in the event of a DDoS attack.
With its military-grade 256-bit AES encryption, DNS leak protection, and an automatic kill switch, ExpressVPN keeps your gaming activity secure. Additionally, it masks your IP address for an added layer of protection against cyber threats.
Special obfuscated servers hide your VPN usage from your internet service provider (ISP) — especially handy if your ISP is prone to throttling your connection while you game.
However you like to game, ExpressVPN is compatible with all major devices and platforms – including routers.
Read our full review to see why ExpressVPN is our highest-rated service for both gaming and general use.
Cyberghost has a huge global server network. This is helpful if you ever move abroad or go on vacation. You'll still be able to access your home country's games and streaming apps through your console. It's also beneficial for maximizing speeds. For instance, I noticed that the Tampa server was causing minor lag while I tested it with Red Dead Redemption on PS5. So I switched to Miami, which was much faster. You can game at top speeds, from any location.
It's easy to set up Cyberghost on the most popular gaming consoles. You can do this via internet connection sharing with your PC or Mac. However, this only changes your region and doesn't encrypt your traffic. The other option is to use a VPN-compatible router. Cyberghost even offers routers (through FlashRouters) with the app pre-installed. This way, you'll get all of the security benefits without manually configuring the VPN.
It also has superfast servers with unlimited bandwidth. Some ISPs cap the amount of bandwidth you're allowed which can lead to heavy throttling while you're gaming. However, I never ran into this problem with Cyberghost. I tested 3 server locations (US, Japan, and the UK) — the average download speed was 43 Mbps. There won't be any interruptions while you're gaming.
Your personal data and gaming console are safe since it gives you military-grade encryption and DNS/IP leak protection. If a skilled hacker gets ahold of your IP address, they can easily launch DDoS attacks on you. This can prevent you from using your console completely. To be sure you can trust this, I used a tool to test for leaks. It didn't detect any. You can game without being at risk of cyberattacks.
You're able to test its full-featured service when you use Cyberghost's 24-hour free trial. After this, you can continue trying it risk-free as it offers a 45-day money-back guarantee. When I was finished testing (after 28 days), I used the live chat option to request my refund. The agent asked me a couple of quick questions regarding my experience — it only took 2 minutes before she approved the return. I had the money back in my account after 3 days.
Windscribe offers a free, router-compatible version of its services with a few limitations.
You'll get 10GB of free data per month. That's enough for just over 33 hours of gaming on one of the more data-heavy games like Destiny 2.
You get even more time on lighter games like Fortnite or Call of Duty; just over 10 days' worth of gaming.
You can add 5GB of data to your account by tweeting the company.
Windscribe's network spans 60 countries, but you'll only get access to 10 locations if you're a free user. These countries include the US, the UK, Hong Kong, France, the Netherlands, and Germany, so you should find most major game servers covered.
Windscribe is very secure for a free VPN. As well as military-grade encryption, the service offers a built-in ad and malware blocker.
The service also offers free users P2P-friendly servers and split-tunneling. I enjoyed being able to use split-tunneling to protect my gaming connection whilst being able to browse normally elsewhere.
Speeds on Windscribe's free servers can be slow during peak times. You might be restricted as to when you can play without annoying lag.
You can get unlimited access to Windscribe by upgrading to a premium account with a 30-day money-back guarantee. Find out if we think it's worth it in our comprehensive Windscribe review.
PrivateVPN is one of my top-rated VPNs, especially for security.
You can try it out free with a 7-day free trial. You will need to register for the free trial, but PrivateVPN will not ask for any payment details. That means no automatic renewals and unexpected charges.
You'll enjoy unrestricted access to all of PrivateVPN's premium features throughout your trial. That means no limitations on speed, bandwidth, or usage.
In fact, PrivateVPN guarantees low latency and high speed. These are two factors vital for smooth, uninterrupted gaming.
It also means you'll get access to all the VPN's 100+ server locations in 60 countries.
PrivateVPN is renowned for its security measures. You're protected from DDoS and DoS attacks by military-grade encryption, a kill switch, and both DNS and IPv6 leak protection.
The service is also router-compatible, with comprehensive setup tutorials on its website.
If you enjoy using PrivateVPN during your trial, you can upgrade to a premium subscription. Prices are very affordable and you can even enjoy a longer trial period with the 30-day money-back guarantee. Just remember to cancel your subscription before the month ends to qualify for a full refund.
Find out why PrivateVPN is one of my top five VPNs in our in-depth review.
Alongside its premium version, Hotspot Shield offers a completely free service. You won't have to enter any payment details or even register to use it. Just download the app and connect.
Hotspot Shield gives you a daily allowance of 500MB. That gets you a minimum of an hour and a half of gaming per day.
Hotspot Shield's innovative Catapult Hydra protocol guarantees speed and security. I found my connection with Hotspot Shield was fast enough for gaming without lag.
Additional security features include 256-bit AES encryption and built-in malware-blocking technology.
Hotspot Shield's network covers 80+ countries but these are reserved for premium users. You'll only be able to connect to the service's default US server if you want to use the VPN for free.
If you only want to connect to US game servers, this shouldn't be a problem. However, you might find the server limitation restrictive if you're looking for international gameplay or early access to geo-restricted content outside the US.
Hotspot Shield is not router-compatible. You won't be able to use it with your games console. Still, it makes my top five as it's fast, secure, and an excellent free service for PC gaming.
Find out more in our full Hotspot Shield review.
ProtonVPN's no-cost service is one of the few VPNs to offer an unrestricted service for free.
You'll enjoy unlimited data and unlimited bandwidth for as long as you use the service. That means you can game whenever you like, for as long as you like.
The service is fully compatible with routers, so you can protect your connection whether you game on your PC or a console.
ProtonVPN's security measures are particularly impressive for a free service. As a free user, you're still protected by military-grade encryption, an automatic kill switch, and DNS leak protection. There's even a built-in ad-blocker.
The service has a worldwide network across 50 countries, although you'll only have access to servers in the US, Netherlands, and Japan.
Sadly, these server restrictions do hamper ProtonVPN's speeds. I found the available servers to be slow and unreliable at times, which can be problematic for gaming.
If you want full access to all of ProtonVPN's network, you'll need to upgrade. Premium subscribers also benefit from faster speeds and P2P-enabled servers. You can get all these features for free for a month with ProtonVPN's 30-day money-back guarantee.
Find out how ProtonVPN stacks up to other freemium services in our full review.
hide.me is a free service that gives you 2GB of free data every month. That's at least seven hours of secure gaming.
Speeds and security measures are unrestricted for free users. You're safeguarded against malicious gamers by 256-bit AES encryption and an automatic kill switch.
Server access is limited, however. You'll only have access to five of hide.me's 75 server locations. I didn't find this too restrictive, though. Free users can still connect to servers in the US, Canada, the Netherlands, and Singapore, which is a fairly decent global spread.
hide.me is also fully router-compatible. The website even features a range of handy guides for setting up the VPN on your router.
Find out more about the service – including whether it's worth making the most of the 30-day money-back guarantee – in our thorough hide.me review.
TunnelBear gives you 500MB of free data every 30 days. That's around an hour and a half of gaming per month.
However, TunnelBear is so easy to use that it might suit the more casual PC gamer. I found its apps to be intuitive and user-friendly – perfect if you're not used to VPNs.
I say PC gamer because TunnelBear is not router-compatible. It makes up for it with military-grade AES 256-bit encryption, though.
You can upgrade to enjoy unlimited data with TunnelBear, but there's no money-back guarantee to rely on.
It's a secure free gaming VPN but other premium services might be better if you're going to pay. Read our full-length TunnelBear review to find out why.
Betternet gives you a completely free version of its premium service with 500MB of free data every day. That's around one and a half hours of gaming per day.
You'll enjoy all of Betternet's premium security features with a free subscription. These include military-grade encryption and the Catapult Hydra protocol used by Hotspot Shield to boost speeds.
Unfortunately, Betternet does not support router compatibility, although its website states that this may change in the future. In the meantime, it's a decent free VPN for PC gaming.
Read our Betternet review to find out more.
Speedify differs from other VPNs by using channel bonding technology to increase speeds. Its fast and reliable connections are great for gaming without lag.
Unfortunately, channel bonding does use up more data than a regular VPN connection. You might find this depletes your monthly 2GB of free data quite quickly.
Speedify safeguards your data with 128 GCM encryption. This isn't up to military standards. However, it should be secure enough to mask your IP address while you game.
Speedify is also not compatible with routers. However, its website does offer a helpful tutorial on sharing your connection with your console.
Learn more about channel bonding in our in-depth Speedify review.
Opera VPN is a free extension of the secure browser, Opera. Unlike other VPNs, Opera VPN will only work in-browser. That means it's not compatible with console gaming.
However, it is perfect if you play in-browser multiplayers like Isleward or Vikings Village.
It's also worth recommending because it doesn't restrict users when it comes to speeds, bandwidth, or data.
You can't choose to connect to servers in specific countries with Opera VPN. However, you can choose between the US, Asia, or Europe, which should give you access to a wide range of online games.
Find out more in our full Opera VPN review.
FAQs
Are VPNs legal?
The legality of VPNs varies from country to country. Some countries try to restrict or ban VPN usage because of its association with criminal activity.
In most countries, VPNs are not illegal – only using them for illegal pursuits can get you into trouble.
You can find a full list of countries that ban VPNs in our guide to VPNs and the law.
Does a VPN Impact Speed?
VPNs work by rerouting your traffic via one of their own private servers. This adds another step in your connection to a service or website.
There is always a risk of decreased speeds.
However, the best premium VPNs offer such fast connection speeds that you shouldn't notice much difference when using one.
Unfortunately, free VPNs cannot usually afford the infrastructure to provide these sorts of speeds. You should always expect slower speeds from a free VPN.
Do These Free VPN Providers Keep Log Files?
One concern when using a free VPN is the logging and selling of your usage data.
To the best of my knowledge, none of my 10 recommended free VPNs keep logs of your browsing activity.
However, free VPNs can be vague in their privacy policies. Some VPNs, like Speedify, will keep logs of anonymized data such as timestamps.
If you're concerned about logging, I would always recommend opting for a low-cost premium service with a strict no-logs policy.
The Bottom Line
VPNs can provide excellent protection against DDoS and DoS attacks. However, they only work with gaming if they're secure, compatible with your device, and fast enough to combat latency.
It's very difficult to find a free VPN that gives you everything you need for gaming. 
Most will let you down with slow speeds, inadequate security, or restrictive data limits.
If you can tolerate one or more of these limitations, you'll be able to find a compatible VPN amongst my recommendations.
But when premium services like ExpressVPN can offer you a seamless gaming experience at a low price, why would you take the risk?
Top gaming VPNs that you can try risk-free with money-back guarantees…