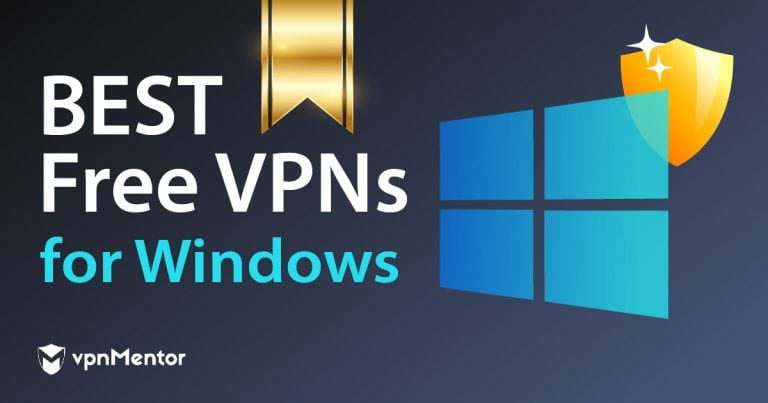 11 Best (FREE but Reliable) VPNs for Windows 2022
There are dozens of free VPNs for Windows in the Microsoft Store – so how do you know which of them are safe, reliable, and fast enough to use? I tested 92 free VPNS on my Windows 10 laptop for months, so I can show you which ones to trust. 
Using a free Windows VPN might seem cost-effective, but it rarely is. Almost every free VPN has a catch: they are often slow and limited, and can even be hazardous when it comes to your safety and privacy.
I recommend using a low-cost premium VPN like ExpressVPN for guaranteed reliability, speed, and safety for your Windows OS.
Even though the free VPNs on this list have limitations, they are safe, fast, and easy to use with Windows.
Try ExpressVPN Risk-Free Today!
The Best Free VPNs for Windows - Full Analysis (Updated January 2022)
I rigorously tested 92 free VPNs to bring you the 11 best free VPNs for Windows. 
I looked at compatibility, speed, and security measures to make sure all my recommendations are safe and reliable. Bear in mind, though, that even the best free VPNs come with restrictions, like data limits or temporary usage.
ExpressVPN is a premium service, and you can try it out risk-free before committing to a subscription (it's backed by a 30-day money-back guarantee). It's ideal if you need a VPN to unblock the most popular streaming sites, such as Netflix and BBC iPlayer, or access your favorite websites on restrictive networks.
The setup process is simple with ExpressVPN. I activated the "launch on startup" option in its settings, and it automatically connected me to a Smart Location every time I turned my computer on.
It allows you to share the VPN connection with other devices using a Windows virtual router. You can easily set it up by following one of ExpressVPN's guides for Windows 8 or 10. This way, you can connect your gaming console or smart tv to a VPN.
It operates 3,000 servers in 90 countries so that you can unblock content from all around the world. A large server network means reliable connections. During my tests, I had no problems unblocking Netflix, Amazon Prime Video, and Hulu. Even when I connected to a faraway server, my speeds were good enough to stream in HD.
A subscription to ExpressVPN gives you unlimited bandwidth and data to stream, browse, and torrent as much as you need, without sacrificing the quality.
Plus, you can use it to bypass government censorship and content blocks at your work or school. This works from anywhere, including China.
ExpressVPN is based in the British Virgin Islands, outside the jurisdiction of the 5/9/14 Eyes Alliance, so you can trust its zero-logs policy. This guarantees that it doesn't keep any data, like timestamps, your IP address, or your internet history.
You can torrent anonymously on all of ExpressVPN's servers. For added security, you can use the split tunneling feature and only route your P2P traffic through its servers.
ExpressVPN's Windows apps are backed up by the AES 256-bit encryption and strong IP and DNS leak protection. This keeps your ISP and the authorities from seeing your internet activity.
The security suite is completed with a strong kill switch that protects your data and IP address if your VPN connection suddenly drops. As a plus, it has IPv6 leak protection which blocks browsers from leaking your data.
I've tested this VPN's service and found that there's quite helpful 24/7 live chat customer support available.
This VPN is great for average users, power users, and more and passed every test with flying colors. Want to know more? Explore our ExpressVPN review to see the full results of our research and testing.
Start Risk-Free With ExpressVPN!
CyberGhost is an easy-to-use VPN that's excellent for beginners. When you sign up for its 24-hour free trial, you'll install the app on my Windows in under 30 seconds.
By taking advantage of its server network of 7,580+ servers in 90+ countries, you can access geo-restricted content from anywhere. I tried a few of its servers in the US and UK that let me access US Netflix, Hulu, and BBC iPlayer without any issues.
It also uses AES-256 bit encryption and a no-logs policy to protect your data and ensure your anonymity. There's no way for hackers to intercept your connection and for third parties to uncover your online activity.
You won't encounter any lag when streaming shows too, thanks to its superfast speeds. As I was watching Peaky Blinders on Netflix, my download speeds average 44.5 Mbps. Since you only need 5 Mbps for HD streaming, this is more than sufficient.
CyberGhost even has its own ad-blocker for Windows and Android, which further protects your privacy. Blocking ads prevents advertisers from collecting your data and targeting your specific ads, which is a breach of privacy. A further benefit is that it makes a more pleasant browsing experience.
If you find that its 24-hour free trial is too short, then you can use its 45-day money-back guarantee instead. You'll need to make an upfront payment, but you'll get your money back if you cancel before the 45-days.
And if you run into any problems, then you can contact their 24/7 live chat team for any assistance. When I asked some questions, I found them to be most helpful. Other ways to find help are on its FAQ section and by sending them an email.
Want to know more? Then explore our CyberGhost review to see the full details of our research and testing.
Hotspot Shield is a secure, fast, and user-friendly free VPN. I was able to download the Windows app completely free with no sign-up process or email registration required.
Hotspot Shield's free plan includes 500MB of data per day. With this amount of data, I was only able to stream for around 30 minutes a day.
I was disappointed to discover that you're limited to one US server, so you don't get much scope for unblocking streaming sites. I was able to stream YouTube, Kodi, and Spotify, but with Hotspot Shield's free server, I wasn't able to unblock Netflix, Hulu, Amazon Prime Video, or other providers.
Another downside to having access to just one server is server overload, which I experienced when I tested it. With all of the free users on a single server, that concentrated traffic impeded my speed.
Hotspot Shield uses 256-bit encryption and an automatic kill switch to protect your data and ensure your anonymity.
As a free user, I had access to Hotspot Shield's proprietary Catapult Hydra, which increased my speed over long distances. For example, if you're in South Africa and connecting to the free US server, you shouldn't experience any significant slowdown.
If you do have some slowness and want to conduct a speed test, Hotspot Shield provides step-by-step instructions on testing your Windows connection.
The VPN doesn't log your browsing activity, but it does record some details, including your IP address. The good news is that the service deletes these logs at the end of each session.
The free version does have ads, as it's supported by the money from advertisements. According to the privacy policy, the ads come from Google. I found that Hotspot Shield gave Google my approximate location so it could display relevant ads to me.
Hotspot Shield's privacy policy says that Google may collect your IP address and device information. But, since Hotspot Shield masks your real IP address, Google can only see the address of the VPN server you're connected to.
Want to know more? Explore our Hotspot Shield review to see the full results of our research and testing.
Start FREE With Hotspot Shield!
Windscribe is a truly free VPN that offers 10GB of free data per month. With that much free data, I was able to watch over 11 hours of YouTube videos in HD one month and browse the internet for about 166 hours the next month.
In order to get the 10GB, you must provide your email address, otherwise, you're limited to 2GB. But on top of the 10GB, I was able to earn extra data when I tweeted the company.
I could stream Kodi and YouTube with the free version, but I noticed major slowdowns due to too many users overwhelming the free servers. Also, Windscribe's Netflix-optimized servers are only available to premium users. I couldn't use my free account to unblock Netflix or any other streaming services.
Windscribe lets you use 10 server locations though – including the US, Canada, France, Germany, the Netherlands, Norway, Romania, Switzerland, the UK, and Hong Kong.
Windscribe protects your personal information with military-grade 256-bit encryption and an automatic kill switch. It follows a no-logs policy, which ensures that it doesn't keep records of your browsing history on the server.
With the free plan, I had access to a limited version of R.O.B.E.R.T, Windscribe's version of an ad, malware, and tracker blocker, too, which is built into the Windows app.
I had multiple modes to choose from when I fired up Windscribe. And I found that its Stealth and Wstunnel modes can even bypass the Great Firewall of China. These are both available with the free version.
I was even able to use the split tunneling feature to direct specific traffic through my local IP address while connected to the VPN.
This is quite useful if you're in a home office, as it lets you connect to your wireless devices (which use your local IP) without disconnecting from your VPN. But, your local IP traffic isn't encrypted. It's also convenient if you want to access local websites and services while streaming geo-restricted content.
Windscribe offers very detailed Windows installation guides that include videos. I still had some setup questions, so I asked Windscribe's chatbot Garry for assistance. When he was unable to help me, live chat took over and helped me further.
Want to know more? Explore our Windscribe review to see the full results of our research and testing.
ProtonVPN makes it easy to protect your Windows device. I found it super simple to use the Start with Windows feature, which allows you to automatically connect to the VPN on startup.
ProtonVPN is one of the rare free VPNs that give you unlimited data and bandwidth. However, I discovered that I was limited to servers in the US, Japan, and the Netherlands.
When I tested ProtonVPN, I was happy to learn that it can unblock Netflix and other streaming services like Amazon Prime Video and BBC iPlayer. However, it limited my speeds on the free plan, which made streaming difficult. There was a lot of buffering, and I wasn't able to watch high-definition videos.
ProtonVPN uses 256-bit encryption to safeguard your data from hackers and other cyberthieves. It offers OpenVPN, IKEv2/IPSec, and L2TP/IPSec protocols. Having this choice of VPN protocols allowed me to decide which to use based on my activities.
I really liked having Perfect Forward Secrecy, which assigned me a new encryption key for each session. The benefit? This ensures that if a past session is compromised, your others aren't.
ProtonVPN doesn't log your browsing activity and its home base is in privacy-friendly Switzerland. This means no government snoops can share your private data, either.
I was a little disappointed with ProtonVPN's customer support options and response. There's no live chat support – the only way to contact ProtonVPN is via email or through its support ticket system. I submitted a question and received a response after approximately 24 hours.
Want to know more? Explore our ProtonVPN review to see the full results of our research and testing.
hide.me offers a lifetime free Windows app. I was able to set it to connect on startup, so I could enjoy online protection without having to configure it each time.
It's a reliable and secure free VPN that supports P2P sharing on all servers, excluding those in the UK, the US, and Australia. As a free user, I easily managed to access servers in five locations – Canada, the Netherlands, Singapore, US East, and US West.
It has unlimited bandwidth and speeds with 10GB of free monthly data. I tested the free data and was able to watch around 10 hours of YouTube videos in high definition. I wasn't able to unblock Netflix or any other major streaming provider in my tests – just YouTube and Spotify.
hide.me isn't suitable for streaming, but it keeps you safe and anonymous online. It uses the highest level of encryption to keep your activity and data hidden.
The free service also includes a kill switch, which jumps into action if your VPN connection drops, securing your online data from exposure.
Because of its strict no-logs policy, hide.me doesn't hold on to any of your browsing history. Its home is in Malaysia, far from the prying eyes of intelligence surveillance.
Since I was able to download hide.me without signing up or registering with an email address, I know that I'm guaranteed it won't have records of my personal data or contact details.
I learned that downloading the free Windows app is simple and takes just three steps. But I had other questions, and found that its 24/7 live chat service was available to me as a free user. And when I contacted them, they answered my questions immediately and were very friendly.
Want to know more? Explore our hide.me review to see the full results of our research and testing.
TunnelBear is a user-friendly VPN with a simple installation process that's quite handy for beginners. Its free account offers 500MB of data per month.
This isn't enough data if you're planning a movie marathon, because you can only watch one episode of your favorite show a month, and you're stuck in standard definition. However, I learned that if you want an extra gigabyte of free data a month, you can tweet the company.
The free account includes unlimited speeds and access to servers in over 20 countries. During my tests, I was able to unblock HBO GO, but not Netflix US or Hulu.
TunnelBear offers an advanced Windows desktop app setting: TCP Override. While using this feature, I found that if you have an unstable connection, the override forces TunnelBear to use a slower, but more dependable tunneling protocol (TCP) and this gave me improved performance.
TunnelBear uses 256-bit encryption and has a no-logs policy to ensure your online safety and privacy. It also has VigilantBear, its version of a kill switch. 
GhostBear mode can bypass VPN blocks, censorship, and deep packet inspection (DPI). This means that your encrypted data is more difficult to block because GhostBear scrambles your metadata, making it less noticeable to government snoops. It's what makes TunnelBear one of the few VPNs that still works in China.
You can contact customer service via email. I reached out and received a reply about 24 hours later.
Want to know more? Explore our TunnelBear review to see the full results of our research and testing.
Opera's VPN is built into its the browser. When I tested it, I discovered it was preinstalled and ready to go as soon as I enabled it in the extensions menu on my Windows device.
There's no stand-alone app, so I had to install and use Opera's browser on my Windows device in order to take advantage of the VPN. Because it's a browser extension, it won't protect any data transmitted outside of Opera. That means no protection for external apps like BitTorrent clients.
Opera VPN offers unlimited data and bandwidth for free, but I found that it's slower than most of the other free VPNs on my list. There are three server locations to choose from: Europe, North America, and Asia.
With just three locations, I ran into server overload issues that slowed down my connection. I also couldn't select a specific location within these regions. Because of this, it was very difficult to access Netflix, Hulu, and other streaming services.
Interestingly, I was able to unblock Netflix Sweden while connected to the Europe server location. I had better luck with YouTube and was able to unblock its international versions.
There's no dedicated support team for Opera VPN, so I had to contact Opera's support team via the contact form on its website.
Want to know more? Explore our Opera VPN review to see the full results of our research and testing.
Speedify's free Windows app gives you access to all of Speedifys servers in over 50 global locations: North America, Europe, Asia, South America, Africa, and Oceania.
The free service only allows you 1GB of free monthly data, which prevented me from doing a lot of downloading or streaming.
When I tested Speedify's streaming ability, I managed to unblock Netflix US, Hulu, and Spotify. I was also able to access geo-restricted YouTube content using the Windows app.
Speedify uses channel bonding. I tested this out and found that it combines all my available internet connections, boosting my speed and improving upload and download times. But the downside is that it can eat up data fast. It used up to 10x as much data on my cell phone, so be careful if you're on a limited plan.
Channel bonding is useful for torrenting, and with my free Speedify account, I experienced some P2P support. The VPN's speed server selection tool labels torrent-friendly servers so I was able to find them easily.
Speedify only uses AES 128-GCM encryption instead of the AES 256-bit encryption, which is plenty of protection for everyday surfing and streaming. If you have an older Windows device, Speedify uses a ChaCha encryption cipher, which gives you 256-bit encryption and it's three times faster than many other VPNs.
The service admits that it logs some anonymized user information, although it promises never to log on any browsing activity or DNS requests and it won't pass along any personal data to third parties.
The Windows app has a kill switch, which protects your private data if you lose your connection to the server. While testing it, I learned that you have to enable the kill switch in order to use it, as it's disabled by default. I was able to use the helpful screenshots on Speedify's site to set up the kill switch.
I used the service and learned that if you have questions about setting up the Windows app or other inquiries, you have to fill out the email form from the Contact section of the website. It also has an extensive FAQ section that answered some of my basic questions.
Want to know more? Explore our Speedify review to see the full results of our research and testing.
Betternet has a dedicated app for Windows as part of the free plan, but you only get 500MB of free data every 24 hours. When I tried it out, I found that is was barely enough to stream an episode of my favorite TV show per day.
I wasn't able to unblock Netflix or any other major streaming providers with my free Betternet account. I was able to access YouTube, but speeds were slow.
With the free plan, I could only access to the US servers, which means free users crowded these servers, slowing down my already sluggish connection. 
Betternet uses 256-bit encryption to ensure your online anonymity and keep your data safe from prying eyes.
I carefully read its privacy policy and found out that it does share some general information with third parties. The free version displays ads using Google's ad platform. Because of this, Betternet shares your approximate location with Google so that it can show relevant ads, but if you're connected to the VPN, the IP address it sees and uses is the VPN's IP.
The service is based in the US, which makes it subject to all US law enforcement as well as the 5/9/14-Eyes Alliance. However, the privacy policy states that the company doesn't log any of your browsing activities.
As a free user, my customer support option was the same as paid subscribers: I had to make do with its ticket system.
Want to know more? Explore our Betternet review to see the full results of our research and testing.
VPNBook is a free VPN that doesn't have any apps or clients. Instead, it provides you with the server information you need to manually set it up via OpenVPN on your Windows device.
During my testing, I learned that setup isn't a simple few clicks like many other VPNs.
There are several steps in the setup process, making it more difficult and time-consuming for VPN newbies, especially those who aren't technically inclined. We do have a step-by-step guide to make OpenVPN installation easier, though.
VPNBook ranks lower than my other recommendations because it takes some technical know-how and configuration to get started. Although, its website does provide comprehensive setup guides for Windows 7, Windows XP, and Windows 10 that I found very helpful.
I contacted the VPN and learned that if you need help getting started, it provides email support alongside its thorough knowledge base. I was also able to contact the team on social media as well.
Once set up, VPNBook gives you unlimited data and bandwidth, and access to servers in six locations: the US, the UK, Canada, France, Germany, and Poland.
It also provides military-grade security by running your internet traffic through its encrypted tunnels, keeping your data from third parties and cyberthieves and masking your real IP address.
I found that VPNBook is too slow for streaming and I couldn't access Netflix or similar streaming sites. However, I managed to torrent on some servers, which were powerful enough to help me bypass government censorship.
Want to know more? Explore our VPNBook review to see the full results of our research and testing.
Free VPNs Research Methodology
I've used field operatives who've tested these VPNs in 12 countries, including Russia and China.
The first feature I considered when testing these free VPNs was Windows compatibility. I tested each service on my Windows 10 laptop to make sure it was easy to use.
I then tested speeds using speedtest.net. I compared my normal ISP connection speed with the upload and download speeds that I got using the free VPN. I eliminated free VPNs that were too slow even for browsing with Windows.
I also looked into each VPN's security measures and privacy agreements. I tested IP and DNS leak protection claims and questioned logging policies. I only listed safe and secure VPNs that don't log your browsing activity and that don't have leaks.
Lastly, I tested each VPN for its unblocking, streaming, and torrenting capabilities. I included VPNs that offer some streaming ability.
Ultimately, I found that no free VPN can give you Windows compatibility, unlimited use, fast speeds, watertight security, and 100% reliability. Every free VPN I tested came with limitations in one form or another. 
What's the Catch With Free VPNs?
All of the VPNs on my list are safe, secure, and fast, but most free VPNs for Windows limit your security, speed, and ability to stream. 
Many free VPNs offer 256-bit encryption, but their no-logs policies could have some limitations. Using a free VPN can compromise your security, privacy, and safety.
Free VPNs typically operate smaller server networks, too. Because there are many free users connected to the same few servers, these servers are often overcrowded and slow.
You'll struggle to find a free VPN that can unblock streaming sites like Netflix and Hulu. Some free versions, like those on my Windows list, can access YouTube and in a few cases, Netflix, but with limits on speed and bandwidth, you'll experience buffering and low-quality video.
FAQs
Will these VPNs run on my other devices?
The free VPNs on this list offer apps for most major operating systems, including mobile devices. This means you can protect your Android or iPhone in addition to your Windows computer.
Some VPNs on this list, like ExpressVPN, are compatible with smart TVs and even routers. Connecting your VPN to your router allows you to protect every device in your household with no extra effort.
Is it easy to set up a free VPN on my Windows device?
Most of the free VPNs on my list have a Windows app, and setup of those involves just a few steps. Furthermore, most of the VPN sites provide step-by-step tutorials that walk you through the process.
Are these free VPNs safe to use for everyday streaming on my Windows device?
These free VPNs include a high-level of security, and in most cases, military-grade 256-bit encryption. This means your Windows device is safe from hackers and other third parties seeing what you're doing while surfing the internet via the VPN.
Are free VPNs safe for use on any of my devices?
I've tested all the free VPNs on this list, and I've confirmed that these ones are safe to use on all your devices. But, there are many free services that aren't 100% safe and could risk your privacy and online safety. Some could download malware onto your devices and others may sell your personal data to third parties.
How do free VPNs make their money?
Although it's a "free" service, someone always pays somehow. Often, it's in the form of popup ads targeted to the users – the ads are paying for the service. Free VPNs usually mean very slow and frustrating connections, no access to streaming services, and data limits that leave you annoyed enough that you upgrade to the premium service – now it's no longer free.
Is it legal to use a VPN?
Yes, it's completely legal to use VPNs in most of the world, but some countries restrict VPN use, such as Russia and China. Before downloading a VPN, read our guide on VPN legality to make sure VPNs are legal in your country. It's important to understand that even though it's legal to use a VPN in most locations, you must only be using one for legal purposes – downloading copyrighted content, for example, isn't legal.
Bottom Line
Even the best free VPNs for Windows are limited. Data restrictions, low speeds, and ads can get in the way of your browsing and streaming.
I recommend trying out a budget-friendly premium service like ExpressVPN instead. It has no data or bandwidth limits, and it's a secure and lightning-fast VPN that can unblock most streaming services. And if you don't like it, you can use its 30-day money-back guarantee to get a refund.
Think a free VPN sounds too risky? Here are our best premium VPNs for Windows 10 instead.
You can even get money off our top picks with this month's best VPN deals and coupons.
Top Windows VPNs that you can try risk-free with money-back guarantees...