5 Best Fast VPNs for Chromebook in 2020 + Easy Setup Guides
Updated on 14th January 2020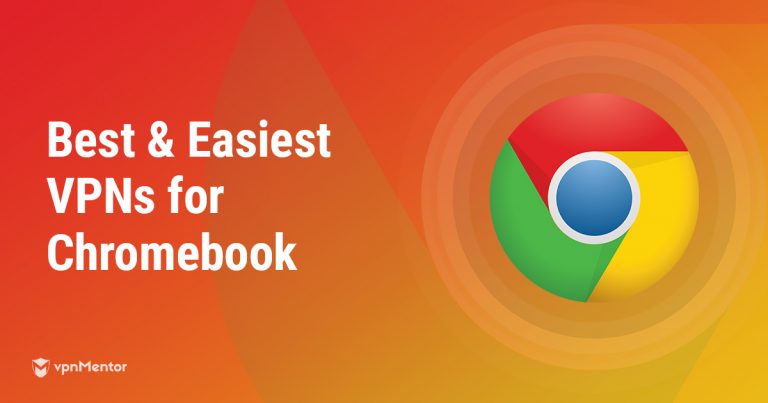 Chromebooks are impressive machines – lightweight wonders that browse the web at superfast speeds even with dozens of tabs open. Unfortunately, the trade-offs for all that speed and convenience are significant privacy and security threats.
First off, unless you're a tech wiz who can install sneaky workarounds, you're stuck with Chrome as your only browser option. That makes it hard to shield your activity from the watchful eyes of Google, the data harvesting giant of the internet.
In 2015, internet watchdog agencies caught Google spying on young children who had been given Chromebooks by their schools. New accusations in 2017 suggested that the company had not yet discontinued the practice.
And in spite of the high ratings Chromebooks receive for security, your sleek laptop could easily become a gateway to cyber threats, including hacking and malware. The problem is the lack of apps for Chrome OS.
You can install Android apps on your Chromebook, and there are tens of thousands of those. However, Android's open-source software harbors apps that can harm your device, steal your personal data, or track you without your knowledge.
Protecting Your Chromebook and Data with a VPN
All that sounds pretty scary, right? Well, it doesn't have to be.
A good virtual private network (VPN) is your solution for using your Chromebook without compromising your privacy or security. By changing your IP address and encrypting your traffic, VPNs protect you from hackers, malware, and prying eyes.
As a huge bonus, a VPN can also help you overcome geo-restrictions to access services like US Netflix, Hulu, the BBC iPlayer, and more.
But if there are no native apps, how can you set up a VPN on your Chromebook? And what are the best VPNs to use on a Chromebook? Read on for all the answers from our experts.
Summary of the Best VPNs for Chromebook
Installing a VPN on Your Chromebook
There are two main ways to set up a VPN on Chromebook: installing a browser extension and downloading a dedicated VPN Android client. Both methods are simple, but each software type has advantages and disadvantages. Let's start with the browser extensions.
Setting Up and Using a Chrome VPN Extension
Getting a VPN browser extension is the easiest way to protect your Chromebook, but the protection will not be complete, as we'll explain in a moment. Here's all you need to do to install a browser extension:
Head over to your extensions Webstore. Choose a browser extension from a trustworthy VPN provider, such as NordVPNor one of the other providers recommended above.
Install the extension
Restart your Chromebook to relaunch your Chrome browser.
Done! You now have VPN protection for all your Chrome surfing. To learn more about browser extensions for Chrome, check out our expert reviews of the best ones to keep you safe.
Unfortunately, there is a major drawback to using a Chrome VPN extension: it will only secure traffic routed through your Chrome browser, instead of encrypting and securing your entire internet connection.
In other words, if you use any apps that access the web directly, that activity will be unprotected. However, there is a way to protect your entire Chromebook and every bit of data sent to or from it.
Installing an Android VPN App on Your Chromebook
The easiest way to get complete VPN protection for your Chromebook is to install an Android VPN app.
How do you download and install Android apps on your Chromebook? With some newer Chromebooks, you'll find it very easy to reach the Google Play Store.
But if you don't see a way to download Android apps from the Play Store, don't worry. Just a slight change to the settings of your Chrome OS should magically open the Google Play Store for you. Let's take this step by step.
Getting Google Play Store on your Chromebook
From the drawer in the bottom right corner of your Chromebook screen, click on any of the icons and click on "Settings."
At the top of the settings page, click on "About Chrome OS."
Click on "More info."
Under "Channel," click on "Change channel."
Click to select the radio button labeled "Beta" and then click "Change channel."
Wait for the Beta release of Chrome OS to download and install, and when prompted, restart the computer.
From the settings page, click the checkbox labeled "Enable Google Play Store on your Chromebook."
When the Google Play Store setup page opens, click on "Agree," then click on "Sign in" and log in with your Google credentials.
Now you have Google Play Store on your Chromebook and can download and install any Android app, including the dedicated apps of our top-rated VPNs.
NOTE: If the above steps do not work on your device, then unfortunately, you probably have one of the Chromebook models that does not support Android apps. In that case, a VPN browser extension is your best option.
Setting Up an Android VPN Application
With an Android VPN app installed on your Chromebook, you will protect all traffic passing through the VPN – that includes both your Chrome broswer activity and any traffic originating from other Android apps.
In order to set up an Android VPN app, you must first sign up for the VPN and create an account by visiting the provider's website. Once you've done that, the rest is super easy.
Simply go to the Google Play Store and download the VPN app from your chosen provider. Launch the app, enter your account credentials (username and password), and you're good to go!
Just make sure that you choose a VPN that offers a dedicated app for Android. In addition to our top VPNs listed above, these VPNs for Android are very popular among users.
So does this all mean that running an Android VPN app on your Chromebook is a perfect solution? Sadly, not quite. But for now, an Android client remains the best VPN option available for Chromebook.
Most likely, you will never have any issues with your Andorid app, but if one does come up, there's the complication that you're running the software on a different platform than it was designed for.
Therefore, available support may be incomplete. However, our top three recommended providers have amazing, 24/7 live chat customer support. You can count on their agents to do all they can to help.
Best VPNs for Chromebook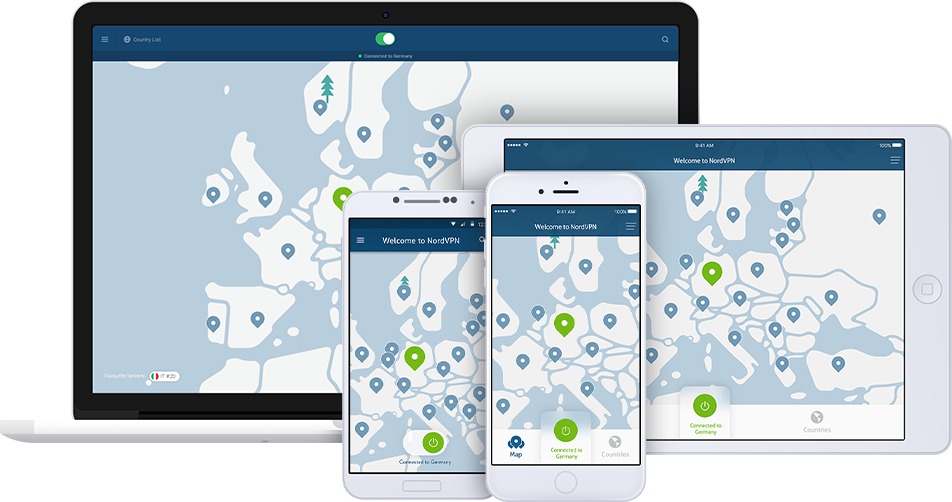 One of the most popular VPNs in the world, NordVPN is the closest thing on the market to a service with no weaknesses. It operates at the highest levels of security, speed, and reliability, all while offering surprisingly cheap subscription plans.
This Panama-based VPN doesn't keep logs and has 5,000+ servers in 60+ countries. There are servers optimized for fast streaming, torrenting, and secure browsing.
NordVPN is compatible with all devices and platforms, including Chromebook. It also offers browser extensions for Chrome and Firefox. You get 6 connections per account to protect all your devices.
On top of highly advanced encryption, NordVPN protects you with enhanced security features including Double VPN, double hop, a kill switch, and anti-DNS leak protection.
Sign up and take advantage of NordVPN's 30-day money-back guarantee.
 NordVPN can unblock:
Netflix, HBO, Hulu, Showtime, BBC iPlayer, Amazon Prime Video, and Sling TV.
Supports torrenting:
Yes, P2P specialty servers available.
NordVPN works on these devices:
Windows, macOS, Android, iOS, Android TV, Linux, Chrome, and Firefox. It's also compatible with routers.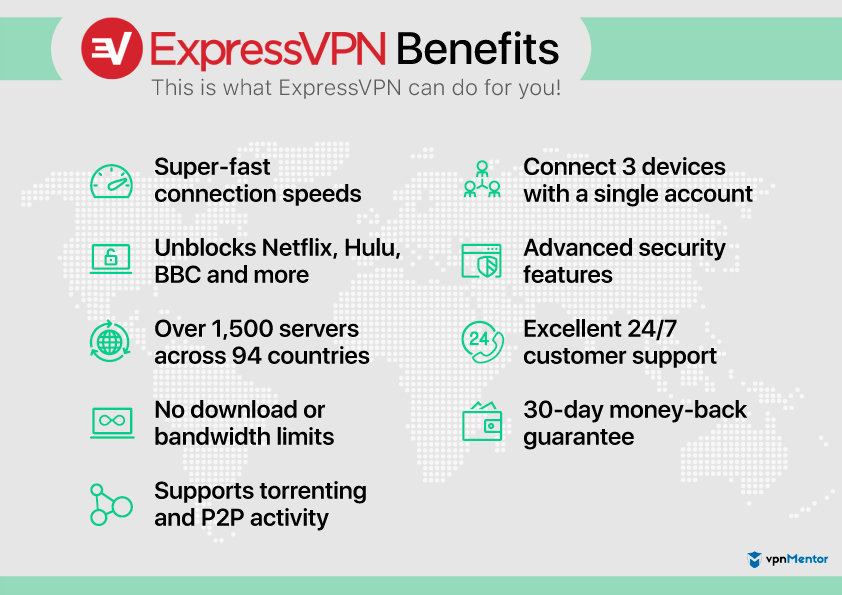 Ideal for beginners and online streaming fans, ExpressVPN gives you blazing-fast speeds without sacrificing security or privacy in the least.
With its location in the privacy-friendly British Virgin Islands, ExpressVPN offers a proven no-logging policy and a large network of 2,000+ servers across 90+ countries.
ExpressVPN is excellent at overcoming geo-restrictions, too, even in China. If you've been having trouble unblocking US Netflix and other heavily restricted sites, this VPN may be the solution you've been waiting for.
ExpressVPN also offers very sleek and easy-to-use apps with impressive security features like a kill switch, DNS/IPv6 leak protection, and split tunneling for all devices. It runs smoothly on Chromebook and there's a browser extension available as well.
You get 5 simultaneous connections per account, unlimited bandwidth, P2P support, live chat support around the clock, and a 30-day money-back guarantee. Read our collection of user testimonials to learn more.
 ExpressVPN can unblock:
Netflix, Hulu, HBO, Amazon Prime Video, Showtime, Sling TV, DAZN, and BBC iPlayer.
Supports torrenting:
Yes, all servers support P2P activity.
ExpressVPN works on these devices:
Windows, macOS, Android, iOS, Android TV, Linux, Chrome, and Firefox. It also offers an app for use with certain routers.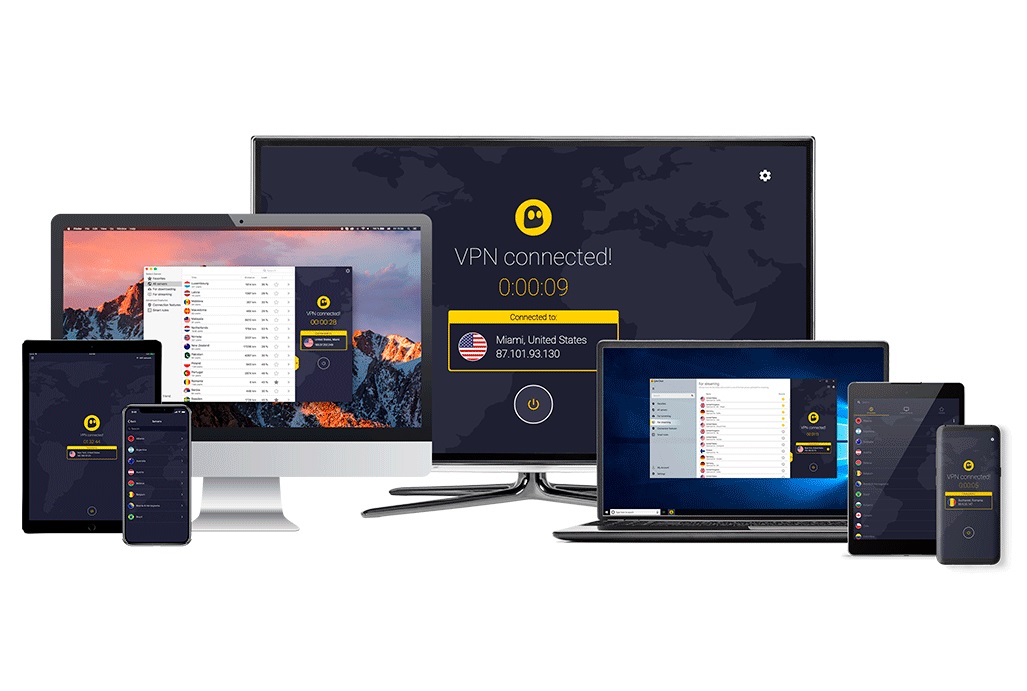 Looking for an affordable VPN for your Chromebook that gives you nearly the same performance as higher-priced services? Try CyberGhost.
A crowd favorite, CyberGhost is a Romania-based VPN that couples fast speeds with strong encryption and solid privacy. It offers very attractive and engaging apps for all major platforms.
It also offers a free proxy extension for Chrome and a Firefox extension plugin. Plus, you get 7 simultaneous connections per account.
CyberGhost provides you with access to 3,700+ servers in more than 60 countries. It's a great geoblock breaker and offers AES 256-bit encryption, multi-protocol and P2P support, and a dedicated 24/7 live chat team.
To keep your internet connection secure, CyberGhost offers an automatic kill switch, anti-DNS leak, and a NAT Firewall. A 7-day free trial is available for mobile devices, and all subscribers get a 45-day money-back guarantee.
 CyberGhost can unblock:
Dedicated streaming profile with servers optimized for: Netflix, BBC iPlayer, Sky Go, Hulu, Comedy Central, Eurosport, ESPN, and others.
Supports torrenting:
Yes; dedicated profile shows countries and number of users.
CyberGhost works on these devices:
Windows, macOS, Android, iOS, Amazon Fire Stick, Android TV, Linux, and Chrome.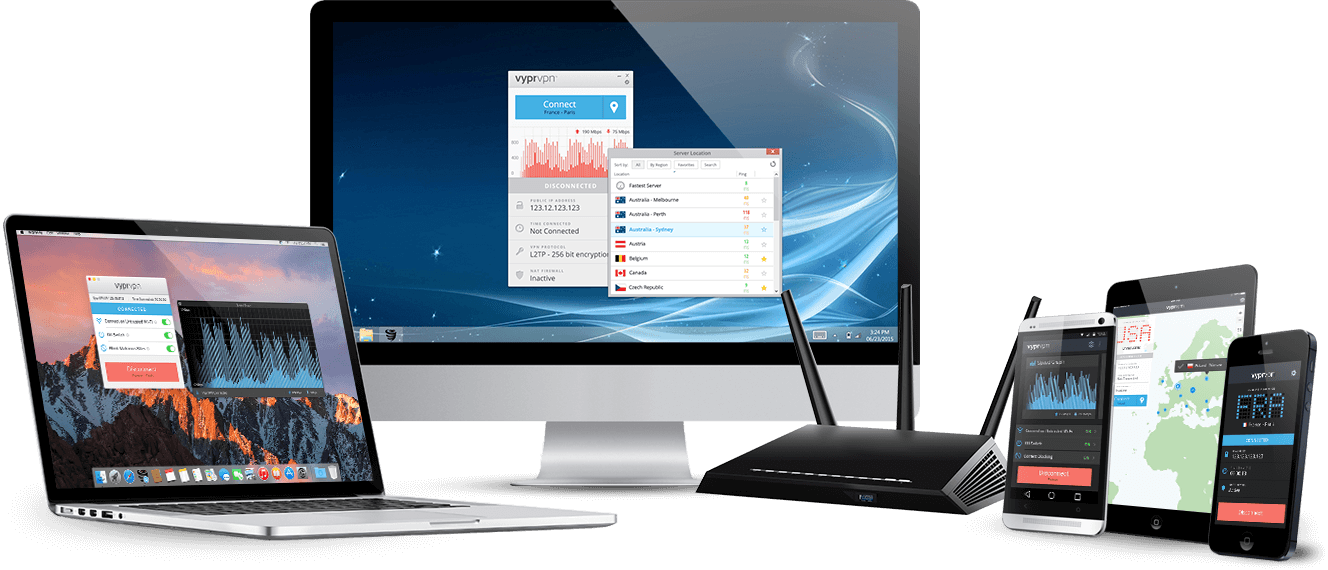 Switzerland-based VyprVPN is another heavy-duty service that deserves its place among the best VPNs.
VyprVPN falls within the budget-friendly VPN spectrum and gives you stable connections, fast speeds, impressive encryption, user friendly apps, and a server network that it owns and manages exclusively.
With VyprVPN, you'll get access to 700 servers in over 70 countries, along with easy setup on your Chromebook and 5 simultaneous connections.
In addition, VyprVPN's unique Chameleon technology helps you cut through geo-restrictions. The provider offers clients for all popular operating systems, and the software works on routers as well.
Subscribe with confidence thanks to a 30-day money-back guarantee, or head over to our collection of reviews to see what users say about it.
 VyperVPN can unblock: 
Netflix, Hulu, BBC iPlayer.
Supports torrenting: 
Yes, all servers support P2P activity.
VyperVPN works on these devices:
Windows, macOS, Android, iOS, Routers, Android TV, QNAP, Blackphone, Anonabox.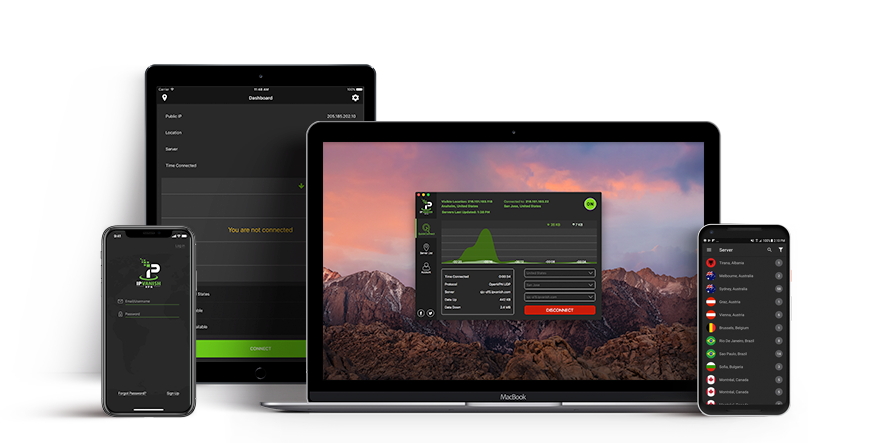 US-based IPVanish is an advocate for safe internet and supports 10 connections per account, making it a great choice for families.
IPVanish provides you with multi-platform support, including Chromebook, Smart TVs, and routers. With a worldwide network of 1,000+ servers in over 60 countries, this VPN has no trouble bypassing most geoblocks.
IPVanish offers great speeds, P2P support, unlimited bandwidth, and extremely easy-to-use apps. You won't have a problem setting it up on your Chromebook, either. It's no wonder users around the world love this VPN.
In spite of its US location, IPVanish is a no-log VPN and uses high-level, AES 256-bit encryption. There are also plenty of protocols to choose from including OpenVPN, IKEv2, L2TP, and SOCKS5. All apps are secured with a kill switch.
IPVanish's 7-day money-back guarantee is shorter than those offered by our other top VPNs, but still gives you more than enough time to see if it's the right choice for you.
 IPVanish can unblock:
Supports torrenting:
IPVanish works on these devices: 
Windows, macOS, iOS, Android, FireTV, Windows Phone, Linux, Chromebook, Routers.
Summary
Now that you know the risks of using a Chromebook and how to easily secure your device using a VPN, you can enjoy your ultralight laptop's great features without worrying about cyber threats and online monitoring.
With a VPN, you get to enjoy many other benefits as well, like safe torrenting and unblocking geo-restricted streaming sites. You won't go wrong using any of the VPNs above, but we've got tons of info on other top VPNs, too.
We also want to help you get the best possible price on your VPN – check out the latest VPN deals we've collected!