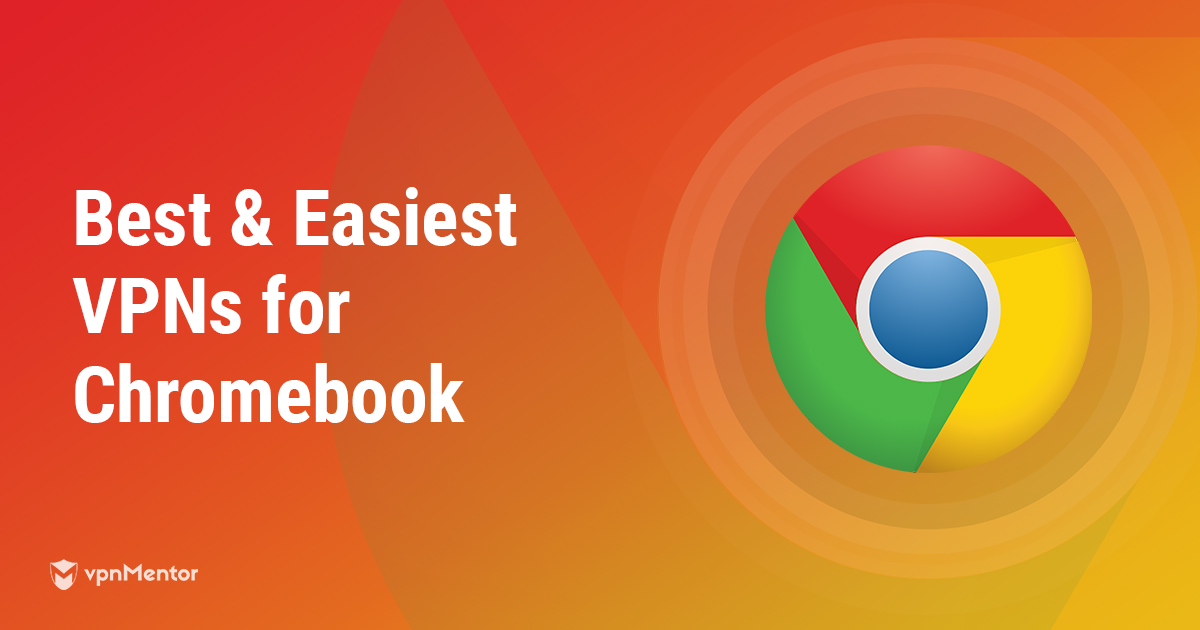 8 Best Fast VPNs for Chromebook in 2023 + Easy Setup Guide
It's hard to find a VPN that's fully compatible with Chrome OS. Glitchy Android apps don't cut it; you need an app that's optimized for your device. The good news is that I've done all the hard work for you to find a VPN that works with your Chromebook, hassle-free. 
I tested over 300 VPNs to see which services had the best Chrome OS apps and found just 8 VPNs that won't let you down. My list features the 8 best and fastest VPNs for Chrome OS that will keep your Chromebook running at maximum speed.
Plus, I dug deeper to confirm their privacy policies and test their security features to make sure you're protected when you use them.
My top choice is ExpressVPN, thanks to its all-round reliable performance and Chrome-optimized app. Ready to see all your options? Here are the 8 VPNs that will work best with your Chromebook. I'll show you how to install and use them and let you know which VPNs don't work with Chromebook at all.
Why Your Chromebook is Vulnerable
Your Google Chromebook is pretty limited when you're not connected to WiFi, right? Most of your apps require an internet connection, but it's risky to use the internet without a VPN.
If you use your Chromebook on public WiFi networks, you're susceptible to phishing attempts, hackers, and other attacks that can intercept your traffic and steal your data. Even at home, you're still at risk of data and privacy leaks. Your bank details and passwords can easily be stolen if your traffic isn't encrypted.
A VPN routes your traffic through an encrypted, invisible tunnel. Even if a hacker happens to intercept your private data, they can't use it because the encryption makes your data completely unreadable. This also means that the government, your ISP, and other trackers can't see what you're doing online.
A VPN also helps you bypass geoblocks. By connecting to a server in another country, you can easily unblock restricted sites, like BBC iPlayer in the UK, Netflix US, Germany, Japan, Canada, and Australia, and even censored social media sites.
The Best VPNs for Chromebook - Full Analysis (Updated 2023)
With over 300 VPNs to choose from, it's a bit overwhelming selecting the right one, isn't it?
After weeks of testing, I found only 8 VPNs that are good enough for Chromebook users and won't let you down.
We regularly retest and update the services on this list.
ExpressVPN is lightning fast on Chromebook. I streamed Netflix in high definition and even played several browser games during my tests, all of which were lag and buffer-free.
ExpressVPN has over 3,000+ servers in 94 countries. You can use its network to access sites from anywhere, and you'll always have a nearby server when you travel with your Chromebook.
I tested ExpressVPN's unblocking abilities and it didn't fail me. It's reliable for bypassing even the toughest of geoblocks, including BBC iPlayer and Netflix. It can also bypass digital censorship for truly unrestricted browsing. Sounds good, right?
It has a dedicated Android app for your Chromebook and there's a Chrome extension for your browser, too. And, you can install it on up to 5 devices at the same time.
Worried about security on WiFi? ExpressVPN's 256-bit encryption hides you and your traffic, shielding you from any man-in-the-middle attacks or data leaks.
It also has a zero-logging policy and an automatic kill switch for maximum privacy. I ran ExpressVPN's DNS and IP leak protection through my own detection test and found no leaks.
ExpressVPN's Trusted Server technology means all servers use RAM instead of hard drive storage. That means that all data is wiped at the end of every session, so there's no trail of your activity.
The split tunneling feature let me control the apps that enter the VPN and those that don't. You can browse locally with your usual IP address, and use apps with your new IP address through the VPN simultaneously.
Want to know more? Explore our ExpressVPN review to see the full results of our research and testing.
Why not try it out? It's risk-free with the 30-day money-back guarantee. We've also got a discount lined up and ready for you to use!
If global coverage is what you're after, CyberGhost is tough to beat. It has more than 9,753+ servers in 91 countries, with servers optimized for P2P sharing and specific streaming platforms like Netflix, BBC iPlayer, and Crunchyroll. How do I know? Because I ran tests on each platform and had speedy, HD-quality streaming each time.
I found CyberGhost's Android app easy to navigate and install on my Chromebook. It only took two minutes to set up altogether. There's also a Chrome extension if you'd prefer to just encrypt your browser traffic.
Alongside blazing speeds, you have high-end security, including 256-bit encryption, an automatic kill switch, and strict no-logs policy.
CyberGhost has multiple security protocols, so you can decide which is the best for your Chromebook with no restrictions.
If you're a privacy-conscious user, you can connect to CyberGhost's NoSpy servers, which offer extended bandwidth and security features. This includes independent operation and high premium hardware, plus they're all located outside of the 5/9/14 Eyes Alliance. You might think this added security would slow you down, but the extended bandwidth ensures super-fast connections.
Looking for a VPN long-term? With CyberGhost, you can purchase dedicated IP addresses so you're assigned the same IP address each time. You don't need to share IPs with any other users, which means geo-restricted sites won't detect you're using a VPN, as you just look like a regular user.
You also have up to 7 simultaneous connections to secure your phone, desktop, and even your TV.
Want to know more? Explore our CyberGhost review to see the full results of our research and testing.
If you're ready to sign up, go ahead and use our coupon for a great discount. There's also a generous 45-day money-back guarantee.
IPVanish personally manages its entire network of 2,000+ servers in 75+ locations, all of which offer reliable, fast connections with unlimited data and bandwidth. 
Its self-owned servers add even more protection, removing any middle man so you're less vulnerable to attacks.
I downloaded the Android app straight from the Google Play store and was able to bypass digital censorship and geo-restrictions right away.
It offers high-end security, including 256-bit encryption and that all-important no-logging policy for absolute anonymity. I checked the no-logs policy myself, and it definitely doesn't keep any data.
There's also automatic protection on public WiFi, so no matter where you take your Chromebook, you're secure.
It supports P2P sharing, using a SOCK55 web proxy to shield your personal IP address.
You have unlimited server switches and can connect up to unlimited of your devices simultaneously. This is great value if you have a collection of devices, or want to protect your family members, too.
Want to know more? Explore our IPVanish review to see the full results of our research and testing.
It has a 30-day money-back guarantee so you can enjoy premium features with no-risk. And if you're looking for a discount, just use our coupon code.
ZenMate's easy-to-use Android app comes with unlimited bandwidth and data. It can also reliably bypass geo-restrictions and VPN blocks.
Alongside its Android app, there's a Chrome extension, so you can enjoy VPN features through your browser. Even better, the Chrome extension is completely free to try. 
ZenMate operates 4,800+ servers in 81+ countries. I ran speed tests on several servers, all of which are fast and reliable.
Zenmate supports P2P sharing in nearly all of its locations, aside from the US, Australia, Singapore, and four other countries. If you're in these countries you can still torrent, though. Just connect to a nearby P2P server for the best speeds.
It's based in Germany, which is in the 5/9/14 Eyes Alliance. But, before you start to worry, ZenMate doesn't keep any logs, so there's no data or activity trail. This means that even if the Alliance asks for your details, there's nothing for it to hand over.
ZenMate offers military-grade encryption to hide you and your location. Plus, it refreshes its IP addresses regularly. This means they're less likely to get detected and blocked by popular streaming sites.
You also have unlimited simultaneous connections and access to a 24/7 live chat for any help you need.
Want to know more? Explore our ZenMate review to see the full results of our research and testing.
Or are you ready to sign up? It has a 30-day money-back guarantee, so there are no risks involved. Remember to use our exclusive discount to cut the cost of your subscription.
Get 82% off Zenmate while this deal lasts. 
Private Internet Access has a large server network, allowing you to connect to any point of the world. This allows you to watch your favorite movies and shows on Netflix, HBO Max, Disney+, and more.
It has fast speeds, meaning that you can watch without interruptions. During my tests, the speeds never dropped under 33 Mbps — this is more than enough for HD and even 4k viewing. While it doesn't have specialized servers, like CyberGhost, I found all its servers to be reliable for most online activities, such as streaming, torrenting, and gaming.
Its apps are easy to install — during my tests, I downloaded the Android and Google Chrome apps in under 30 seconds and they installed immediately.
PIA offers military-grade encryption and multiple security protocols to choose from. This means that you don't have to worry about hackers or authorities snooping through your browsing activity. If anyone tried to crack the AES-256 encryption, it would take them a few hundred years.
You can connect up to 10 devices under one subscription — enough to connect all your devices and keep them protected.
Want to know more? Take a look at our Private Internet Access review and see how it performed during the tests.
When you're ready to subscribe, take a look at its latest discounts. Plus, you can take advantage of its 30-day money-back guarantee and try it free.
Try Private Internet Access Today!
PrivateVPN has a high-speed server network, assuring fast speeds across all its locations. During my tests, I never experienced less than 28 Mbps, which is more than enough for HD streaming. This means that you can watch the latest releases without lag or interruptions.
While its server network is smaller than ExpressVPN or CyberGhost's, all its locations were reliable when I tested it. I connected in less than 20 seconds and I didn't experience any errors.
It offers AES-256 encryption, which means that no one can hack your connection and access your personal data — even more, if the VPN malfunctions, the kill switch will protect you from online threats.
You can connect up to 10 devices with a single account, which allows you to protect all your gadgets at the same time.
If you'd like to find out more, take a look at our full PrivateVPN review and see the test results.
When you're ready to subscribe, make sure to first check its latest discounts. On top of that, you can take advantage of its 30-day money-back guarantee and try it free.
Proton VPN offers superior security features, such as military-grade encryption and strong protocols. This means that your browsing activity and personal data will be protected from hackers and prying eyes at all times.
It has 1,925 servers worldwide, and I could unblock more than 30 streaming services during my tests, including Netflix, Disney+, ESPN, Amazon Prime Video, and more.
Proton VPN allows easy setup on Chromium devices, so you won't spend more than 10 minutes installing it. Besides, it offers specialized servers, so you'll easily find the best location for your needs.
You can use it on 10 devices simultaneously, meaning that all your devices will be protected with a single subscription.
If you'd like to find out more, take a look at our full Proton VPN review.
Since it has a 30-day money-back guarantee, you can try it risk-free. Remember to also check out its latest discounts before you subscribe, as you can get an even better deal.
Hotspot Shield boasts some of the best speeds around, so if you hate buffering, it might be the VPN for you.
It even has its own Catapult Hydra protocol designed for better connections over long distances. If you're connecting to a server on the other side of the world, you can enjoy the same high-speed connection you have when you're connected to a local server.
You have access to over 1,800+ servers in 80+ countries. Every server comes with unlimited bandwidth and data. There are no restrictions.
You can choose between the Android app and a dedicated Chrome extension. Both offer the same features, but you can leave your other apps unencrypted with the lightweight browser extension.
There's best-in-class encryption, a no-logs policy, and an automatic kill switch to keep you and your location hidden.
Got questions? Just use the 24/7 live chat for any queries or support.
With a generous 45-day money-back guarantee, you can put all of Hotspot Shield's features to the test risk-free.
Want to know more? Explore our Hotspot Shield review to see the full results of our research and testing.
Get Hotspot Shield for 77% off for a short time. 
Research Methodology
I tested each of the market's 300 VPNs on my Chromebook to make sure it offers a secure, stable, and quick service.
I used automated and manual tests alongside field tests carried out by operatives in 12 countries – including China and Russia to spot possible privacy leaks.
During the tests, we looked for:
Compatible Chrome OS or Android apps and Chrome browser extensions that are stable and easy to install.
Secure VPN protocols and 256-bit encryption to protect your data.
A strict no-logs policy to ensure that your browsing history can't be exploited. I read the fine print in each VPN's privacy policy to confirm this.
Additional DNS and IPv6 leak protection measures to keep your location and activity hidden from third parties. I ran leak tests on each service, too.
Proven high-speed networks with servers all over the world so you can unblock content from anywhere without lag. I ran multiple speed tests on each VPN to ensure they are fast enough to stream, browse, and torrent.
Access to 24/7 live support that is helpful, responsive, and effective. I spoke with each VPN's customer service team to test them out.
FAQs
How do I set up a VPN on Chromebook?
You need to access the Google Play Store to set up your VPN. You can either download the Chrome extension or the Android app, depending on your needs.
You can also manually configure your VPN with OpenVPN. This is trickier because you need to configure your settings yourself. We have a step-by-step guide you can use to make it even easier for you to get set up.
Should I use a Chrome extension or the Android app?
A Chrome extension for your browser is an easy way to protect your Chromebook, but remember that you don't have system-wide protection this way.
Only your browser traffic is protected, and other apps will still use your local IP. They won't be encrypted, either. If you want maximum protection, consider the Android app instead.
Which security protocol is best for Chromebook?
The security protocol you use depends on what you need your Chromebook for. Some protocols offer higher security but may cause a drop in speed. And some offer higher speeds but compromise slightly on lower security. If you're gaming, for example, you'll need higher speeds.
OpenVPN is the industry-leading protocol and offers the best balance of speed and security, without having to compromise on one or the other. Read our guide to learn more about the different security protocols and find the one best for you.
Bottom Line
For the best Chromebook experience, you need a VPN that offers reliable performance for any internet-based activity. And of course, you need to know that you'll be secure.
I tested 300 VPNs and found 10 that are compatible with Chromebook and offer a great mix of speed, security, and all-round performance.
My top choice is ExpressVPN, because of its advanced features, high-end security, and ability to bypass even the toughest of geoblocks.
Want to know how to stream different Netflix regions using your Chromebook VPN? Check out our guide to unblocking Netflix on any device.
Love a bargain? So do we. We've rounded up the best deals and coupons so you can save money on your chosen VPN.
Our All-Round Best VPNs