Unblock Netflix (If You Reside Outside The US)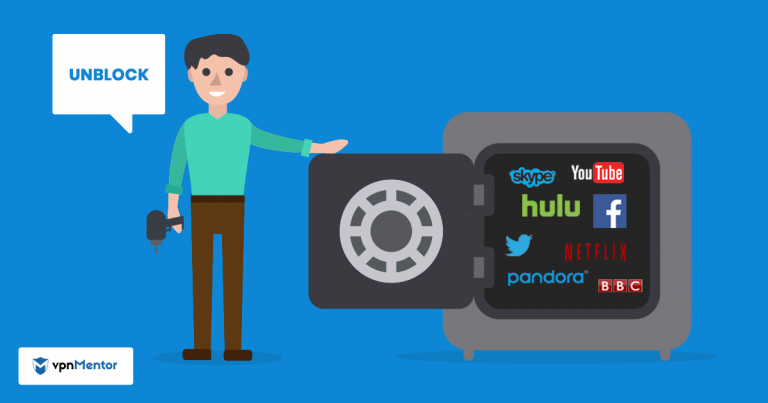 We don't need to tell you how big Netflix is — the "king of streaming", as it's often called, truly reigns supreme with tens of thousands of titles worldwide.
But there's a reason Netflix's US localization is the most sought-after.
With access to (currently) almost 6,000 shows and movies, US Netflix undoubtedly offers the best variety for enthusiasts of the big and small screens alike. Plus, there are plenty of grade-A titles, both classic and freshly released, that are exclusive to the streaming service's US version.
This reality has driven many overseas viewers to look for ways to unblock US Netflix. However, the main issue is Netflix localizations are geoblocked outside their intended regions.
Netflix has recently expressed its desire to transition into "global content", but nothing concrete has been mentioned so far. Until then, the streaming service is sure to keep cracking down on various unblocking methods.
We'll show you three ways to unblock American Netflix if you're outside of the United States — with the caveat that no method guarantees 100% effectiveness. The "battle" between Netflix and unblockers is a game of cat-and-mouse, and even the most reliable solutions are liable to run into a wall. That said, some tools are much better than others.
Before we jump to the good part, let's explain how the unblocking magic happens.
Here's How Unblocking Netflix Abroad Works
We'll keep it simple:
Say you're on vacation in Italy. You're soaking in all the beautiful sights and the magical atmosphere, but on your chill-and-do-nothing day, you decide to kick back with The Godfather on Netflix.
However, since you are in a different location and your IP address is now based in Italy, Netflix has adjusted your library to the Italian one — and The Godfather doesn't make the list here. You'll have to make do with one of the other ~1,000 available movies (as opposed to the US catalog's 4,300+ titles).
Or will you?
Unblocking Netflix is, on paper, as simple as changing your IP address — by doing that, you can access any localization you're aiming for, including the US one. So if you obtain an IP address in the USA, you can watch all the American exclusives no matter where you are!
Here's the tough part: getting past Netflix's detection. Nowadays, you'll often run into the dreaded proxy error — a result of Netflix's super-strict policy on region-hopping. No workaround is immune to this outcome, as the ball is firmly in Netflix's court. But one method has proven time and again it's better-equipped to deal with the blocks.
Unblock US (and Any Other) Netflix with a VPN
Virtual private networks (or VPNs) are arguably the most reliable means of unblocking Netflix, as well as a huge variety of other geo-restricted services. The best of the bunch will give you plenty of servers in hundreds of countries, allowing you to binge away on Netflix USA, Canada, Australia, France, and many others, regardless of your current location.
But unlimited access isn't all you get — by encrypting your traffic, a VPN makes sure your time on the Internet is safe from prying eyes, all while masking your real online identity. Extra features like adblocking, DDoS protection, and kill switches also guarantee you don't become exposed to malware or accidentally leak your IP/DNS server.
Many VPNs are focused solely on security, making them a poor choice for unblocking content. But some premium providers are committed to a "holistic" approach, with dependable access to your favorite shows, movies, and streams as well. Diverse server networks, streaming-optimized servers with high bandwidth, and custom encryption protocols to deal with VPN blocks are just some of the valuable features you can find in a top-shelf unblocking VPN, with helpful and responsive customer support to match.
Here's a roundup of our top VPN picks for unblocking regional Netflix versions around the world:
Want to learn more? Check out our write-up on the best Netflix VPNs — short and detailed reviews included!
Other Ways to Unblock Netflix
In addition to VPNs, there are other methods of tackling the Netflix geoblocks — however, they are nowhere near as complete or reliable.
Paid/Free Proxies
A proxy functions much like a VPN, with the exception that it usually comes without any encryption. For example, connecting to a proxy server in the US gives you a US IP address, which in turn allows you to access the US Netflix library (unless the proxy is detected).
Pros: Proxies are, in a vacuum, much faster than VPNs due to the lack of any security extras. There's also a sea of free proxies to try your luck with.
Cons: Although proxies should theoretically offer better Internet responsiveness, in reality you may be sharing a proxy server with hundreds, if not thousands, of other users (especially if you aren't paying anything). The result? What should be a fast connection turns into a sluggish, buffering-heavy experience.
Proxies may also be risky to use, again due to the lack of any security features. You aren't protected by encryption or otherwise, meaning your traffic and sensitive data are essentially up for grabs.
Browser Extensions
Some browser extensions offer unblocking functionality — think of them as mini proxies or VPNs. They allow you to obtain a different IP address, but their performance can't be compared to the real deal. Netflix is known to easily detect and blacklist these extensions as well.
Pros: Browser extensions are lightweight and inconspicuous, which is one of the reasons for their booming popularity.
Cons: Netflix blocks require some serious firepower to circumvent. More often than not, browser extensions aren't nearly as advanced to deal with this (yet).
Furthermore, most extensions for unblocking work similarly to proxies, which brings us to the security and performance issues mentioned earlier.
If you're looking for a truly good browser add-on for unblocking, check out the VPN extensions. And if you're an avid Chrome user, we suggest taking a look at our list of the best Chrome VPN extensions.
Yes, You Can Watch US Netflix Overseas
You'll have to do some homework, maybe some experimenting as well — but getting past the Netflix geoblocks is still possible. All you need is a trusty sidekick and the know-how — with a solid VPN and our guide, now you've got both!
If you found this useful, don't forget to spread the good word! It helps us greatly and motivates us to bring you the content that we love and that you deserve.
Get the best VPNs at the best prices! Check out our deals page for your next cheap premium VPN.*
*Not all of the VPNs listed in the deals page work well with Netflix. Make sure to double-check with this article to find a solid Netflix VPN at a bargain.