How to Unblock Websites at School in 2020 (#1 Is Super Fast!)
Updated on 1st July 2020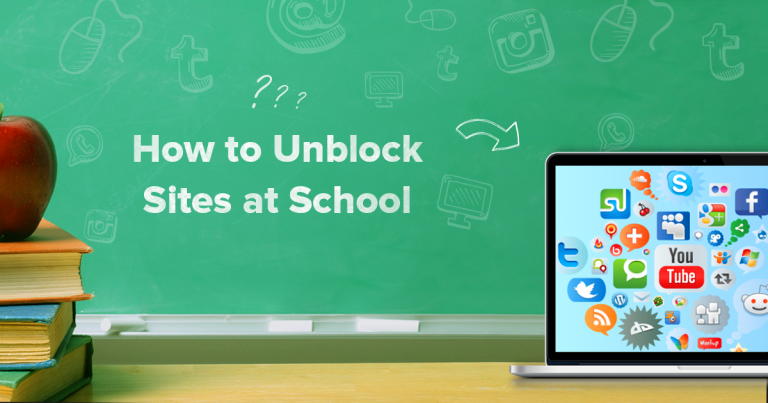 If you're frustrated because your school is restricting your internet access, you're not alone. Many schools use internet filters, sometimes very harsh ones, to block all kinds of websites, games and social media sites like Instagram, Snapchat, Discord and even Facebook Messenger. Sometimes these blocks can even prevent you from finding the information you need to do your homework!
While we understand that every school has to protect its students and keep its computers safe, we believe in open access to information for everyone, including students like you.
If you feel like your school has gone too far in limiting your internet use, we're here to help! Our experts have found the three easiest, safest ways you can get unrestricted web access to sites and games at school when you need it.
3 Simple Ways to Unblock Sites and Games at School (Including Instagram, Discord, Facebook and Snapchat) 
1. Use a VPN Service To Unblock a Website At School 
Using a virtual private network, or VPN, is the safest, most secure way you can unblock sites on your school's computers and/or WiFi network. The best VPNs fully protect your privacy and cannot be detected even by very advanced software intended to prevent VPN use.
VPNs help you get past website blocks by enabling you to select a new IP address from a list of locations all over the world. Many VPN providers have servers in at least 50 countries, sometimes with dozens or even hundreds of servers in each of them.
Hiding your location is just one of many ways a VPN can protect you. The best VPNs use cutting-edge encryption that conceals your identity to protect you from hackers and from spying by your school. They also give you extra protection against viruses and other malware when you download, keeping your school's computers safe.
If you want to learn more about VPNs and why you should use them at school and everywhere, check out our article on all the advantages of VPNs.
What If I Can't Download a VPN at School?
Your school's internet filters might prevent you from directly downloading a VPN app. One way to work around this problem is to load the installer and any other needed files onto a USB stick and then transfer them to your computer. If that seems too complicated, don't worry, we've got a bunch of other great tips in our post on how to easily bypass VPN blocks.
Will I Be Breaking the Law if I Use a VPN?
With very few exceptions, the answer is no. Using a VPN is legal even in most countries that attempt to block VPNs, although it is illegal to use a VPN in the United Arab Emirates. Be sure to learn your country's laws and your school's policies on VPN use.
We can teach you how to unblock sites at school, but we can't decide for you when it's right or wrong to do it. We do not encourage illegal activity or any activity that would make your school less safe for your classmates. And although your school should not be able to detect your VPN use, violating school rules always puts you at some risk.
How Can I Get a VPN?
If you are unsure whether a VPN is right for you, you can try a free VPN to see how it works. Unfortunately, you will probably have to deal with bandwidth limits and pop-up ads.
For long-term unblocking, we encourage you to try a premium VPN for the best speed, safety, and privacy. Most top-level VPN providers offer a money-back guarantee, so there is no risk! CyberGhost is a perfect choice for beginners. It has a super easy user interface, thousands of servers across the globe, and the power to unblock all the content you want. With all these features and an affordable price, it's no wonder CyberGhost is a VPN user favorite.
2. Use a Proxy To Unblock Sites At School 
If you're looking for a quick and easy solution to bypass blocks, you can try a web proxy.
Proxies work a lot like VPNs, except that they don't provide encryption. This means that proxies are faster to set up and easier to run than VPNs, but also easier for your school to detect and block.
In fact, your school's internet filters have probably already identified and blocked a number of proxies, but with hundreds of alternatives available, you can find one that works for if you're willing to do some searching.
Many of the best VPN providers also offer proxies you can use for basic unblocking. CyberGhost's free anonymous proxy is a great choice. HMA also has an easy web proxy with nice add-ons, such as the ability to choose specific servers and disable cookies or scripts so your browsing is harder to track.
Just remember that proxies do not secure your connection or provide privacy. Some of them are also a bit sluggish and have a lot of annoying pop-up ads.
3. Put a Portable Browser on a USB To Unblock Websites At School 
If your school not only has heavy internet filtering but also file transfer bans, getting unrestricted access to the internet at school won't be easy. You might find that your best option to get around the blocks is to run a browser off of an external memory device.
To do this, you will need to download a portable browser onto your USB drive. We are fans of Mozilla Firefox's Portable edition, which is intuitive and simple to run. Plus, it has plenty of extensions you can install to expand your access to blocked sites.
The biggest advantage of a portable browser is that you will not have to try to add any tools to your school's browser. Everything you need will literally be in your pocket.
The major disadvantage of using an external browser is that there is no guarantee that you will get access to blocked sites. Coupling the portable browser with a quality proxy will improve your chances, but you still won't have the security and privacy you get with a VPN.
Our Choice to Easily Unblock Web Access at School
All of the methods we have listed here are easy-to-use solutions to the problem of how to unblock sites at school. However, there is no doubt that VPNs are the most effective tools for unblocking content from around the world, concealing your location, and protecting your privacy.
You should use one of the best VPNs available for maximum security and the most powerful unblocking of the sites you want to reach. To help you find the right VPN, our experts have put together a list of the best VPNs in the world, with all the latest info on their features and pricing.