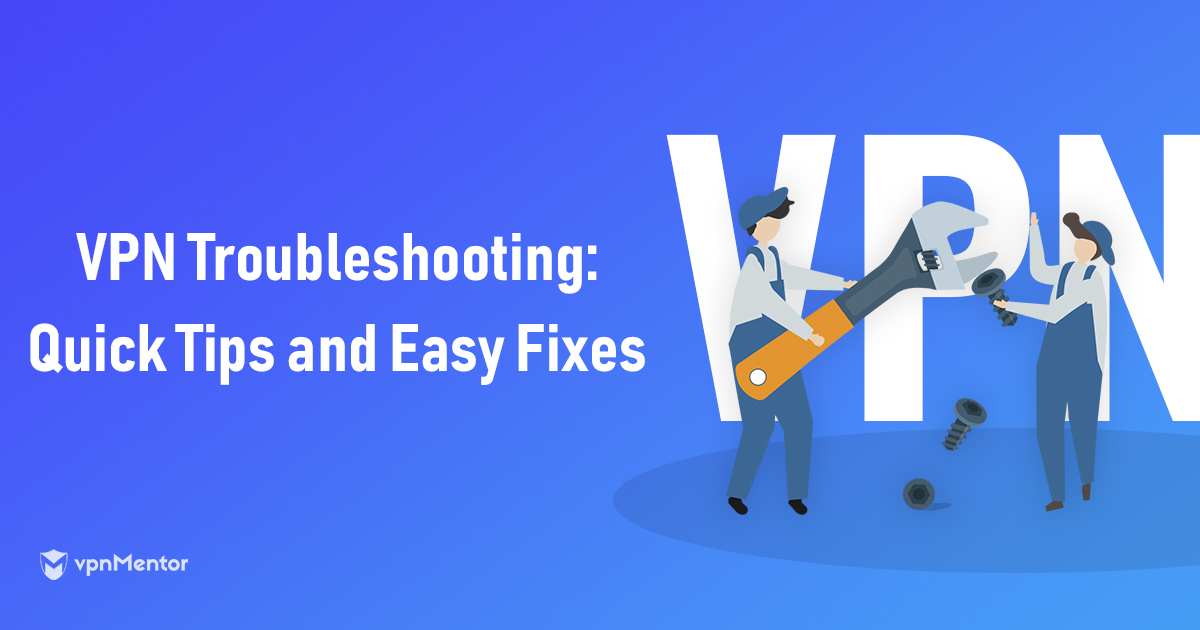 11 VPN Troubleshooting Tips: Quick & Easy Fixes in 2023
Virtual Private Networks help us enjoy a safer internet and access our favorite content without restrictions – but like any other piece of technology, they can have their moments of weakness.
Between sluggish speeds, annoying crashes, and limited access, few things are more annoying than your VPN acting up when you need it most. Luckily, there are a few things you can try yourself in order to get your VPN back on track.
If you're currently experiencing VPN trouble, we're here to help you out. In this guide, you'll find a list of troubleshooting tips and quick fixes that will help you locate and resolve your specific problem.
If all else fails, you can pass the information on to your customer support agent so your issue is cleared faster!
For starters, let's take a look at a couple of common VPN issues.
My VPN Is Always Slow and Unreliable
Speed issues, crashes, and disconnections can happen with any VPN service. However, if you're experiencing slow and fragile connections regularly, you may be looking at more than just a sudden drop in performance.
Solution: Get a premium VPN service
If your VPN is often performing below your expectations, chances are the overall quality of the service is poor. Speed and uptime problems are common with free and budget VPNs – sadly, such services often suffer from these annoying drawbacks.
Good news: with some research, you'll still be able to find plenty of fast, reliable premium VPNs with amazing deals to back them up! That way, you'll be able to get a leading service at a price you'll hardly feel.
The best part is you'll rarely (if ever) run into speed or uptime issues – and if you do, you'll be able to solve them easily.
Among our most recommended providers is ExpressVPN. With 3,000 servers, excellent performance, and regular service updates, it truly offers the best value for its cost. Check out our review on this VPN to see the full results of our tests and read what other users have to say about it.
My VPN Can't Access Netflix (or Other Streaming Services)
Gaining access to US Netflix, Hulu, BBC iPlayer, and many other popular geoblocked streams is a top priority for many VPN users. That said, you simply can't expect every VPN service to provide reliable access to these platforms.
Solution: Use a better VPN that's suitable for streaming
If your VPN service has trouble with VPN blocks and is always spotted by advanced detection measures, you probably need to make the switch to a better provider.
With a premium VPN, you can get rid of the dreaded Netflix Streaming Error: You seem to be using an unblocker or proxy. Please turn off any of these services and try again.
The most famous streaming platforms out there are notorious for their constant attempts at limiting VPN and proxy access – as a result, getting past strict VPN blocks is no easy task.
You need one of the few VPN services that can be trusted to enable you to watch your favorite content online, without any restrictions in the way.
With a little research, you can easily find the perfect VPNs for Netflix that still work. But keep in mind that servers continue to be blacklisted as you're reading this – so you may need to contact support for the right server or new additions that haven't been announced yet.
For the ideal streaming VPN, we recommend taking a look at ExpressVPN. It offers some of the fastest speeds in our tests, along with valuable streaming-oriented features and extremely helpful live chat support. You can even use it to unblock content on devices that don't normally support a VPN! For more info and user reviews, check out our ExpressVPN review page.
Here's another useful tip if you're having streaming trouble with your VPN: reconnecting to the same server will often grant you a fresh IP address, which may solve your issue with VPN blocks. Granted, this won't work if the server's entire IP address range is blacklisted, but it's definitely worth trying as it can be a fast and easy fix.
Useful VPN Troubleshooting Tips
If you're already using a reliable VPN and your issue isn't due to a low-quality service or limited functionality, here's a collection of troubleshooting tips and potential fixes that may solve your problem.
We realize not all of our loyal readers are VPN experts, so we've also included general pointers on when to try a certain fix, as well as the risk of messing something up or compromising your security as you attempt it.
If at any point you aren't confident in your abilities to pull this off by yourself, we advise contacting your VPN's customer support to get individual directions for your issue.
1. Switch Servers
When to try it: VPN is slow or constantly disconnecting (but not crashing)
Works on: Desktop & Mobile
Difficulty: Easy
Risk: Low
If your VPN is being exceptionally sluggish or has trouble staying connected, there's a big chance the problem is related to your selected server. Oftentimes, VPN servers become overcrowded with users, which leads to shaky performance.
To fix this issue, simply change to another server in the same country. If there are multiple locations to choose from, try the one closest to your real location for the best results. To make sure everything is settled, run a speed test or open a few websites and compare loading times.
Now, in the rare case that your VPN doesn't have a native client or you've set it up on a VPN router, changing servers will be a little more difficult.
If you still have an interface to work with (e.g. you're using the OpenVPN client), you'll need to make the switch manually by typing the new server name. The same goes for VPN routers – simply enter the new server address in the router's control panel. In case you aren't familiar with these details, your best course of action is to check the router (or firmware) manual.
2. Switch Protocols
When to try it: VPN is slow, provides unstable connections
Works on: Desktop & Mobile
Difficulty: Easy
Risk: Moderate
We're talking about two different types here: IP and VPN protocols.
Your IP protocol (or Internet Protocol) is basically what makes your internet connection possible. VPN protocols, on the other hand, are the foundation of every VPN service and the software responsible for data encryption and routing. Both types work together, but issues can arise with either of them.
IP Protocols
For the first type, you'll usually have the choice between User Datagram Protocol (UDP) and Transmission Control Protocol (TCP). UDP is considerably faster, while TCP is more reliable.
The default IP protocol used depends mainly on your VPN – some prefer UDP, while others set TCP. Normally, you can easily switch between the two protocols in the Settings menu of your VPN app:
As you can see, ExpressVPN automatically chooses the best IP protocol. This way, it rarely suffers from reliability issues.
The bottom line? If you're currently using TCP and experiencing poor speeds, changing to UDP may solve your problem. Alternatively, going from UDP to TCP can lead to a more stable connection.
VPN Protocols
Changing your VPN protocol may sometimes result in better performance, but there's a security risk you should know about.
Most (if not all) premium VPNs use OpenVPN by default, as it's widely considered the best VPN protocol to choose today. That doesn't mean it routes your VPN traffic the fastest – other protocols, like L2TP/IPsec and PPTP, won't slow you down as much.
You can try switching to these two if you're after a faster connection, but if you want privacy as well, we recommend staying with OpenVPN. PPTP is an outdated protocol that does nothing for your security, and with rumors of L2TP/IPsec being compromised as well, many VPN providers are moving away from it.
3. Switch Port Numbers
When to try it: VPN is slow, VPN fails to access blocked content
Works on: Desktop
Difficulty: Moderate
Risk: High
For a connection to be made between your computer and the VPN server, a certain networking port on your end is used. While there are many different ports for the various types of internet traffic, your VPN only uses one at any given time.
Sometimes, these ports may become overloaded, resulting in poor speeds (similar to how a crowded server will slow you down). In other cases, internet service providers (ISPs) will intentionally throttle traffic on popular ports, effectively limiting your connection.
You can fix these issues by routing your VPN traffic through a different port. We don't recommend trying this out unless you know what you're doing – if your VPN connection is set up directly via your computer (not through an app) it may involve changing registry files, which is always risky. Newcomers to VPNs will be better off consulting with a customer support expert.
Pro tip: Some VPN services allow port configuration in their native clients, along with useful info on supported port numbers in their FAQ or member areas. Make sure to check those out if available.
4. Take a Look at Other Security Measures
When to try it: VPN is slow and/or keeps disconnecting
Works on: Desktop
Difficulty: Easy
Risk: High (if you disable security for too long)
Not all VPNs work flawlessly with other security software. As the VPN itself works closely with your internet connection and even modifies it, it can sometimes be detected as a threat by your system's firewall or antivirus program (also known as a "false positive").
To see if that's your issue, start off by turning off any external programs that may interfere with the VPN. Then, if the problem remains, try disabling your firewall from the Control Panel (pictured below on Windows 10):
If you notice an improvement to speed and stability, then you've located the issue successfully.
However, permanently turning your firewall off is NOT a solution – at least not one you should be willing to apply. While conflicts between your VPN and firewall aren't too rare, disabling your built-in defense for extended periods isn't a smart move, as it provides extra protection. As a rule of thumb, you want your VPN to work together with your firewall, instead of having to choose one or the other.
If you keep running into this problem with the firewall on, your next step is to contact your VPN's support and ask them for assistance.
If that doesn't work out, maybe it's time to cancel your subscription and opt for a fast, premium service that won't give you any firewall trouble – like ExpressVPN or PrivateVPN.
5. Try a Different Network
When to try it: VPN is slow, VPN has connectivity issues, you have tried some fixes
Works on: Desktop & Mobile
Difficulty: Easy
Risk: Low
People often get so invested in troubleshooting that they forget the most obvious causes – like their own network performing badly.
If you've already tried a few different methods without success, maybe it's time to take a phone or laptop and test your VPN at a new location. Simply launch it at a friend's place or on a public network – preferably one that's similar to yours, for a more accurate comparison.
A stable connection and smooth loading times will indicate that there's nothing wrong with your VPN, and that you should talk with your ISP instead. If the same issues are present, it's back to troubleshooting.
Trying a different network should be your number-one step if your own gives you problems regularly. Even if you've checked the connection without a VPN and you're sure everything is fine on your end, it doesn't hurt to complete this process and cross it off as a possible reason for your trouble.
6. Check If Your VPN Works with Local Servers
When to try it: VPN refuses to connect while you're in a different country
Works on: Desktop & Mobile
Difficulty: Moderate (if you're checking from a country that blocks VPN sites)
Risk: Moderate (if you're checking from a country that isn't privacy-friendly)
Unfortunately, there are some places in this world where the right to privacy is often forgotten, and bypassing censorship is an everyday struggle.
When traveling to such locations (examples include Russia, China, and the UAE) you may encounter connectivity issues with your otherwise-perfect VPN. Most users who plan trips to these countries make sure to prepare accordingly, but if you've skipped that step, you may end up with a VPN that simply won't work in your current location.
The reasons range from strict VPN blocks and blacklisted VPN websites, to providers shutting down servers because they don't have the resources to work around invasive data retention laws. For you, the user, this sadly means that if you haven't done your homework and arrive in a country where VPN use is restricted, you may not be able to "fix" this problem after it happens.
The only real solution is to make sure you've installed and configured the right VPN for your destination BEFORE you reach it. For your own safety, we don't recommend looking for VPNs (or fixes) while in a country that actively monitors online activity with serious consequences.
Tip: If you've come well-prepared but you're still having connectivity issues, make sure to check out special VPN settings. For example, PrivateVPN features Stealth mode, provided specifically for countries with heavy censorship and VPN restrictions:
7. Check Your VPN Software Version
When to try it: VPN is crashing and/or has connectivity issues
Works on: Desktop & Mobile
Difficulty: Easy (Moderate if you have a rare issue where you'll need an older version)
Risk: Low
VPN clients are updated all the time – at least if you're using a high-quality service.
Although many clients come with auto-update settings, it's easy to forget about a new version after deciding to install it later. What you may not know, however, is that this new version fixes the stability issue you've been running into for the past week.
An otherwise perfect VPN client can quickly become unusable, so make sure it's up-to-date. Most apps will give you an overview of their current version, and whether you can update to the latest one:
In some very rare cases, you may need to switch back to an older client version. If you have reason to believe that's your problem, contact customer support for assistance and make sure to ask them about any potential security risks. You want your VPN to work properly, but you also want to be safe from backdoors or compromised software.
8. Uninstall Old VPN Software
When to try it: VPN is crashing and/or has connectivity issues
Works on: Desktop & Mobile
Difficulty: Easy
Risk: Low
If you're a careful consumer, you've probably tried a few different VPN services before deciding on your current one. While we applaud you for the smart shopping, you should also know that too many VPNs can sometimes mess up your connection – even if you don't use all but one of them.
We recommend keeping a clean inventory when it comes to VPNs, so another advice for dealing with constant VPN crashes and poor connectivity is to remove any old VPN software you aren't using. Keep in mind that simply deleting the files won't do anything – you'll need to uninstall the programs from your device's control panel.
9. Reinstall Your Current VPN
When to try it: VPN is crashing and has connectivity issues, old software is removed
Works on: Desktop & Mobile
Difficulty: Easy
Risk: Low
If all else fails, it's worth checking if your VPN issue is hiding somewhere in the installation process. While you'll normally get an error message, it's possible that your VPN client is able to boot up but fail to stay on due to an incorrect installation.
Uninstall the VPN software from the control panel and then reinstall it. It's a good idea to download the client again – just in case you got a corrupted download and some key files are missing.
Note: This fix applies only to VPNs with native clients. If you've done a manual setup, there's no need to configure everything from scratch, as there's no external VPN software. For manual setups, make sure all details are entered correctly.
10. Use the Help Feature!
When to try it: You're all out of options (or you don't want to troubleshoot)
Works on: Desktop & Mobile
Difficulty: Easy (if your VPN offers helpful support)
Risk: None
Reputable VPN providers have dedicated customer support for a reason. When your VPN is acting up, it most likely isn't your fault (unless you've messed around with some advanced settings).
No VPN is perfect. However, you can always get help for the issue you're currently having. Whether you're out of ideas after trying everything on our list, or you simply don't want to spend time looking for the problem yourself, contacting support is always an option – and a good one, too.
Live chat is preferable, if your provider offers it. Getting help in real time can quickly fix whatever is wrong, but in some cases you may want to write a detailed ticket – especially if you've run some tests and can give an in-depth description of the issue.
Nearly all VPN clients have some sort of "help" button that's easy to find:
Click on it, or just go to your VPN's website to request assistance from customer support. Good luck!
11. Don't Forget the Obvious
We know – you're probably tired of the same troubleshooting tips for dummies. But just in case someone forgot, be sure to check the following:
You have an internet connection. Even if everything looks fine on your screen, your VPN may be failing because your internet is down. Close your VPN and check the connection again – if the issue remains, try the good old "unplug and plug in again" method on your cable and/or router.
Your login info is correct. If you like typing your username and password every time you launch your VPN, maybe you made a typo somewhere. Fortunately, most clients will tell you if your login info is entered wrong, so at least you'll know right away if that's the reason why your VPN just won't connect.
The server you've chosen is online. VPN servers regularly go down for maintenance – but that isn't always reflected in the client. If you're wondering why this one server keeps giving you trouble, take a look at your VPN provider's website for a maintenance update on their blog, or better yet, a server list that shows which ones are currently offline.
Get Your VPN Working Again in No Time
It sure is annoying when your VPN slows or breaks down for no apparent reason. But getting to the root of the problem and fixing it is a sweet and important victory. VPNs help keep us safe online, and it's only right that we do our best to keep them running in perfect condition – for our own privacy's sake.
If it's time for a new, high-quality VPN, be sure to check our top five list for some great options that will never let you down. These VPNs all come with free trials or money-back guarantees, so you can give them a try before you commit to a long-term plan.
You'll also want to visit our deals and coupons page for extra savings.
Further Reading
Netflix Proxy Error - How to Fix It with a VPN
Privacy Alert!
Your data is exposed to the websites you visit!
The information above can be used to track you, target you for ads, and monitor what you do online.
VPNs can help you hide this information from websites so that you are protected at all times. We recommend ExpressVPN — the #1 VPN out of over 350 providers we've tested. It has military-grade encryption and privacy features that will ensure your digital security, plus — it's currently offering 49% off.