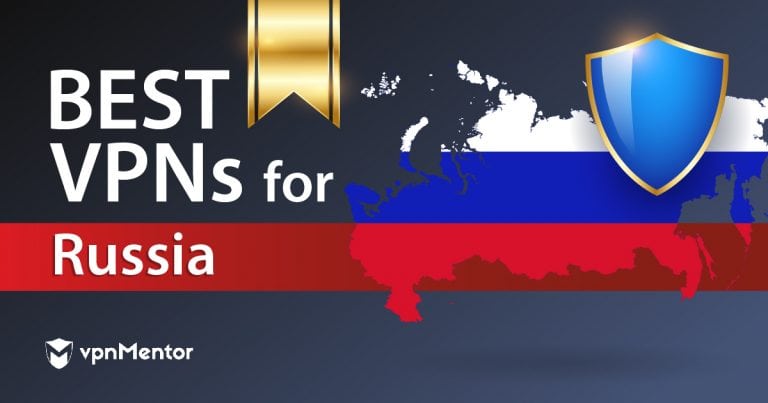 8 Best VPNs for Russia (SAFE & FAST) in July 2021
Updated on 16th June 2021
Since the Russian government demanded to access popular VPNs' servers in 2021, how do you know which services are safe to use, and which have been compromised?
I can tell you. I tested 27 services to find the 8 best VPNs that are safe to use in Russia. The services on my list can bypass censorship and geo-restrictions, and guarantee your online privacy. I dug into privacy policies and tested leak protection to make sure each VPN on my list is safe to use in Russia.
My top pick is ExpressVPN for its world-class security and excellent unblocking abilities. Ready to find a VPN that can keep you safe? Let's get started!
Unblock Russian Content with ExpressVPN Now!
The Best VPNs for Russia – Full Analysis (Updated July 2021)
Of the 27 services I tested, only 8 VPNs give you secure and uncensored internet access in Russia.
I tested each one for speed, unblocking ability, and security measures. I also looked into each service's privacy policy to ensure my recommendations do not compromise your data.
ExpressVPN is my top recommendation for Russia because of its best-in-class security features and ability to bypass geoblocks. It can get around China's notorious Great Firewall, so you can rest assured that it works in Russia.
While you're connected to ExpressVPN, it hides all of your traffic with the highest possible level of encryption. That means that, even if your data is intercepted, it can't be deciphered. Perfect forward secrecy adds another layer of protection by creating a new encryption key every time you connect to the VPN, or every 60 minutes on longer sessions. If one of your past sessions is compromised, all your other sessions' data is still safe.
Should you become disconnected from ExpressVPN, an automatic kill ensures that sensitive information, like your true IP address, is never exposed. Its built-in DNS leak protection prevents software errors routing your DNS requests back through your ISP's DNS, which would otherwise expose your internet activity to your ISP.
Perhaps most importantly, ExpressVPN has a strict zero-logs policy. TrustedServer technology wipes every server every time it's powered down so ExpressVPN can't store or share any information about you – even if Russian authorities demand it.
You can even pay with Bitcoin if you want your ExpressVPN subscription to be untraceable.
ExpressVPN has 3,000+ servers in 94 countries, including Russia-adjacent countries like Estonia, Latvia, and Lithuania. It's lightning-fast for buffer-free streaming and torrenting. 
Want to channel some of your traffic through your VPN and some using your Russian IP? ExpressVPN's split tunneling feature lets you do just that. This means you can access international content anonymously, without losing access to local services.
ExpressVPN gives you 5 simultaneous connections, so you can protect all of your devices during your time in Russia.
If you need any help setting up or using the service, ExpressVPN has a very helpful 24/7 live chat. It also has a huge support center online with troubleshooting, instructions, and video tutorials. Alternatively, use the VPN's 30-day money-back guarantee to test it out for yourself.
Want to know more? Explore our ExpressVPN review to see the full results of our research and testing.
CyberGhost is a user-friendly, simple VPN that's great for streaming content that's blocked in Russia. It has an impressive 7,198+ servers in 91 countries including one location in Russia. In terms of security, though, you're better off connecting to a server in a nearby country without internet restrictions.
Of course, this huge network means CyberGhost is fast. It's also highly effective at unblocking censored content, especially for streaming. CyberGhost labels its servers based on which streaming providers they are best at accessing. I was able to use it to access Netflix and a variety of other streaming sites.
It also has a dedicated torrenting profile with P2P-optimized servers.
Every CyberGhost app comes with a built-in ad, tracking, and malware-blocker that keeps you safe from hackers and snoopers. It uses 256-bit AES encryption, a kill switch, and leak protection to make sure your data is never revealed to spying eyes. Its no-logs policy also ensures none of your identifying information can be stored or sold.
I tested CyberGhost's apps across several platforms and found them all easy to install, configure, and use. The service lets you connect 7 devices under one license, so all of your gadgets are covered while you're in Russia.
Best of all, CyberGhost gives you an ample 45-day money-back guarantee to trial its features and test its servers out for yourself. If you have any questions about the guarantee or you need any help using the VPN, there is a live chat option alongside online troubleshooting and a comprehensive series of guides.
Want to know more? Explore our CyberGhost review to see the full results of our research and testing.
If you're looking for an affordable VPN for torrenting in Russia, Private Internet Access is a good choice. All of its 35,550+ servers in 78 countries are P2P-friendly and it performed well in my speed tests.
You can torrent safely with Private Internet Access as it safeguards your connection with military-grade encryption, an automatic kill switch, a strict no-logs policy, and DNS, IPv6, and email leak protection. Just bear in mind that it uses a lower level of encryption as a default – you can change from AES 128-bit encryption to AES 256-bit encryption in your settings.
There's also a built-in adware, malware, and tracking blocker.
Private Internet Access is not reliable for streaming as it is for torrenting. It can access Netflix US and UK, Hulu, Disney+, and other popular streaming services.
You get 10 simultaneous connections and each app supports split tunneling. I found the customer support options to be lacking. There's no live chat support and the email ticket system is very slow to respond. The website's knowledge base is much more helpful. There's a 30-day money-back guarantee if you want to test the VPN risk-free.
Want to know more? Explore our Private Internet Access review to see the full results of our research and testing.
Try Private Internet Access Today!
If you just want a simple, affordable VPN for Russia, PrivateVPN works brilliantly and is one of the most reliable VPNs I've trialed.
Its network is relatively small – it has just 100+ servers in 63 countries. However, it has one location in Russia and plenty of servers in neighboring countries if you want to connect to a nearby server for the best speeds. I tested several of its servers around the world and enjoyed decent speeds on all of them.
Despite its low cost, PrivateVPN packs some powerful security measures. Military-grade encryption meets DNS/IPv6 leak protection and an automatic kill switch to guarantee that your sensitive information is always kept on lockdown. I was satisfied with its strict no-logs policy, which promises not to store any of your usage information.
Its Stealth Mode is particularly helpful for Russian users or those traveling to the country temporarily. Stealth Mode works like an obfuscated server, masking your VPN usage and allowing you to easily get around government censorship.
PrivateVPN is good for bypassing streaming and torrenting blocks, too. It has both streaming and torrenting-optimized servers and can unblock nearly all of the big streaming providers like Netflix and Amazon Prime Video. The only sites I had problems with were Disney+ and Showtime. PrivateVPN labels it servers with specific streaming sites to make it easy to find the right one.
You get 6 simultaneous connections with PrivateVPN. That's more than enough to safeguard all of your devices against monitoring. All of its apps are fairly simple but, should you need help, there is a live chat you can ask – I just wish it was available 24/7. Test it for 30 days with its money-back guarantee.
Want to know more? Explore our PrivateVPN review to see the full results of our research and testing.
VyprVPN is designed with censorship in mind. Not only does it shield your traffic with AES 256-bit encryption, but its unique Chameleon technology also scrambles your metadata to prevent detection under deep packet inspection (DPI). DPI is one way that external parties like your ISP and government agencies can inspect and block your traffic. Chameleon technology prevents them from doing so, giving you unrestricted internet access in Russia.
Other security measures include an automatic kill switch, leak protection, and a NAT firewall that blocks unwanted incoming requests from hackers and botnets The service also has a strict no-logs policy backed up by VyprDNS – a zero-knowledge DNS system that never monitors or stores any of your DNS requests.
All VyprVPN servers are P2P-friendly and its lightning-fast speeds are ideal for torrenting and streaming. I was able to use it to access Netflix and several other streaming providers.
You can connect up to 30 devices at the same time and VyprVPN offers a 3-day free trial and a 30-day money-back guarantee. The VPN has 700+ servers in 70 countries, including one Russian location, and a 24/7 live chat.
VyprVPN would be higher on my list but it does have a few restrictions. For example, its Chameleon tech is only available on desktops and routers. It's also fairly expensive in comparison to other services, although it's worth it if you want reliable, guaranteed unblocking.
Want to know more? Explore our VyprVPN review to see the full results of our research and testing.
Windscribe has all sorts of clever features designed to bypass censorship. Its Stealth protocol masks your VPN use and makes it look like regular internet traffic. Your connection is, therefore, less likely to be detected and blocked.
Double Hop mode routes your traffic through two VPN servers instead of one, to help you avoid being tracked and monitored online. The Time Warp feature even fakes your computer's timezone to match your chosen server location and prevent websites from detecting any discrepancies.
It also has built-in ad and malware protection and offers split tunneling on all apps.
I was a bit disappointed to note that these features aren't consistent across all apps and devices. For instance, Double Hop and Time Warp are only available in Windscribe's browser extensions.
During my tests, I found Windscribe's speeds to be inconsistent, too. I got some great speeds on servers that were near to my real location but my connection slowed when I chose more distant servers. Fortunately, some of the VPN's 180+ servers are in Russia and nearby countries, so you should be able to get decent speeds.
Most of Windscribe's servers are P2P-friendly although you can't torrent on its Russian servers. Its dedicated Windflix servers can unblock Netflix.
Windscribe also gives you Unlimited device connections, but only offers a 3-day money-back guarantee. There's no 24/7 live chat support but the website does have a comprehensive knowledge base.
Want to know more? Explore our Windscribe review to see the full results of our research and testing.
IPVanish's Scramble mode gets around geoblocks like the ones used in Russia by obscuring your VPN connection. Third parties, like your ISP, can't detect your VPN traffic so you're less likely to be monitored or blocked.
It boasts plenty of useful features but many are only available on its Android app, making it a good choice if you only need to protect and use Android devices in Russia. For example, Scramble mode is only available on the IPVanish Android and desktop apps while split tunneling is available on the Android app but nowhere else.
However, all apps are protected by military-grade encryption, an automatic kill switch, and a strict no-logs policy.
IPVanish has a large network of 1,900+ servers in 75+ countries, including locations near Russia. Whichever server you connect to though, you can expect lightning-fast speeds across the network.
All servers are torrent-friendly and the VPN can unblock Netflix and a few other streaming providers. Some streaming sites, like Hulu and Amazon Prime Video, can only be accessed on the Android app using its split tunneling feature.
IPVanish lets you connect up to unlimited devices at the same time and there's friendly 24/7 live chat support if you need help setting up. Sadly you only get a 30-day money-back guarantee if you want to try IPVanish before you buy.
Want to know more? Explore our IPVanish review to see the full results of our research and testing.
If you need a VPN for your Windows device in Russia, ZenMate is a reliable option.
It has plenty of impressive security features, but the majority are only available in its Windows app, making it a good VPN for Windows but not for other platforms and devices. For example, its automatic kill switch and leak protection are limited to the Windows app and only its desktop and mobile apps are protected by 256-bit AES encryption – its browser extensions use 128-bit encryption, which is not as secure.
However, all apps are protected by a strict no-logs policy and a NAT firewall that blocks malware and trackers. There's also a free ad-blocking extension you can download separately.
ZenMate is super fast, thanks to its 3,900+ servers in 78 countries around the world – including one location in Russia. It has torrent-optimized servers and can unblock most major streaming sites.
You can connect up to Unlimited devices to ZenMate at the same time and it gives you a 30-day money-back guarantee to make sure it works for you. There's no live chat if you need help but I found its email support prompt and helpful.
Want to know more? Explore our ZenMate review to see the full results of our research and testing.
How We Tested the Best VPNs for Russia
I tested each of these VPNs to make sure they are capable of bypassing Russian censorship geoblocks.
I looked into security measures and logging policies to ensure that each VPN is secure to use in Russia and can protect you against government surveillance and ISP monitoring.
Of course, even the most secure VPN can be unusable if it's too slow. I ran each VPN through speedtest.net to check that it is fast enough for browsing, streaming, and torrenting. I've noted which VPNs are particularly good for unblocking streaming sites in their reviews.
Why You Need a VPN for Russia
Internet access in Russia is both heavily censored and heavily monitored.
The Russian government blocks certain websites under the guise of data protection or safeguarding people against unsavory content. In reality, content is often blocked to prevent the spread of anti-government messages or to restrict your ability to communicate privately.
Whole websites can be blocked due to a single piece of content. Roskomnadzor – the Russian Federal Service for Supervision of Communications, Information Technology and Mass Media – has also blocked several encrypted messaging services for refusing to unencrypt and hand over user communications.
Some of the biggest sites that have been blocked by Roskomnadzor include Telegram, ProtonMail, LinkedIn, Twitch, Google Cloud Platform, and DailyMotion – as well as a number of individual Facebook pages and Wikipedia articles.
Internet use in Russia is also subject to mass surveillance. Roskomnadzor demands heavy data retention from its Internet service providers (ISPs), resulting in extensive collection of web browsing data from users.
Using a VPN is the only way you can get full and private internet access in Russia.
This is, unfortunately, why Russia bans any VPN that doesn't comply with its censorship laws.
There is a list of government-approved VPNs. However, these services abide by Russian laws and are, therefore, compromised.
The VPNs on my list have refused to comply with government demands and are still safe to use in Russia.
FAQs
Are VPNs banned in Russia?
The bad news is that, yes, the Russian government has placed a ban on VPNs overall. The good news is that this VPN ban is fairly hard to implement.
As of today, all of the VPNs on my list can still be accessed in Russia. This could change in the future though so it's worth noting that you might need to download your VPN before you arrive in Russia if you're traveling to the country. You can keep an eye on the VPN situation in Russia by checking our frequently-updated global guide to the legality of VPNs.
It's also a good idea to look out for VPNs with obfuscated servers (or other methods that prevent ISPs from detecting VPN traffic) if you want to be completely sure you won't get in trouble. I've pointed out VPNs with these features in my reviews.
Will my VPN have servers in Russia?
You might notice that many premium VPNs do not offer server locations in Russia. This is in response to Roskomnadzor's latest call for the most popular VPNs to comply with Russian laws – including handing over user data.
So far, nearly every one of the top VPNs has refused to comply with these demands, leading many to shut down their Russian servers and pull out of the country entirely.
Some of the smaller VPNs haven't been approached by Roskomnadzor yet and therefore still have Russian servers that you can use. However, if you want to bypass government censorship and blocks, and prevent the government from intercepting your traffic or logs, it's better to use a server in another country, anyway.
Can I get a free VPN for Russia?
Free VPNs are available but I don't recommend using them in Russia, where online safety and security are of the greatest importance. Free VPNs rarely offer the same security features as premium VPNs. Unreliable leak protection or poor encryption could leave you vulnerable to surveillance and detection.
Some premium VPNs like Windscribe offer free versions that are secure. However, these free VPNs come with lots of constraints like data restrictions, limited servers, slow speeds, and reduced unblocking abilities.
The Bottom Line
If you want safe and unrestricted internet access in Russia, you need to use a VPN.
However, not every VPN is up to the task. Your VPN needs to be secure so that it doesn't leave you vulnerable to government surveillance. It also needs to be powerful enough to get around geoblocks and fast enough that you can browse, stream, and torrent with ease.
ExpressVPN is my top recommendation for its lightning-fast speeds, excellent unblocking abilities, and watertight security. 
Having trouble accessing your chosen VPN? Read our guide to unblocking VPNs in Russia.
We've also compiled a complete, up-to-date list of every website that's currently blocked in Russia and how to access them – including how to unblock Telegram.
To summarize, here are the best VPNs for Russia in 2021…