10 Best FREE Streaming Websites for Movies & TV Shows 2019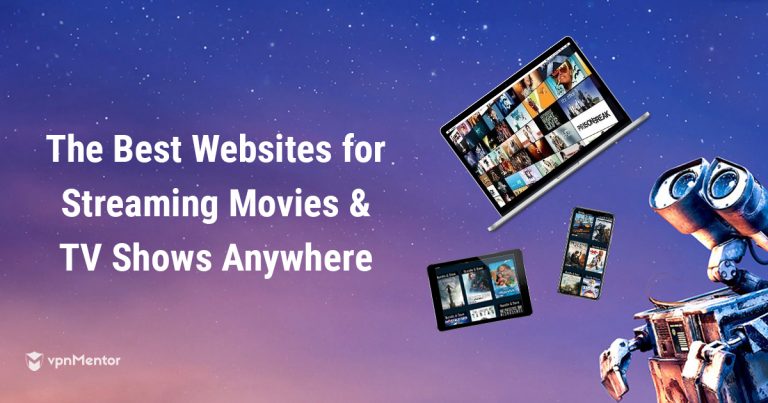 One of the great joys of surfing the web is finding sites where you can stream movies and TV shows for FREE. There is a wealth of material available, from vintage cinema to modern blockbusters, from TV classics to recent episodes of today's hottest shows.
Not everything you can access for free on the web is legal or safe, however. Unauthorized video streams and torrents come with a host of dangers, from malware to legal consequences for breach of copyright.
Before going any further, we should remind you that we do not encourage or in any way condone any form of piracy. When you look for streaming sites, it is your responsibility to check the legal and copyright status of the content you access.
But great news! It's possible to access outstanding free movie and TV streams safely and legally with a virtual private network (VPN). We've found the best streaming sites, and we'll take you through how to use a VPN for smooth streaming with no worries or hassles.
Best Free Streaming Sites:
How to Use a VPN to Stream Movies and TV Shows
Protecting your device and unblocking content only available in the US takes only four simple steps:
Choose a top-rated VPN, subscribe to the service, and download the app.
Launch the app, sign in, and choose a US server to access the greatest variety of videos.
Navigate to one of the top streaming sites listed below.
Choose your favorite title and start streaming!
Why You Need a VPN to Stream Films & TV Episodes and How to Choose the Best
Many of the best available streaming websites are geo-restricted, meaning that if you are not in the region that the content is intended for, you can't view it. There are many reasons why content is geoblocked, but it usually comes down to broadcast rights.
A VPN hides your actual location and allows you to connect to servers across the globe. By changing your apparent location, you can access a wider range of services and content. For example, to access US-based video sites, connect to a server in the US.
But that's not the even most important reason to use a VPN when you visit streaming sites. While the 10 websites we've found all offer content that is legal to stream, that doesn't make the sites safe to use without a VPN.
The sites still contain ads and other pop-ups, which can potentially be used as vehicles for viruses and other malware.
Even more importantly, it is quite likely that these sites track your activity, including which videos you choose, and share the data with third parties. If you don't use a VPN, all your viewing activity can be linked directly to your IP address.
Using a VPN encrypts your traffic and hides your location, making it almost impossible for anyone to see where you're going online or what you're doing there. Just as importantly, the VPN prevents anyone from accessing your connection and dropping harmful software on you.
Not only does this protection safeguard your device, but it also means that you are protected from hackers and surveillance. Your ISP can't collect your data and sell it to the highest bidder, or use targeted ads to pressure you to part with your hard-earned money.
However, all of this is only possible with a high-quality VPN that includes at least the following features:
Strong encryption to secure your connection and safeguard your online activities
A strict no-logging policy to ensure that your data cannot be given away or sold to third parties
Servers in countries that you want to access. Servers in the US and UK are a must for most streaming services
Quick and stable connections, which are essential to reduce the risk of lagging and improve your viewing experience
Good customer service, just in case you encounter an issue
A free trial and/or a money-back guarantee, so you can check out the VPN and make sure that it is right for you (or just use it temporarily for binge-watching!)
Best Free Streaming Sites for Movies and TV Shows
We scoured the internet for free and legal streaming websites for movies and TV shows. Here are the 10 best that we found, all of which work perfectly with one of our recommended VPNs.
1. Crackle
Crackle is owned by Sony, which means you get access to the entire Sony back catalog. There are hundreds of titles, including classics and original shows in every genre. The website rotates its offerings, so there is always something new to watch.
The website is well organized, making it easy to find interesting shows and movies, both popular and obscure. You can search by title, actor, or genre.
It isn't necessary to sign up to the service to access videos, but doing so allows you to create watch lists.
Crackle is only available in the US, so a VPN with US servers is a must to reach it from anywhere else. The only downside of the site is that it does include ads.
Visit Crackle
2. Popcorn Flix
Popcorn Flix offers movies and TV shows from a wide range of genres. While you won't find any new releases among its titles, the catalog includes classic movies, big TV hits of the past, and some possibly best-forgotten B-movie cult favorites.
The website is organized by genre, with separate sections for movies and TV shows. There is a basic search feature for finding specific shows or movies.
No sign up is required; however, as with most sites on this list, you do need to watch the odd ad. Some of the embedded ads are rather suspicious, so make sure to use a VPN with malware protection and have your antivirus software running as well.
We connected through US servers and were able to access every title we tried. Playback was excellent each time.
Visit Popcorn Flix
3. Vudu Movies on Us
Vudu Movies on Us provides a wide range of free and pay-to-view movies and TV shows. It has hundreds of titles to choose from in its free catalog, covering every conceivable genre. Video can be streamed in up to 1080p, so quality is not an issue.
The website is well organized – it is immediately clear which titles are free and which are rentals. There is a basic search option if you are looking for something specific.
You do need to sign up to the service, but this takes less a minute and you only need to provide a name, email address, and password.
Advertisements are presented before each title, which is what allows the website to provide so much free content. We had to connect to a VPN server in the US to access the titles we chose.
Visit Vudu Movies on Us
4. Tubi TV
Tubi TV is only available in the United States, which is no problem if you use a VPN with US servers. It offers a wide range of content, including releases as little as two years old.
You do need to register to use the service; you will need to provide a name, date of birth, and an email address. Be aware that the email address must be one you have access to, as you need to verify it as part of the sign-up process.
The website is easy to navigate, but of course each title is preceded by an ad. However, video playback was good for each video we selected.
Visit Tubi TV
5. Pluto TV
Pluto TV offers movies, sports broadcasts, kids shows, and live TV. The main reason it is this far down our list is that it is much more difficult to navigate than the above streaming sites.
Once you have managed the navigation to find the show or movie that you want, however, playback is excellent.
It is possible to connect to Pluto TV from outside of the US, but where you are based determines how much of a hassle it is to use the site. For example, in the UK, you need to connect through either a ROKU device or through Now TV.
For ease of use, we recommend connecting through a US VPN server, so that the service will work directly on most devices.
Visit Pluto TV
6. Viewster
If you are a fan of anime, this is the streaming service you need! Viewster is not region-specific, so it can be accessed through servers in any country that does not have content restrictions. (Avoid servers in China and North Korea, for example.)
While anime is the core offering of this service, there is much more that is worth exploring, including comedy, sci-fi, fantasy, and gaming. Some older anime titles are understandably dated in appearance.
The website is easy to navigate and includes a search function. Signing up to the service is optional, but it does allow you to create playlists. Ads play before each video – the usual price of a free service – but video playback is good.
Visit Viewster
7. SnagFilms
SnagFilms offers over 2,000 titles, including cult classics and independent films. Its catalog covers most genres and includes a good range of TV shows and series as well.
You do need to sign up to use the service, but as with the other streaming sites we're including here, signup is simple and straightforward. The ads are short and unobtrusive, and the content is well organized and easy to navigate.
The only problem we found with this website is that some titles we chose wouldn't play during our testing. We tried connecting to VPN servers in different countries, but found that it didn't make much of a difference.
However, with so many titles to choose from, this limitation is really only a problem if there is a specific show or movie you want to watch. Playback quality was excellent on the titles that did work.
Visit SnagFilms
8. Classic Cinema Online
Classic Cinema Online is a dream for lovers of vintage cinema. If you love silent films or lost Charlie Chaplin movies, you'll definitely want to check out this website.
You do not need to sign up to use the service, and we were able to access the streams using servers in both the UK and US. However, rather than actually hosting the movies, the website provides links to where they can be found.
This means that some content is accessible through torrents, while others require Flash to be enabled. That in turn means you'll be linking through unknown third-party sites, so using a VPN is an absolute must.
You'll need a little patience to use this site, but the hidden and forgotten gems included in its catalog are worth the effort.
Visit Classic Cinema Online
9. Veoh
Veoh gives you access to over 7,000 movies, as well as a host of TV shows and other content. So the obvious question is, why is this site so far down our list?
The answer is that Veoh includes user-uploaded content, so you need to exercise additional caution when using the site. Using your VPN and a sturdy antivirus program will keep you safe. We were able to access content from a range of different servers.
The content is well organized, and the search option allows you to search by several different criteria. Creating an account is optional to stream videos, but required if you want to upload content.
Playback on the videos we tested was excellent, and we found some great classic movies as well as better-known hits.
Visit Veoh
10. YouTube (USA)
No list of free streaming websites is complete without YouTube. However, it appears last on our list because it's the hardest to navigate. The platform is also full of user-uploaded content, so as with Veoh, you need to exercise caution when streaming.
Again, use a VPN to stay safe, and connect to US servers to access a greater variety of content. YouTube of course has countless free videos, but the most popular movies and TV episodes are available only on a pay-to-view basis.
You do not need to create an account to access YouTube, but having one allows you to create playlists, upload videos, and receive notifications when your favorite channels offer new content.
Visit YouTube
Top VPNs to Protect You When Using Streaming Sites
Downloading hidden malware or having your viewing history sold to third parties could turn your free video streaming into a very costly experience. So before you choose the titles you want to watch, make sure your data and device are protected.
To safely access any of the streaming websites on our list, we strongly recommend that you use a high-quality VPN. Here are our top three VPNs, which are all ideal for streaming movies and TV shows. For more recommendations, visit our Best VPNs blog archive.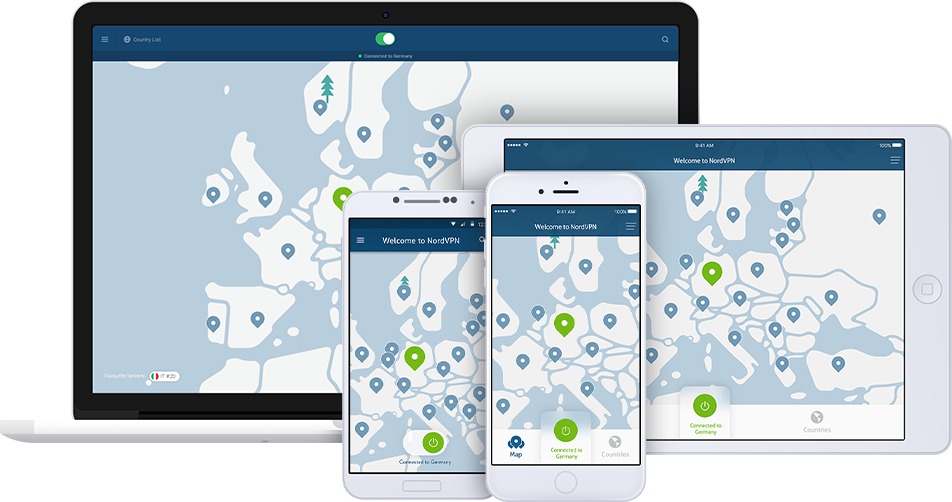 Key Features
Servers across 62 countries, all secured with 2048-bit AES encryption
OpenVPN, IKEv2, and PPTP tunneling protocols
Double encryption, Onion Over VPN, and kill switch options
Strict no-logging policy
30-day money-back guarantee
NordVPN completely hides your VPN connection with unsurpassed security protocols, and operates an impressive server network that now numbers over 5,000, with about 2,000 in the US alone.
NordVPN also operates out of Panama, beyond the reach of the 14-Eyes countries, further securing your anonymity and online privacy. These are just some of the reasons why its many happy users enthusiastically recommend it for streaming and torrenting.
NordVPN can unblock:
Netflix, HBO, Hulu, Showtime, BBC iPlayer, Amazon Prime Video, and Sling TV.
Supports torrenting:
Yes, P2P specialty servers available.
NordVPN works on these devices:
Windows, macOS, Android, iOS, Android TV, Linux, Chrome, and Firefox. It's also compatible with routers.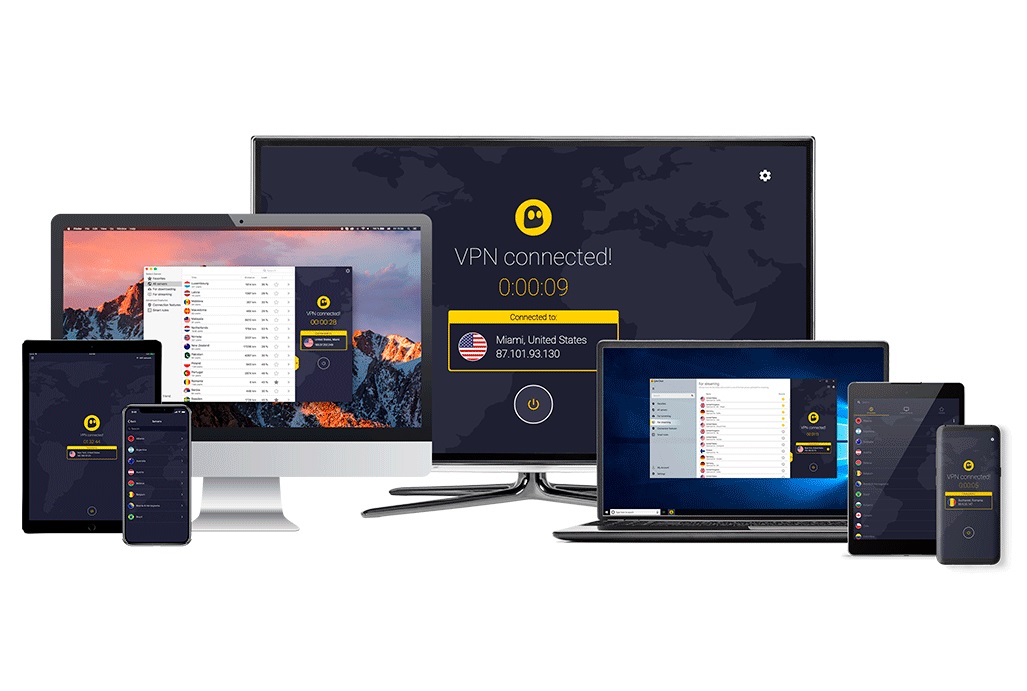 Key Features
Almost 3,000 servers across 59 countries, secured with 256-bit AES encryption
Unlimited traffic and bandwidth
OpenVPN, PPTP, and L2TP/IPSec tunneling protocols
DNS leak protection, no-logging policy, and automatic kill switch
7-day free trial on iOS and Android, 1-day free trial on Windows, and 45-day money-back guarantee on plans of 6 months or more
CyberGhost users benefit from great security, anonymity, and a reliable service. Preconfigured profiles for specific uses, all available with one click, make this VPN a great choice for beginners.
This VPN's many positive reviews also highlight the provider's precision German engineering and dedication to privacy, as well as the VPN's quick connections and growing server network.
CyberGhost can unblock:
Dedicated streaming profile with servers optimized for: Netflix, BBC iPlayer, Sky Go, Hulu, Comedy Central, Eurosport, ESPN, and others.
Supports torrenting:
Yes; dedicated profile shows countries and number of users.
CyberGhost works on these devices:
Windows, macOS, Android, iOS, Amazon Fire Stick, Android TV, Linux, and Chrome.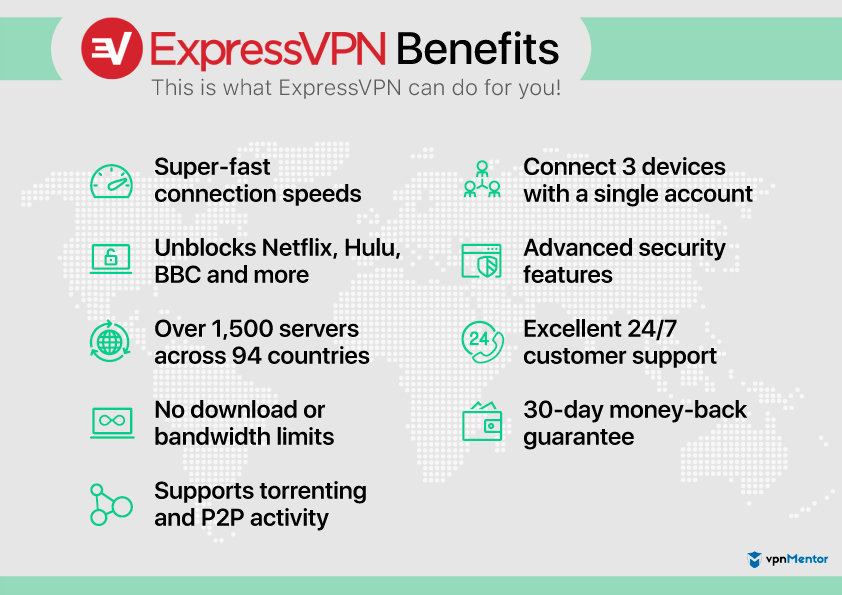 Key Features
2,000 servers across over 90 countries, secured with 256-bit AES encryption
OpenVPN, PPTP, L2TP/IPSec, and many more tunneling protocols
DNS/IPv6 leak protection, kill switch, and split tunneling options
Strict no-logging policy
Free trial on mobile devices; 30-day money-back guarantee for all platforms
ExpressVPN receives excellent reviews for its advocacy of internet freedom and privacy, as well as its exceptional speeds, ability to hide your VPN traffic, and excellent ease-of-use features.
Additionally, ExpressVPN is based in the privacy-friendly British Virgin Islands, outside the authority of the Five-Eyes countries.
ExpressVPN can unblock:
Netflix, Hulu, HBO, Amazon Prime Video, Showtime, Sling TV, DAZN, and BBC iPlayer.
Supports torrenting:
Yes, all servers support P2P activity.
ExpressVPN works on these devices:
Windows, macOS, Android, iOS, Android TV, Linux, Chrome, and Firefox. It also offers an app for use with certain routers.
The Best Free Premium Streaming Sites You Need a VPN to Access
If you're worried about streaming movies and TV legally and safely, some of the biggest TV networks and studios in the world now have great free premium streaming channels of their own. These offer access to new episodes of TV shows immediately after they've aired, decades of classic TV series, live streaming, and so much more. Even better, it's all completely legal, safe, and guarantees high quality streaming. 
There is one catch – they restrict access to viewers in their countries. If you don't live in the US, UK, Canada, or another country, you will need a VPN to access these free premium channels. With a VPN, you can connect to a server in the country that you want to access a specific channel – for example, connect to UK server to watch BBC iPlayer for free.
This is by far the safest and most convenient way to watch some of the best movies and TV in the world. Here is just a taste of the best free premium streaming channels you can access when you use a VPN.
The UK
BBC iPlayer – The biggest broadcaster in the UK offers almost every show in their archive for free online, to UK residents. This includes every epic David Attenborough nature documentary you've ever wanted to binge watch.
Visit iPlayer
ITV Hub – The best guilty pleasure TV the UK has to offer, from reality shows to classic soap operas, and everything in between.
Visit ITV Hub
All 4 – Quirky comedies, insightful documentaries, and groundbreaking dramas from both sides of the Atlantic – TV that not to be missed and hard to forget.
Visit All 4
The US
NBC – Home to some of the most popular primetime TV in the states, NBC offers free access to new episodes of their late night chat shows, classic series, and much more on their streaming channel.
Visit NBC
ABC Go – As well as popular TV shows, ABC also streams classic movies like the Lion King on their channel.
Visit ABC Go
Disney Now – With many your kids' favorite shows in one place, Disney Now can keep them (and maybe, you) entertained for hours.
Visit Disney Now
Fox – Get access to the biggest channels and shows on the Fox network. You can stream everything from news and commentary to sports, and reality TV – all for free.
Visit Fox
Canada
CBC Gem – A curated library of the best TV and movies from Canada and across the world. CBC Gem gives you access to the channel's entire library of shows, sports, documentaries, and movies.
Visit CBC Gem
Australia
ABC iView – iView gives you access to every show broadcast across the network's channels, both Australian and international. News, arts, comedy, kids shows and more ensure the whole family is entertained, for free.
Visit ABC iView
SBS OnDemand – Home to some of the greatest prestige TV and sporting events from around the world. SBS OnDemand offers free access to the best dramas, live sports, classic movies and comedies from Australia, the US, and the UK all in one place, along with many other countries.
Visit SBS OnDemand
Summary
There's no need to turn to illegal streaming sites with so many well-organized, legal options available to watch your favorite movies and TV shows for free. Just remember that it's critical to protect yourself from malware, spying, and legal issues with a reliable VPN.
Once you connect to your chosen streaming website using a VPN, you'll begin to see the host of other benefits a VPN can offer, including protection from hackers and access to content from all over the world.
We recommend NordVPN for watching free movies and TV shows because it doesn't just meet the basic requirements to safely use streaming websites; it exceeds them with ease. Visit our coupon page to save big on a NordVPN subscription.