10 Best Kodi Builds in February 2023 — Tested and Safe to Use
Installing a Kodi Build saves you the hassle of tweaking settings and searching for and installing addons. However, finding the perfect build to help you get started with Kodi can be challenging — there are many to choose from.
My team and I tested over 50 Kodi builds and compiled a shortlist of the 10 best ones. All the builds included in this list are 100% safe to use, user-friendly, and feature a selection of exciting content and skins.
But no matter your build, your online activity, and internet history are still trackable. For this reason, I strongly recommend using a reputable VPN with Kodi to protect your online privacy. A VPN hides your IP address and online activity to protect you from snoops and hackers.
My favorite Kodi VPN is ExpressVPN. It features super-fast servers for watching videos in full HD without buffering and utilizes military-grade encryption to protect your data. Better yet, ExpressVPN comes with a 30-day money-back guarantee, so you can use it risk-free.
Important. Kodi builds are not illegal, but specific addons may contain dodgy links that do not have the legal rights to share certain content. My team and I do not condone breaking any copyright laws. Always check the rules and regulations in your country (and the streaming service you're using) to ensure that you're not in violation.
Short on Time? Here Are the 5 Best Kodi Builds for Live TV & Sports in February 2023
10 Best Kodi Builds Full Analysis (Updated in 2023)
1. Route 66 — Responsive, Speedy Interface for Watching Shows
Content featured: Live TV, movies, sports, documentaries, and more
Supports addons: Yes
Available from: The Arc Wizard
Route 66 is fast and responsive to use thanks to its lightweight design. It also comes with a "themeless" mode which reduces its demand for processing power and speeds up performance. This makes Route 66 a great choice if you're running Kodi on a streaming device like FireStick.
If you're into customization, then this build definitely won't disappoint. It gives you a variety of skins — from breath-taking photographs along the famous Route 66 highway to classic Americana imagery. All of which is more than enough to transform your Kodi viewing experience.
Plus, while the build may be light on additional features, it's heavy on content. I could watch plenty of movies, live TV, sports, and more — all without any buffering. Everything is easily accessed and well-organized into its respective categories for quick viewing. That way, you can spend more time watching and less time searching.
2. Xenon — Good Looking Build With Great Up-To-Date Content
Content featured: Live TV, movies, sports, documentaries, anime, music, and more
Supports addons: Yes
Repository URL: http://grumpeh.aion.feralhosting.com/repo/
Xenon (also called Diggz Xenon) is a great Kodi build for streaming devices such as Firestick and android TV boxes.
It gives you access to some of the best movies and TV shows, including The Terminal List, Black Bird, and The Orville. Other categories include documentaries, anime, music and sports. It comes with addons such as Seren, Asgard, and Black Lightning that let you explore more content.
I loved its easy-to-use interface, and I could find the content I wanted in just a few steps. It's easy to install, and I love how it keeps its binge-worthy content up-to-date.
3. Atomic Matrix — Awesome Design and More Streaming Sources
Content featured: Movies, TV shows, documentaries, and more
Supports addons: Yes
Repository URL: http://misfitmods.com/mmwiz/repo/
Atomic Matrix comes preloaded with popular addons, including The Crew, Magic Dragon, Seren, and Asgard. Plus, it makes it easy to install additional addons.
It's a great build for movies. As soon as you install it, you'll have access to plenty of great content. I loved how its simple interface and Search Movies option made it easy for me to find the best titles.
It keeps its content up-to-date, and you can integrate it with hosters such as Premiumize and Real Debrid to access more streaming sources. You can easily install it from the Misfit Mods Repository, and I love how the developer maintains a green color design.
4. No Limits Magic Build — One of the Most Trusted Kodi Builds
Content featured: Live TV, movies, sports, documentaries, and more
Supports addons: Yes
Repository URL: https://www.nolimitswiz.appboxes.co
The No Limits Magic Build improves your Kodi interface and makes adding and removing addons a breeze.
With this build, you get access to a wide variety of content ranging from live TV and sports to TV shows, movies, and so much more. I was impressed by the range of content No Limits allowed me to watch.
There are 2 versions of the No Limits Magic Build — the Lite and Full version. No Limits Lite is intended as a lightweight option for FireStick whereas the Full version is meant for non-FireStick users. Also, do note that both Lite and Full variants come with options for Adult entertainment — so you might want to disable that if you have kids.
Installing the build is simple and straightforward. I only had to download the No Limits Wizard and choose the version I wanted. One unique feature this build has is that it allows you to install another build on top of it. That can sometimes cause issues with Kodi though, so I recommend you perform a fresh install instead. That way, you can prevent any conflicts from occurring.
As for skins, this build runs on the Aeon Nox SiLVO skin which is quite stylish and can be downloaded separately from its developer.
5. Equinox — Visually Appealing Interface With Decent Addons
Content featured: Live TV, movies, sports, documentaries, and more
Supports addons: Yes
Repository URL: http://grumpeh.aion.feralhosting.com/repo/
Equinox is home to great TV shows and movies such as Black Wood, The Resort, and Unboxed. The interface is visually appealing and comes bundled with popular addons, such as Patriot, The Crew, and Chains.
I love how it nicely organizes its content into easy-to-use categories like movies, live TV, and documentaries. You can easily install it from the Diggz Matrix Repository — I just followed the on-screen instructions. But it's quite heavy, so it's not suitable for streaming devices like Firestick.
6. Misfits Mod Lite — Specializes in Sports and Live TV Content
Content featured: Live TV, movies, sports, documentaries, and more
Supports addons: Yes
Repository URL: http://misfitmods.com/mmwiz/repo/
Misfits Mod Lite is a great Kodi build for fans of sports and live TV.
While Misfit Mods has a regular version, I definitely prefer using Misfits Mod Lite. The Lite version is optimized for devices with less processing power. That makes it smooth and responsive, which is great if you're running it on the Amazon FireStick.
The build also has a stylish theme with a well-optimized display that lets you effortlessly browse through the content available.
Note: if you're going to be using Misfits Mod together with its plugins, then you may want to consider using a VPN. That's because most of the build's addons feature copyrighted content which can get you in legal trouble. A VPN keeps you protected in case you accidentally access any of this content.
7. Bio-Hazard — Simplistic Design With Decent Performance
Content featured: Live TV, movies, sports, documentaries, and more
Supports addons: Yes
Available from: The AVP Wizard
Bio-Hazard is a fast and responsive Kodi Build which takes a minimalist approach to things.
I like how simple and lightweight this build is, as it works well even on low-powered devices like the Amazon FireStick. Navigating the interface is easy and I definitely enjoyed the fact that there is zero lag.
The build features a wide variety of content including movies, TV shows, and live sports streams. I should point out here that Bio-Hazard particularly excels when it comes to watching live sports (such as soccer) because you'll encounter no delays while using it.
8. Silvo — Rich Selection of Content to Choose From
Content featured: Live TV, movies, sports, documentaries, and more
Supports addons: Yes
Repository URL: http://multibuild.info/mbwiz
When it comes to stable and reliable performance, you can't go wrong with Silvo.
Using this build is easy thanks to the neat and descriptive menu that makes navigation simple. From live TV and sports, to movies and kids' shows, I could easily search for and watch the content that I wanted without any fuss.
As a lightweight build, it also performs well on devices like FireStick. I like how loading times were kept to a minimum and there was no lag.
9. Envision MQ7 — Futuristic Build With Intuitive Features
Content featured: Live TV, movies, sports, documentaries, and more
Supports addons: Yes
Available from: The EzzerMacs Wizard
Envision MQ7 comes packed with a variety of features specially designed to improve your streaming experience. Installing this Kodi build gives you access to all types of content, such as live TV and sports, along with movies and TV shows.
I like how the build has an attractive skin. The futuristic feel of its themes made me feel like I was in the StarCraft universe. So if you're a fan of that aesthetic, you can use this build for the SciFi experience.
What I didn't like about the Envision MQ7 build is that its interface can feel slow and sluggish at times. This is because of the large amount of unnecessary addons the build offers. But on the bright side, you can pick and choose the best addons that work for you.
10. Innovation Colors — Extensive Library and a User-Friendly Interface
Content featured: Live TV, movies, sports, documentaries, and more
Supports addons: Yes
Repository URL: https://kepler-22.github.io
Innovation Colors gives you access to movies, shows, documentaries and even live TV on all types of devices. This build comes with a Family and Adult build which lets you stream mature content. So, keep this in mind, if you've got kids in the house.
This Kodi build features a smooth, well-designed interface for easy navigation. I like how its library made it easy to sort through the different types of content offered. All shows are clearly named and organized which makes it simple to find what you want to watch.
Although I wasn't too impressed with the build's skin design, it more than makes up for it with its responsive interface and user-friendly design.
Quick Guide:
How to Install a Kodi Build In 8 Easy Steps
While it may initially seem complicated, installing your chosen Kodi build is easy. Here's how you can do it:
Start up Kodi and click on the gear symbol.
Click on the "File Manager" tab, select "Add Source", then input the path for your addon.
After that, go back to Kodi's home screen and click on "addons".
Click the open box icon on the left to access the "addons/addons browser".
Select "Install from zip file" and click "Yes" when the warning message pops up.
Click on the name of the build you want to install.
Return to the home screen and click on "addons".
Your chosen addon should be displayed there. Click on it to begin the installation.
How To Use Kodi Safely
Some Kodi builds can be risky to use due to it infringing on copyright laws. But if you take the following steps, you'll have no problem protecting yourself.
1. Perform Virus Scans
When you download a Kodi build, the first thing you want to do is to perform a virus scan.
By doing so, you can identify if there are any viruses, malware, or unwanted addons present. Downloading and installing Kodi builds raises the risk of you accidentally infecting your device.
2. Use Kodi With a VPN
When you're using Kodi and its builds, always remember that your data and browsing activity can be tracked and monitored by your ISP. Meaning that not only can your data be collected and sold, it may also be handed over to the authorities.
That's why you should always use Kodi with a VPN. A VPN passes your data through a private, encrypted tunnel, making your streaming activity unreadable.
As an added plus, VPNs also allow you to access geo-blocked content like your Netflix's US library or Hulu account when traveling abroad.
Check out our list of fast VPNs that work perfectly with Kodi.
3. Perform a Fresh Install
To maximize the chances of your Kodi build working, you should always perform a fresh install first.
Doing this removes all prior addons and ensures that the new installation process goes smoothly. It's also a great way to prevent any potential installation conflicts from occurring.
After that, reset your Kodi to its default settings and install the new build. This step frees up space and reduces the risk of a bad install.
4. Delete All Unwanted addons
Some Kodi builds come with unwanted addons that take up space and slow down your device. Fortunately, you can get rid of these unwanted files fairly easily by following these steps:
Find out the name of the addon and right-click it.
Left-click on Information.
Click on "Uninstall."
And, you're done — you've successfully removed the addon.
However, keep in mind that the addon is still on your system. To properly remove it, access the zip file your Kodi build is in, and delete the plugin from there.
Tips on Choosing the Best Kodi Builds
While all of the Kodi builds listed in this article are safe to use, here are a few more tips to help you get the best out of your Kodi experience:
Only use builds from verified sources — Only install plugins that come from trusted sources. That way they're less likely to contain malware or viruses.
Perform virus scans — Sometimes, hackers may try to infect your device by packaging a Kodi build with malicious software. This is why it's important to scan the file before installing it to ensure that you don't accidentally damage your device.
Disable installation from unknown sources — After you've installed your selected Kodi builds, don't forget to disable this option in the "addons" tab. This protects you from accidentally downloading and installing unwanted or dangerous addons.
Best VPNs for Kodi Builds in 2023
The VPNs on my list use robust security features (including high-level encryption, a kill switch, and a no-logs policy) to keep you safe online while using Kodi. On top of that, they're easy to use and can unblock the most popular streaming platforms. You can try each VPN risk-free as they all come with tried-and-tested money-back guarantees.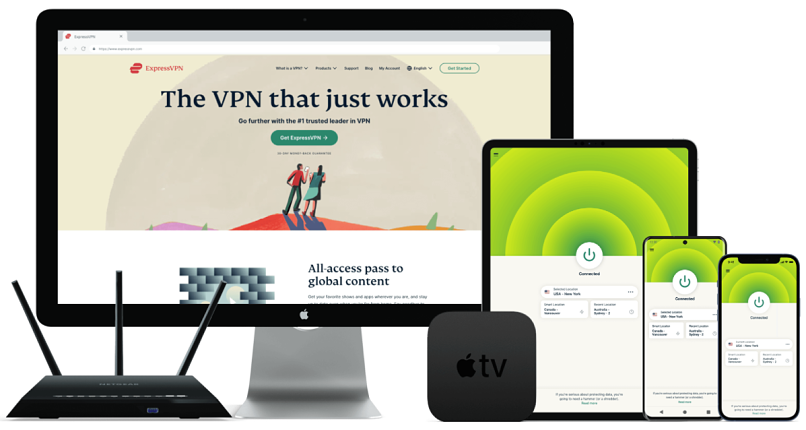 Editor's Choice
Editor's Choice

Tested February 2023
Try Risk-Free for 30 Days
Can access:
Netflix
Disney+
APV
HBO Max
Hulu
BBC iPlayer
Sky
More
www.ExpressVPN.com
Lightning-fast speeds for a seamless Kodi experience
3,000+ servers in 94+ countries to access your favorite content on Kodi
Military-grade encryption and a strict no-logs policy to keep you safe while using Kodi
Connect up to 5 devices at once
Unblocks: Crackle, Netflix, Paramount+, HBO Max, Disney+, DAZN, Sling TV, YouTube TV, and more
Compatible with: Kodi, Amazon Fire Stick, Windows, Mac, iOS, Android, Linux, routers, and more
ExpressVPN servers offer ultra-fast speeds for streaming shows on Kodi. I tested it by watching shows on Xenon in UHD and never had problems with lag or buffering. And as my ISP can't track my online activity, it can't throttle my bandwidth. This means you don't have to worry about slowdowns when you're using Kodi with ExpressVPN.
The VPN also protects your data with 256-bit AES encryption which is currently the strongest. Additional protection comes in the form of perfect forward secrecy. This works by regularly changing your encryption keys which makes it impossible to use any discovered keys. That way, you don't have to worry about your privacy being compromised while using Kodi. I tested ExpressVPN for DNS, IP, and WebRTC leaks with IPLeak.net, and I found no leaks.
I thoroughly studied ExpressVPN's privacy policy and saw that the service has a strict no-logs policy too, which means that your actual locations and browsing history is never recorded. This claim has been verified by independent auditors. There's zero risk of your personal data being handed over to the authorities or any third-party.
One minor con is that its plans are more expensive than other VPNs, with prices starting at $6.67/month. But, you can save money with ExpressVPN's discounts and deals — the latest one gets you up to 49% off. The VPN's short- and long-term plans all come with the same features so I recommend going for the 12-month plan as it's the most affordable.
If you're not 100% happy, it's easy to request a refund. I put ExpressVPN's 30-day money-back guarantee to the test by submitting a request via its 24/7 live chat. I got my money back into my bank account within 3 days. The customer service rep was friendly and helpful throughout the entire process.
9,753 servers in 91 countries, including optimized servers for streaming
Keep your Kodi data private with AES 256-bit encryption and multiple security protocols
Fast connections and unlimited bandwidth to watch shows on Kodi in UHD
Use Kodi on 7 devices simultaneously
Unblocks: Crackle, Netflix, Paramount+, HBO Max, Disney+, DAZN, Sling TV, YouTube TV, and more
Compatible with: Kodi, Amazon Fire Stick, Windows, Mac, iOS, Android, Linux, routers, and more
CyberGhost's optimized servers make it an excellent choice for streaming with Kodi. Just click the "For streaming" tab for a list of Country/Streaming platforms, or you can use the search bar. I easily unblocked my accounts on Netflix, Amazon Prime Video, and BBC iPlayer when I tested CyberGhost with Kodi.
It's fast too. For context, I have a base internet speed of about 60 Mbps, and it dropped to 51 Mbps while connected to CyberGhost. This is a drop in speed of only 15%. As you only need 25 Mbps to watch videos in UHD, you don't experience any lags or slowdowns when using Kodi with this VPN.
The VPN also uses AES-256 encryption to protect your online privacy. It's regarded as the strongest encryption protocol in the world and is approved for use by the United States' federal government. So, you don't have to worry about hackers or snoops accessing your internet activity or personal data while streaming.
For added security, there's a kill switch to prevent any data leaks if your connection to the VPN fails. To ensure that your privacy is always protected, I recommend that you always keep the kill switch on.
The only issue that I had with CyberGhost was that its short-term plans can be pretty expensive and only come with a 14-day money-back guarantee. Fortunately, its long-term plans are more affordable at only $2.19/month. I recommend the 3-year plan for the best value.
You can also use CyberGhost free for 45 days, thanks to its money-back guarantee. I tried it out for myself by requesting a refund via its 24/7 live chat and got my money back on my credit card within 5 days.
OpenVPN security protocol, AES 256-bit encryption, and a kill switch
Unblock international Kodi builds with 2,000 servers in 75 countries
Decent speeds to use Kodi without delays
Use Kodi on an Unlimited number of devices simultaneously
Unblocks: Crackle, Netflix, Paramount+, HBO Max, Disney+, Sling TV, YouTube TV, and more
Compatible with: Kodi, Amazon Fire Stick, Windows, Mac, iOS, Android, Linux, routers, and more
IPVanish offers strong protection when using Kodi, thanks to its Scramble feature obfuscating your traffic. This hides the fact that you're using a VPN, so you can't be identified or blocked. Like ExpressVPN and CyberGhost, its kill switch and IP/DNS leak protection prevent accidental data exposure should your VPN connection suddenly drop (like when your computer goes into sleep mode).
I tested its speeds on the secure OpenVPN and fast WireGuard protocols and got excellent results. On average, OpenVPN gave me speeds of 41.3 Mbps, while WireGuard reached 49.7 Mbps. That means, whichever protocol you choose, you get speeds fast enough for UHD streaming.
Your data is protected by a solid no-logs policy too. This means you can use Kodi confidently without worrying about being monitored or having your data sold to third parties.
I was disappointed that IPVanish wasn't able to unblock Amazon Prime Video or SkySports. However, I had no problem using it with popular Kodi addons like Crackle, Disney+, and YouTube TV.
You can get a long-term IPVanish plan for $3.33/month. I went for the yearly option as the monthly subscriptions are more expensive despite no additional benefits.
Because all subscriptions come with a trustworthy money-back guarantee, you can try IPVanish without risk for 30 days. I canceled my account via the online dashboard, and my refund was processed automatically. The money was in my PayPal account that same week.
FAQs on Best Kodi Builds
Are Kodi builds legal?
Yes, Kodi builds are legal. However, it's important to protect yourself with a VPN when you use Kodi as some builds may cause you to accidentally access copyrighted content. Additionally, all of your Kodi streams and activities are vulnerable to tracking and monitoring by snoops and hackers. A VPN encrypts all of your online traffic, keeping your streaming habits private.
Is Kodi Safe to Use?
Yes, Kodi is mostly safe to use. However, some unofficial builds can contain malware and viruses that may harm your device or compromise your online privacy. This is why you should always take steps to keep yourself safe when using Kodi.
What devices can I use Kodi with?
Almost all devices are compatible with Kodi. Just make sure you also choose a VPN that's compatible with Kodi devices. Kodi compatible operating systems include:
Windows
Mac
Android
iOS
Linux
Amazon FireStick
Smart TVs
tvOS
Raspberry Pi
Try ExpressVPN For Kodi Risk-Free Today
Get the Best Kodi Build Now
Trying to get the right Kodi build can be tricky. All the builds I listed have been tested and found reliable and secure. I always recommend using Kodi with a VPN to protect your online privacy.
My top choice VPN for Kodi Builds is ExpressVPN. It comes with super-fast server speeds for streaming and solid security features to help you stay safe with Kodi. You can try ExpressVPN completely risk-free, thanks to its 30-day money-back guarantee. If you're not satisfied, you can always get a full refund.
To summarize, the best VPNs to use with Kodi Builds are...
Privacy Alert!
Your data is exposed to the websites you visit!
The information above can be used to track you, target you for ads, and monitor what you do online.
VPNs can help you hide this information from websites so that you are protected at all times. We recommend ExpressVPN — the #1 VPN out of over 350 providers we've tested. It has military-grade encryption and privacy features that will ensure your digital security, plus — it's currently offering 49% off.