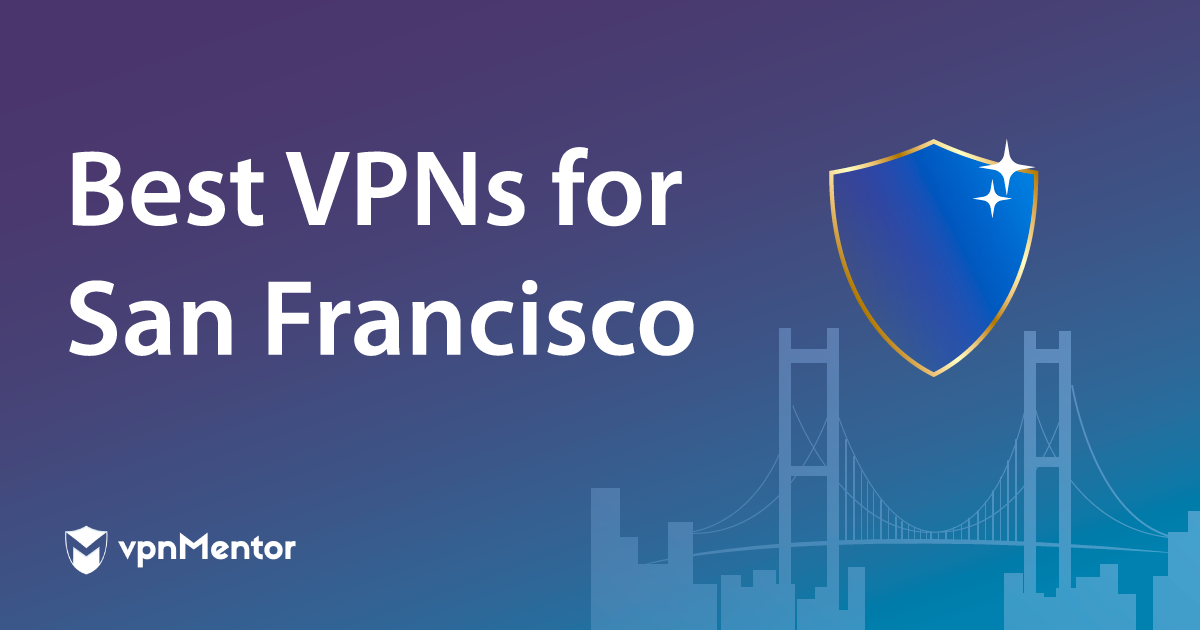 The Best VPNs for San Francisco in 2023
Finding the right VPN for you can be a difficult task, especially if you are looking for a VPN that can change your IP address to a specific location, such as San Francisco.
Fortunately, we've tested hundreds of top-quality VPNs across a range of performance criteria, with the view of finding you the best VPNs for San Francisco.
We checked all the best VPNs without servers in San Francisco, and we're told these VPNs currently have no plans for servers within the city.
All of these VPN providers have been tested to make sure they provide the fastest speeds along with fantastic security, keeping you anonymous and your files safe.
Without further ado, here are the best VPNs for San Francisco!
Short on time? These are the best VPNs for San Francisco in February 2023
ExpressVPN – provides the best security standard in the business
CyberGhost – has fantastic streaming and public WiFi encryption
VyprVPN – offers great access to restricted countries
What to Look for in a VPN for San Francisco
There are a number of things you need to look for when choosing a VPN for San Francisco. The first (and most important) of these is making sure the VPN provider has servers in and around that area. We've saved you time by finding all of the best VPN providers in and around San Francisco.
Secondly, you need to make sure your potential VPN provider supports the operating system you are using. Whether that is Microsoft, macOS, iOS, Linux, Android, or any other available platform.
Given that most VPNs provide a different balance between speed and security, it's also crucial you find a VPN that considers these elements perfectly for the tasks you have in mind. For example, if you plan on streaming, great access to sites and fast connection speeds should be your priority. If you want to share files, however, excellent security and encryption should be what you are looking for.
In terms of product features, there are a few aspects that make up a 'good' VPN:
Fast speeds and a reliable connection for better streaming and web-surfing.
Access to all of the best streaming sites, including Netflix, Amazon Prime and BBC iPlayer.
Military-grade encryption, to make sure you stay completely anonymous when using your VPN.
Added security features and a no-log policy - which will help keep your files and data anonymous and secure.
A Multiple device policy that allows simultaneous connections, so you can use your VPN with all of your technologies.
Servers in multiple locations, which will give you a bigger list of IPs to choose from.
The Best VPNs in San Francisco – Full Analysis (Updated February 2023)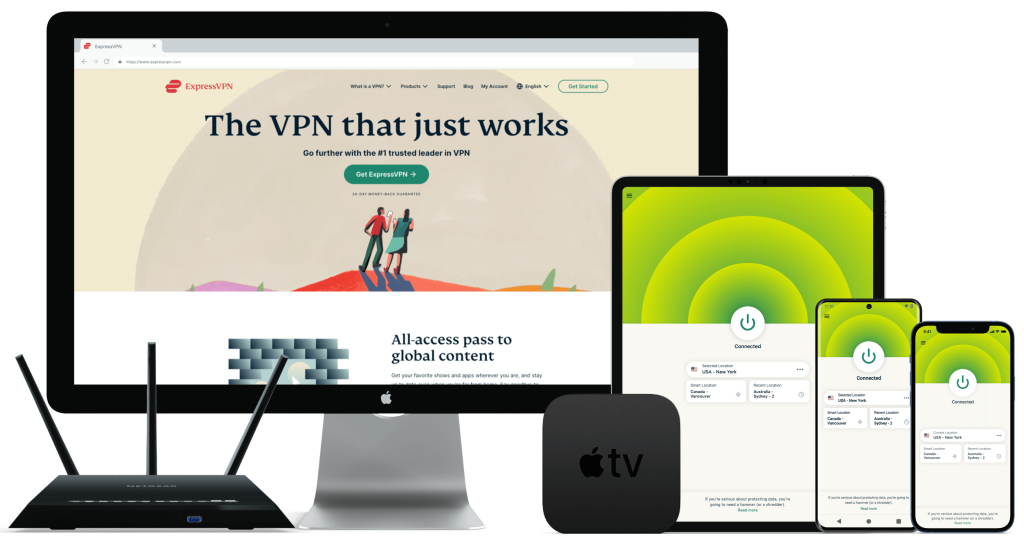 Editor's Choice
Editor's Choice

Tested February 2023
Try Risk-Free for 30 Days
Available on:
Chrome
Router
Smart TV
More
www.ExpressVPN.com
Loads of locations – with 160 VPN locations in 94 countries across the globe
Fast connection speeds for streaming
Private DNS for safer and faster connections
ExpressVPNs own advanced security feature – TrustedServer Technology
Works with Netflix, Hulu, Disney +, BBC iPlayer, Amazon Prime Video, HBO, and more
Compatible with





































Unfortunately, ExpressVPN does not reveal exactly how many servers they have in San Francisco but we do know they have based on their extensive server list.
ExpressVPN has been one of the best VPNs, as it manages to consistently provide fantastic connection speeds, along with arguably the best security features available.
This is down to their innovative TrustedServer technology, which wipes your data with every reboot. ExpressVPN also has a no-logs policy, so they don't keep your data anywhere else either. This means you can surf worry-free without thinking about hackers.
ExpressVPN provides some of the most reliable access to a host of streaming services. Along with their fast connection speeds, this makes ExpressVPN an all-round great VPN - whether you are looking for top-level security and encryption, or for fantastic streaming.
ExpressVPN provides a 30-day money-back guarantee with every purchase.
See the full test results in our ExpressVPN review.
Unlimited WiFi protection that encrypts all of your traffic
Optimized servers for streaming
Military-grade 256-bit encryption with secure transactions and conversations
Works with Netflix, BBC iPlayer, Hulu, YouTube, Prime Video, HBO, ESPN and more
Compatible with


































CyberGhost currently has 45 servers in San Francisco.
If you are looking for outstanding encryption, then CyberGhost could be the best VPN for you.
Their top-level 256-bit encryption software comes with unlimited WiFi protection. This means that CyberGhost will detect whenever you have joined an 'insecure' public connection (like a cafe or airport WiFi) and will automatically encrypt all of your traffic and activity.
It's also worth noting that CyberGhost has servers specifically designed for streaming, which is an added bonus. Using these servers will mean less buffering and better image quality on a host of streaming sites, like Netflix and Amazon Prime.
All of this makes CyberGhost one of the finest VPNs for public network surfing and streaming, as it offers mega-fast connections along with a number of useful security features.
CyberGhost provides a 14-day money-back guarantee on 1-month plans, and a 45-day money-back guarantee with long term plans.
See what our users had to say about CyberGhost.
70+ global locations
Fast connection speeds for streaming and web-surfing
Trademarked Chameleon technology for access to restricted network locations, such as China and Russia
VyprVPN Cloud for enhanced file sharing encryption
Works with Netflix, Hulu, Sky Go, HBO, Amazon Prime, ITV, ESPN and more
Compatible with































VyprVPN does not reveal server counts for San Francisco, but with over 700 servers worldwide, they provide great connections in the area.
VyprVPN possesses some groundbreaking features that make this one of the best VPNs money can buy. An example of this would be the VyprVPN Cloud feature, which provides a user-friendly layer of encryption when you are accessing your cloud-based files (like Dropbox files or Google Docs). This makes sharing your files with another person really secure on VyprVPN.
Another unique feature is VyprVPN's patented Chameleon technology. Chameleon will open up access to restricted network locations, like China and Russia. Along with great connection speeds and website access, this makes VyprVPN perfect for streaming and surfing in these restricted locations.
VyprVPN comes with a 30-day money-back guarantee with every purchase.
See how VyprVPN measures up in our full review.
The following VPNs do not have servers in San Francisco, but do have numerous locations in the surrounding area and are still very effective.
An amazing network, with 29,650 servers in 84 countries
Mega-fast connection speeds
Use up to 10 devices simultaneously
Fantastic file sharing encryption
Works with Netflix, Hulu, Disney+, Amazon Prime Video, and BBC iPlayer
Compatible with


































Private Internet Access provides 380 servers in the state of California.
Private Internet Access is a great user-friendly VPN with a simply brilliant network of 29,650 servers across 84 countries. This means Private Internet Access has more server locations than just about any other VPN. Think of a destination you'd like to search from, and the chances are they have it!
With fast connection speeds and loads of added encryption when web-browsing and sending emails, Private Internet Access is perfect for the user who wants instant, secure access to a number of different IP addresses.
This VPN offers solid access to streaming sites, too, so if you'd like to stream from a number of locations - Private Internet Access could be the VPN for you!
Private Internet Access comes with a 30-day money-back guarantee.
See how Private Internet Access measured up in our review.
Try Private Internet Access Now!
200 servers in 63 countries
Military-grade 2048-bit encryption
Reliable speeds and dedicated Netflix servers
Fantastic 24/7 customer support
Works with Netflix, HBO, Hulu, BBC iPlayer, Sling TV, Kodi and more
Compatible with

























PrivateVPN does not provide specific information on their servers, but with numerous server locations across the USA, they are still a great option.
PrivateVPN offers a different kind of encryption to the industry-standard 256-bit. In fact, PrivateVPN's 2048-bit encryption is meant to be one of the most advanced options you can get. With this level of encryption, you can stream in HD and surf the web at ultrafast speeds, whilst also maintaining an unbreakable level of anonymity and security.
PrivateVPN also offers a fantastic level of customer support, whereby you will be connected directly to one of their in-house developers, and not redirected to a call center. This means your issues can be solved quickly and easily.
If you are looking for a great security-focused VPN, PrivateVPN is a really good option!
PrivateVPN comes with a 30-day money-back guarantee.
See our comprehensive PrivateVPN review for more information.
1,040 servers across 210+ countries
Super-fast 20Gbps connection speed
IP shuffle keeps you secure and encrypted at every moment
Military-grade 256-bit AES encryption
Works with Netflix and BBC iPlayer
Compatible with




























HideMyAss has loads of servers nearby San Francisco, with 97 servers in San Jose, and 210 servers in Los Angeles.
HideMyAss is a UK-based VPN that offers some interesting security features, along with the promise of great connection speeds.
IP shuffle is one really good feature. This randomizes your IP address regularly to maintain your anonymity and security, evading any potential hackers. You can choose how often this feature works, from once every 10 minutes to once-a-day.
HideMyAss is also great for super-fast web-browsing. It promises regular speeds of 20Gbps across many of its 290 locations, meaning you won't experience lag or page-buffering as often as some other VPNs.
If you need to change your IP address regularly, and from a range of places, HideMyAss could well be the best option for you!
Hide My Ass comes with a 30-day money-back guarantee.
Find more information in our HideMyAss review.
Over 2,600 servers
Fastest Tunnel finds the fastest available server
SplitBear and Trusted Networks options add customizability
VigilBear keeps your data secure and protected
Works with Netflix (occasionally)
Compatible with

























TunnelBear does not break down specifics about their servers, but does offer locations across the United States.
TunnelBear is a simple but effective VPN with a lot of design that keeps your data well protected, whilst handing an element of choice back to the user.
They offer good customizability with their service. SplitBear works like split tunneling, and can allow you to choose where and when your VPN is blocked. Trusted Networks provides even more options here, as you can create a list of networks that TunnelBear considers 'safe'.
With over 2,600 servers to choose from, you are certain to find a fast server in your desired location. You don't have to trawl through loads of servers either - TunnelBear's Fastest Tunnel feature will find you the quickest server to connect to, right away.
TunnelBear does not currently offer a 30-day money-back guarantee, and deals with refunds on a case-by-case basis.
See what our users thought about TunnelBear.
Servers across 67 countries
Free version available
Perfect Forward Secrecy protection
Military-grade encryption
Works with Netflix, Hulu, HBO and more
Compatible with




























Proton VPN has great server coverage in 67 countries, including 330+ locations in the US. You'll never struggle to find a suitable connection.
Perfect Forward Secrecy provides extra security by making your encryption key impossible to capture. This means your personal information cannot be extracted from your encrypted traffic. You won't need to worry about your privacy being compromised.
AES-256 encryption enhances your online security further. This provides you with bullet-proof protection against data leaks, so you can be confident your online experience is 100% secure.
Since this VPN is based in Switzerland, you can also rest assured that your data won't be leaked or sold. Swiss-law offers some of the most stringent no-logs privacy protection in the world, being outside of the 14 eyes surveillance agreement.
To try some of the features, Proton VPN offers a slimmed-down free version. You'll only be able to connect to 3 countries with 1 device however, so a better option may be to use the 30-day money-back guarantee to try the full version. This will allow you up to 10 simultaneous connections and the highest speeds.
See the full test results in our Proton VPN review.
Which VPN is Right for You?
We believe these are the best VPNs you can get for San Francisco. Choosing which of these options is right for you has a lot to do with what tasks you are looking to carry out.
ExpressVPN provides superfast connections and unblocks many streaming services. It also has strong security features, so you're sure to be protected online.
Other vendors offer great encryption, usability, and fantastic security options. If any of these criteria stand-out as important to you, then you should certainly give them a try. With most of these VPNs offering a full 30-day money-back guarantee, your choice is protected – so feel free to look around!
FAQ
What is the best VPN for San Francisco?
With its vast network of reliable servers, ExpressVPN is the best choice available. However, all the VPNs I shortlisted work great in San Francisco.
Can I use a free VPN in San Francisco?
Whilst there are a few free VPNs to choose from, they won't offer the same advanced features as a premium VPN provider. This can mean slower connection speeds, and a lower level of security compared to paid-for VPNs.
These VPNs can also limit your choice of servers unless you upgrade, and may not allow you to connect to San Francisco servers, or servers in the surrounding area.
Many of our VPNs have money-back guarantees, and you can try them free for a month.
Is a VPN legal in San Francisco?
VPNs are completely legal in the majority of countries and cities worldwide, and San Francisco is no different.
There are a few countries where the use of a VPN is not legal, such as in Russia and China.
Even here, you should not worry about using a VPN. VPNs are extremely advanced in hiding your IP address and location – so there's no way of anyone knowing who you are.
Which VPN is fastest?
There are several VPNs on this list that will provide you with a really fast connection.
Private Internet Access and Hide My Ass both promise fast connection speeds, but if you want to know what tops the speed charts, you should consider ExpressVPN.
How can I get a San Francisco IP address?
With our top-rated VPN you can choose a server in San Francisco, and then any site you visit will think you are in San Francisco, no matter where you are in the world!
VPNs feature loads of locations to choose from, and most VPNs have desktop and mobile apps available, so you can use them on-the-go, 24/7.
To summarize, the best VPNs in San Francisco are...
Privacy Alert!
Your data is exposed to the websites you visit!
The information above can be used to track you, target you for ads, and monitor what you do online.
VPNs can help you hide this information from websites so that you are protected at all times. We recommend ExpressVPN — the #1 VPN out of over 350 providers we've tested. It has military-grade encryption and privacy features that will ensure your digital security, plus — it's currently offering 49% off.