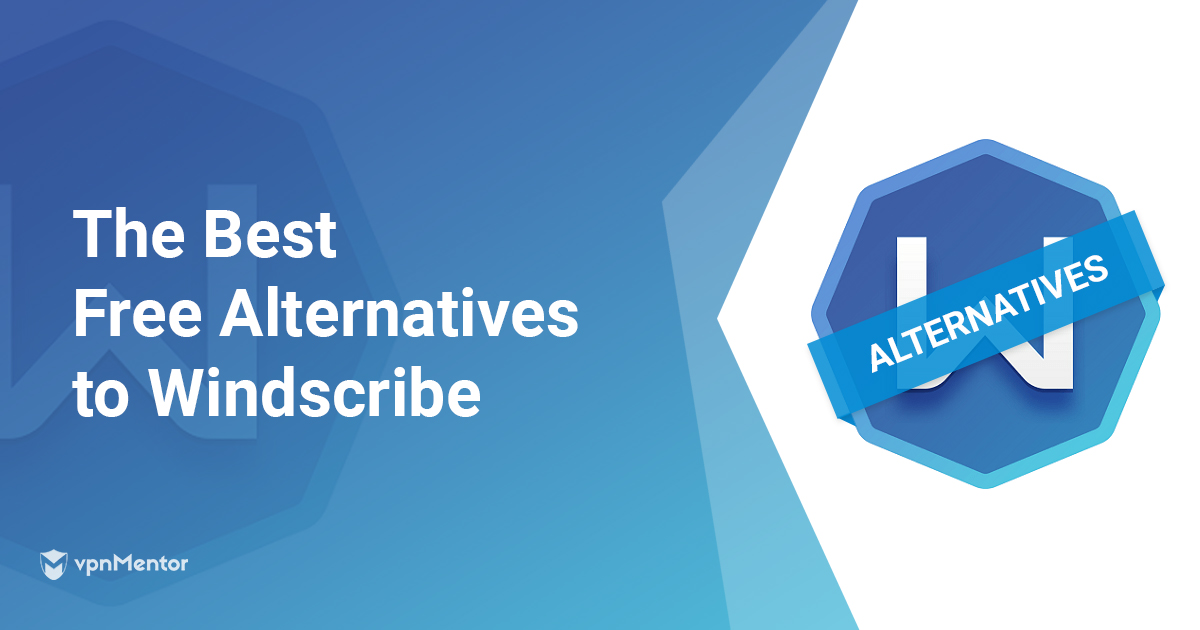 6 Free Alternatives to Windscribe – Safe & Fast VPNs for 2023
While the premium version of Windscribe is a solid and affordable VPN, the free version remains very popular in spite of its limitations. It provides good security with AES-256 encryption and you get up to 10GB of data per month – generous in comparison to many other free VPNs.
However, if you stream videos or download torrents, you'll run up against free Windscribe's data cap quickly.
We like Windscribe's commitment to your privacy even if you don't pay for a subscription. Unfortunately, the free version of Windscribe won't unblock US Netflix, and only gives you access to servers in 11 countries. You'll likely experience sluggish speeds due to heavy server load.
The reality is, free VPNs always have drawbacks by design. Limited features, data restrictions, and slow speeds are to be expected because the provider wants you to upgrade to paid plans. If no paid plan is available, the VPN might jeopardize your security to make money off your use.
If you're using free Windscribe and want more features and data without paying to upgrade, or you're just searching for the best free VPNs, this article is for you. Depending on your needs, there are ways to get a VPN with premium features without paying a penny.
Is a Free VPN Right for You?
If you just need to briefly hide your IP address in order to bypass a relatively weak geoblock or browse sites restricted by your workplace or internet provider, a free VPN might seem like an attractive solution, and some of them will do the job nicely.
However, when it comes to offering a choice of high-speed servers around the world, providing advanced features for easy use and complete security, or unlocking Netflix, BBC, Hulu, and other popular streaming sites, free VPNs frequently fall short.
A good VPN costs money to design and maintain. At the end of the day, whether they are free to use or not, VPNs are for-profit businesses.
So just like Facebook, YouTube, or any other digital service, VPNs must make money off their service somehow. If they don't charge a subscription fee, you end up paying in other ways.
Know How Your Free VPN Works and What the Trade-off Is
To pay the bills, most free VPNs host ads from third parties. Apart from being annoying, those ads can slow down your connection or even link to dangerous sites and put your device at risk from malware.
Some free VPNs even sell your browsing data to third parties, completely negating the most important reason to use a VPN in the first place – protecting your privacy online.
As a general rule, free VPNs that don't offer an option to upgrade to a paid plan are more likely to host ads or use technology that compromises your security. For that reason, we recommend choosing a free VPN from a provider that also offers a paid version of its service.
How to Get a Premium VPN FREE for a Short Time
Before getting to our list of the most trustworthy free VPN alternatives to Windscribe, we want to let you in on a great trick to get all the savings of a free service with none of the compromises.
The best premium VPNs offer free trials or money-back guarantees, which are ideal if you want to use a VPN temporarily but don't want the restrictions that come with most free services. Just make sure to cancel the service within the time allowed to get your money back.
Using this technique, you can have the peace of mind of ironclad security and the most effective geoblock bypassing, along with no data limits, no ads, and no logging of your data, all at no cost.
If you want to test out a premium VPN for free using a trial or guarantee, these are our top picks.
CyberGhost offers a growing network of over 9,758 servers, cross-platform compatibility, 7 simultaneous connections, and user-friendly features like a choice between auto-connect (to the best available server worldwide) or manually picking a specific location and server.
A 7-day free trial of CyberGhost is available for Windows, Android, and iOs users, and everyone gets the assurance of a 45-day refund policy. Simply contact the customer service team via live chat to arrange for your refund.
Start Your Free CyberGhost Trial Now
ExpressVPN lives up to its name, consistently winning top honors in our VPN speed tests. Like other premium VPNs, it is secured by military grade, AES 256-bit encryption. A network of over 3,000 servers worldwide makes this one of the best geoblock breakers on the VPN market.
You can try ExpressVPN with its a "no questions asked" money-back guarantee for 30 days.
Start Your Free ExpressVPN Trial Now
Hotspot Shield offers a free version of its service (see below), but its paid version is pretty impressive. It includes unlimited bandwidth on up to 5 devices at once, along with the unique Catapult Hydra protocol, which compresses transmissions for maximum speed.
A 7-day free trial is available for Hotspot Shield Elite, and the money-back guarantee on all plans extends to 45 days after signing on, even if you only purchase a one-month subscription. So if you forget to ask for a refund before the month ends, you still have 15 days to do it.
Start Your Free Hotspot Shield Elite Trial Now
If you are still looking for a completely free VPN service to replace Windscribe, read on.
The Best Free Alternative VPNs to Windscribe
No free VPN is anywhere near perfect, but there are some good options out there if you keep your expectations about speed, security, and other features realistic. These are our favorites.
You'll need Hotspot Shield's paid plan (Elite) if you want to access hard-to-reach content like Netflix, but the provider's basic version is one of the better free VPN options. You'll get fast speeds and AES-256 (military-grade) encryption to keep your identity safely hidden.
The trade-offs here are third-party ads, limited unblocking capabilities, and a low monthly data cap.
Pros
Military-grade encryption
Cross-platform compatibility
Reliably fast connection speeds
Cons
Built-in ads
Monthly data cap 500MB
Not good for Netflix, Hulu, and BBC streaming
If you can live with the hassle of ads and your browsing is generally light, Hotspot Shield free may serve you well. Just remember that the provider hopes to steer you toward the Elite paid service.
For example, you will come up against built-in paywalls if you try to access popular streaming services like Netflix. To remove these restrictions, you will have to sign up for Elite – but remember to take advantage of the free trial!
TunnelBear's free version has some features we love, like auto-startup, "GhostBear" double encryption, a strict no-logs policy, and a kill switch that protects your data if your server connection is unexpectedly interrupted.
We also like that TunnelBear offers its full range of features on its free service. The only major compromise is a strict data cap at only 500MB per month. While you can get an additional 1GB if you tweet about TunnelBear, you'll need the unlimited paid plan if you do much streaming.
Pros
No logs
Auto-connection feature
AES 256-bit encryption
Kill switch
Option to get a bigger data allowance by promoting TunnelBear
Cons
Monthly data cap 500MB
Server locations in only 47 countries
Interestingly, TunnelBear's main shortcomings – policies forbidding P2P activities, a small server network, no live chat customer service, and inconsistent access to Netflix, Hulu, and BBC – are present in both its free and paid versions.
One of the biggest advantages of Proton VPN (from the creators of Proton Mail) is the lack of data caps for free users. However, the free version is significantly slower than the paid version and allows only one connection per account.
The free plan also only grants you access to 3 of network's roughly 300 servers. Furthermore, while P2P activities such as torrenting are supported on paid Proton VPN plans, they are forbidden on the free plan.
Pros
AES-256 encryption
No logs
DNS leak protection
Kill switch
No data caps
Cons
No iOS version yet (still in development)
P2P not available
Server locations in only 67 countries
Slower speeds
Security and privacy are the highlights of Proton VPN's free plan. In addition to providing the strongest level of encryption and the most secure VPN protocols (OpenVPN and IKEv2), the company is governed by tough Swiss privacy laws that guarantee your anonymity.
Overall, the free, no-frills Proton VPN service is not bad, but it's very light on features compared with other Proton VPN products.
Hide.me caps data for its free service at 2GB per month – not enough to torrent or watch your favorite shows and movies, but not bad in comparison to other free VPNs. It doesn't host ads, doesn't keep user logs, and offers good customer support, all wins with a free service.
Pros
No logs
Good customer support
No ads
Cons
Monthly 2GB data cap
Connects to only 3 locations
Fewer features than the paid version
OpenVPN protocol not supported
The biggest drawback of Hide.me's free service is that you will be limited to just 3 server locations, whereas the paid service includes access to servers in 28 countries.
Hide.me (either free or paid) is also not recommended to unlock streaming sites like US Netflix.
Up until recently, OperaVPN was one of the most popular free VPNs around, but the apps were retired in April 2018. The provider now only offers a built-in browser proxy that is inaccurately labeled as a VPN.
While this proxy service still performs some of the functions you expect from a VPN (e.g. it can change your IP address and includes some tools that will block tracking), it doesn't offer encryption and has other major shortcomings.
Pros
Minimal setup – just download the Opera browser and click "enable VPN" in the settings
Able to change your IP address
Cons
Not a true VPN – it's a proxy (no encryption)
No protection outside the browser
Logs information and uses it for marketing purposes
No cross-platform compatibility – only available via Opera browser
Limited to 3 location choices
No support for torrenting
In addition to lacking most of the security measures you would expect from a good VPN, OperaVPN also keeps logs and admits to using your information for "limited" marketing purposes.
Really, the only advantages of OperaVPN are nearly instant installation and the ability to turn it on and off right in your browser settings. Given how little the service has to offer, we would advise looking elsewhere for a free VPN that doesn't compromise your security.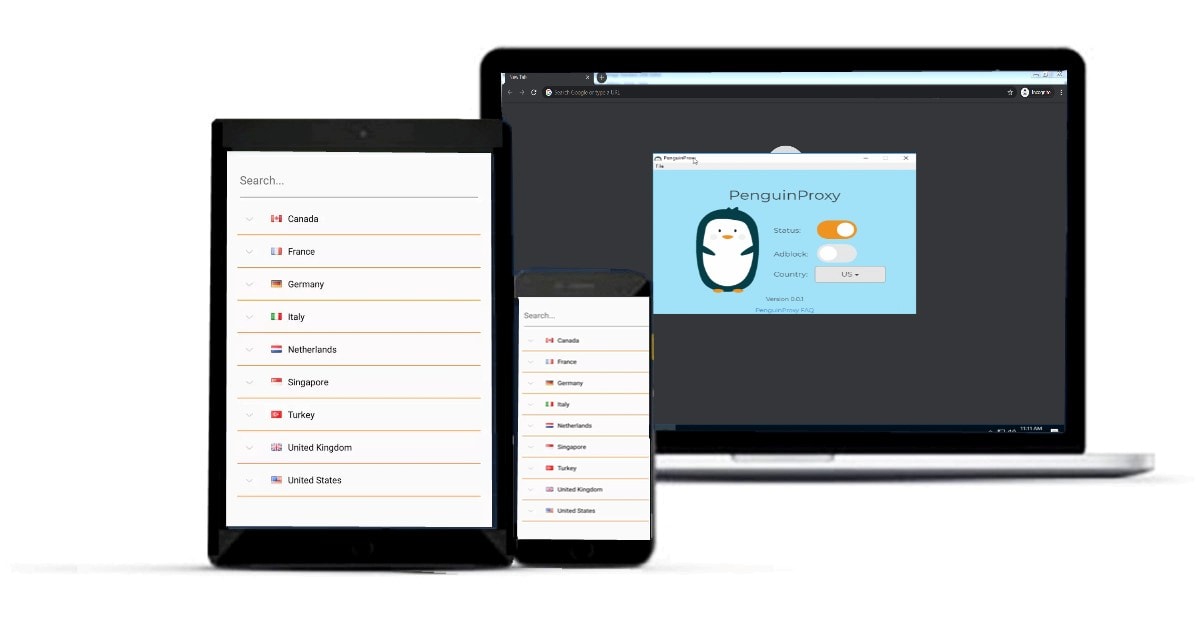 If unlimited data and global access are your top priorities, newcomer Penguin Proxy should be on your short list of free VPNs. Unlike top VPNs, however, it doesn't use true end-to-end encryption.
The provider recommends using HTTPS Everywhere to get additional encryption at the website level.
Since it is actually a P2P proxy server service, Penguin Proxy relies on the number of participating users for speed and access to different regions. Unfortunately, the P2P nature of the service also potentially exposes you to viruses or malware from other users.
Pros
No ads
Won't sell your browser history
No speed or data limits
No logs
Accesses US Netflix and the BBC iPlayer
Cons
May not stay free; provider plans to offer paid service in the future
Lack of VPN tunneling protocols means less security than end-to-end encryption
P2P structure creates some security risks
Penguin Proxy is an exception to the rule that all VPN providers are seeking a profit. The service is currently a "proof of concept" project, which means it's not supposed to make money at this stage.
Penguin Proxy has stated that it won't ever sell browser histories or host ads, but does plan to monetize the service in the future, most likely by adding a paid subscription tier.
Summary
If you just need a VPN for a few minutes – perhaps while you access a restricted website or use an open wi-fi network – then a free option could be all you need. But like Windscribe itself, ALL free VPNs have limitations, and some even involve security risks.
Remember that because VPN providers need to make money, you always end up paying in some way, whether it's in slow speeds or data caps intended to influence you to step up to a paid service, or in ads and data harvesting that result in compromised security and lost privacy.
That's why if you're looking for a free VPN service for a few days or weeks, we strongly recommend using the free trials and money-back guarantees offered by premium providers.
When you're ready to commit to a VPN that will give you all the protection, speed, and access you want, check out our amazing deals page to see how close to free the very best VPNs can be.
Try CyberGhost Risk-Free Today!
The Best Premium alternatives to Windscribe in 2023 are...