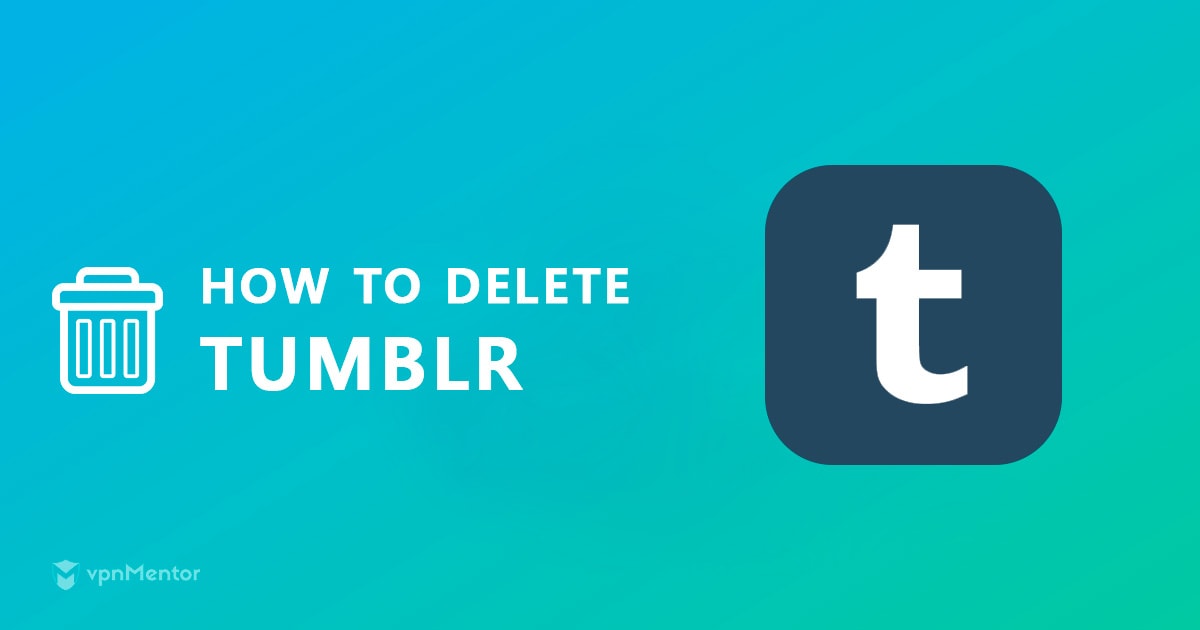 How to Delete Your Tumblr Account Permanently - 2023 Update
Popular microblogging site Tumblr has been no stranger to controversy.
In late 2018, they announced a blanket ban on 'adult content'. This followed the iOS store temporarily removing the app after it discovered Tumblr had been used to share child pornography. Tumblr's reputation as a site where 'anything goes' disappeared in an instant, along with many of its users.
But it isn't just adult content that has users concerned. There have been a number of privacy breaches that are also worrying.
In 2016, Tumblr announced that hackers had accessed user addresses and salted and hashed passwords, going back to 2013. What they didn't say was that hackers now had access to users' email addresses that could fall victim to malware or phishing emails, whilst looking like a genuine communication from Tumblr.
Then there was an incident in late 2018, where Tumblr disclosed that they had fixed a bug that could have once again exposed usernames and passwords, as well as individual IP addresses.
The bug existed in the 'Recommended Blogs' feature of the desktop version of the app, where if a blog appeared in this module, debugging software could be used to expose certain account information.
Tumblr claimed that there was no evidence that any data had been exposed, but the existence of such a bug is still a worrying development.
Finally, we get to their bizarre privacy settings. Users have to go to extreme lengths to disable sharing data with their ad partners.
If you choose to manage your options before accepting their cookies policy (which you have to do before you can use your account), you have to manually turn off sharing data for over 300 separate partners. There is no guarantee these preferences will stick, as many users have had theirs reset to the default setting after logging out.
If there has been one privacy concern too many with Tumblr, you may want to disable your account. This article will show you how to delete your Tumblr account permanently.
BE AWARE:
Every click, every share, and every download can be and is tracked, stored, and sold by app creators, internet service providers, and telecom companies.
Only a VPN like ExpressVPN can protect you
 and prevent these third parties from collecting and selling your sensitive data.
Get better privacy TODAY with ExpressVPN!
Deactivating vs Deleting: What You Need to Know
With a Tumblr account, you will have your primary blog, where you can post content and which you can use to follow other blogs.
After setting up your primary blog, you have the option to set up secondary blogs, which you can set up as private membership groups, restricting who you share information with. All blogs are connected to the original Tumblr account used to create them.
You have the option to delete your Tumblr account completely or to delete any of the secondary blogs individually.
Deleting a secondary blog won't affect your primary blog or Tumblr account. However, you can only delete your primary blog by deleting your entire Tumblr account. This means that you will be removed from any groups you have joined and lose any accumulated Tumblr credit.
Once your Tumblr account is deleted, your username and blog URL will go back into the pool for reuse. Therefore, if you change your mind and want to return to Tumblr in the future, they may no longer be available.
Deleting A Secondary Tumblr Blog
To delete one of your secondary blogs on Tumblr, follow these simple steps:
On the smartphone app:
Log in to your Tumblr account, and click on the 'Account' icon, which is the person-shaped icon.
Select from your list of blogs the one you want to delete.
On the iOS app, swipe left on the blog and choose 'Delete'. On the Android app, select the gear icon (settings) and chose 'Delete this Tumblr'.
On a web browser:
Log in to your Tumblr account and select 'Settings' from the dashboard menu.
Select the blog you wish to delete.
Click 'Delete Blog' at the bottom of the screen.
Your Tumblr blog is now deleted, but your account, along with its messages, likes, themes, and posts will be intact. You can continue to use Tumblr as usual.
Downloading Your Tumblr Data
If you are considering deleting a Tumblr blog or account, you may want to download your data before losing it forever. To request a download of your Tumblr data:
Access the Privacy Dashboard, scroll down to 'Download Your Data'.
Click 'Request a Download' and select all the data you wish to download.
Click 'Next' and enter the email address where you'd like to be notified when the download is ready.
Click 'Request Download'. NOTE: It may take up to 30 days for your request to be processed.
When notified that your download is ready, revisit the Privacy Dashboard.
Again scroll to 'Download Your Data' and this time click 'Your Download Requests.'
Click 'Download'. Your data will be downloaded in JSON format.
Step-By-Step Guide: How to Delete Your Tumblr Account
You can't permanently delete your Tumblr account through the app. It must be done through a web browser, by following these simple steps:
Log in to your Tumblr account. If you signed up for two-factor authentication (TFA), enter the code sent to your mobile device.
Click on the 'Account' icon and select 'Settings'.
Scroll to the bottom of the page and select 'Delete Account'. 
You will be directed to a screen asking if you are sure. Confirm by entering your email address and password and click 'Delete Everything'. If you have TFA on your account, re-enter your email address and the authentication code sent to your mobile device.
You will be reminded of Tumblr's Terms of Service and Privacy Policy, which outlines how their partners and vendors use cookies. If you are happy to proceed, click 'Accept'.
Your Tumblr account is now deleted, along with all associated blogs and data.
Other Ways to Keep Your Data Private Online
There have been a number of incidences in which the data of users of social media networks were left vulnerable, with the Cambridge Analytica scandal of 2018 being the most high profile. It certainly made more of us aware of the risks we take when sharing information online.
There are a number of measures you can take to increase your security and improve your privacy online. One such way is to protect your mobile phone. For many of us, losing our smartphone is not an option as it essential to our professional and social lives. However, the amount of data that hackers can take from a mobile phone is staggering.
Luckily, many VPN providers now have smartphone compatibility, both with iPhone and Android devices. By installing a VPN on your phone you will be protecting and encrypting your phone's data via a secure online connection, no matter where you are.
When making phone calls, a Voice over Internet Protocol (VoIP) will offer strong end-to-end encryption through a secure internet connection. Many VoIP apps will also have an option for sending encrypted text messages also.
If you want to know more about keeping your data secure online, check out our comprehensive guide.
Privacy Alert!
Your data is exposed to the websites you visit!
The information above can be used to track you, target you for ads, and monitor what you do online.
VPNs can help you hide this information from websites so that you are protected at all times. We recommend ExpressVPN — the #1 VPN out of over 350 providers we've tested. It has military-grade encryption and privacy features that will ensure your digital security, plus — it's currently offering 49% off.