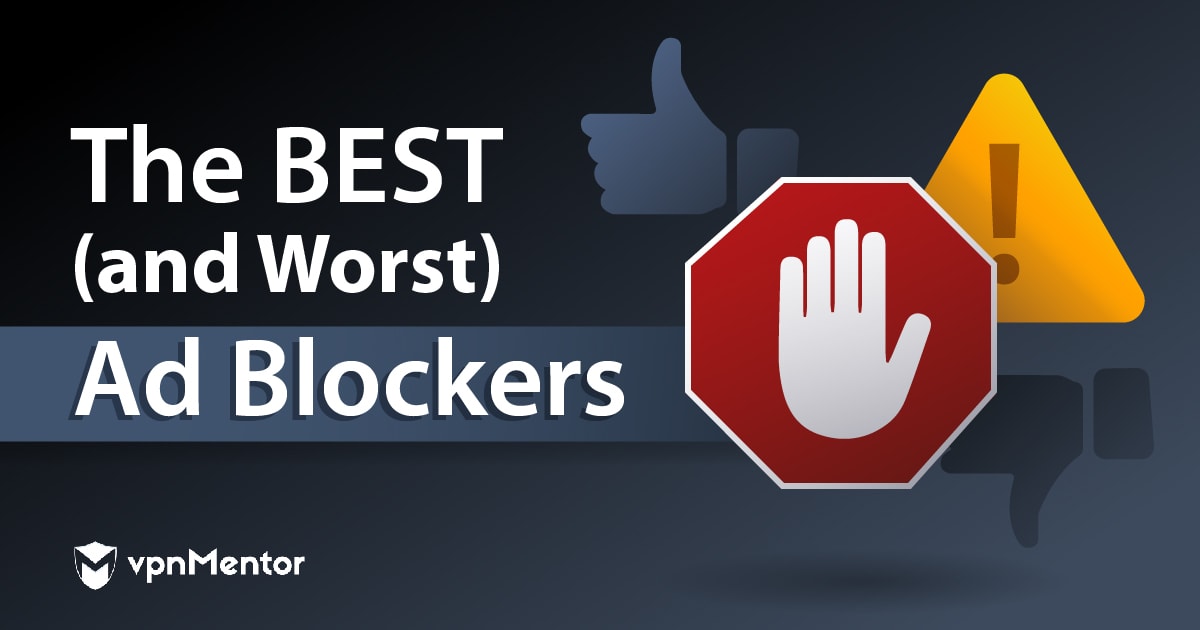 10 Best Ad Blockers for Chrome, Safari & Other Browsers in 2023
Updated on 23rd January 2023
Many ad blockers are ineffective — some can even be dangerous. They often fail to block pop-ups, banners, and YouTube video ads that can delay loading times and waste bandwidth. Even worse, some have been known to track your data, sell it to third parties, and even infect your device with malware.
However, I tested 30+ ad blockers with an online tool and found a few reliable options. My list of recommended ad blockers allow you to browse, stream, and torrent without interruptions. More importantly, they do so without compromising your safety.
CyberGhost's Block Content feature is the best ad-blocking solution. It's more powerful than a regular ad blocker since it also prevents malicious sites and links from infecting your device, whether desktop or mobile. Plus, CyberGhost offers its very own private browser to help you double up on ad prevention. You can test CyberGhost for free with its 45-day money-back guarantee. If it's not what you're looking for, it's easy to claim a refund.
Short on Time? Here Are the Best Ad Blockers in February 2023
Block Content by CyberGhost — Super effective ad and malware blocker, especially when combined with its private browser. Plus, VPN encryption to hide your personal data from trackers and advertisers on desktop and mobile.
Brave Browser — A free, private browser with integrated ad and tracker blocking and an ad-free search engine that doesn't track your searches. However, its opt-in self-promotional ads program has been subject of controversy.
Private Internet Access MACE — Effectively blocks ads and trackers at DNS level, combined with the strong security and privacy of a VPN. Available for browsers, desktop, and mobile.
uBlock Origin — Free extension that blocks 89% of ads and trackers including mastheads, pop-ups, and banner ads. Sometimes it blocks non-ad content by mistake.
Opera Browser — A fast, free, and private browser with integrated ad and tracker blocking that blocks 100% of YouTube ads, but lets a few slip through on other sites.
Best Ad Blockers - Full Analysis (Updated for 2023)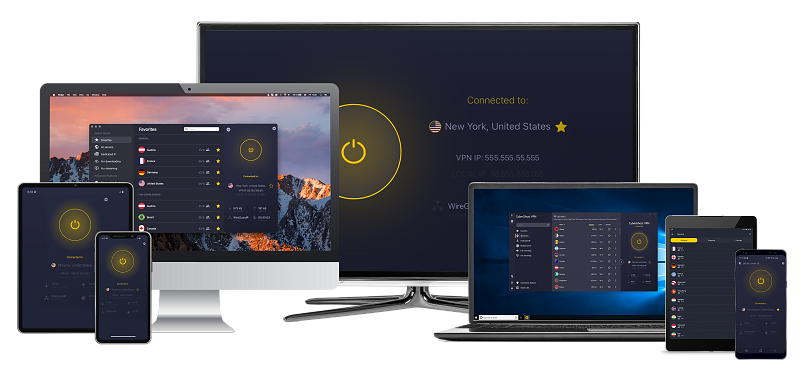 Editor's Choice
Editor's Choice

Tested February 2023
Try Risk-Free for 30 Days
Available on:
Chrome
Router
Smart TV
More
www.cyberghostvpn.com
Block Content feature prevents ads and malware
Encrypts your data and hides your IP from trackers and advertisers for ultimate privacy
No-logs policy ensures it doesn't store any of your browsing data
Chromium-based Private Browser boosts your ad blocking and privacy
Compatible with: Windows, Mac, iOS, Android, Android TV, Fire Devices, and more
CyberGhost VPN offers its Block Content feature to keep your online sessions interruption free. When you enable this feature, it blocks the DNS domains of ads, malware, and trackers. This way, your browsing sessions, device, and privacy are all protected at the same time. Unlike ad blocking extensions, it prevents ads on every app across your device — not just within your browser.
Since CyberGhost encrypts your data and hides your IP address, it prevents advertisers from tracking you. This means you can browse free from annoying "personalized" ads. During my tests, I performed an IP leak test, and there were zero leaks. That means that advertisers and the sites you visit won't be able trace your online activities back to you.
You can block even more ads and improve your privacy with CyberGhost Private Browser (available for Windows, Mac, and iOS). It's based on Chromium and comes with a built in ad blocker, and doesn't track your data. On top of this, it uses DuckDuckGo search engine by default, and clears your cookies and data each time you exit the browser. When I paired Private Browser with CyberGhost VPN, I blocked 90% of ads and trackers.
The only drawback is that its Block Content feature isn't available on iOS (you get it with its Windows, Mac, Android, and FireStick apps). However, you can use CyberGhost Private Browser on iOS. I found that it's worth pairing the 2 if possible — this prevented more ads/trackers/malware than any other ad blocker I tested and it has all the functionality of Chrome.
Long-term plans offer excellent value, you can subscribe for as little as $2.19/month (and Private Browser is included). Keep an eye out for special offers — when I signed up, I got 3 months extra for free. This plan comes with the same features as the short-term plans, however, it's backed by a 45-day money back guarantee (the short-term plans are only 14 days).
Using its money-back guarantee, you can try CyberGhost out risk-free. If you're not completely satisfied, you can easily claim a refund. I put this policy to the test after 32 days of use, and requested my refund via its 24/7 live chat. After a brief chat, the agent agreed, and my money was back in my account within 4 days.
2. Brave Browser — Private Browser With Built-In Ad Blocking
Blocks ads and trackers for a more private browsing experience
Declutters web pages and speeds up loading times
Easily migrates your bookmarks, settings, and extensions from Chrome
Anonymous, ad-free search engine by default
Compatible with: Windows, Mac, iOS, Android, Chrome OS, and Linux
Brave browser uses built-in ad and tracker blocking is excellent at removing ads while browsing. In my tests, Brave blocked 88% of ads and trackers. It also prevented 100% of video ads on YouTube — although, it let a pop-up for premium YouTube slip through. I also like how newly opened windows show how many ads/trackers it's blocked.
Its default search engine is ad-free and gives your browsing a degree of anonymity. When you use the search bar, the results list looks similar to Google, but without ads and sponsored links. Unlike Google, it won't track your browsing — so you know your data won't be sold, handed to third parties, or used to create targeted ads.
It's free to download and you can import your Chrome bookmarks, settings, and extensions with just a few clicks. Brave will prompt you to do this during installation. Migrating is easy because Brave is based on Chromium, so it looks and works just like Chrome. Your web pages will look less cluttered and load more quickly — without all the annoying ads.
There is controversy surrounding Brave's ad program that it uses as a means of making profit. You can choose to receive certain Brave ads in exchange for cryptocurrency. The program is opt-in rather than opt-out though; if you don't want to use it, you don't have to.
MACE protects your device from ads, trackers, malware (sites and links), and phishing
Encrypts your data and hides your IP so advertisers don't track your online movements
Doesn't even allow "acceptable ads" via affiliates or whitelisting
MACE can improve battery life on mobile devices
Compatible with: Windows, Mac, iOS, Android, Linux, Chrome, Firefox, Opera, and more
Private Internet Access (PIA) is a VPN offering MACE to prevent ads, malware, and trackers from interfering with your online activities (on iOS it's called Safari Blocker). I tested MACE across several ad-heavy sites, and it was highly effective. When I visited GQ.com, MACE blocked pop-ups, mastheads, scrolling sidebar, and banner ads — leaving just 2 sponsored links. On CNN.com, it left no ads at all, so the webpage loaded noticeably faster. On Chrome, it blocked an impressive 91% of ads and trackers (although on Safari, it only blocked 63%).
Unlike most ad blockers, it does this at DNS level. This protects not only your browsing sessions, but your entire device. MACE, combined with the VPN's encryption, ensures that your data is hidden from advertisers. While testing, I came across no personalized ads whatsoever. It doesn't even whitelist its self-promotional or affiliate ads. Its blocklist is updated at least once a month and is publicly viewable on the PIA website.
Like CyberGhost, PIA gives you all the security benefits of a VPN, like encryption and leak protection. This means that your browsing activity will be hidden from third-parties trying to track you and target you with ads. It also adheres to a strict no-logs policy, so you know PIA will never track or sell your data.
The only downfall with MACE, is that it's not customizable. For instance, it doesn't provide adjustable settings, like whitelisting. However, this won't be an issue if you wish to block ads, trackers, and malware altogether.
You can get PIA for just $2.19/month with a long-term plan. This option is the most cost-effective — when I subscribed, I even got 1-year of encrypted cloud storage for free. Short-term plans are available, but they are more expensive overall.
You can try out PIA MACE risk-free with its 30-day money-back guarantee. I tested this myself, and the procedure was straightforward. Using PIA's 24/7 live support, I asked for a refund after using it for 25 days. The agent asked one question about my experience and then agreed to issue the return. My money landed back in my account 5 days later.
4. uBlock Origin — Blocks YouTube Video Ads to Save Time and Bandwidth
Stops all YouTube video ads for clutter-free streaming
Blocks ads, trackers, and malware from intercepting your browsing
Vast range of settings to customize your protection
Optimized to conserve memory and prolong battery life
Compatible with: Chrome, Firefox, Edge, and Opera
uBlock Origin blocks 100% of YouTube video ads, which is rare for a free app. During my tests, it blocked 89% of the ads and trackers. On Fandom.com, it blocked header and sidebar ads, leaving only self-promotional ads. On IMDB.com, it removed all masthead and sidebar ads, making for a cleaner browsing experience and helped pages load faster.
Its vast range of settings lets you customize your security, and choose which blocklists to enable. Filtering rules allow you to control how your browser handles host and third-party content (such as large media). By checking, "I am an advanced user", you can adjust uBlock Origin's advanced settings.
uBlock Origin is driven by a unique vision, centered around its users. The initial mission for uBlock was for a free, open-source ad blocker that allows for CPU and memory efficiency and conserves energy. uBlock Origin maintains these values and features, giving you transparency, trustworthiness, and reliability.
I was annoyed that it blocked some non-ad content. For example, on NewYorkTimes.com, various images were whited out. However, by clicking, I got most content to reappear. Unlike the VPNs with ad blockers on my list, uBlock Origin doesn't have a support center, so I couldn't find a permanent fix for this issue. It's also no longer compatible with Safari, as it was in the past.
5. Opera Browser — Prevents Trackers With Integrated Privacy Features
Integrated tracker blocking to hide your data from advertisers
Blocking preferences can be toggled with ease
Seamlessly migrates history, bookmarks, and cookies from other browsers
Compatible with: Windows, Mac, iOS, Android, Chrome OS, and Linux
Opera browser blocks trackers from collecting your data. Trackers don't just record your activity on one site, they follow all of your browsing activities. It even blocks social trackers on TikTok, YouTube, and LinkedIn. This way, advertisers won't personalize ads based on your online activities. It also offers a free VPN, but it's much slower than CyberGhost and cut my speeds by 91%.
You can count on its built-in ad blocker. During my tests, it blocked 71% of ads and trackers. On the Daily Mail, Opera blocked mastheads, left and right-hand sidebar ads, banners, scrolling video, and floating video ads. The only ad it didn't block was from Daily Mail promoting free puzzles. Opera also blocked all video ads on YouTube.
It lets you import your history, bookmarks, and cookies from Chrome, Edge, or Firefox with just 2 clicks. Like Brave, it's also free to download. In addition, adjusting your settings is pretty straightforward. All I had to do was click the blue shield icon in the search bar to open the Privacy Protection dropdown. From here, you can allow or disable ad and tracker blocking, each with a single click.
A minor criticism of Opera is that it only blocks around 40% of ads; Google and Amazon ads weren't blocked. However, since it prevents websites from tracking you, it's most effective at blocking personalized ads.
6. Adblock — Compatible with Mobile to Prevent Ads on Your Phone
Free ad blocking extension that works seamlessly with most operating systems
Block ads to speed up loading times and prolong battery life on mobile
Customizable settings for personalized ad blocking
Compatible with: Chrome, Firefox, Edge, Safari, iOS, and Android
Unlike most ad blocking software, Adblock is available for mobile. It's compatible with iOS and Android, and also offers extensions for most popular browsers. I downloaded its iOS app and the Chrome extension for my desktop — both installed within seconds. I like that it has the same interface across all platforms. This way, it's hassle-free to prevent ads on any device.
It blocked 60% of the ads I tested it with, even on streaming sites, like Twitch. When you're using mobile or a tablet, ads can eat up a significant chunk of your data. Adblock conserves your bandwidth and your battery — saving you time and money.
With "Stop blocking ads", you can whitelist independent sites that you wish to support. For instance, if you have your own site, you can whitelist your URL to see what it looks like to users. Conversely, Adblock gives you the option to allow all ads except on certain domains. I tested this by blocking ads on torrent sites, specifically.
Unlike CyberGhost, Adblock is less adept at blocking trackers, and only prevented 43%. To prevent advertisers from collecting your data, I recommend using a VPN with encryption and leak protection instead. Also, keep in mind that Adblock participates in an Acceptable Ads program, which you can opt out of in settings. Even so, it failed to block about 40% of ads, but I found that you can block any persistent ads via URL in its settings.
7. Pi-hole — Linux-Based DNS Blocker To Prevent Ads on Your Entire Network
Protects your entire network from a single device
Blocks in-app ads on smart TVs, game consoles, and mobile devices
Combine with a VPN for to use remotely across all devices
Compatible with: Linux (Raspberry Pi), Windows, macOS, game consoles, and smart TVs
Pi-hole provides network-wide blocking to protect all your devices. Although it's Linux-based, you can install it on Windows or macOS with a bit of effort. It routes your traffic through DNS servers to remove ads and trackers. This also enables it to work on smart TVs and game consoles.
You can set up Pi-hole with a VPN to prevent ads on mobile devices. Unlike Adblock, it's not natively compatible with mobile. However, combining it with a VPN offering custom DNS settings (like Private Internet Access) allows you to access Pi-hole's DNS servers remotely. Pi-hole also protects you on public Wi-Fi hotspots, and its site provides tutorials for setting this up.
With Pi-hole, your devices run more efficiently because the blocking is done on a separate machine. It simply routes the ad-free content to your devices. I also liked that I only had to set up Pi-hole through 1 device (laptop) and it extended to my mobile, tablet, and desktop.
Pi-hole is open source and free to use, but it was built for Linux users. So installing it on alternative operating systems is a lot of work. It requires that you install Docker, and provide a static IP address. You also have to reconfigure your router to point it to your computer's DNS settings.
8. AdGuard AdBlocker — Tons of Features for Enhanced Privacy While Browsing
Protect your privacy by setting third-party cookies to self-destruct
One of the few ad blockers compatible with Safari
Blocks ads, trackers, phishing and malware, and 100% of YouTube video ads
Compatible with: Chrome, Firefox, Edge, Opera, Safari, iOS, and Android
With AdGuard, you can set third-party cookies to self-destruct after a chosen period. The security filters are easy to toggle in Options. You can also block ads, phishing/malware, trackers, and social widgets. Like Brave browser, AdGuard also tells you how many ads it has blocked.
It's one of few ad blockers that works on Safari. Apple recently updated Safari, and now very few (non-Apple) extensions work on it. However, AdGuard has developed a version of their app with this in mind.
It successfully blocked 76% of ads and trackers during my tests. On Forbes.com, it blocked the loading screen pop-up, masthead, and banner ads throughout, leaving no ads. I was also impressed that it blocks all YouTube video ads.
A criticism of AdGuard is that on iOS, it only blocks ads on Safari. To cover your whole device, you need to subscribe to AdGuard Premium or Pro. The settings and layout are quite different from the browser extension, so it's not the easiest to use across operating systems either. On top of this, it uses up a lot of memory.
9. Adblock Plus — An Open-Source Blocker You Can Trust
Open-source blocker so bugs are easier to identify and fix
Customizable settings for advanced ad blocking
Allow or disable Acceptable Ads for more control over your protection
Compatible with: Chrome, Firefox, Edge, Opera, and Safari
Adblock Plus is free and open-source, meaning anyone can view the code and fix bugs. That means you can be certain it doesn't track your data, or infect your device with malware. It blocked 88% of ads and trackers I tested. On RollingStone.com, it removed a floating loading page pop-up and self-promotional sidebar ads. It removed all YouTube video ads, although on Safari, it left a blank screen and a scrolling graphic on pre-video ads.
Adblock Plus has some simple but effective customizable settings which I could toggle with one click. I could block additional tracking, cookie warnings, and push notifications. What I like especially is that you can prevent social media sites from tracking you. This is helpful, considering how much of your data these sites collect and sell to third parties.
A minor drawback is that Adblock Plus allows "Acceptable Ads" by default. You can disable them by unchecking a box, though. Also, to get Adblock Plus' full blocking potential, you need to manually enable the blockers in the app's "Options". They aren't enabled by default.
10. Total Adblock — Easy Plug-and-Play Solution for Blocking Ads
User-friendly from installation to use for ad blocking without hassle
Quiet mode disables push notifications
Blocks all pre-video and in-video YouTube ads to prevent interruptions
Compatible with: Chrome, Firefox, Edge, Opera, Safari, iOS, and Android
Total Adblock has a simple user interface for hassle-free blocking. You don't have too many ad blocking options, but it does offer whitelisting. Still, it's a great choice if you're not concerned with advanced configurations. It's even available on mobile (iOS, Android) and Safari.
Total Adblock effortlessly blocks YouTube video ads. All the videos I clicked played instantly, and in-video ads were gone. On BizRate.com, it blocked sidebar, widget, banner ads, and the annoying Google ads at the bottom of listings pages. Overall, it blocked 77% of the ads and trackers I tested.
A qualm I had with Total Adblock is that there's a premium version that it regularly promotes with a floating widget ad, which is ironic for a blocker. It also means that the free version of Total Adblock intentionally allows some ads. If you're ok with spending a few dollars a month, you're better off upgrading to CyberGhost, which offers ad blocking alongside a VPN.
Quick Comparison Table: Best Ad Blocker Features
The most effective solution to ad blocking is a service that has good ad, tracker, and malware protection, and ideally hides your IP and encrypts your data. If you've got all that in place, you won't see ads, plus advertisers won't be able to track your activity to target you with "personalized" ones. Use the table below to get an overview of my top ad blockers, at a glance.
I ensured that all of my recommended ad blockers prevent malware. Plus, I used an online tool to measure the % of ads and trackers that were prevented while using each ad blocker. Based on these numbers, I gave each ad blocker a rating between 1-10 (10 being the best score) to give you a clear idea of how effective each one is.
Tips on How to Choose the Best Ad Blocker
Aside from ad blocking effectiveness, additional factors can help determine which ad blocker is best for you, and whether it's safe. Here are the criteria I considered while testing each ad blocker — feel free to use this as a checklist to help you choose the best ad blocking solution:
Read user reviews. Reputable ad blocking apps have user reviews that offer unbiased insight into the quality of the software. Check the Apple App Store, the Chrome Web Store, or Google Play, depending on where you get your apps. It's important not to just look at the star ratings, as many unsafe ad blockers have high ratings on app stores.
Check for regular updates. Advertising tactics change all the time, so you should choose an ad blocker that has software updates at least a few times per year. This way you know it'll maintain its effectiveness. I made sure the blockers on my list are all regularly updated.
Test its ad blocking effectiveness. With so many types of digital ads (mastheads, banners, pop-ups, streaming video ads, GIFs, etc.), many ad blockers fail to block them all. I made sure that the ad blockers in my list can prevent at least 60% of total ads from interrupting your online activities.
Check device compatibility. Many ad blockers are limited as far as which operating systems they work with. I recommend choosing an ad blocker that offers extensive compatibility, like CyberGhost and PIA. This way, you can prevent interruptions during any online activity — whether it's via desktop, mobile, streaming devices, and more.
Consider the features. Depending on your needs, you may want customization options. For instance, to allow some ads while removing others, get an ad blocker that offers whitelisting. If you want to simply block all types of ads with minimal configuration, check that the ad blocker is user-friendly with a simple design.
Look for transparency. CyberGhost and PIA both have strict no-logs policies, but many ad blockers have been known to record your data. Read up on the ad blocker's privacy policy to avoid this. Open-source software is also safer, because it means anyone can inspect the code to look for vulnerabilities.
Warning! Make sure you only download blockers from official websites. Don't click links in forums, social media, or third-party sites, as this risks infecting your device with malware.
Ad Blockers to Avoid
Even ad blockers that seem trustworthy could be tracking your data. Some blockers have even been caught embedding user devices with malware. For these reasons and more, I advise against using the following blockers:
uBlock — not be confused with uBlock Origin, which is on my list of recommended blockers. uBlock has been known to modify cookies so it can track its users.
Chrome Ad Blocker — Despite its popularity, this ad blocker is virtually ineffective at protecting you from being bombarded by ads.
Ghostery — Not a very effective blocker, and Ghostery admits in its own policy statement that it automatically collects user data. It has also profited from selling user data in the past.
Privacy Badger — Like Ghostery, Privacy Badger isn't really an ad blocker because it only blocks trackers. As such, it leaves a lot of ads unblocked. It's OK for preventing some targeted ads, but if you want an efficient ad blocker, look elsewhere.
Why You Need an Ad Blocker + Risks You Might Not Know
Ad blockers come with plenty of benefits, but they can also protect your privacy online. Without an ad blocker, you're vulnerable to browser fingerprinting, which gathers tons of personal data. This includes your location, OS, browser, plugins and extensions, time zone, and language. The data is used to identify you as a unique digital persona so you can be tracked and targeted with ads; hence the name fingerprinting.
The best ad blockers also save you battery, bandwidth, and bother. If you've been online without an ad blocker, you'll be familiar with the many types of ads, such as pop-ups, mastheads, widgets, as well as video, sidebar, and banner ads. Ads make web pages cluttered and slow moving, and often extend page loading times and drain your battery. Some ads can even track your browsing data — even if you don't click on them.
You also risk encountering ads that contain malware that can infect your device — this is referred to as malvertising. You don't even have to click anything to get infected, and even reputable websites can pose a threat. Malware can steal your personal data, and even infect you with ransomware. It can also affect the performance of your device.
That being said, there are vulnerabilities and inconveniences of using an ad blocker alone. Most ad blockers are browser extensions, and browser extensions can be used for browser fingerprinting. But using a VPN with a built-in ad blocker doesn't alter your browser which helps prevent this. Also, a lot of sites block their content until you disable your ad blocker. However, VPNs allow you to avoid this by making your ad blocker undetectable.
I also like the added layer of privacy a VPN gives you — it not only stops tracking by advertisers, but also from other third parties, like hackers or even your ISP. That's why I personally prefer using a VPN with a built-in ad blocker.
FAQs on the Best Ad Blockers
Is Adblock safe?
Yes, Adblock is one of the safest ad blockers I tested. It's been around since 2009 — and has built a trustworthy reputation. Its site makes a clear statement that Adblock will never record your browsing history or sell your data to third parties. Adblock also has a clean history of never exposing users to malware. Although it has its limitations, at least you know it won't compromise your security or privacy.
What is the best ad blocker for Android?
I recommend CyberGhost as the best ad blocker for Android. Most ad blockers aren't even available for mobile. On top of this, a lot of ad blockers are ineffective, leaving tons of ads to interrupt your browsing sessions. Even those that do work can sometimes be untrustworthy and sell your data to third parties.
Unlike most of the ad blockers I tested, CyberGhost works with Android browsers and apps — and the app is lightweight and fast, so it doesn't drain your battery. It not only blocks ads effectively, but also prevents malware, encrypts your data, and hides your IP. This way, you won't be tracked by advertisers or any other prying eyes.
With this combination, it's much more effective than any other ad blocker I tested and comes with other benefits (for ex., it also allows you to change your online location, which gives you access to streaming content available in other regions).
Does Adblock work on YouTube?
Yes, Adblock works on YouTube. I tested Adblock with multiple videos on Safari and Chrome, and there were no pre-video ads or in-video ads. I found a few additional ad blockers that blocked YouTube video ads, so you're not limited to Adblock.
Why can't I find an ad blocker for Safari?
Due to recent updates, most third-party extensions no longer work with Safari. However, I included a few ad blockers in this list that are compatible with Safari. Most Safari ad blocking extensions are limited compared to those for other browsers. From a privacy and security perspective, I recommend using Brave or Opera, which prevent ads and tracking. Plus, they support most ad blocker extensions.
Do ad blockers work?
Some do, but there are a lot of fake and ineffective ad blockers. However, I tested each ad blocker on my list to ensure they work and are safe to use. There are dangerous blockers that can compromise your security, sell your data, and even infect your device with malware. Others simply don't work, like Chrome Ad Blocker. It's important to read the privacy policy and check reviews to avoid putting your device or personal data at risk.
That being said, there are a few ads that can't be blocked at all. Ads that can't be blocked include sponsored Tweets, and Facebook, Instagram, and Spotify ads. If you expect any blocker to remove these ads, you'll be disappointed.
Are ad blockers safe?
Not all ad blockers are safe. To enhance your online safety, I recommend using a reputable VPN that provides built-in ad blocking. It will hide your IP and encrypt your data so that trackers won't snoop on your browsing and target you with ads. Sadly, many ad blockers can't be trusted — some even track your data or infect users with malware. However, I've tested each ad blocker on my list to ensure they don't present these risks.
What is the best free ad blocker for Chrome, Safari, Edge, and Firefox?
For a 100% free ad blocking software, there are a number of great options. Some even block 100% of YouTube ads, along with most annoying pop-up and banner ads that you run into on websites. Ad blocking software for Safari is a bit limited — but AdGuard Adblocker is a good choice.
Start Blocking Ads and Trackers Now
Finding a trustworthy and effective ad blocker is tough. Most fail to prevent tons of ads from bombarding your online activities. Even worse, some are known to track your data and sell it to advertisers (ironically), and even infect you with malware. However, I found a selection of ad blockers that really work — and keep you safe.
My top recommended ad blocker is CyberGhost. It has a Block content feature to protect you from dangerous ads and malware, plus, a private browser with built-in ad blocking. It also encrypts your data and hides your IP address so advertisers can't track you. You can try CyberGhost risk-free with a 45-day money-back guarantee. If you're not entirely happy, you can easily claim a refund.
To summarize, the best VPNs with ad blockers for 2023 are…
Privacy Alert!
Your data is exposed to the websites you visit!
The information above can be used to track you, target you for ads, and monitor what you do online.
VPNs can help you hide this information from websites so that you are protected at all times. We recommend ExpressVPN — the #1 VPN out of over 350 providers we've tested. It has military-grade encryption and privacy features that will ensure your digital security, plus — it's currently offering 49% off.