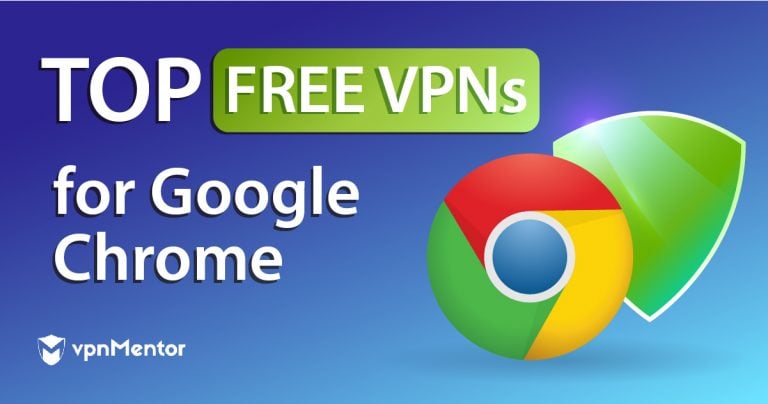 Top 8 100% FREE VPNs for Google Chrome | Updated January 2022
Finding a good free VPN for Google Chrome is hard, and the wrong choice could be dangerous: There are so many fakes and scams out there. Even those that are legit might cost you in the long run with data leaks, restricted bandwidth, and slow speeds.
While I prefer to use a low-cost premium service like ExpressVPN, there are free VPNs that are better than others. I've carefully tested 37 and ranked the best free VPNs for Google Chrome according to speed, security, quality, and compatibility. Check out my list below to find a free VPN that works with Google Chrome.
Short on time? Here are the best FREE VPNs for Google Chrome
Try ExpressVPN Risk-Free Today!
The Best Free VPNs for Google Chrome - Full Analysis (Updated 2022)
Safe and free VPNs for Google Chrome do exist. However, it's important to understand the limitations of these services. To save you hours of research, I tested and ranked the best free VPNs for Google Chrome, so you can choose a service that doesn't put you at risk.
ExpressVPN's Key Features
Unlimited data, speed, and bandwidth
TrustedServer Technology
Access to all 3,000 servers in 90 locations worldwide
MediaStreamer feature available
Works with: Netflix, BBC iPlayer, DAZN, and Amazon Prime Video
Compatible with: Chrome, Firefox, Safari, iOS, Windows, Android
ExpressVPN offers unlimited data, lightning-fast speeds, and you can try it all risk-free with its 30-day money-back guarantee. Plus, it easily bypasses the Great Firewall of China.
The use of innovative TrustedServer Technology ensures that ExpressVPN's servers always load the most recent version of software, to help prevent security risks. All of its servers operate solely on RAM, which means your data is never stored to a hard drive for any reason.
ExpressVPN offers military-grade encryption, OpenVPN protocols, DNS leak protection, and a Network Lock feature - basically a kill switch.
It also offers split-tunneling, which allows you to choose which apps and services are tunneled through the VPN. Split tunneling has two major benefits. First, it prevents you from being completely disconnected from the internet if the VPN fails. The second, is it lets you access foreign and local content simultaneously on your device.
ExpressVPN unblocks Netflix, BBC iPlayer, and most other popular streaming services. The MediaStreamer feature helps you access streaming services on your SmartTV and other compatible devices. If you like torrenting, ExpressVPN is an excellent choice as it offers torrenting and other P2P activity across all of its servers.
For a premium provider, ExpressVPN is surprisingly easy to setup and use. The app has a Smart Location feature that will automatically choose the best server.
The 24/7 live chat support feature is extremely helpful, and you can find detailed setup guides for most compatible devices on the site.
Want to know more? Explore our ExpressVPN review to see the full results of our research and testing.
Start RISK-FREE With ExpressVPN!
Free Chrome Proxy Plugin, or you can try the full-featured apps for 24-hours free, plus a 45-day money-back guarantee
7,680 servers in 90 countries to mask your real location and browse anonymously
Streaming and P2P optimized servers to share, download, and watch content at top speeds
7 simultaneous device connections
Military-grade encryption, a kill switch, WiFi protection, and ad/malware protection ensures your personal data is kept secure
Works with: Netflix, HBO Max, BBC iPlayer, Hulu, YouTube TV, and more
Compatible with: Chrome, Firefox, Safari, Linux, macOS, Windows, routers, and more
Cyberghost offers its Chrome proxy extension for free. This version masks your IP address, encrypts your data, and blocks malicious content. It includes servers in 4 countries — the US, Romania, Germany, and the Netherlands. I tested its US server and had no issue using my Netflix US account. However, the extension isn't secure when accessing Flash content, and doesn't protect against WebRTC leaks. For full access to all of its servers and security features, you can use its 24-hour free trial.
By using a combination of security features, Cyberghost allows you to browse safely. This includes 256-bit encryption, a kill switch, an ad/malware blocker, and WiFi protection. WiFi protection is a feature you can customize easily within the app. I tested this by taking my laptop to a local cafe. As soon as my laptop picked up on their WiFi signal, Cyberghost automatically connected. You'll never be at risk of cyber threats.
It also offers streaming-optimized servers for specific sites including BBC iPlayer, Netflix, Disney Plus, and more. I tested its Netflix US location (on the Windows app) and it was noticeably faster than the free extension. My connection remained stable, and I was able to watch 3 episodes of Stranger Things with zero buffering. You can share, download, and enjoy content at lightning-fast speeds.
On top of this, Cyberghost has specialty servers for torrenting. I found these easily within the app — each of these is displayed in terms of distance from your location. You can even save your favorite server so you can access it quickly for future use. You'll never waste time searching for the fastest server to download or share content.
You can test Cyberghost and all of its features without limitations when you use its 24-hour free trial. If you need more time, you can try it out risk-free for 45 days since it offers a money-back guarantee. I tested this policy by requesting my money back via live chat after 27 days. The agent asked a few customer satisfaction questions and then approved my refund. I received the money back in my account within 3 days.
Try Cyberghost Risk-Free Today!
ProtonVPN's Key Features
Unlimited data and speed
Uses AES 256-bit encryption and OpenVPN protocol
Free version offers servers in three countries
No logs and no ads
Works with: Netflix, Hulu, Amazon Prime Video, and YouTube
Compatible with: Chrome, Firefox, Opera, Safari, Windows, iOS, Android
ProtonVPN offers unlimited data and speeds on its free service, but that's only one of the reasons it deserves our number two spot.
The company is Swiss-based and has a strict no-logs policy, so your anonymity and data are safe. Plus you won't have to deal with annoying ads popping up while you're streaming, the service is ad-free!
Connect to servers in three countries on your free account, including the US, Netherlands, and Japan.
ProtonVPN unblocks most popular streaming services including Netflix, Hulu, and Amazon Prime Video. You won't be able to torrent on the free plan though, it's only offered on the Basic, Plus, and Visionary plans. If you do decide to upgrade, you'll also get access to designated torrenting servers.
ProtonVPN's security features include a kill switch, use of OpenVPN protocols, and 256-bit AES encryption. Industry-standard encryption and protocols keep your data safe as it travels over the internet. The kill switch is a fail-safe to protect your true location from being exposed if you're suddenly disconnected from the internet or the VPN fails.
It's interface is well designed, and accessing features is as simple as toggling or pressing a button. You can also opt to use the pop-up tips when you first download the VPN, to get a guided walk-through of its main features.
The support section offers the ability to search by existing categories, or enter your criteria into a search bar. If all else fails, the support team is available via email. Response times are around 24-hours for email, and there is no live chat support. However, the customer support responses are on-point, and the representatives are very friendly.
Want to know more? Explore our ProtonVPN review to see the full results of our research and testing.
Windscribe's Key Features
10GB of free data per month
Premium security measures at no cost, including no data logs
Free version offers servers in ten countries
Works with: HBO GO, BBC iPlayer, Kodi, and YouTube
Compatible with: Chrome, Windows, macOS, iOS, Android, Linux, Firefox
Windscribe's free service has a lot of perks that make it worthy of being on this list.
First, it allows a generous 10GB of data usage every month. That's enough to catch up on a few episodes of your favorite series or even stream a couple of HD movies.
I even found out that if you need more data, you can tweet the company. It'll gladly gift you an extra 5GB!
You can connect to servers in ten countries with a free account: the US, the UK, Germany, Canada, France, Hong Kong, Switzerland, Romania, the Netherlands, and Norway.
The free version of Windscribe can't unblock Netflix. However, I was able to access HBO GO, YouTube, and a few other services. Prepare yourself for slow speeds, however. I definitely noticed buffering delays during my test.
If you don't mind the wait, torrenting works rather well with the free version of Windscribe. A free subscription gives you access to servers that support P2P file sharing. These are clearly labeled in the server list.
On the security front, Windscribe outdoes most free VPNs by offering all the privacy and security settings available in the premium version. Features such as AES 256-bit encryption and the choice of four different VPN protocols keep you constantly protected from cyberthreats.
Adding to that supreme suite of security tools is R.O.B.E.R.T, a fully customizable domain and IP blocking tool. R.O.B.E.R.T. allows you to block specific lists of threats on Google Chrome by toggling a single switch in the settings.
Do note that with the free version, your R.O.B.E.R.T. access is a bit limited, with only malware blocking and three custom rules.
Last but certainly not least on the list of security features is the inclusion of a VPN kill switch. In the event that Windscribe fails, the kill switch disconnects you from the internet to prevent the exposure of your online activity.
Windscribe also boasts a verifiable no-logs policy. It never monitors your activity or keeps your connection logs, IP timestamps, or session logs.
Windscribe only collects connection data necessary to enforce the limitations of the free version — it never logs anything that compromises your safety or security.
It's also attractive, intuitive, and easy to use. Regardless of which platform you use it on, the Windscribe VPN app looks identical to the premium option. There aren't any ads either, which is noteworthy when comparing free VPNs.
Although Windscribe provides an automatic chatbot and many helpful guides and FAQs, live chat support is nowhere to be found.
That's not to say there's no support team. If chatbot Garry can't answer your question, your query redirects to a human representative. It's not live, but the support team usually responds quickly.
Want to know more? Explore our Windscribe review to see the full results of our research and testing.
Hotspot Shield's Key Features
500MB of free data per day
Lightning-fast connection speeds even over long distances
DNS leak protection and VPN kill switch
Simple, easy-to-use VPN apps for most platforms
Free browser extension for Google Chrome
Works with: Spotify and YouTube
Compatible with: Chrome, Windows, macOS, iOS, Windows, Android, Ubuntu, Firefox
Hotspot Shield's proprietary Catapult Hydra VPN protocol is optimized for speed, making it one of the fastest free VPNs available. This protocol compresses your data and reduces your VPN's latency, making your connection faster without compromising security.
Despite its speed boost, Hotspot Shield's free service only allows you to access servers in the US.
When large numbers of free users crowd onto a single virtual location at once, the high server traffic can lead to sluggish connections and longer loading delays.
This might not be a big issue if you live within the US, but if you live farther away from the free US server, you're going to notice slower connections. You generally get the best VPN speeds by connecting to a server as close as possible to your physical location, so your data doesn't have to travel far.
On the other hand, thanks to Hotspot Shield's 256-bit AES encryption and IP/DNS leak protection, your data is virtually impossible to steal.
You also get an automatic VPN kill switch to protect you in the event of VPN connection failure.
You can quickly and easily install its Chrome extension on all your devices. It's very important, however, to understand that the Chrome extension doesn't encrypt traffic device-wide — it only encrypts your browser data.

The free version of Hotspot Shield gives you a lot of protection, but it does have other limits. Its data cap of 500MB per day isn't enough for torrenting or streaming. The free version is best for casual browsing — you can surf the web for about eight hours before running out.
You won't be able to watch your favorite Netflix shows or torrent your beloved movies, either — it's not possible using this free service.
When you try to stream as a free user, Hotspot Shield blocks you with a premium payment wall.
Hotspot Shield is a US-based service and is therefore subject to surveillance and intelligence-sharing agreements of nations like the US, the UK, Canada, and Australia. The VPN doesn't collect information about your actual browsing history, so this isn't necessarily a big deal.
But Hotspot Shield does collect data related to your IP address, geographic location, mobile device ID, and more. Since the free version is supported by ad revenue, Hotspot Shield also shares this information with Google to create targeted ads within the app.
Shortcomings aside, Hotspot Shield remains a secure and user-friendly free VPN option to protect your data while you browse the web with Google Chrome.
For support, Hotspot Shield does have live chat, but you have to log in with your account info to use it. You may also email the company your questions.
Want to know more? Explore our Hotspot Shield review to see the full results of our research and testing.
Start FREE With Hotspot Shield!
hide.me's Key Features
2GB of free data per month
Fast downloads on local servers
Minimal logs policy
Free of ads
Easy-to-use custom apps
Works with: Kodi, YouTube, HBO GO, Sky Go, Hulu, BBC iPlayer, and Amazon Prime Video
Compatible with: Chrome, Windows, macOS, iOS, Android, Linux, Firefox
hide.me offers a user-friendly extension for Google Chrome. While the company promises to never throttle your connection, your data usage is capped at 2GB a month. That's enough for about seven hours of SD streaming or 30 hours of browsing, which is plenty for a day but not a lot for a whole month.
hide.me's free VPN unblocks a handful of streaming sites, but you'll need to test different servers to find which works. The monthly data cap also severely limits your streaming ability.
Torrenting is permitted on three of hide.me's servers. However, here too, the data cap proves to be a major hurdle.
For free users, hide.me only offers five server locations in four countries — Canada, Singapore, the Netherlands, and the US (East Coast and West Coast local servers). If you're not close to one of these virtual locations, you may struggle with slower connections.
One downside to hide.me's free service is that you can't use the VPN on multiple devices simultaneously. For example, this means that you can't protect your phone and your laptop at the same time.
The free version of hide.me is just as anonymous and secure as the premium VPN service. hide.me provides AES 256-bit encryption, a VPN kill switch, and protection against DNS and IP leaks.
It even operates its own DNS servers to guarantee that your personal data remains safe. 
Most free VPNs sell your data to third parties in order to make money. hide.me is based in Malaysia, and it doesn't collect any identifiable personal data. hide.me only keeps non-persistent logs of connection data.
Because it only uses these logs for troubleshooting purposes and erases them every few hours, it in no way exposes your secure identity. You can also ask for this data to be deleted upon request.
hide.me provides 24/7 customer support via chat, which is great for answering basic questions, but it's not as helpful when it comes to more technical VPN problems. You can email the technical support team in such situations; however, don't expect a rapid response.
One refreshing feature of hide.me is that, unlike other free VPN services, it has a strict ad-free policy, so it never bombards you with ads in order to make money.
Want to know more? Explore our hide.me review to see the full results of our research and testing.
TunnelBear's Key Features
500MB of free data per month
Bypasses government censorship
Fast downloads on local servers
Servers in 20+ countries for free
Works with: YouTube, Kodi, HBO GO
Compatible with: Chrome, Windows, macOS, iOS, Android, Firefox, Opera
TunnelBear's download speeds are quite good — in fact, they're nearly as fast as those of the premium service.
But TunnelBear's free service limits you to 500MB data monthly, so you won't be able to make full use of that speed. 500MB is only enough for about eight hours of browsing the web each month.
TunnelBear's VPN network size is excellent for a free VPN. With more than 20 countries from which to choose, you're a lot more likely to find a fast server near your physical location.
TunnelBear doesn't work with Netflix, Hulu, or BBC iPlayer. This doesn't really change much, as the 500MB monthly data allowance limits you to less than a half-hour of SD video anyway.
Torrenting is allowed on all server locations; however, this is also limited by data restrictions.
TunnelBear is a decent option when it comes to dealing with countries with strict censorship, like the UAE or Turkey. The GhostBear protocol hides your VPN traffic to get around VPN blocks.
Although the data cap again limits this tool, it's perfect for those times when you may need to quickly access a couple of government-blocked sites or browse while connected to public WiFi.
As with most of the top free VPNs I've listed here, TunnelBear provides the same level of privacy as the premium offering.
In addition to AES 256-bit 256 encryption, TunnelBear has a Vigilant Mode. This is the vendor's version of a kill switch, which blocks all unsecured traffic if the VPN fails.
When it comes to trust and transparency, TunnelBear has one of the clearest privacy policies of any VPN. None of the data logged by TunnelBear is personally identifiable. TunnelBear only uses the data to troubleshoot and monitor data limits on the free service.
The Center for Democracy & Technology (CDT) finds that each TunnelBear server provides full disk encryption, malware and intrusion scans, and intrusion protection techniques. With TunnelBear, you're truly free to surf the internet without any worry.
TunnelBear offers free extensions for Google Chrome, Firefox, and Opera. However, unlike TunnelBear's free desktop VPN, the browser extensions aren't full VPNs and only encrypt your browser traffic and hide your IP address.
TunnelBears's Chrome extension is also incredibly easy to use. Its Closest Tunnel feature allows you to connect to the most optimal server with the click of a button. 
The service doesn't have live chat, but it does have a help section that may answer many of your questions. For more specific help, you have to submit a ticket.
Want to know more? Explore our TunnelBear review to see the full results of our research and testing.
Betternet's Key Features
500MB of free data per day
Perfect forward secrecy
US virtual location
Easy to use
Works with: YouTube, Kodi
Compatible with: Chrome, Windows, macOS, iOS, Android
With Betternet, you get 500MB of free data that resets daily, which is enough for about eight hours of browsing the web or checking your social media. It's not enough data for streaming, and during my tests, I found out that Betternet doesn't even allow streaming on free accounts anyway.
Betternet limits you to one free US virtual location, so it can unblock some websites available in the US but nothing else. If you live far from the US, you might see issues with your connection speed as the data has to travel a greater distance.
Betternet offers a dedicated browser extension for Google Chrome that's easy to navigate. It didn't impress me with its speeds during my tests, but its connections are stable and reliable.
The browser extension secures your private data with SSL encryption, and I didn't detect any IP or DNS leaks in my testing.
Betternet adds an extra layer of security with perfect forward secrecy. This ensures your encryption key changes regularly so hackers can't compromise your data.
Betternet's solid security makes it a good choice for secure browsing. It can protect your privacy and mask your identity when you're on the go and need to connect to an unsecured public WiFi network.
However, it's not the best option for complete anonymity. This VPN doesn't offer an automatic kill switch, which could leave small amounts of data exposed if your VPN connection suddenly drops.
Betternet is supported by ads, which means it shares some of your data with third-party advertisers. You also have to deal with annoying advertisements whenever you use the service.

If you have questions, you have to depend on the help center page of the website or send an email.
Want to know more? Explore our Betternet review
How We Tested and Ranked These Free VPNs
When considering free Chrome VPNs for this list, I focused on compatibility, safety, and value.
All of the VPNs here provide Chrome extensions or are fully compatible with the browser so you can browse, download, and stream.
The services here also offer premier security features such as data encryption and no-logs policies so that your personal details and browsing habits are kept private.
And most importantly, these free VPNs for Chrome provide value. Despite data caps, low server choice, and poor unblocking capabilities, they still allow you to browse the web and get things done, if only for a little while.
FAQs
What's the catch with free VPNs?
Free VPNs are great whenever you're in quick need of a VPN and don't want to commit to a premium service. However, they commonly feature a number of drawbacks when compared to their premium counterparts.
Premium VPNs offer airtight encryption and advanced security features to protect you from things like malware and DNS leaks. The best premium VPNs hire security experts to perform independent audits of their browser extensions, so you can be sure they're secure.
The same thing doesn't hold true for free VPNs, which most often have limited security features to cut costs. Some free VPNs can leave you unprotected from trackers, malware, and spying eyes. Some even share your private data with third-party advertisers, or worse, will hand your info over to government authorities.

Free VPNs typically have strict data limits to convince you to upgrade to premium plans. With limited data, you won't be able to stream more than an episode or two — that is, if you can stream at all.
Most free services also can't bypass geoblocks on Netflix and other streaming sites. Some providers are capable of accessing streaming sites, but they don't allow you to stream with free accounts. They also tend to limit you to crowded free servers, which leads to annoying buffering, lags, and low-quality video.
Do these free VPN providers keep log files?
Many free VPNs log your data, sometimes even including your online activity and browsing history! None of the VPNs on this list collect any data about what you do while you're using the VPNs.
However, most of them do collect some connection logs, such as how long you're connected to the VPN and how much data you use. This is unavoidable because it's the only way for free VPNs to enforce data limits.
Does a VPN impact browsing speed?
A reduction in speed is nearly unavoidable when using any VPN — whether it's a free service or a premium one. Nevertheless, premium VPNs usually only suffer a slight reduction in speed, whereas your speed may be heavily compromised when using certain free VPNs.
The biggest factor affecting your speed when using a VPN is the encryption process that your data undergoes as it travels from your device to the VPN server. With free VPNs, there's a range of other factors resulting in speed reduction, including limited server locations, outdated VPN encryption protocols, and VPN-imposed limitations on speed.
What are the top features I should look for in a VPN for Google Chrome?
Airtight security is essential in a VPN for Google Chrome. Some VPNs don't offer the same level of security in their browser extensions as in their secure VPN apps.
Ideally, your VPN should offer a dedicated browser extension that features robust encryption, an automatic kill switch, and IP/DNS leak protection to mask your location and protect your private data from spying eyes.
The Bottom Line
Google Chrome's built-in security features are simply not enough to protect your data and privacy. With the free VPNs on this list, you can protect yourself from cyber threats and access government-censored content.
But remember, even the best free VPNs will come with limitations that restrict how much you can do.
Data caps may keep you from streaming or only allow you a few hours of browsing time per month. Limited server access can keep you from unblocking the sites you want to browse. Slow speeds can leave you waiting and waiting for pages to load.
If you want a VPN with unlimited data and lightning-fast speeds that can bypass geoblocks on streaming services, a budget-friendly premium VPN like ExpressVPN is your best option for Google Chrome. It may not be free, but it offers a 30-day money-back guarantee so you can try it with confidence.
Have you decided that a premium VPN is the way to go? Head over to our current deals and discounts page to save money on your subscription.
Have a need for speed? Check out our ranking of the fastest VPNs according to our expert speed tests.
Top VPNs for Chrome that you can try risk-free with money-back guarantees...
Privacy Alert!
Your data is exposed to the websites you visit!
The information above can be used to track you, target you for ads, and monitor what you do online.
VPNs can help you hide this information from websites so that you are protected at all times. We recommend ExpressVPN — the #1 VPN out of over 350 providers we've tested. It has military-grade encryption and privacy features that will ensure your digital security, plus — it's currently offering 49% off.