The 6 Best VPNs for China (Tested After 2018 Crackdown)
Don't take any chances! These days, as China attempts to block all unauthorized VPNs, you don't want to wait till you get there to find out your VPN isn't working.We created below a list of the top 6 VPNs that are guaranteed to bypass the Great Firewall of China. All these VPNs have been tried and tested and they will provide you with free access to all websites and social media platforms such as Facebook, Youtube, Instagram and more. Share
Whether you're traveling to China for business or pleasure, you want to stay connected. But while we may take our digital freedom for granted in the Western world, the situation in China is very different.
The Chinese government blocks thousands of websites, including the sites many of us use every day, such as Facebook, YouTube, and Twitter. Many major news outlets are blocked as well, not to mention messaging apps and streaming services – and can you even imagine not being able to check your Gmail or chat with your friends on WhatsApp?
If this sounds like your biggest nightmare come true, you are not alone. For anyone traveling to China, a VPN is an absolute MUST.
However, you need to choose your VPN very carefully. As you can probably guess, the Chinese government doesn't like VPNs, as they provide a way to get past its censorship – so, it is cracking down on them in attempt to block them all. Many VPNs that have worked in China in the past are no longer working there today.
Our team member in China tests various VPNs daily, so we can recommend the best VPNs that are currently working in China. If you want to rest assured that you'll be able to access the internet freely in China, be sure to choose a VPN from this list. We'll even share a little tip on you can save money on a premium VPN for China – or even get it for free.
Quick Guide: The 6 Best VPNs for China
IMPORTANT! You need to install your VPN on all your devices before you get on that plane, because once in China, you won't be able to download or install any VPN software.
What You Need to Know about VPNs in China BEFORE You Get on a Plane
The Chinese government has announced its intention to block all VPNs. This hasn't happened yet, but the crackdown on VPNs continues.
While it is against the law for VPN companies to operate in China without government approval, VPN use is still legal.
China has removed almost all VPN apps from the Apple App Store, and Google Play, like most other Google services, is blocked.
As of now, most VPNs don't work in China – even ones that have worked there in the past.
To use a VPN in China, you MUST install it on your computer or mobile device BEFORE you get there.
Click here to check if a website is blocked in China.
If you have a friend who's stuck without a VPN in China, we can help! Click here.
With the Chinese government's tough internet laws and enforcement, you don't want to be taking any chances. The VPNs on our list aren't only guaranteed to give you access to the internet as you know it – they are also the absolute best in terms of security.
Using the internet in China without the protection of a VPN is downright dangerous. A good VPN will mask your identity and encrypt all your online activity, keeping your private data safe from the prying eyes of the government and other third parties.
What to Look For in a VPN for China
You already know you need a VPN if you want to use the internet freely in China, and you know you can't rely on any random VPN to get the job done.
When selecting the VPNs for this list, these were our criteria:
Ability to bypass the Great Firewall of China. This firewall is one of the most advanced censorship systems in the world, and bypassing it is a challenge – if not downright impossible – for most VPNs.
High speeds. Unrestricted internet access doesn't mean waiting around and staring at a blank screen while your favorite websites take forever to load. Some VPNs will significantly slow down your connection in China, so we made sure to choose only the ones that can give you quick access to the sites you're trying to view.
Servers in neighboring countries. One of the best ways to ensure a speedy connection in China is to connect to a server in a nearby country, such as Hong Kong (which does not fall under the same internet laws) or Japan.
Advanced encryption. You want to be sure your identity remains concealed and your private information stays private. Mediocre, outdated encryption methods just won't do the trick.
Kill switch. This important security feature will instantly disconnect you from the internet in case your VPN disconnects. This means your identity and IP address remain secure at all times.
Ease of use. The VPNs on our list are all user-friendly and intuitive, so even if this is your first time using a VPN, you have nothing to worry about. They are all easy to install and set up – no technical background required.
The 6 Best VPNs You Can Count on to Work in China
All the VPNs on this list have been tested and verified, and you can rely on them for secure and unrestricted internet access in China.
The highest security standards
Many servers in countries surrounding China

Affordable

24/7 live chat customer support

Website available in simplified Chinese
With its military-grade encryption and ability to bypass the Great Firewall with ease, NordVPN is our top pick for internet usage in China.
This super-reliable VPN has plenty of servers in countries surrounding China, including 40 in Hong Kong and 60 in Japan, so you won't have to worry about slow connection speeds. In case you experience any trouble connecting, you can enable the Obfuscated Servers option in the settings menu, which will open up an alternative list of servers specifically configured for heavily-restricted areas.
The friendly 24/7 live chat support is always around and happy to assist. It's no wonder this VPN is so popular among users.
If you're still not sure if NordVPN is right for you, you can take advantage of the 30-day money-back guarantee and try it out risk-free.
Consistently comes in at number #1 on our weekly speed tests

Over 2,000 servers in 90+ countries, with many locations near China

Excellent customer service

Pricier than other VPNs, but you get great value for your money
ExpressVPN is a very popular choice for China, thanks to its blazing speeds and constant victory over the Great Firewall of China.
This VPN's impressive server network covers 150+ locations all over the globe, including Hong Kong, Japan, South Korea, Taiwan, Thailand, and Vietnam.

On top of that, this is one VPN that takes your privacy very seriously, with advanced security features and a strict no-logs policy. If you have any questions, its fantastic customer support is available in a number of languages – making it a favorite among users all over the world.
Since ExpressVPN has a 30-day money-back guarantee with a no-questions-asked policy, there's really no reason not to give it a try.
Servers in Hong Kong, Japan, and Singapore

Unique Chameleon technology

Available for purchase from within China
VyprVPN prides itself on its proprietary Chameleon technology, which scrambles OpenVPN data so the signature isn't recognized via deep packet inspection (DPI). In layman's terms, this means it can easily bypass the Great Firewall of China.
However, this technology is not available for iOS, so if you want to use your iPhone or iPad in China, VyprVPN is not the best choice.
Another important benefit VyprVPN offers is a designated website that you can access from within China – meaning that if you forgot to install a VPN before your trip to China, you can actually purchase and download the software from within the country.
If you're still not convinced, you'll be glad to know the company offers a 3-day free trial.
Special Stealth mode that can bypass the Great Firewall

Servers in Hong Kong

No-logs policy
While PrivateVPN may not offer as many features as the other VPNs on this list, it can still bypass China's Firewall, and that's no small feat. Make sure you are using the latest versions of their apps – they come with a Stealth mode that hides your VPN traffic. It's also a good idea to contact their customer service before your trip, so you know exactly what servers you'll need to connect to in China.
PrivateVPN provides decent speeds and advanced encryption, and it offers 100+ servers in over 50 countries around the world, including Hong Kong, Japan, and Singapore.
Read what users think of PrivateVPN. If you'd like to try it out for yourself, there's a 7-day free trial and 30-day money-back guarantee. 
Servers in China and neighboring countries
High speeds
Advanced security features
Ivacy is an excellent VPN that's also budget-friendly, and it can easily bypass the Great Firewall. If you experience any connection issues, you can change protocols through the settings menu and that should solve the problem.
Singapore-based Ivacy is one of the few VPNs that actually have servers in China. If you're trying to bypass the Great Firewall, you'll want to connect to a server in a neighboring country – but if you're outside of China and need to connect to a Chinese server for market research or other purposes, this could be an excellent solution for you.
Ivacy offers all the essential security features, such as advanced encryption and a kill switch, and it has apps for all major devices. Click here to read real users' experiences.
Ivacy's 1-month plan comes with a 7-day money-back guarantee, while its longer plans come with a 30-day guarantee.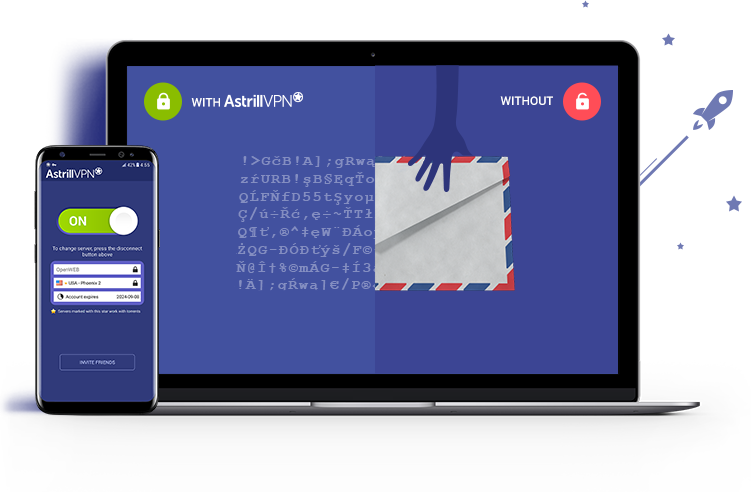 Easily bypasses the Great Firewall
Connect unlimited devices with a single account
Easy to use
AstrillVPN works smoothly in China, thanks to its support for multiple security protocols. It offers apps for all major devices and you can connect as many devices as you like with a single account (up to 5 devices simultaneously) – but keep in mind that if you purchase the iOS app through the Apple App Store, you'll only be able to use it on iOS devices. If you plan on using it on other devices, you should purchase it here .
AstrillVPN takes your privacy seriously, with advanced security features and a no-logs policy. This is particularly important in China, where you don't want to risk having the government keeping tabs on your internet activity.
AstrillVPN's network offers over 300 servers in 60+ countries, including 8 in Hong Kong and 29 in Japan. It gets generally positive reviews.
The company offers a 7-day free trial, but unfortunately, the free trial version is not available in China. There is a 7-day refund policy, but only under certain conditions – if you use the free trial and then sign up for a paid account, you will not be eligible for a refund. If you want to rest assured that you'll get your money back if something goes wrong, you'd be better off choosing NordVPN or one of the other VPNs on this list.
These VPNs Don't Work in China
These days, most VPNs cannot bypass the Great Firewall of China – even some that have worked there in the past. If you want to be sure you will have unrestricted internet access in China, avoid these VPNs:
CyberGhost – While it is an excellent VPN for most purposes, CyberGhost currently does not work in China.
Trust.Zone – This VPN is no longer able to bypass China's censorship.
PureVPN – Although we have recommended it in the past, PureVPN no longer works in China. While the team has told us they are trying to find a solution, they were not able to provide an ETA on when the service would be working again.
How to Save Money on a VPN for China
You may have noticed that most of the VPNs on our list offer free trials and/or money-back guarantees. This means that if you're only traveling for a short time, you can always cancel your subscription once you get back to your home country and get your money back – essentially, getting a great VPN for free. 
However, once you get used to all the benefits of a premium VPN service, you just might discover you want to continue using it at home.
Either way, before you sign up for a VPN service, be sure to check our coupon page for all the hottest deals going on in the VPN world at the moment.
If you want to learn the more about VPNs, how they work, and what they can do for you, our VPN newbie guide is a great place to start.
What to Do if You're Stuck Without a VPN in China
Do you have a family member, friend or colleague who is currently in China without a VPN? We can help!
Some VPN services have managed to provide websites that are accessible from China, but due to the delicate situation over there, the links change quite often.
Email us at
– send us your friend's email address and we'll send them a message telling them exactly what they need to do to get a VPN.
Your email addresses will never be shared with any third parties or used for any other purpose.
You might also like: