3 Best Free VPNs for Hotstar — Tested & Still Working in 2023
Updated on 23rd January 2023
February 2023 Update: Some VPN providers are reluctant to host physical servers in India, due to a recent change in VPN data-sharing laws. However, you don't need a real server in India to access Disney+ Hotstar. If you're looking to access Hotstar's Indian service, rest assured that the VPNs we list below offer access to it with virtual Indian servers.
It's not easy to find a free VPN that will give you reliable access to Hotstar. Many free VPNs don't offer servers where Hotstar is available, like India and the UK. Others have slow speeds and severe data restrictions, so you can't really use them for streaming at all.
My team and I tested 35+ free VPNs to find the best ones for Hotstar. Even though all free VPNs have limitations, I managed to shortlist a few that can unblock Hotstar and will let you stream for at least a couple of hours.
Out of all the VPNs I tested, ExpressVPN is my favorite. It's not 100% free, but it doesn't come with any restrictions like free VPNs do. It has superfast speeds, unlimited data, and a global server network to let you stream Hotstar shows in HD for hours. Plus, you can try ExpressVPN risk-free since it's backed by a 30-day money-back guarantee. If you're not impressed, it's easy to get a refund.
Short on Time? Here Are the Best Free VPNs for Hotstar in February 2023
ExpressVPN — Unlimited data, an extensive server network in Hotstar's licensed locations, and ultra-fast speeds for streaming without lag. You can try it risk-free (it's backed by a money-back guarantee).
CyberGhost — A Hotstar-optimized server for reliable access, but speeds are slower over longer distances. You get 45 days to try it out with its money-back guarantee.
Speedify — This limited free VPN offers a streaming mode for better streaming quality, but you only get 2GB of data per month (enough for about 1 hour of HD streaming).
Best Free VPNs for Hotstar — Full Analysis (Updated February 2023)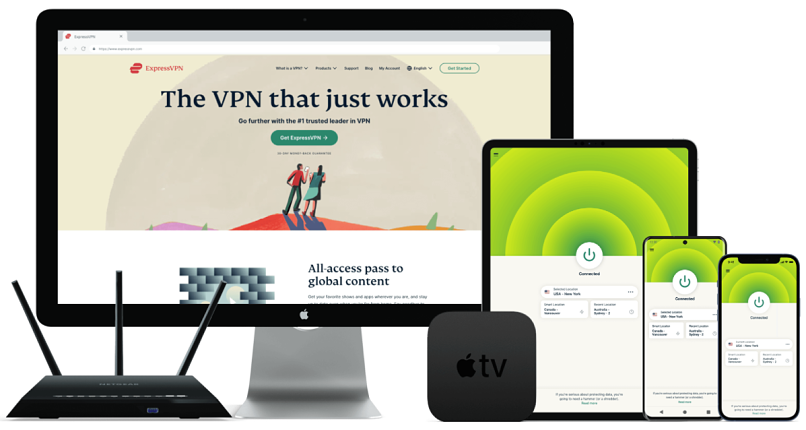 Editor's Choice
Editor's Choice

Tested February 2023
Try Risk-Free for 30 Days
Available on:
Chrome
Router
Smart TV
More
www.ExpressVPN.com
Superfast speeds and unlimited data
3,000 servers in 94 countries, including India (2 virtual IP servers), Canada, and the UK
5 simultaneous device connections
Can unblock: Hotstar (India, Canada, and UK), Netflix, BBC iPlayer, Disney+, and more
Compatible with: Windows, Android, macOS, iOS, Linux, routers, smart TVs, and more
ExpressVPN offers lightning-fast connections across all its servers for lag-free streams. During my tests, I connected to its virtual India (via UK) server and received a download speed of 58.7 Mbps (only a 5% drop from my baseline connection). This is more than 11 times what's required for HD streaming. I watched 3 episodes of Home Shanti in HD on Hotstar India with zero lag. Since you also get unlimited data, you can binge-watch your favorite Hotstar shows without limits.
It also has plenty of servers in Hotstar's licensed regions, so you can easily access the platform from anywhere. Its virtual India (via Singapore) server gave me access to Hotstar on my Windows PC in less than 5 seconds. I also wanted to see whether it can access Hotstar Canada, so I connected to its Montreal server and had no problem accessing the site.
ExpressVPN's app comes with a very user-friendly interface, so it's really easy to use. You can see your most recent location or save your most-frequented servers in a "Favorites" tab. I saved its virtual Indian servers and some of the Canadian ones so I can connect to them quickly when I want to watch Hotstar. You can even set it up to connect to your last used location when you launch the app, which I found really handy during testing.
With ExpressVPN, you're allowed 5 simultaneous device connections (most truly free VPNs only let you connect 1 device at a time). To put this to the test, I connected my Android tablet, Windows PC, and iPhone to the VPN. I didn't experience any slowdowns or connectivity issues while streaming and torrenting simultaneously. Therefore, you can cover all your devices with a single subscription.
Even though it's not 100% free, you can try ExpressVPN risk-free as it's backed by a 30-day money-back guarantee. If you don't like it, you can get a full refund. To make sure its guarantee is legitimate, I contacted support via 24/7 live chat and requested a refund. The agent asked me 3 quick questions about my experience with the service and immediately approved my refund request. It only took 2 days to get my money back.
Start Risk-Free With ExpressVPN
9,753 servers in 91 countries, including a Hotstar-optimized location
Unlimited data
7 simultaneous device connections
Can unblock: Hotstar India, Netflix, Disney+, Hulu, BBC iPlayer, and more
Compatible with: Windows, Android, macOS, iOS, Linux, routers, smart TVs, and more
CyberGhost offers dedicated streaming servers, so you can easily bypass Hotstar's tough geoblocks. It regularly updates its streaming IPs so that platforms like Hotstar can't detect and block them. I tested its Hotstar-optimized Indian server, and it unblocked the platform on my first try. The connection was reliable and took only 3 seconds to establish. I watched Game of Thrones for hours and never got disconnected while streaming.
CyberGhost is super easy to use and is compatible with most devices and operating systems. Setting it up on my PC was quick and hassle-free — it took me just under 2 minutes. To connect to an Indian server, all you need to do is type "India" in the search bar, select a location, and click on the big on/off button. There's also an option to favorite your most-used servers for easy access each time.
Streaming is smooth, thanks to CyberGhost's impressive connection speeds. While testing its Indian server location, I got an average download speed of 48 Mbps. This allowed me to binge-watch Chernobyl in HD on Hotstar with zero buffering. The speeds remained consistent throughout. Plus, each episode loaded within seconds, even when I was downloading torrents in the background.
The only downside with CyberGhost is that its long-distance connections are pretty slow, and it's not as fast as ExpressVPN. When I tested its Vancouver and Toronto servers, my speeds dropped to 42 Mbps (a 43% loss). However, even with speeds like these, you can still stream in HD since it only requires 5 Mbps.
Its long-term plans come with a 45-day money-back guarantee, so you can give CyberGhost a try with Hotstar risk-free. To see how reliable the guarantee is, I requested a refund using the 24/7 live chat option. The agent processed my request right away without pushing me to stay. The money reached my account in 3 days.
Start Risk-Free With CyberGhost
Streaming mode for better quality
53 servers in 35 countries, including India, Canada, and the UK
No account creation required so you can use it on all your devices
Can unblock: Hotstar India and Netflix Originals
Compatible with: Windows, Android, macOS, iOS, and more
Speedify's Channel Bonding technology allows you to use multiple internet connections simultaneously. For example, it can combine your mobile data, WiFi, and wired connections. This improves download speeds, so you can even watch the IPL live on Hotstar without interruptions. When I set the bonding mode to "Streaming", I got 8% faster speeds than my normal connection with Speedify. You won't experience annoying buffering when streaming your favorite Hotstar content.
It has reliable Indian servers, so you can watch your favorite Hotstar shows with ease. During my tests, its Mumbai server unblocked the site on the very first attempt. This was impressive because the free VPNs that did work in my tests took at least a couple of tries to access the platform. I didn't face any problems while streaming Aashiqana, even though the server was far away from my location.
All Speedify apps are easy to use and set up, making them an excellent choice even for beginners. You don't even need an email address to get started. Just install the app, select an Indian server, tap the "connect" button, and get straight to streaming Hotstar shows.
The problem with Speedify's free plan is that you only get 2GB of data per month. It's only enough for about an hour and a half of 720p HD streaming on Hotstar. However, by lowering the streaming quality, you can watch for longer than that.
In addition, there's no live chat if you want quick answers to your questions. However, I found its email support pretty responsive. I emailed the team to inquire about Speedify's server network and received a response within an hour.
Warning: Risks of Many Free VPNs
VPNs that are advertised as free are really appealing but they're not always safe. It requires extensive testing and research to find the ones that won't put your privacy and security at risk.
So, to make sure I only recommend the safest free VPNs for Hotstar, I put all of the above-mentioned ones through various tests. These include IP/DNS leaks, malware checks, researching their privacy policies, and their past practices. In short, they passed all my tests, and that's how they deserved their place in this article.
In case you're planning on using another free VPN, here are a couple of risks to keep in mind before deciding whether to use it or not.
Free VPNs can sell your data. Many free VPNs make money by collecting and selling your data to third parties. This can put your privacy at risk. Be sure to read each free VPN's logging policy to keep your data safe. All the VPNs in this list have strict no-logs policies.
Free VPNs usually have weak security. Free VPNs often don't have the resources to upgrade their service to keep up with the latest security features. This can result in unwanted data leaks. Be sure to use a free VPN that has strong security features, such as military-grade encryption, leak protection, and an automatic kill switch.
Free VPNs can expose you to malware. There have been cases where free VPN apps had malware embedded in their apps. In addition, many free VPNs bombard you with malicious ads. This can infect your device and compromise your online security.
Tips on How to Choose the Best Free VPN for Hotstar
A good free VPN for Hotstar should come with reliable Indian servers, fast speeds, and reasonable data limits. You can use the same criteria I used when choosing the VPN for you.
Really free. If you're going for a free VPN, it would be best to pick one that doesn't require you to provide your credit card info. I made sure that each VPN on this list is either completely free and doesn't require payment info, or backed by a trustworthy money-back guarantee.
Can access Hotstar India. Hotstar India has the largest content library among all regions. I thoroughly tested each VPN on this list to ensure that they can access the Indian library. Plus, I also made sure that they have strong leak protection, which means Hotstar can't see your true location and won't block you from accessing its content.
Fast speeds. Look for a free VPN that has fast speeds. This way, you can watch Hotstar in top quality without lag. Each free VPN on this list can stream Hotstar in HD without slowdowns.
Enough data. The VPNs on this list offer at least 2GB of data per month, which is enough for about 1-2 hours of HD streaming. The top 2 VPNs in this list have unlimited data, so you can stream for hours without limitations.
Compatible with your device. Free VPNs usually have a more limited device compatibility than paid VPNs. So make sure to check if the VPN offers an app for your preferred device. All VPNs on this list work with Windows, macOS, Android, and iOS devices and you can watch Hotstar on each.
FAQs on Free VPNs for Hotstar
Can I watch Hotstar for free?
Yes, but with ads. Hotstar India allows you to watch select movies and shows completely free. However, this free version is pretty limited. For example, you can only watch live sports (like IPL) for 5 minutes. If you want access to the complete Hotstar library and to watch IPL without limitations, you'll have to upgrade to the paid version.
Hotstar's free content is only available to Indian viewers. If you travel outside India, you can still access it by using a VPN with strong unblocking capabilities. There are even a few completely free VPNs that unblock Hotstar India, so you can watch free content without paying a cent. But a low-cost premium VPN is always more reliable.
Is there a free VPN Chrome extension that lets you watch Hotstar outside India?
During my tests, I didn't find any free VPN Chrome extension that can access Hotstar. Even though CyberGhost does offer a free proxy extension, it doesn't have servers in regions where Hotstar is available. So, you can't really access the platform with it.
The best way to access Hotstar's free version is by using a reliable VPN that can bypass the platform's geoblocks. However, the only free VPNs that work with Hotstar India limit your streaming to a couple of hours. If you want to watch without interruption, it's better to use a premium VPN with unlimited data, like ExpressVPN or CyberGhost. Both offer reliable money-back guarantees, so you can test them out with the assurance you'll get all your money back if you're not satisfied.
Where is Hotstar available?
Aside from India, Hotstar is also available in Canada, Indonesia, Malaysia, Thailand, Singapore, and the UK. Note that you can find Indian content only in its Indian, Canadian, Singaporean, and UK libraries. The rest of the countries where it's available, Indonesia, Malaysia, and Thailand, offer their own local content.
Due to licensing agreements, you cannot watch Hotstar outside of these permitted locations. So, if you travel somewhere Hotstar isn't supported, you won't be able to watch anything. There is a simple solution, though — the easiest way to watch Hotstar from anywhere (including Australia, UAE, and the US) is with a VPN. In my list, I included 2 free VPNs that are safe, but they come with certain limitations for streaming. However, if you want to binge-watch Hotstar, I definitely recommend getting either ExpressVPN or CyberGhost. They're not technically free but they come with a money-back guarantee, which gives you time to test them risk-free.
What if my free VPN is not working with Hotstar?
First, it's important to choose a free VPN that can consistently unblock Hotstar. If your free VPN usually works well with Hotstar but isn't working now, try the following:
Switch to a different server — Maybe the IP address of the server you're connected to is blacklisted by Hotstar. In that case, the app won't show you any content — it just keeps on loading endlessly. However, switching to a different server should help. If you're not sure which server works with Hotstar, you can always reach out to customer support and ask them.
Disable IPv6 — Not all free VPNs can effectively mask your IPv6 address. If your free VPN doesn't protect you from IP leaks, your real location will be visible to Hotstar. This can prevent you from accessing the site. So, it's best to disable IPv6 in your device's network settings.
Clear your browser's cookies — Many websites use cookies, which track your IP address and your geographical location. Hotstar uses this data to identify your true location. This can be easily prevented by clearing cache and cookies. Alternatively, you can use Incognito mode (or private tabs).
Is using a VPN to watch Hotstar outside India legal?
Yes, but it's a bit complicated. VPN use is regulated or banned in some countries, like Russia and China. For example, only government-approved VPNs are permitted in China. However, no tourists have been fined for using a VPN there. China's practice is to go after the VPN technology and that's why most VPN websites are blocked by its Great Firewall.
There are only a few that work in China with ExpressVPN being the most reliable option. Free VPNs aren't a good fit since they don't usually come with obfuscation features designed to bypass China's Great Firewall.
Watch Hotstar With a Free VPN Today
Most free VPNs can't unblock Hotstar. Even the ones that sometimes do unblock it can be too slow, making it impossible to watch any content in good quality. While the truly free VPNs on this list can access Hotstar, they have limited data so you can't stream for a long time.
That's why I recommend ExpressVPN. It has unlimited data and superfast speeds, so you can stream Hotstar in HD for hours without restrictions. Even though it's not 100% free, you can test ExpressVPN out risk-free since it's backed by a 30-day money-back guarantee. If you don't like it, you can get a full refund.
Top VPNs You Can Try Risk-Free With Money-Back Guarantees…
Privacy Alert!
Your data is exposed to the websites you visit!
The information above can be used to track you, target you for ads, and monitor what you do online.
VPNs can help you hide this information from websites so that you are protected at all times. We recommend ExpressVPN — the #1 VPN out of over 350 providers we've tested. It has military-grade encryption and privacy features that will ensure your digital security, plus — it's currently offering 49% off.