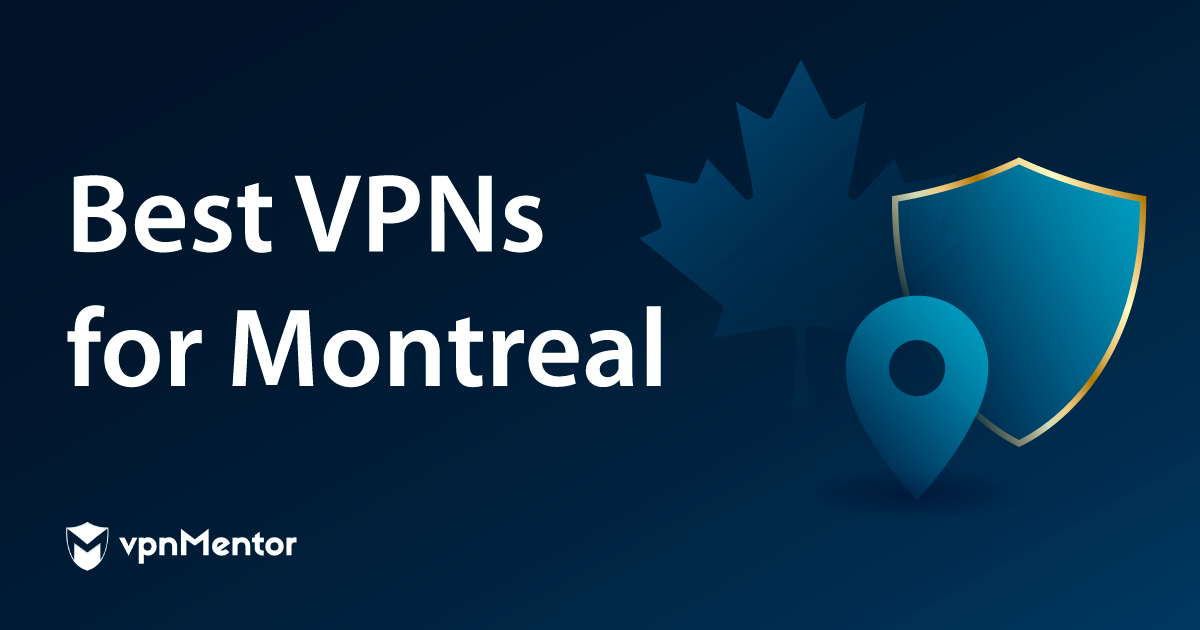 10 Best VPNs for Montreal (2023) Fast, Safe, and for streaming
Montreal has some tough government regulations on internet security, one way to protect your privacy is by using a virtual private network (VPN). That way you don't have to worry about government agencies lurking over your shoulder as you browse, game, stream, and torrent.
In my list, you'll discover the best VPN services for Montreal. I tested hundreds of VPNs to bring you the most reliable services for streaming and browsing, and have servers in or near Montreal.
My top choice is ExpressVPN, it has servers located in Montreal and the surrounding area. Plus it offers top-notch security features. ExpressVPN is backed by a 30-day money-back guarantee, so you can buy it with confidence.
Get The Best VPN for Montreal!
Get Started with ExpressVPN Today!
What to Look For in a VPN for Montreal
With a VPN, an encrypted and secure connection will be created to your preferred server. This way, your data will be safe, as encryption makes it almost impossible for a third-party to gain access to your data.
Furthermore, a VPN comes in handy when wanting to access geo-restricted content, like Netflix US. Most of the VPNs on my list offer servers in Montreal, so you can get a local IP address and watch Canadian TV shows from anywhere.
Here are some features to look for in a VPN for Montreal:
Location of Servers: Using VPNs with servers in Montreal makes it easy for you to get an IP address in the city, so you can access local content from anywhere. Worldwide servers are also important, as broad distribution gives you access to content on a global scale as well.
The number of servers: The more available servers that a VPN has in your desired location, the less overcrowding there will be, which might contribute to faster connections.
Number of simultaneous connections: With multiple simultaneous connections, you can protect several devices at once and only pay for one subscription.
Encryption: When choosing a VPN look for 256-bit AES encryption, which is virtually uncrackable.
Privacy policy: Always check the privacy policy and be clear on what data a VPN keeps. While all providers collect some form of unidentifiable information to fix issues or upgrade its services, they should never collect anything that can put your online activity and real identity at risk.
Best VPNs for Montreal – Full Analysis (Updated January 2023)
I tested plenty of VPNs based on features, speed, privacy, and security to find the best VPNs for Montreal.
ExpressVPN has 3,000+ servers in 94 countries, including Montreal. Its speeds are lightning-fast thanks to its proprietary protocol Lightway too, so you can enjoy the latest on Canal D buffer-free.
It can also unblocks services like Netflix, Hulu, Spotify, and BBC iPlayer, as well as additional local content like CBC and Tele-Quebec.
With military-grade 256-bit AES encryption, your data is virtually unhackable as it travels through VPN servers. This is the same level of encryption used by security agencies and the US military. ExpressVPN also offers a kill switch to disconnect you from the internet if your VPN connection fails, and split-tunneling so you can select trusted apps to run outside the VPN.
It never keeps logs of your online activity, so you won't have to worry about your browsing history and other data being sold to third parties. ExpressVPN also has a 30-day money-back guarantee, so you can buy knowing it confidently backs its service.
With over 2,000+ servers scattered globally, and 17+ servers in Montreal alone, you can access worldwide content, like Netflix US, from Montreal, and Canadian television channels while abroad.
IPVanish follows a strict no-logs policy and offers a kill switch that disconnects you from the internet if the VPN server fails, to help prevent your ISP or anyone else from tracking your true IP address.
With IPVanish P2P friendly servers you can torrent safely and with incredible speed. I tested this by downloading a large file while connected to a US server, and my speed barely decreased.
IPVanish is one of the easiest VPNs I've ever tested. I was able to install and use it within a few minutes.
You also get a risk-free 30-day money-back guarantee, that way if you feel it isn't right for you just ask for a refund any time within the guarantee period.
The following VPNs do not have servers in Salt Lake City but have servers close by and are still very effective.
CyberGhost has around 9,753, which includes 327 in Montreal alone. That's more than enough options for viewing local content like CBC.
It features a strict no-logs policy, which means it doesn't store personal information or share it with third-parties. CyberGhost also offers some other industry-standard security features like 256-bit AES military-grade encryption, OpenVPN protocol, and public wi-fi protection.
You can unblock streaming services like Netflix, BBC-iPlayer, Hulu, and YouTube, and speeds are fast enough to stream in HD on most servers. It also allows you to unblock local content if you're traveling, including Global Montreal and CTV.
Depending on the subscription length you choose, you also get a 14- or 45-day money-back guarantee.
Private Internet Access boasts the most servers of any VPN on this list, including the most for Montreal at 1,200+. If you ever get sick of viewing Canadian content just choose one of the 29,650+ servers in one of the other countries it covers.
Aside from standard options like OpenVPN, military-grade encryption, and no-logs, PIA offers a few extras like an ad blocker and a kill switch. This is nice because you can enjoy a buffer-free, ad-free movie night on Netflix, Amazon Prime Video, or one of the other multiple services Private Internet Access can unblock. That includes local favorites like Chanel D and CTV too.
The split-tunneling feature is great for accessing local content while streaming services in other countries. For example, if you are in the US and need to access your bank account in Canada, you could run your banking app through the VPN and leave your Netflix app outside the VPN. That way you'll have uninterrupted access to both apps.
Private Internet Access also provides a risk-free 30-day money-back guarantee, to give you peace of mind while using the service for the first 30-days. If you don't love it, just ask for a refund within that window.
Although PrivateVPN has only four VPN servers between Montreal, Toronto, and Vancouver, it offers over 200 servers in 63 countries worldwide. So while your options are somewhat limited for a local IP address, you can always enjoy some international content. That includes Netflix, BBC iPlayer, and Hulu.
PrivateVPN is built with AES 256-bit encryption, the same encryption used by top security agencies. It also includes a kill switch, which suspends your internet connection if the VPN fails. This lessens the risk of data leakage, malicious attacks, or other information security breaches.
It offers unlimited data and speed, so you can stream as long as you want without worrying about speed throttling or hitting a data cap mid-program. Aside from global streaming services, PrivateVPN also unblocks local favorites like CTV and Global Montreal.
You can purchase a subscription risk-free, thanks to PrivateVPNs 30-day money-back guarantee.
HMA is a no muss, no fuss VPN with over 1,040 servers spread across 210. That includes 9 servers in Montreal, a decent number if you're looking to access local content like Canal D or CBC.
It features a no-logs policy, as well as industry-standard OpenVPN protocol and 256-bit AES encryption. A no-logs policy means HMA doesn't share, store, or sell your personal information or browsing history with third-parties.
In addition to unblocking local gems like Canal D, HMA can unblock global streaming services like Netflix, BBC iPlayer, Hulu, and more. Streaming with HMA is extremely intuitive but if you do have issues, it has a 24/7 support team available to help you get connected.
HMA is great for torrenting too, it has P2P optimized servers and the speeds are fast enough to upload large files quickly.
Its 30-day money-back guarantee means you can purchase a plan risk-free.
The rest of the VPNs on my list do not have servers in Montreal, but still provide many in nearby locations for fast connections.
VyprVPN doesn't offer servers in Montreal but it does have servers in Canada, so you can still access Canadian websites and services. It covers over 70 and offers more than 700 servers globally.
Its unique Chameleon protocol is especially good at bypassing tough geoblocks in some of the most restrictive parts of the world, including Russia. VyprVPN also offers industry-standard security like OpenVPN protocol, a kill switch, and a strict no-logs policy.
Aside from streaming local content and accessing Canadian services online, you can also stream popular services around the world like Netflix US, HBO, and BBC iPlayer. You can even enjoy safe streaming on your device at your local coffee shop, thanks to public wi-fi protection.
All subscriptions come with a 30-day money-back guarantee too, so you can try the great features for yourself risk-free.
With Hide.me you get an IP address specifically for Montreal, so you can access local websites from anywhere. Plus it has 2,100+ servers in 77 countries to bypass geo-restrictions.
Hide.me protect your data with a no-logs policy, kill switch, robust encryption and IP leak protection.
If you get sick of streaming local content you can always download some open source software or the latest promo singles from up-and-coming Canadian artists via torrenting. Hide.me supports all P2P activities, without capping your data, bandwidth, or speed.
The VPN stands by its service with a 30, so you can try it risk-free and get a refund if it isn't exactly what you were looking for.
Tunnelbear is a small but user-friendly VPN that offers servers in Canada but not necessarily Montreal. Still, it works great at unblocking websites in Canada, and other regions thanks to its global coverage of around 2,600 servers in 47 countries.
One user favorite is Tunnelbear's limited free version. While you get access to all the servers, your data is capped at 500MB per month. The free version is a great way to test drive the service but it lacks the power to unblock streaming services and 500MB of data doesn't last long. Tunnelbear can unblock streaming services like Netflix, Hulu, and Amazon Prime Video but only if you're using GhostBear; a service only available on the paid version.
Fortunately, both services offer military-grade encryption, OpenVPN, and DNS/IP leak protection. DNS requests and IP address leaks can help hackers, your ISP, and anyone else interested find your true location, so DNS/IP leak protection is a nice bonus.
The good news is if you decide to upgrade from the free version, you'll have unlimited everything and access to GhostBear for streaming. The bad news is that the speeds can be a bit slower when connected to GhostBear and Tunnelbear only gives refunds on a case-by-case basis at its discretion.
Proton VPN offers plenty of servers in Canada for accessing local content abroad, as well as servers in 67 countries. The company is also based in Switzerland, a country known for its strong data privacy laws. Which is a nice extra for privacy-conscious users.
It features many of the same basic security features as the other VPNs on this list, including military-grade encryption, no-logs, and a kill switch. What's unique about the country is it offers Secure Core servers, this means that your traffic is routed through countries known for being privacy-friendly.
Proton VPN can unblock local Canadian content as well as services like Amazon Prime Video, ESPN+, and more. It also works great for torrenting, even offering Tor over VPN.
It does have a free version but the speeds can be a bit on the slow side though, especially during peak hours. This is why opting for a premium plan with unlimited everything using its 30 is the best bet.
Bottom Line
If you want to access local content outside of Montreal you're going to need a strong VPN with servers in Montreal or Canada. All of the VPNs on this list will work for gaining a Canadian IP address, so you can access local content in Montreal without needing to be in the city itself.
Our top pick ExpressVPN, not only gives you access to servers in Montreal and Canada but across the world as well.
Try ExpressVPN Risk-free Today!
FAQs on VPNs for Montreal
What's the best VPN for Montreal?
ExpressVPN is our top pick for Montreal based on server availability in the area, security features, and its ability to bypass tough geoblocks on a global scale.
Can I use a free VPN in Montreal?
While free VPNs provide a great way for you to test drive the service, they're limited when it comes to server availability, speed, and data.
The only way to fix that is to upgrade to a pad version, in which case you'd be better off opting for one of the top five VPNs on this list, and using the money-back guarantee to determine if it's a good fit.
Is a VPN legal in Montreal?
Yes, VPNs are completely legal in Montreal and most other parts of the world. Some areas like China and Russia heavily restrict or monitor VPN use, while North Korea bans them altogether. While citizens can face fines or jail time for using a non-sanctioned VPN in these areas, no tourist has gotten in trouble for using one while on vacation.
If you are curious about where VPNs are legal and illegal worldwide, check out this guide.
Which VPN is the Fastest for Montreal?
ExpressVPN is the fastest VPN for Montreal.
How can I get a Montreal IP address?
Most of the VPNs on this list have servers in Montreal that can give you a local Montreal IP address. The others are all able to give you access to a Canadian IP address in general which also works for accessing Canadian content abroad.
ExpressVPN has many servers located in Canada, including Montreal, to give you a local IP address. Just log in, choose a server in Montreal, and then any site you visit will think you're in the city regardless of where you are.