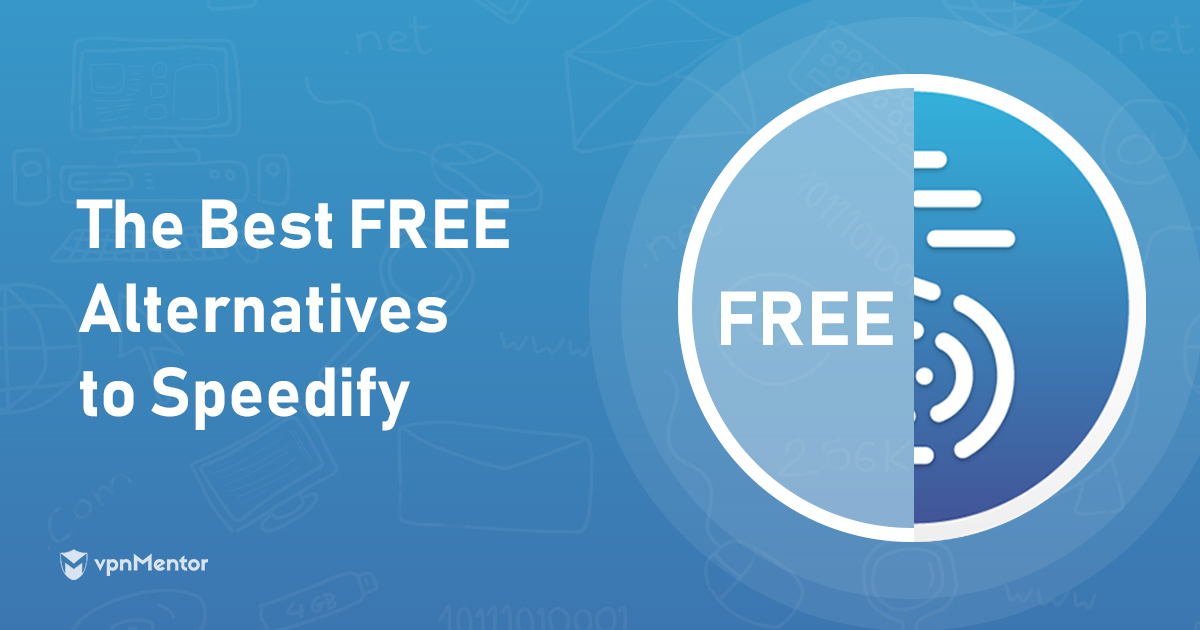 5 FREE Alternatives to Speedify – Fast & Safe Options in 2023
Speedify is a relatively young VPN that, according to its CEO Alex Gizis, puts more emphasis on speed than security. It relies on its channel bonding feature to combine the power of multiple connections – like your home WiFi and 4G cell data allowance – to boost your internet speed.
Except this bonding feature isn't really all that useful – or fast. Speedify's service has been a hot topic lately, with users complaining that it doesn't make their connections any faster. Complaints are particularly common about the free version of the service.
In fact, when we tested Speedify for ourselves, the results showed a pretty significant drop in download and upload speeds. The free version is the worst for speed, but the problem persists across all paid subscription plans.
Our connection speeds without Speedify:
Our connection speeds with Speedify:
All in all, Speedify's free VPN doesn't deliver on its promise to increase your connection speed, and upgrading to a paid Speedify plan won't solve the problem. If you're willing to pay for a VPN, you'll be far happier with a premium provider like ExpressVPN.
Worse, unimpressive speed is only one of the problems you're likely to encounter with Speedify. Below, we'll look at Speedify's other drawbacks in detail and give a list of completely free services that offer faster connections with no security compromises.
First, however, here's a great trick to use a topnotch paid VPN service free for a short time.
How to Get a Premium VPN FREE
If you're after a VPN for short-term use, such as protecting yourself while traveling overseas, consider using a free trial of a premium VPN service instead of putting up with the flaws of a completely free service.
In addition to free trials that range from a day to a week, our highest-rated VPNs have money-back guarantees, so you can use the service for a month or more completely free!
Additional Problems with Speedify
Speedify is a flawed and disappointing VPN in many ways, especially the free Starter Plan. The provider has been accused of serious DNS leaks, suggesting that you should take the CEO at his word when he says that security is not the company's top priority.
One of the most significant – and expensive – issues with Speedify is increased data usage. By combining two connections to load a page, you're loading the page twice, using twice as much data. It makes no sense to use a free VPN if the result is costly data overages.
Speedify isn't forthcoming about this issue on its website, but when we contacted user support directly, a representative confirmed our fears: your data usage could skyrocket with Speedify. They did offer us a solution – setting data caps on our account. In other words, they told us to just use less data.
And if you're looking to unlock heavily geoblocked content with Speedify, you're sadly out of luck. The Speedify website confirms that it cannot unblock Netflix.
If your browsing is light, you could perhaps live with a sluggish VPN with limited functionality. Unfortunately, there is an even more important cause for concern with this service: Like many free VPNs, Speedify can't be trusted to protect your privacy.
Speedify's Data Logging Practices
When you use Speedify, the provider logs some of your data. Although quite a few VPNs record basic information like connection times and bandwidth usage, the most trustworthy services prevent their logs from ever being linked to you or your devices.
According to its Privacy Policy, Speedify records not only your access information, but also your IP address and unique identifiers from your device's hardware. Speedify claims that it doesn't share any of your personal data with third parties – except, of course, the third parties it's partnered with.
Your usage and cookie data, for example, is shared with Google Analytics for the purpose of delivering personalized ads and preparing reports that are shared with other Google services.
If you report an error while using Speedify, the app sends a message to Raygun, a third-party error tracking service. This message will include your IP address and email address. This setting is activated by default, but you can opt out in your account settings.
Speedify's Vulnerability to Five-Eyes Scrutiny
Speedify is based in the US, directly under the jurisdiction of the Five-Eyes Alliance. For VPNs in 5/9/14-Eyes territories, strict no-logs policies are particularly important.
Because Speedify logs and shares some of your personal information with third parties, your security could easily be compromised.
A good free VPN can deliver high speeds and bypass geoblocks without putting your data and devices at risk. Read on for our top recommendations for completely free, fast, and safe alternatives to Speedify.
All Free VPNs Have Flaws – Choose Safety First
Most free VPNs lack the security of their premium competitors, leaving your connection exposed to cybercriminals.
In early 2018, free VPN provider Hola suffered a disastrous attack when a hacker breached its developer account and redirected users of a cryptocurrency website to a phishing page.
Free services also tend to fall short when it comes to bypassing geoblocks and censorship. One of the reasons that most free VPNs can't unblock Netflix US, for example, is that they don't continually refresh their servers' IP addresses. So Netflix learns to recognize the static IPs and block them.
Worst of all, many free VPNs gather your data and sell it. That's why for the ultimate protection and reliability, we recommend using a free VPN offered by a premium VPN provider. That way, your online security never becomes compromised.
VPN companies offer free versions to give you a taste of their premium services and encourage you to upgrade to paid plans. That of course means the free plans have limitations (usually on server access and data usage), but they will always be more reliable than standalone free services.
Best Totally FREE Alternatives to Speedify
TunnelBear's Little Bear plan offers you 500MB of free data each month. Although this won't be enough for a Netflix marathon, it'll keep you covered when you're using public wi-fi or banking online.
And if you're worried about censorship, the GhostBear mode will alter the VPN signature on your data to evade deep packet inspection (DPI). If you need more data, TunnelBear offers very affordable premium plans (aptly titled Giant and Grizzly Bear).
With your free VPN from TunnelBear, you'll enjoy a secure, fast connection and a choice of virtual locations in over 47 countries. And unlike Speedify, TunnelBear can unlock geoblocked content like Netflix.
When its Always On mode is enabled, TunnelBear starts up the instant you connect to the web. Its Vigilant Mode will kick in if your connection is interrupted, blocking all unsecured traffic until the connection is restored. All in all, it's no wonder that TunnelBear is one of our best-rated VPNs.
HotSpot Shield's free VPN is one of the more limited options available with regard to server choices, but it doesn't compromise on network quality or security.
You'll be able to choose from several virtual locations within the US and enjoy 500MB of free bandwidth per day. Although there is a slight difference in connection speed when compared to Hotspot Shield's paid Elite option, it shouldn't affect your regular browsing and streaming.
Your data will be in good hands with HotSpot Shield's top-of-the-line SSL encryption standards and an automatic kill switch. HotSpot Shield also offers a free 7-day trial of its unlimited premium service.
You can check out what customers have to say about HotSpot Shield in our reviews archive.
If you're looking for a feature-packed free VPN, ZenMate is your perfect match! The free version offers a huge range of features with little compromise.
With ZenMate, you'll enjoy security features like WebRTC blocking, high-end encryption, and a NAT Firewall that prevents cybercriminals from scanning your device.
Its Always On feature will start your VPN as soon as you go online, ensuring that your data is never exposed. The premium version of ZenMate is very budget friendly, and offers unlimited speeds and the ability to connect up to Unlimited devices at the same time.
When you activate your free account, ZenMate will give you a 7-day free trial of its premium service. Find out why users are raving about ZenMate VPN!
Windscribe's impressive free VPN service allows you take full control on your online security. As a basic account user, you can use up to 10GB of data each month to stream, browse, and unlock geoblocked content. You'll also have full access to a long list of VPN tools, like an ad blocker.
Windscribe keeps a strict no-logs policy and uses an AES-256 cipher with a 4096-bit RSA key to keep your data safe, and its simple apps make getting started a breeze.
The paid pro accounts are even more exciting. Unlike with the free version, you'll enjoy unlimited data and access to servers in over 69 countries. Dedicated Windflix servers allow you to unblock Netflix US and UK no matter where you are in the world.
Best of all, Windscribe's referral program rewards you for inviting your friends, with 1GB of extra free data per month per referral. And, if your friend signs up for a pro account, you'll get one free!
Proton VPN is a high-powered, high-speed VPN with a multitude of account options. The free plan offers a stable but low-speed option with access to three virtual locations.
Or you can upgrade to the low-cost Basic, Plus, or Visionary plan to enjoy unlimited features, including Tor servers, secure streaming, and P2P connections.
Proton VPN is well-liked by users because, unlike Speedify, it benefits from strong laws in its home country of Switzerland that protect your anonymity. This means that it can't be coerced into spying on you or divulging your information to government surveillance agencies.
Summary
Free VPNs can be risky – many threaten your anonymity and safety, only to provide you with a low-speed and unreliable service.
Although its CEO makes impressive claims, Speedify is a data-sharing VPN with disappointing connection speeds. A good free VPN should protect your data without compromising on service quality.
The free VPNs we recommend are designed by their providers to entice you to upgrade to a paid service, so you know they will never compromise your security.
And when the time comes to upgrade to a premium service for long-term protection and worldwide content access, make sure to visit our Best Coupon Codes page to get the hottest deals available!
Start Your Free CyberGhost Trial NOW!
The Best Premium VPN alternatives to Speedify in 2023 are...