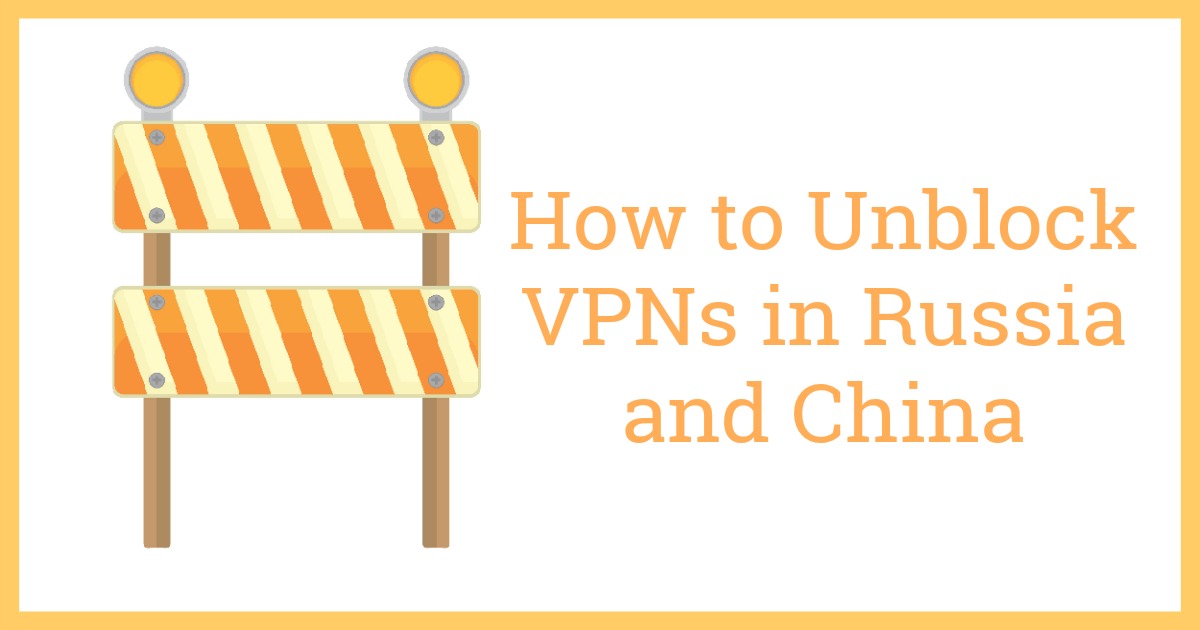 How to Use a VPN in Russia and China: Safe Access in 2023
November 2023 update: Access to Facebook, Twitter, Instagram, and other social platforms in Russia is now even more limited. It's also becoming increasingly difficult to find payment methods that work since Visa and Mastercard no longer operate there. The good news is that ExpressVPN accepts payment methods that still work in both Russia and China, like YooMoney (Yandex), Qiwi Wallet, Bitcoin, UnionPay, and WebMoney.
Russia and China are actively taking measures to block non-government-operated VPNs. You can't even find their apps in the app stores in either of these countries. The ones that remain accessible are mostly government-approved ones, which aren't privacy-friendly.
Only a few VPNs with robust obfuscation technology can get around China's and Russia's VPN blocks. After detailed testing of almost 30 VPNs, my team and I came up with a list of 5 that work reliably in both countries. They're ultra-secure and privacy-focused, and some even have mirror websites that you can access to download the VPN from Russia or China.
Out of all those, ExpressVPN is my top pick because of its obfuscated servers that can easily bypass the VPN blocks in these countries. It also has a mirror website, so you can get it even if you're already there. You can also test it out for yourself risk-free because it comes with a reliable 30-day money-back guarantee. If it's not working for you for some reason, you can get a full refund.
Quick Guide: How to Use VPNs in Russia or China in 3 Easy Steps
Get a VPN. Ideally, you should do this before traveling to Russia or China. I recommend ExpressVPN because it works reliably in both countries, and it even has a mirror website so you can download it from there.
Connect to a nearby server. This gives you the fastest speeds. For example, you can choose a server in Japan if you're in China.
Start using your VPN. Once connected to a server, your traffic is encrypted, and you can enjoy unrestricted internet. Some VPNs may require additional setups to work.
Why You Need a VPN in Russia or China
Both Russian and Chinese governments use a combination of legislative actions and restrictive technologies to monitor and censor internet use. Since VPNs are sometimes used to fight censorship, these countries have been trying to control or block VPN use as well. Only a handful of VPNs with solid obfuscation technology work there.
In 2019, Roskomnadzor, Russia's supervision agency and internet regulator started to compile a centralized blacklist. The list, called the Single Register, contains websites and IP addresses that should be blocked in the government's opinion. Since then, they have tried getting VPN providers to block these apps and websites and even log user activity. Many refused, though, and even removed their physical servers from Russia.
Similarly, The Great Firewall of China uses sophisticated VPN-blocking technology. Both countries also use a method of examining data called deep packet inspection (DPI) to control internet traffic. China has banned the use of all non-government-approved VPNs and proclaimed the unauthorized ones illegal. The government-approved VPNs are allowed, though they're heavily monitored.
Additionally, in Russia, there's the Yarovaya law that requires telecom companies and ISPs in the country to collect and store user data for a certain period. Sometimes for even up to 3 years. This means all your online moves are known to third parties and they can be shared with the government if required.
However, a VPN with robust obfuscation and security features can work even in highly-monitored countries and protect your data. It sends your traffic through an encrypted tunnel and hides your real IP address. Advanced obfuscation technology allows it to get around the most sophisticated VPN blocks in countries such as China and Russia.
Important! China and Russia tackle VPNs mainly through tech blockages, not targeting users. Nevertheless, stay informed about laws and use precautions. My team and I do not support any illegal use of VPNs. The reliability of VPNs in China can fluctuate due to changing rules. While all VPNs might face brief downtimes, our listed ones have proven consistently dependable.
Best VPNs that Work in Russia and China in 2023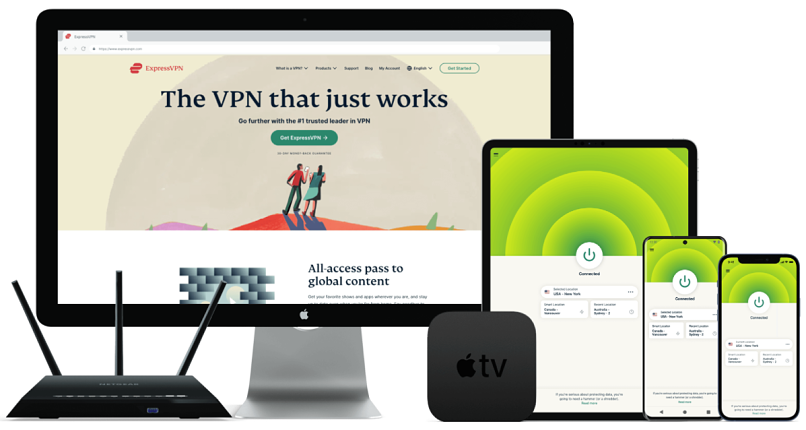 Editor's Choice
Editor's Choice

Tested November 2023
Try Risk-Free for 30 Days
Available on:
Chrome
Router
Smart TV
More
www.ExpressVPN.com
Best at bypassing VPN blocks thanks to its robust obfuscation technology
AES 256-bit encryption and HMAC authentication code making it virtually uncrackable
Blazing-fast speeds for a smooth surfing experience
Can unblock: Facebook, WhatsApp, Skype, Twitter, YouTube, Netflix, Tinder, Google services, and more
Compatible with: Windows, macOS, iOS, Android, Linux, routers, Apple TV, and more
ExpressVPN uses sophisticated obfuscation technology to make sure it remains undetected. This allows it to pass through the firewalls and DPI used to inspect and block VPNs. It makes your VPN traffic look like regular HTTPS traffic, and your ISP or anyone monitoring the internet can't detect it. ExpressVPN works reliably in both countries, as confirmed by our team there. Its support also gave me a tip to set the protocol to "Automatic" so that the servers are obfuscated. They also gave me a list of servers in the US, UK, Japan, Singapore, and France that are optimized for use in China.
Its TrustedServer technology ensures its servers run only on RAM memory which means all information on its servers is deleted after each reboot. Since there is nothing to recover, there is no way your ISP or anyone else can see any online activities. I always use ExpressVPN while traveling to censorship-heavy countries because this feature allows your data to remain completely safe while giving you access to the unrestricted internet.
ExpressVPN's kill switch called Network Lock is another safety precaution to ensure none of your data leaks. If the VPN malfunctions, your internet connection is cut off. That way, you are surfing protected at all times. You can turn this feature on by clicking the General tab and ticking the box that says: "Stop all internet traffic if the VPN disconnects unexpectedly." I tested ExpressVPN's kill switch numerous times by force-stopping the VPN, and it always worked by disconnecting me from the internet.
It offers various subscription plans which differ only in length. Long-term deals give you a better value for your money.
Even though ExpressVPN comes at a slightly higher price — starting at $6.67/month, it often has discounts and deals that make it worth it, so you can get up to 49% off on your subscription. Plus, I came at the perfect time and even got 3 months free when I signed up.
Besides that, it comes with a reliable 30-day money-back guarantee. In case you are not 100% happy with it, you can get a full refund. I asked for a refund using its 24/7 live chat feature, and it was processed after a quick chat. The money was back in my PayPal account in less than 72 hours.
Special servers for China and static IPs for Russia to surf safely and easily
Strong encryption that keeps your online activities and data private
A kill switch that stops all internet connection if the VPN is disabled
Can unblock: Facebook, WhatsApp, Skype, Twitter, YouTube, Netflix, Tinder, Google services, and more
Compatible with: Windows, macOS, iOS, Android, Linux, routers, Apple TV, and more
Astrill VPN has special Chinese-optimized servers and unique dedicated IPs for Russia, which help you safely access both local and international sites. I tested its China-optimized servers, and they all proved to have no leaks and were reliable at getting around the tough internet restrictions. I also used its server IPs in Russia, and the connection was always stable without any noticeable slowdown.
Astrill VPN works reliably in China and Russia thanks to its proprietary StealthVPN protocol, which hides the fact that the VPN is on. This is crucial in internet-restricted countries because they use sophisticated VPN-detection technologies. Stealth is its "untraceable" protocol that makes the VPN traffic appear like usual HTTPS traffic. It successfully bypasses VPN blocks and deep packet inspection (DPI), as tested by our teams in Russia and China.
Its Smart mode is an additional feature you can use to surf without any trace of a VPN. With this mode, you get a local IP (Chinese or Russian) instead of a foreign one, which helps you blend in with the regional IPs. This is important because the methods used by the Chinese and Russian governments have become advanced enough to detect specific VPN IP addresses when accessing a site. I was also happy that this feature didn't slow down my speeds at all.
Like ExpressVPN, I also found that Astrill VPN has a special website accessible from China or Russia. Very few providers have this, and it's a massive advantage since both governments block access to many foreign VPNs. This way, you can install Astrill VPN even when you're already in one of these countries.
You can get a long-term Astrill VPN subscription for $8.29/month, which is more than average but acceptable for a VPN loaded with such strong features.
The downside is that it offers no refunds, but Astrill recommends that if you just want to try it out, you should go for the shortest plan available. However, it has an Invite Friends System. The friend you invite has to purchase the subscription, and then you can use it for up to 30 days for free.
An in-house developed protocol that works in countries with heavy censorship
Strict no-log policy keeping all data confidential
Kill switch that blocks internet connection whenever the VPN disconnects
Can unblock: Facebook, WhatsApp, Skype, Twitter, YouTube, Netflix, Tinder, Google services, and more
Compatible with: Windows, macOS, iOS, Android, Linux, routers, Apple TV, and more
VyprVPN's Chameleon protocol is designed to bypass DPI, VPN blocking, and ISP throttling. It scrambles packet metadata to ensure it's not detectable by deep packet inspection. That makes it especially good at overcoming restrictions in censored countries such as Russia and China. This protocol is also lightweight and fast, and I didn't have any connection issues or significant slowdowns.
Chameleon also uses a Smart IP feature which makes the VPN completely undetectable because it changes your server IPs throughout the session. This way, it is much harder to detect its use, so it works successfully in internet-restricted countries.
I was also pleasantly surprised by its fast and consistent connection speeds and great uptime, which means the servers are reliable. Even though the speed was not as fast as with ExpressVPN, I still found it good enough for everyday surfing. I had about 19% loss in download speed and 23% loss in upload speed using VyprVPN's server in Moscow. My baseline speed was 155 Mbps, and with VyprVPN, it dropped to 125 Mbps on average.
VyprVPN is a VPN that doesn't log any data and has been publicly audited. The independent assessments conducted by third parties confirm that it's not merely a promotional gimmick. This VPN guarantees not to gather any personal identifiable information, providing you with peace of mind.
What I wasn't so thrilled about is that it offers no cryptocurrency payments, which are great if you want to remain private. Still, it does accept credit cards, PayPal, and Amazon Pay, so you'll still have plenty of options.
VyprVPN has 2 plans only, with prices starting at $5/month. I even got 50% off for its long-term subscription when I signed up.
It also offers a 30-day money-back guarantee, so you can test it out risk-free. I asked for a refund after 2 weeks and had to answer 1 quick question before I could get my refund approval.
Stealth mode makes the VPN invisible, so it bypasses blocks and firewalls
A variety of VPN protocols to choose from to adjust to your specific needs
In-house developers and professional support if you ever need help
Can unblock: Facebook, WhatsApp, Skype, Twitter, YouTube, Netflix, Tinder, Google services, and more
Compatible with: Windows, macOS, iOS, Android, Linux, routers, Apple TV, and more
With its Stealth mode turned on, PrivateVPN can easily bypass VPN blocks in countries such as Russia, China, and the UAE. It makes your VPN traffic look like regular web traffic, so not even deep packet inspection used by Chinese and Russian firewalls can detect it. While testing PrivateVPN's Smart mode, I mostly used it on my MacBook, and all I needed to do was choose a port (22 or 443).
As the name suggests, PrivateVPN is heavily focused on privacy, so you can have a piece of mind that your personal details are never shared. I've taken a close look into its privacy policy, and it is a strictly no-log VPN, which is crucial in privacy-unfriendly countries such as China and Russia.
The speeds it offers are commendable. While they might not rival those of ExpressVPN and VyprVPN, they remain consistent. I've conducted tests on PrivateVPN's servers in Hong Kong and Russia, specifically in Krasnoyarsk and Moscow. The reduction in speed was no more than 20%, a typical range for a VPN.
While PrivateVPN may not have the most extensive server network compared to some other VPNs on my list, I found that all the servers I tested functioned flawlessly and enabled me to access the content I required.
PrivateVPN is budget-friendly, costing $2/month for its long-term plan, and I even paid 85% less for my subscription at the time with its discount offer.
You can claim your money back in a maximum of 30 days if you find it's not working for you. To test it out, after 12 days, I asked for a full refund. Its support team asked me a couple of questions as to why I was leaving. After a short chat, they approved my refund request, and I had my money back in 4 days.
Strong encryption and Stealth Guard to keep your activities private in Russia or China
10 simultaneous connections so you can connect many devices at the same time
Multihop servers that let you rotate between multiple IPs for added security
Can unblock: Facebook, WhatsApp, Skype, Twitter, YouTube, Netflix, Tinder, Google services, and more
Compatible with: Windows, macOS, iOS, Android, Linux, routers, Apple TV, and more
hide.me has sturdy safety features like AES-256 bit encryption and Stealth Guard to make sure all your information stays private in China and Russia. Strong encryption is essential, so your data is unreadable to third parties. Stealth Guard is an additional layer of security that lets you bind certain apps to the VPN to avoid accidental leaks when it's disabled. I used this to ensure I use VoIP services only through the VPN, and all other apps and services through my regular internet connection. I found no IP/DNS leaks during my tests, which means hide.me protected my identity.
With its headquarters in Malaysia, which is outside the jurisdiction of the 14 Eyes Alliance, hide.me maintains a strict no-logs policy, ensuring your data stays private no matter your location. I scrutinized their privacy policy to verify the authenticity of these assertions, and they hold up. Should any surveillance agency request your information, hide.me is unable to comply simply because there's nothing to disclose.
As confirmed with its support, hide.me not only works in Russia and China, but you should be able to get it even from there. Not many VPNs work so that you can actually subscribe through its website while in these countries, so I was pleasantly surprised. For any questions regarding the signup process, you can reach out to its 24/7 live chat support. I got my reply almost immediately.
One shortcoming is that its network is limited compared to ExpressVPN and others, with no servers in Russia or China. However, it does offer server locations nearby, like Hong Kong, Taiwan, Lithuania, and Ukraine, which all worked reliably when I tested them.
I find hide.me's price quite budget-friendly, starting at $2.22/month. It's also possible to get up to a 78% off, depending on its active offers.
You can also try hide.me risk-free through its 30-day money-back guarantee. I asked for a refund after about 3 weeks of using it through its live chat feature. After a quick chat, its support authorized it, and I had my money back on my credit card in less than 5 days.
How to Set Up a VPN in Russia or China
The first and most important step is to choose the right VPN. Not all VPNs can bypass heavy censorship. As already mentioned — my top recommendation is ExpressVPN. It has obfuscated servers, excellent speeds, and it works right away with no additional setups.
Pro Tip. Many VPN websites are blocked in Russia and China, so you won't always be able to download the VPN while there. Some VPNs, like ExpressVPN, allow accessing it from a Tor version of it. Still, I believe the best alternative would be to get a VPN before traveling to Russia or China.
Here's how to set up ExpressVPN in China or Russia:
Download the ExpressVPN app. Choose the suitable app for your device (it supports all major OS and devices).
Install the app. The installation is very straightforward; all you need to do is follow the prompts.
Open the ExpressVPN app. If you already have an account, you can just sign in. If you don't have an account, you first need to sign up for one.
Choose a secure protocol. If you use ExpressVPN, choose the Automatic or Lightway protocol to enable obfuscation on all servers. Other safe protocols that you can use with most VPNs are OpenVPN, IKEv2, and WireGuard. L2TP/IPSec and PPTP are good as well but the before-mentioned are the most secure of all.
Select the server you want. For example, Yokohama, Wembley, or Santa Monica. Then, click the power button to connect.
Open your browser. Find the site that you want to access and enjoy the unrestricted internet. You can minimize the app, and the VPN will run in the background.
FAQs on Using VPNs in Russia or China
Are VPNs legal in China or Russia?
Even though VPN technology is used in both countries, almost all non-government-approved VPNs are blocked or illegal. There have been no cases of prosecuting tourists for using VPNs in Russia or China, but you should be cautious. The laws are always changing, so it is crucial to stay informed. All the VPNs on my list have excellent privacy features, so your personal information remains safe even in heavy-censorship countries.
Furthermore, the accessibility of content is frequently subject to the influence of the regional government. A notable illustration is China, where legislation may vary across different provinces. For instance, in Tibet and Xinjiang, internet access is severely restricted for the majority of the day, with only a limited number of hours granted for usage.
Which VPNs work in China and Russia?
Only top-tier VPNs that use obfuscation can work in high-censorship countries, and the ones I recommended are among them. My top pick is ExpressVPN because it functions in both Russia and China without any further tweaks. It also has a mirror website so you can get it even while you're there. Other VPNs on my list are also effective, although some need a bit of customization to make sure they can bypass the firewalls and VPN blocks.
How do VPNs work in China and Russia?
In internet-restricted countries, VPNs can only work by using strong obfuscation technology, which makes them less detectable. However, most don't have what it takes to go through the firewalls and blocks. These countries use different methods to block VPNs, such as deep packet inspection (a filtering method) or blocking IPs of known VPN servers. With those measures in place, you need a VPN with sophisticated obfuscation and privacy features.
Can you use a free VPN in China or Russia?
I don't recommend using free VPNs because they won't work or keep you safe. Instead, my advice is to get a reliable VPN with robust security features proven to work in China and Russia. A CSIRO study of 283 Android VPNs showed that 38% contained malware, 84% leaked your IP address, and 75% used trackers. To earn revenue, free VPNs often sell users' data to third parties for advertising purposes. In most cases, they can't bypass firewalls or unblock sites like Facebook, Instagram, Netflix, or WhatsApp because their technology isn't strong enough.
Start Using VPNs in Russia or China Now
China's Great Firewall and Russia's Single Register are employed to selectively block certain content and applications deemed "undesirable," including VPNs. Over the years, the governments have developed advanced firewalls and DPI (Deep Packet Inspection) mechanisms capable of detecting the majority of VPNs. However, there are only a handful of providers that utilize sophisticated obfuscation technology, enabling them to operate successfully in these countries.
My first choice is ExpressVPN because it uses advanced obfuscation, and it even has a mirror website you can access from China or Russia. It also comes with a reliable 30-day money-back guarantee, so you can try it out risk-free. In case you are not completely satisfied, you can easily get your money back.
To summarize, the best VPNs for Russia or China are…
Privacy Alert!
Your data is exposed to the websites you visit!
The information above can be used to track you, target you for ads, and monitor what you do online.
VPNs can help you hide this information from websites so that you are protected at all times. We recommend ExpressVPN — the #1 VPN out of over 350 providers we've tested. It has military-grade encryption and privacy features that will ensure your digital security, plus — it's currently offering 49% off.
We rank vendors based on rigorous testing and research, but also take into account your feedback and our commercial agreements with providers. This page contains affiliate links.