ActiVPN is a small provider with high-end security features. It operates a smaller network of 61 servers across 32 countries. Because its network is so small, ActiVPN can't unblock Netflix. You need one of our best VPNs for Netflix if you're looking for a VPN for streaming.
ActiVPN is compatible with most devices and allows up to five simultaneous connections per account.
Let's take a closer look at ActiVPN's features to find out if it is the best VPN for you. In the meantime, if you want a VPN with 1,000s of servers across the globe, check out ExpressVPN.They have 3,000+ high-speed servers in over 160 countries.
ActiVPN Features – Updated in 2021
| | |
| --- | --- |
| Price | $2/month |
| Does VPN keep logs? | Partially |
| Number of servers | 65 |
| Number of devices per license | 5 |
| Kill switch | Yes |
| Based in country | France |
| Support | Via Email |
| Supports torrenting | Yes |
Streaming – Does ActiVPN Work with Netflix?
No. Netflix detected that I was using a VPN and blocked my stream.
I tested ActiVPN with some other popular streaming services and was disappointed that it could only unblock one.
ActiVPN Speeds
My connection was quick while using a local server, but when I tested its overseas servers, I noticed a dramatic speed loss. Some servers were so slow that my connection timed out before I could load a webpage.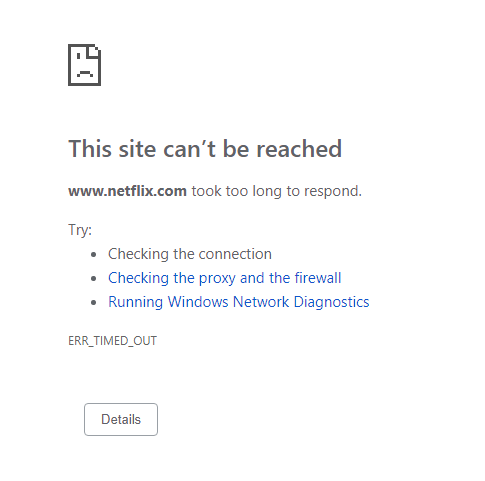 It's normal to lose some speed when you connect to a VPN because your traffic has to travel farther to reach its server. It also takes extra time to encrypt and decrypt your data. However, with a premium VPN, this speed loss should be barely noticeable.
To test ActiVPN's speeds, I first needed to determine my connection speed without a VPN. My connection was running at 13.71 Mbps download, 0.81 Mbps upload, with a 52 ms ping.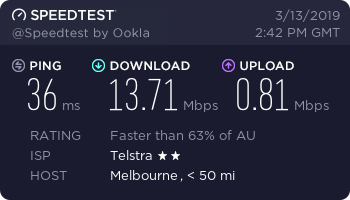 When I connected to a local ActiVPN server, I got 11.19Mbps download, 0.74 Mbps, with a 52 ms ping. Although my ping increased and my download and upload speeds both decreased, I didn't notice a difference. Unfortunately, it decreased quite a bit when I connected to its US server.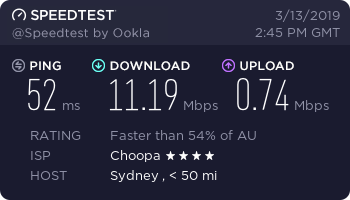 When I tested its US server, my speed dropped to 1.2 Mbps. Although there are multiple servers in the US, only one could mask my IP. And, with this connection speed, I couldn't stream or download files. I also had problems loading quite a few websites, including speedtest.net. I had to test the US server speed using fast.com, instead.
For comparison, my pre-VPN speed according to fast.com was 11 Mbps.
Is AirVPN Good for Torrenting?
ActiVPN allows torrenting on all of its servers, but I wouldn't recommend it.
When I tested ActiVPN's speeds, I found that only one of its US servers could mask my IP. IP leaks like this can expose your location to your P2P network and anyone who is monitoring your connection. This makes it a poor choice for torrenting.
Is ActiVPN Safe?
Yes. Although ActiVPN is based in a 5/9/14-Eyes country, it doesn't keep any logs. This means that if the government summoned them to supply users' records, it wouldn't have any information to give them.
Does ActiVPN Keep Logs?
According to its Terms of Service, ActiVPN does not log your browsing activity.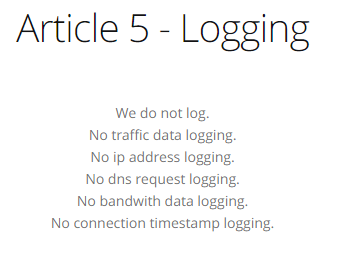 In fact, it keeps and updated page on its website that tells users if authorities have asked it for any information or documents.
Although its parent company originated in Finland, ActiVPN is based in France which is part of the 5/9/14-Eyes Alliance. Generally, I don't recommend VPNs that are based in 5/9/14-Eyes countries. But, if ActiVPN doesn't log any of its users' data, it would have little information to give allied governments.
Does ActiVPN Have and Adblocker?
Yes. ActiVPN blocks banners, pop-ups, and video ads.
Does ActiVPN Work in China?
Yes, ActiVPN does work in China.
Price and Value for Money
There are similarly-priced VPNs that offer much better features than ActiVPN. Compared to premium services like ExpressVPN and CyberGhost, ActiVPN doesn't provide any value for your money.
Does ActiVPN Have a Free Version?
ActiVPN doesn't offer a free trial, or money-back guarantee.
ActiVPN's Refund Policy
ActiVPN offers users the opportunity to ask for a refund if their service doesn't work.
There are two conditions that must be met for ActiVPN to consider refunding your money. You must comply with their troubleshooting steps, and you must not have been able to connect to several servers.
This refund policy is vague, and if ActiVPN deny your request, there isn't much you can do. It doesn't cover refunds for issues like slow speeds, or the inability to access a specific server, either. With most VPNs offering generous money-back guarantees, it doesn't seem worth the risk.
Is ActiVPN Compatible with My Device?
ActiVPN is compatible with Windows, MacOS, iOS, Android, and Linux. You can connect up to five of your devices simultaneously with one account.
Encryption
ActiVPN uses AES-CBC 256-bit encryption. This high-end security will protect your data against hackers, trackers, and spies.
Botnet Blocking
ActiVPN blocks known Command & Control servers that black-hat hackers use. You can learn more about botnets in our experts' internet security guide.
Anti-DDoS Protection
ActiVPN deflects DDoS attacks at the network layer.
ActiVPN Customer Service
When my ActiVPN account wasn't activated after I paid for my subscription, I reached out to customer support for some help. The contact form I filled in said I would received an answer within two business days, but it only took two hours to receive a reply.
The customer support agent I spoke to told me that because I had used a "differed payment," my account wouldn't be usable until my payment cleared. This wasn't a clear explanation, so I did some research for myself.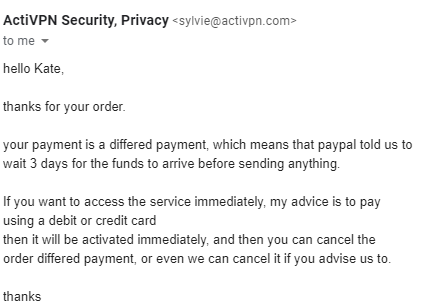 The issue was that I had used a PayPal eCheque to pay for my subscription instead of a credit card. I always use eCheques to pay for my VPN subscriptions, and no other provider has delayed my account activation because of it. However, there wasn't much I could do, so I had to wait for the money to clear.
The support agent was polite, but their answer wasn't helpful. I would have appreciated more information about the issue, as well as instructions for canceling my account and getting a refund.
User Experience
ActiVPN lacks most of the common features that make VPN apps easy to use. Its installation guide was outdated, and because the steps aren't explained well, you have to rely on the pictures and diagrams. The labels on the pictures are in French, so installation involves a lot of guesswork and trial and error.
The app is hard to use. Switching servers is a time-consuming process because you have to login again each time you want to connect to a new location.
ActiVPN's connection speeds on international servers were painfully slow. I wasn't able to unlock popular streaming services like Netflix. There are very few servers available, so if the one you're on isn't working, you may not find another one in the location you need. ActiVPN has a long way to go before it's worth the subscription fee it charges.
Summary
I don't recommend ActiVPN. It charges a premium price, but doesn't deliver on speed or features.
Although it offers high-end security, it's unreliable and slow. If you need a VPN for streaming, ActiVPN isn't for you. It wasn't able to unblock Netflix, Hulu, or BBC iPlayer.
Without a free trial or money-back guarantee, ActiVPN is too risky to invest your money in.
If you're looking for a high-quality VPN for roughly the same price, I'd recommend trying ExpressVPN. It offers all the features you'll need for high-speed streaming, browsing, and torrenting, and all its plans are backed by a 30-day money-back guarantee.