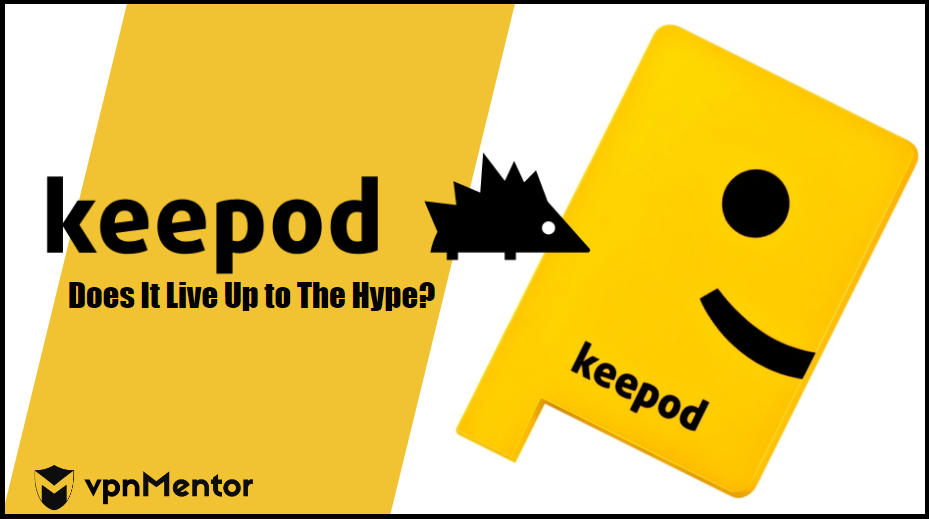 Keepod Review 2023 - Does It Live Up to the Hype?
Keepod brands itself as a pocket-sized operating system that you can literally take with you anywhere and use on any computer with or without an existing OS (as long as it has a functioning USB port that is).
Your information is wiped after every session, the company has no access to it, and there's no threat to your personal information if it's lost or stolen. Sounds too good to be true right? Well, let's find out.
The History of Keepod
I'll keep this short since history lessons aren't my thing, but it's truly an interesting story. Nissan Bahar, a cybersecurity expert, started working on an experiment he called Keepod in 2008. He steadily improved on the Keepod until he met photographer Franky Imbesi at a Sonic Youth concert in Milan two years later (an act of complete serendipity), and the two entrepreneurs shared a vision to provide affordable computer access and internet freedom on a global scale.
What started as a corporate technology tool, turned into a mission to provide personal, safe, and reliable computer access to students and residents in low-income parts of the world; and open up the world to them through the internet.
The company relies on the sales of its Keepod devices, adapters, and hedgehog inspired apparel, to further its mission. While it pre-installs some services it finds useful and safe for users, the company isn't in anyone's pocket. No affiliates, no nonsense. Keepod is an original and intends to stay that way.
Now we're current, so let's get down to testing shall we?
What is Keepod?
The Keepod has two main shapes, both are USB but the classic is pretty sweet. The classic Keepod looks like a credit card with a tail, while the PRV-21 and Education Keepod's are no bigger than a standard USB memory stick. I got the classic version because it looked cool and I don't know, why not right? I am always on the run and being able to stick it in my wallet was pretty neat, plus it's was bright yellow so I knew I'd be able to find it in the mess of receipts.
Can I stream with Keepod?
Yes, however, Keepod itself doesn't unblock Netflix or other popular streaming services. That doesn't mean it isn't possible. Using my CyberGhost account and Keepod together I was able to access Netflix libraries worldwide, Disney+, Amazon Prime Video, and more.
Setup
If you're using Keepod on a computer that doesn't have an operating system, simply plug the Keepod into any usable USB port and power the device on. Once it starts up you'll notice it running through processes, and then receive a welcome windows asking you to choose your language. This window also reminds you to save your work to an external drive or the Cloud before shutting down the computer, as the device wipes all information after each use.
Just as an FYI, I used this on my Dell Inspiron that already has a fully functional OS. So now we get to the hitch, if you're using this on a PC with an OS already in place, you'll need to change your boot sequence so USB is first. Don't worry, I added the instructions a bit further in the article. It's really simple to do and doesn't hurt your computer at all.
Ease of Use
To access any of the apps, browsers, or tools available on Keepod, simply click on Keepod in the top left corner of your desktop screen. The screen will dim and the Taskbar appears. It displays the pre-installed Chrome, Firefox, and Tor browsers, as well as the Files, Settings, and Applications icons.
In addition to the pre-installed browsers, you have access to the following applications:
Calculator
Calendar
Cheese (Camera)
Clocks
Document Viewer
Files
Image Viewer
Libre Office tools
Settings
Text Editor
Utilities
Videos
As you can see, it offers plenty of options for students and the average Joe/Jane. The best part is you don't need to configure anything, just plug it in and it's fully functional. It picks up on your webcam, wi-fi, keyboard, you name it! If it works, Keepod finds it. I was able to connect to the internet quickly using my home network, and in no time I was browsing the internet and catching up on YouTube videos.
Security
One of the primary things I look for in a VPN is whether or not it uses RAM or HDD for its servers. When a VPN uses RAM, all data is wiped when you log out of your session. It's a security feature that makes you trust in the no-logs policy even more. Well, Keepod offers the same concept, every time you shut down the computer after a session all files and data on the Keepod device are wiped. That means if you misplace it, no one can use it to access your information because it's completely clean.
The Chrome browser comes with a few extensions pre-installed too, including CyberGhost (and access to a free server in Romania), LastPass, an ad blocker, and more.
Compatibility
The Keepod doesn't work with mobile devices, it wasn't built for that. It won't work on just any computer either, it needs to have an x86 processor. That means it will work on most desktop and laptop Mac's and PC's built in the last 10 years.
How to Change Your Boot Sequence

for PC and Mac
MacOS: Plug the Keepod into a functioning USB port and start your device while holding down the Option key, don't release it until the Startup Disk screen appears. Keepod may appear as EFI or Windows, click on whichever option appears. That's it!
Windows: Plug the Keepod into a functioning USB port and start your PC. Press the F12 button to access the Boot Menu. Use the up down arrows on your keyboard to navigate to the USB option, and hit Enter. That's it!
Providing Access to Low-Income Schools and Communities
Think about the possibilities, a safe, affordable OS, that students and citizens can carry in their pocket. Keepod is loaded with useful apps and security tools, and basically becomes a clean slate after each use. That means it can be reused a million times over in an educational environment, passing from student to student without compromising privacy. For this reason alone, Keepod is a smart investment for low-income schools. Add the fact that it can be used on desktop and laptop computers that may otherwise be discarded, and it's an environmentally-friendly option too.
So how much do you pay for a complete operating system on a stick? Well it depends, Keepod works with schools to bring the cost per educational Keepod to around $7. They also help find refurbished computers that will work with the Keepod, to help keep costs down. The limited-time Classic Keepod goes for $35, and the PRV-21 costs $29.
To initially get a macOS, you need to buy one of their computers, then you spend $29 or more for each upgrade. To download Windows 10 Home directly from Microsoft's store, it costs $139, and that doesn't include Microsoft Office. Even if you go with Microsoft Office 365, that's still $9.99/mo per 6 users on its Family Plan. You can see where things would quickly add up for a low-income student.
FAQs
Does Keepod device include a wi-fi adapter?
No, essentially Keepod is just a portable OS.
Keepod gives you the ability to connect to any wi-fi network or Ethernet connection if the computer you are using supports it. It's important to understand that the desktop or laptop you're using will need to have functioning wireless and Ethernet adapters for you to connect to the internet. You will also need to have your own wireless or Ethernet network.
Can I watch georestricted content with Keepod?
Yes, but you'll still need a VPN, luckily CyberGhost comes pre-installed.
Keepod works like any other OS, so as long as you have access to a wireless or Ethernet connection and a VPN you can use it to unblock georestricted websites and services. That means you can access any streaming, torrenting, or web service the VPN can unblock. With CyberGhost, that's Netflix, Hulu, YouTube, Disney+, Amazon Prime Video, the list goes on.
What type of devices can I save my files to?
The option I used was Google Drive, of course you can use any Cloud storage service you want. Using a Cloud storage options saves on extra devices to remember, plus many of them offer a decent amount of free storage space per month.
The other option is external storage. If you have a working port for it on the computer, you can save to most formats. For ease of transfer, I would recommend USB storage devices (or SD/microSD if available ports exist).
The Bottom Line
Keepod fits in your pocket or wallet, gives you a full OS and preinstalled extras to make life easier, and there's zero-risk to your identity and personal information if it's lost, stolen, or damaged. What other OS can promise you that? Plus the company is working to make technology accessible to low-income students and communities, recycles otherwise trashed desktops and laptops, and it does it all while providing strong security for a fraction of the price of a standard OS.
Anyone who's read my reviews knows I can be a bit ruthless when it warrants it, but I think I found a keeper. Hopefully they continue to improve upon the existing format, so it can be used on a wider variety of devices.
Privacy Alert!
Your data is exposed to the websites you visit!
The information above can be used to track you, target you for ads, and monitor what you do online.
VPNs can help you hide this information from websites so that you are protected at all times. We recommend ExpressVPN — the #1 VPN out of over 350 providers we've tested. It has military-grade encryption and privacy features that will ensure your digital security, plus — it's currently offering 49% off.