10 Best (REALLY FREE) VPN Services That Still Work in 2020
Updated on 22nd July 2020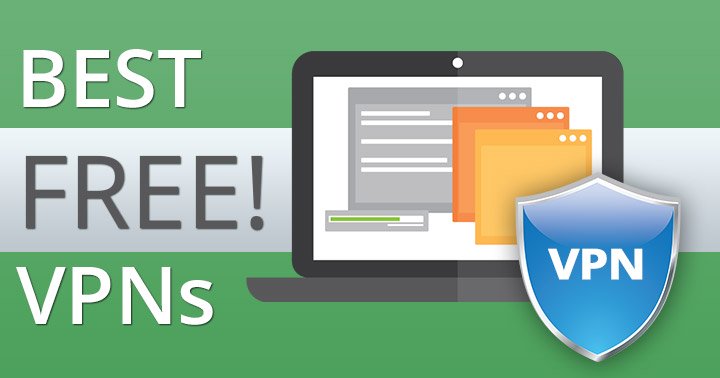 While it's easy to find a free VPN, finding a trustworthy one with no hidden costs that will actually let you access Netflix and torrents, plus keep you secure? That's a lot more challenging. I tested 92 VPN services that claimed to be free and found only 10 that are safe and reliable.

Almost every free VPN comes with a catch. In most cases, VPNs will limit your data, bandwidth, connection speed, available server locations, and even block you from streaming services. In fact, some free VPNs could endanger your privacy. And this is why I've researched so many; the list you're about to read has only secure FREE VPNs, with no hidden costs, risks, or headaches.
Start Using ExpressVPN Risk-Free!
Best Free VPNs – Full Analysis (Updated 2020)
I tested the leading free VPNs to see if I could find any that offered a secure service with no limitations. Unfortunately, no truly free VPN offers the whole package of security, speed, reliability, and unlimited usage. You need a low-cost premium VPN for that. What I did find was 10 free VPNs that are safe to use as long as you don't mind a few compromises.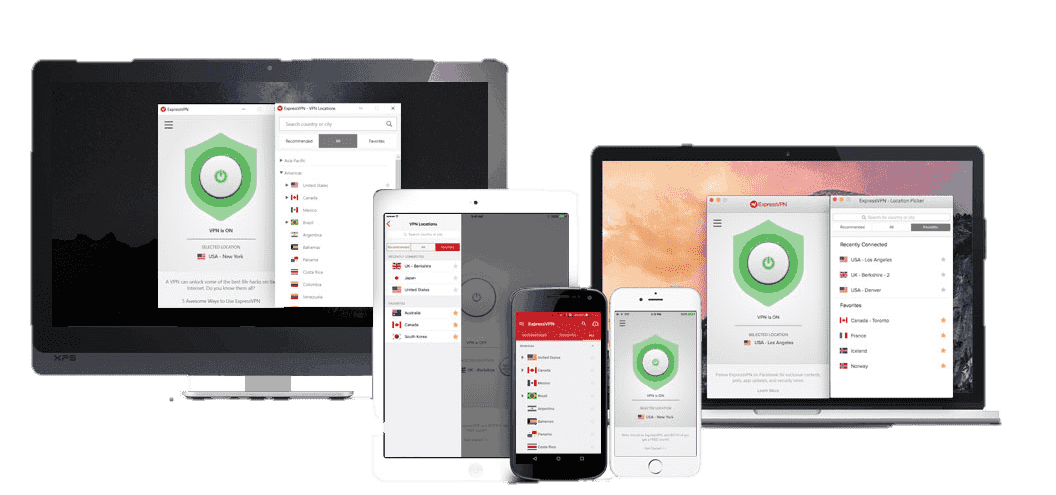 ExpressVPN's Key Features
30-day money-back guarantee
Unlimited bandwidth and data
3,000+ servers in over 90 countries
256-bit AES encryption and a no-logs policy
Up to five simultaneous connections
Works with: Amazon Prime Video, BBC iPlayer, Disney+, Hulu, ITV Hub, Netflix, and more
Compatible with: Android, iOS, Linux, macOS, Windows, Amazon Fire Stick, AppleTV, and many routers
ExpressVPN is a premium service, but it has a 30-day money-back guarantee. This means that while it's not free upfront, you can get your money back if it doesn't work out for your needs.
With ExpressVPN, you'll experience unlimited bandwidth and data so you can browse and download for hours without being cut off. If you like to stream Hulu, Netflix, or any of the other sites that the VPN can unblock, you'll find that unlimited data is a feature you can't live without.
ExpressVPN can unblock so many sites because it has over 3,000 high-speed servers across more than 90 countries. Access to so many IP addresses allows the service to go undetected by even the strictest anti-VPN measures.
To ensure your personal info stays safe, ExpressVPN employs military-grade 256-bit AES encryption, which scrambles your data so well that it would take billions upon billions of years to crack. It also maintains a no-logs policy that guarantees it will never record your browsing history, identity, or any other personal data.
Other important security perks that come with your subscription include an automatic kill switch to prevent leaks during accidental disconnects and split tunneling that allows you to choose what traffic passes through the VPN.
With ExpressVPN, you can connect up to five devices simultaneously. This gives you the freedom to stream on your phone as you work on your computer, while others in your home do other things on their own devices.
Want to know more? Explore our ExpressVPN review to see the full results of our research and testing.
Start RISK-FREE With ExpressVPN!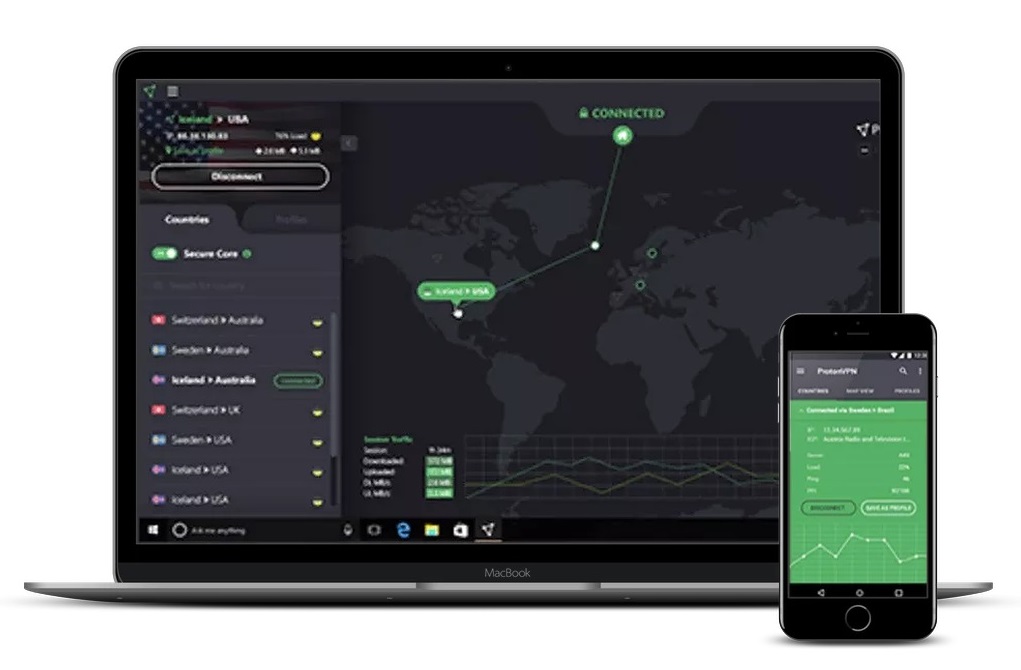 ProtonVPN's Key Features
Unlimited free data
No-log policy and Swiss privacy laws to protect your anonymity
Robust encryption and an automatic kill switch
Works with: YouTube, Spotify, Kodi
Compatible with: Windows, macOS, iOS, Android, Linux
ProtonVPN offers a limited free version of its strong premium service. One of its biggest advantages over most free VPNs is that it comes with unlimited data. It is also ad-free, which is a big plus. With the free plan, you get access to servers in only Japan, Netherlands, and the US.
With all of ProtonVPN's free users connected to one of just three locations, its servers are often overloaded and your connection speed could be slow. You will need to upgrade to a paid plan to stream or torrent with ProtonVPN, but you can still use the free virtual locations to bypass censorship and access geoblocked social media platforms and messaging apps.
ProtonVPN features an easy-to-use, intuitive interface and multi-platform compatibility. The Quick Connect feature connects you to the fastest nearby server. The VPN also offers strong security, including powerful AES encryption and an automatic kill switch. Other features include DNS leak protection and split tunneling support.
One thing I liked about ProtonVPN was how straightforward its privacy policy is. This VPN has a clear zero-logging policy that is strictly enforced. The company is based in Switzerland, outside the jurisdiction of the 5/9/14-Eyes Alliance, which is great for privacy.
Want to know more? Explore our ProtonVPN review to see the full results of our research and testing.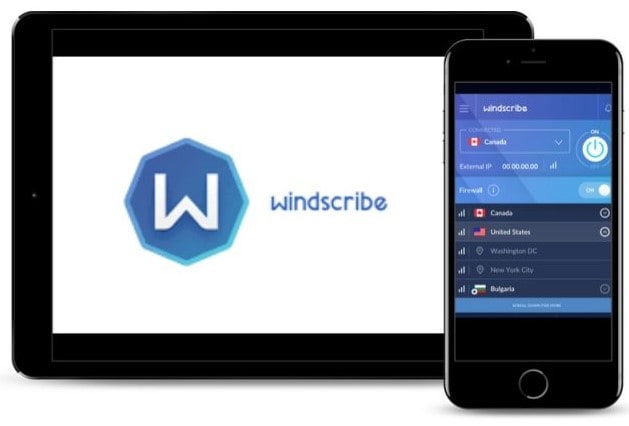 Windscribe's Key Features
10 GB of free data every month
Access blocked content in 10 countries
Robust encryption, malware protection, and ad blocking
Torrenting support
Works with: Netflix, Hulu, HBO
Compatible with: Windows, macOS, iOS, Firefox, Chrome, Linux
Windscribe's generous data allowance makes it one of my top free VPNs. It's enough to stream in high definition for just over three hours. You can get an extra 5 GB by tweeting the company. You can also "win" an extra 1 GB of free data every month by referring friends. Windscribe boasts state-of-the-art security, with robust AES encryption and support for multiple VPN protocols.
Both paid and free users can access all Windscribe features, including its ad and malware blocker. It's pretty rare to find a free VPN with this feature, so this is a big bonus. Windscribe also comes with a firewall that blocks all traffic outside the VPN's secure tunnel in order to prevent unexpected leaks.
Other useful features include port forwarding and split tunneling. The company has a detailed privacy policy that clearly explains what data they store, as well as a no-logs policy to protect your privacy. Windscribe offers a desktop app and browser extension. The program has a user-friendly interface, with a choice of customer support options including live chat and setup guides. Single-click connect makes it super easy to get started.
As well as limiting your data, a free Windscribe account restricts you to servers in only the US, the UK, Canada, France, Germany, Hong Kong, the Netherlands, Norway, Romania, and Switzerland. A limited selection of servers means you can't use Windscribe to unblock content from outside these regions.
Want to know more? Explore our Windscribe review to see the full results of our research and testing.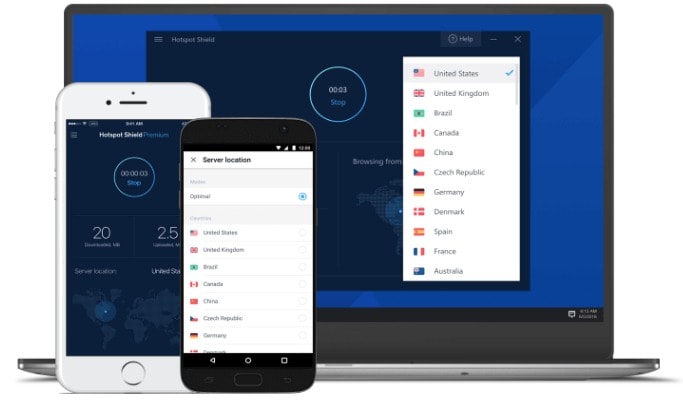 Hotspot Shield's Key Features
500 MB of free data every 24 hour period, which means 15 GB per month
Simple, user-friendly interface makes it easy to get started
Military-grade encryption protects your internet activity
Stable connections ensure lag-free browsing
Works with: YouTube and Spotify
Compatible with: Windows, macOS, iOS, Android, Chrome
Hotspot Shield offers reliable connections and military-grade encryption. My tests didn't reveal any DNS leaks, which means it effectively masks your IP address to protect your privacy online. Hotspot Shield is compatible with all major operating systems, has a no-logs policy to protect your anonymity, and offers dedicated tech support. It also offers P2P support for both free and premium users.
Its user-friendly, dedicated apps offer one-click connect, so you can get started without a hassle. The free version comes with limitations. It is supported by ads and gives you only 500 MB of data per day. While this is far too little for downloading large files, you will have no problem checking your email or browsing social media.
Unfortunately, you can't use the free version for streaming.
Although Hotspot Shield has 3,200+ servers in 70+ countries, the free version only gives you access to the US virtual location. You will be blocked by a Premium Payment Wall if you try to access streaming content with the VPN enabled. Even with only one virtual location, Hotspot Shield can still help you escape government censorship and bypass content filters at school or work so you can access your favorite websites and social media apps from anywhere.
If you like Hotspot Shield Free and want to try the premium version, you can test it out with a 7-day free trial.
Want to know more? Explore our Hotspot Shield review to see the full results of our research and testing.
Start FREE with Hotspot Shield!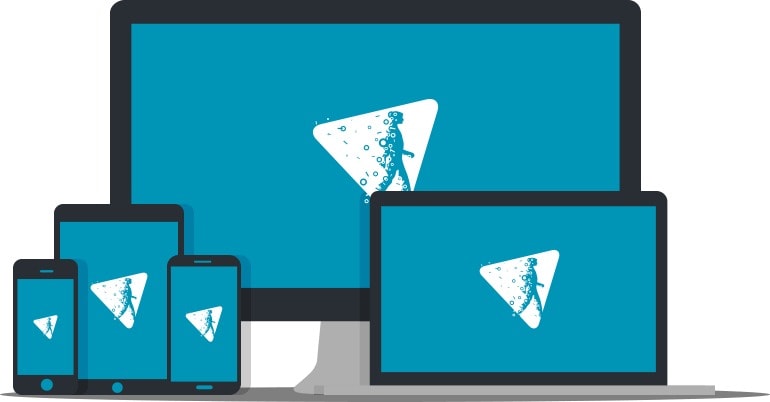 hide.me's Key Features
10 GB of free data per month
Free servers in four countries
Strong encryption and multiple available protocols
Good connection speeds for quick loading and browsing
Works with: Hulu, iPlayer, Amazon Prime Video, HBO GO
Compatible with: Windows, macOS, iOS, Android, Linux, Chrome Firefox, Amazon Fire TV, routers
hide.me offers a stripped back, reliable free service. You'll get 10 GB of free data every month and all the benefits of hide.me's user-friendly dedicated apps and robust protection. Advanced security features include strong AES encryption, an automatic kill switch, leak-protection, and strict no-log policy.
hide.me supports multiple VPN protocols so you can optimize your connection and choose the best fit for your device. Thanks to these secure connection protocols, you can connect to unsecured public WiFi networks without worrying about prying eyes.
Users are not required to enter an email address or any personal details when signing up, further protecting your online anonymity.
The five free servers – located in Canada, the Netherlands, Germany, US East, and US West – aren't currently able to access geoblocked, including Netflix and BBC iPlayer.
However, you can use the free servers to get around content filters at your workplace or school and bypass tough government censorship. Plus, hide.me is P2P-friendly and supports torrenting for both free and paid users. However, you are limited to the amount of file-sharing you can do with the 10GB data cap.
A free account also limits you to one device connection at a time. So, if you're browsing on your laptop, your phone or tablet won't be actively protected.
Additional features the free hide.me trial includes 24/7 access to technical support, split-tunneling, and ad-free browsing.
Want to know more? Explore our hide.me review to see the full results of our research and testing.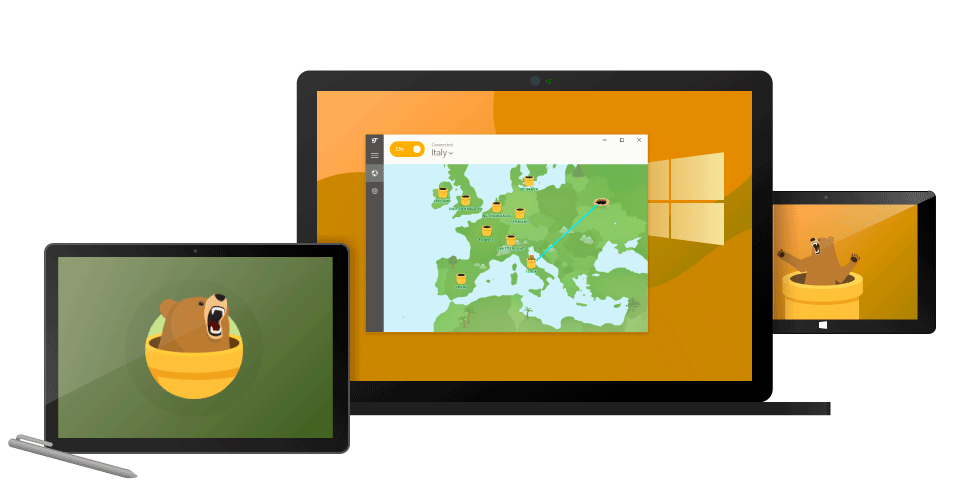 TunnelBear's Key Features
500 MB of free data every month
Servers in 22+ countries
No-logging guaranteed
Works with: YouTube, Spotify
Compatible with: Windows, macOS, iOS, Android, Chrome, Firefox, and Opera
If you're new to VPNs, TunnelBear's free version is a great way to get started. It has a user-friendly interface that comes complete with animated grizzly bears. Unlike most free VPNs that limit you to a handful of servers, TunnelBear allows free users to connect to many countries and enjoy decent connection speeds.
TunnelBear is independently audited, uses AES 256-bit encryption, and guarantees no data logging. This means your data will never be stored and your identity will always stay private. This VPN can unblock most geo-restricted websites and bypass pesky content filters without a hassle, but it doesn't work with Netflix or other streaming services.
A free TunnelBear account gives you just 500 MB of data every month, but you can tweet them for an extra 1 GB. This is enough to stream for about 30 minutes, but you won't be able to download large files or watch any movies.
Want to know more? Explore our TunnelBear review to see the full results of our research and testing.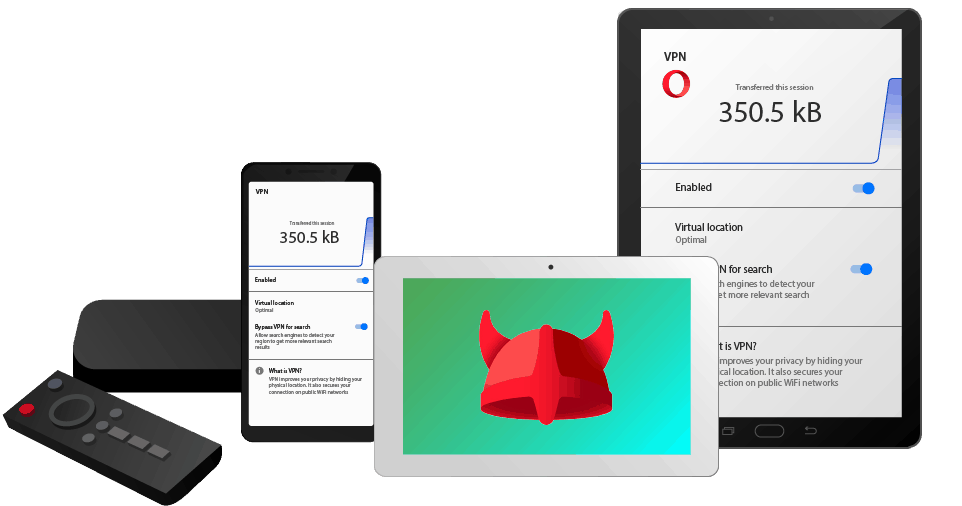 OperaVPN's Key Features
Unlimited data and bandwidth
Built-in ad blocker and malware protection
No registration needed
Compatible with: Windows, macOS, iOS, Android, Linux
The free web browser Opera comes with a built-in VPN that masks your IP address as you browse the web. You will need to enable the VPN in the browser settings. Because it is a browser extension only, your OperaVPN won't protect any traffic sent from other browsers or apps. So even though your browsing activity is safe, your emails and banking apps aren't protected.
In addition to its free VPN service, the browser features a built-in ad blocker and malware protection. When you use the browser, the VPN function hides your identity for anonymous browsing – this is especially useful over public WiFi networks. You can choose from only three virtual locations: the Americas, Europe, and Asia.
Because you can't select specific servers within those regions, OperaVPN is not a good choice for streaming. I was not able to unblock Netflix US, BBC iPlayer, or any other streaming service I tried. The browser is available for all major platforms.
Want to know more? Explore our OperaVPN review to see the full results of our research and testing.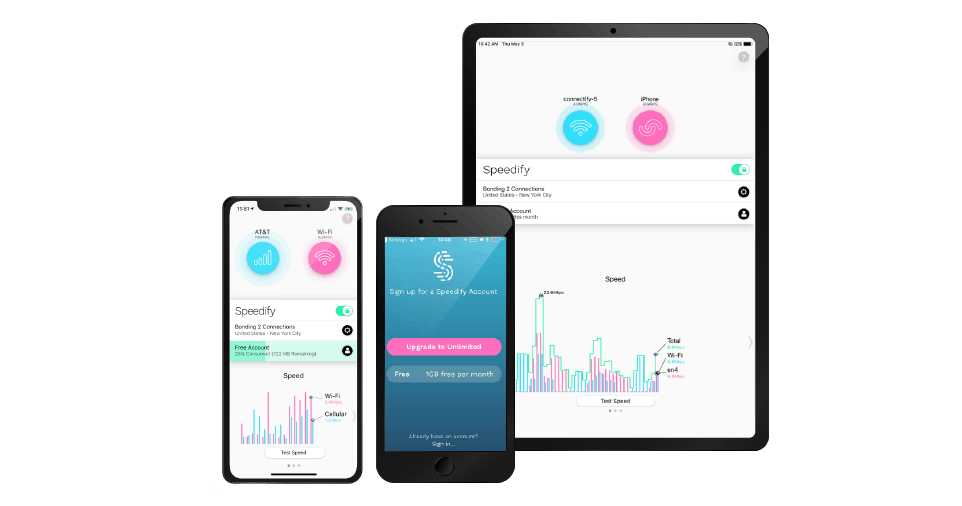 Speedify's Key Features
2 GB of free data every month
200+ servers in 50+ locations worldwide
Fast and reliable connections with Channel Bonding technology
ChaCha encryption cipher combines security and speed
Compatible with: Windows, macOS, iOS, Android, Linux
As its name suggests, Speedify was designed using VPN protocols that improve your connection speed. Its Channel Bonding technology routes your traffic over two separate internet connections at once. This increases your connection speed slightly, but it also uses twice as much WiFi and cellular data.
Speedify passed all my DNS leak detection tests. This means it effectively masks your IP address to protect your privacy and help you access censored and geo-restricted content online. Your online activity stays safe and anonymous with Speedify's unique ChaCha encryption cipher and strict no-logs policy.
Speedify's Amsterdam server is optimized for BitTorrent and P2P activity. 2 GB of free data per month is plenty if you want secure VPN protection while you quickly check your email or update your FB feed, but it isn't enough for streaming or torrenting.
Like most free VPNs, Speedify encourages you to upgrade to a premium account. However, the vendor is committed to keeping the free version ad-free. This is great for your security because it means that Speedify doesn't have to share any of your information with third party advertisers or Google ads.
Want to know more? Explore our Speedify review to see the full results of our research and testing.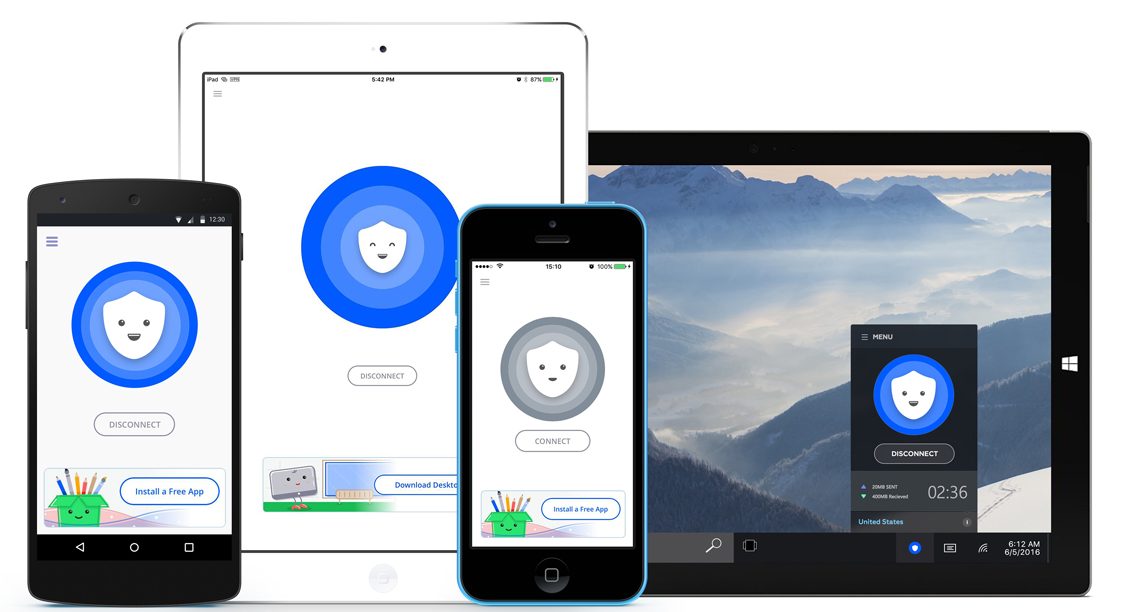 Betternet's Key Features
500 MB of free data per day
No registration needed – just download and get started
Robust encryption and malware protection
Compatible with: Windows, macOS, iOS, Android, Chrome
Although 500 MB might be enough for 30 minutes of low-quality streaming, Betternet does not allow you to stream using its free account. You can only connect to its US server location, so you can't access geoblocked websites from anywhere else in the world. Still, Betternet does a good job covering the basics when it comes to security.
It offers robust encryption, good speeds, and perfect forward secrecy – but no kill switch. If your connection to the VPN server fails, your traffic will not be protected. This free VPN is a good choice for protecting yourself from spying eyes when you connect to an unsecured public WiFi network, but you should look elsewhere for total anonymity.
Betternet collects more user information than is ideal for privacy, some of which may be shared with third-party service providers. You can also expect to see plenty of ads with your free account.
Want to know more? Explore our Betternet review to see the full results of our research and testing.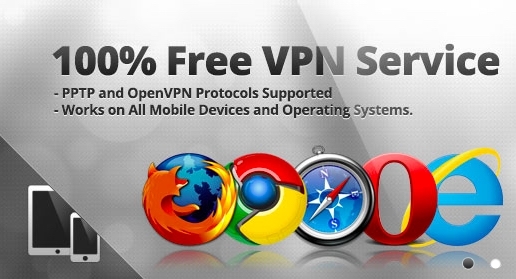 VPNBook's Key Features
Unlimited data
Virtual locations in 6 countries
Built from secure OpenVPN technology
Compatible with: Windows, macOS, iOS, Android, Linux
VPNBook offers unlimited free data, secure AES encryption and a choice of OpenVPN and PPTP connections. You can get online from any location without worrying about spying eyes, but VPNBook only has servers in the US, the UK, Canada, France, Germany, and Poland. On its website, VPNBook claims to unblock Netflix and Hulu, but I couldn't access either of them when I tested it.
The company operates out of privacy-friendly Romania and doesn't collect any activity logs, but it does retain some connection logs for up to a week. Unlike the other VPNs on this list, VPNBook does not offer dedicated apps for your devices. Instead, it provides manual configuration files for OpenVPN. It's not as complicated as it sounds, especially with VPNBook's step-by-step installation guides.
VPNBook supports torrenting on some servers and it can be used to bypass censorship. This VPN is supported by ads, so you can expect to see some while using the service.
Want to know more? Explore our VPNBook review to see the full results of our research and testing.
Free VPNs Research Methodology
My research process is based on monthly tests of each VPN, using performance analysis tools, real-life use cases, and additional tests done by our field operatives in 10 countries around the world, including countries with monitored networks such as China and Russia.
Each of my recommendations is ranked based on its combined results on security, speed, usage limits, and reliability. I also looked at streaming and torrenting support, logging policies, server availability, compatibility, and bonus features like malware blocking.
I tested each service's security features for leaks and potential vulnerabilities. I also looked into their logging policies to find out exactly what information they store—if any—and how that information is used. Keep in mind that only a VPN with a strict no-logs policy can guarantee that none of your data is stored or sold.
I tested speeds with speedtest.net, comparing my connection speed both before and after connecting to each VPN. You can expect most VPNs to slow down your connection to some extent. However, due to limited networks or deliberate restrictions, free VPNs can be so slow that they make browsing or streaming very difficult. Only the best VPNs can give you speeds that are comparable to your normal connection.
I ranked each of my recommendations according to the compromise they offer between free data and other features. For example, if a free VPN offers unlimited data but is too slow to use, it is not ranked as highly.
The results you get from a VPN can vary depending on the server you use. The bigger a VPN's network, the more servers you can choose from and the more reliable the service. Where possible, I tested a range of servers across each VPN's network to give you the most accurate picture of what you can expect from each service.
Here's our pick of the top premium VPN services today:
FAQs
💰 How do free VPNs make money?
As with any free service, you have to pay for it in some way. In some cases, this means annoying targeted ads that pop up on your screen, but with some free VPNs, you might have to deal with the consequences of bad encryption or even privacy breaches. Most free VPNs just have limited data plans (so no torrenting) or a slow connection (so no Netflix), to give users an incentive for upgrading to a paid service.
⚠️ Are free VPNs safe?
While the VPNs on this list have been tested and proven as totally safe to download and use, many other free VPNs might pose serious risks to your safety. Some are notorious for spam and malware; and in some cases, Users even reported that free VPN services stole their personal information and sold it to third parties.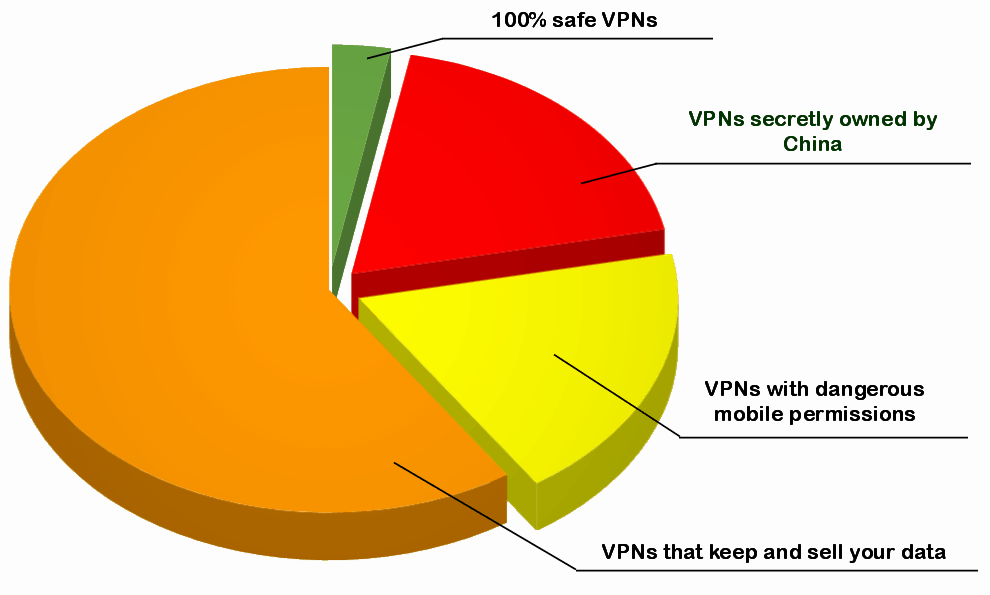 All of the VPNs we tested here are safe, and were proven as such over years of periodic monthly tests.
✔️ Are VPNs legal?
Using a VPN is completely legal in most parts of the world, but a handful of countries – including China and Russia – restrict the use of VPNs. Check out our VPN legality guide to learn more about the status of VPNs in each country. Keep in mind that even if VPNs are legal in your country, you could still face consequences for using a VPN for illegal activities like torrenting copyrighted content.
The Bottom Line
While you can find some good free VPNs, even the safest free services can't compete with low-cost premium VPNs. A premium service offers the best security, as well as streaming and torrenting support. And, unlike most free VPNs, premium VPNs offer you unlimited data and bandwidth. You'll be able to access more servers and enjoy faster connections.
Most premium VPNs offer free trials and money-back guarantees so you can make sure the service you choose is right for you. My top recommendation is Nord VPN because it's fast, secure, and it can unblock hundreds of streaming services, including Netflix US. Best of all, you test it risk-free with its 30-day money-back guarantee.
Check out our VPN deals page (updated weekly) where you can find top-shelf VPNs for ridiculously cheap prices!
You Might Also Like: