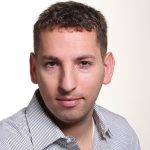 Ariel Hochstadt
Ex-Google, International tech speaker
ExpressVPN and SpyOff are two VPNs that focus on speed and security in the delivery of their service to users. Although ExpressVPN is widely considered as one of the best VPNs in the market, SpyOff is also steadily gaining reputation as a reliable VPN provider. Both VPNs are however miles apart from each other as ExpressVPN offers over 1500 servers in 94 countries compared to SpyOff's 395 servers in 25 countries.
Both VPNs share some similarities in terms of using military grade encryption in securing users' activities and also having a dedicated app for all major platforms. They are also both very easy to install and setup. ExpressVPN however provides a 24/7 customer support whereas SpyOff only offers a ticketed support system and some knowledge-based materials.
With regards to pricing, SpyOff appears to be overpriced when compared with top VPNs like ExpressVPN. Although it offers a 14-day free trial, SpyOff has no 30-day money back guarantee or any other refunds policy. Meanwhile, in addition to its reasonable price, ExpressVPN also offers a hassle free 30-day money back guarantee to users. To see which VPN really stands out as the best, keep scrolling down.